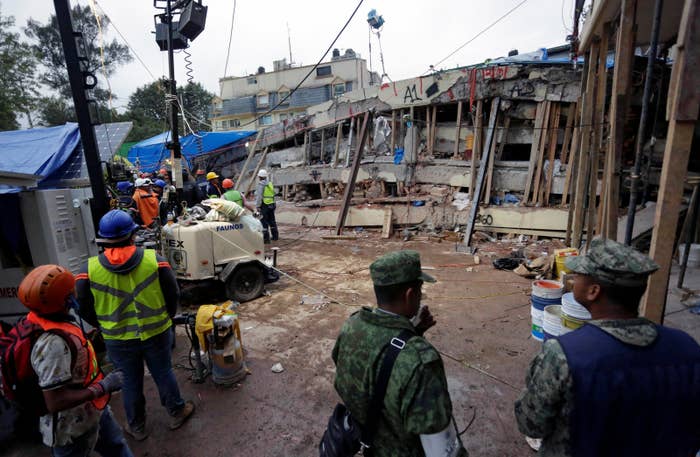 For two days, Mexico had been gripped by the story of a young girl trapped under the rubble of a school in Mexico City after Tuesday's earthquake, but on Thursday afternoon officials made a stunning announcement: the young girl did not exist.
"We want to stress, this story about a girl whose name was out in [news casts], we've never had any knowledge of this version," said Admiral Ángel Enrique Sarmiento, deputy secretary of the Navy.
Sarmiento said that school and education officials said there was no evidence of the girl. All children at the school were either dead, in hospital, or at home, he said.

Sarmiento said he was unaware of how the Frida Sofia saga began. Authorities believe an adult woman remains alive under the school rubble and rescue attempts for her are continuing, he said.
However, later on Thursday, Sarmiento apologized for his earlier words and said rescuers did not have enough information to know if it is an older person or a child in the rubble.
The Navy has been leading rescue efforts at the three-story building housing Colegio Enrique Rébsamen, a school in the southern part of Mexico City.
The building collapsed on Tuesday during the magnitude 7.1 earthquake, with Sarmiento saying Thursday that 19 children and six adults were now known to have died in the disaster. Eleven children were rescued from the rubble, officials said.
On Wednesday, a local TV station on the scene, Noticieros Televisa, reported that contact had been made with a young girl, who had reportedly told rescuers that her name was Frida Sofiía, she was 12-years-old, and was trapped under a table.
Noticieros Televisa, which had prime access to the rescue location, kept their cameras glued to the school all Wednesday, in the hope of capturing her rescue.
The station gave detailed accounts, which they said were verified by officials on the ground, including that rescuers speaking with the girl, that she was given water to drink, and that there were two others, possible dead, near her.
On Thursday morning, rescuers were asked on live TV Thursday morning if they'd had recent contact with the girl. "We continue to do all efforts we can to get to her," said a rescuer.

Thursday afternoon's announcement came as shock to reporters at the scene and Mexicans watching at home.
"Authorities gave minute-by-minute updates of all the information about Frida Sofia, and today they say the girl doesn't exist," tweeted Denise Maerker, a host with Noticieros Televisa.
After Admiral Ángel Enrique Sarmiento gave the news Thursday afternoon, Noticieros Televisa stuck to their original reporting, saying that all the information that was given to viewers about the girl had been verified with officials on the ground, including Mexico's Navy.
Hours after the announcement was made, Noticieros Televisa put out a statement on its website demanding the Navy, "inform, with clarity, why it changed its version."
"You can't undo what was said," anchor Denise Maerker said on air, referring to Navy officials. "No one made it up. If someone made it up, it was them."
Top officials from Mexico's navy also appeared to contradict themselves Thursday afternoon.
Admiral José Luis Vergara was interviewed minutes after the story of Frida Sofia was discredited and said he verified many of the details of the supposed young girl to Televisa's reporter, and he stood behind it.

He said he obtained the information from the rescue workers who were going in and out of the rubble.
"We're not dealing with ghosts," Vergara told Maerker. "There could be errors, but I assure you I've been cautious."
He said he was not sure if the person still trapped inside the rubble was a young girl, but that he stood behind his information that there is still someone trapped in the school.
"If it is, or not, a young girl, I can assure you there is still life inside the wreckage," he said.
Footage from the school filmed shortly after the earthquake shows collapsed buildings and panicked children gathering outside.

Rescuers and sniffer dogs were brought in on Tuesday, while a special unit of volunteers arrived to tunnel underneath on Wednesday.
The body of a 58-year-old woman, a teacher at the school, was found early Thursday morning.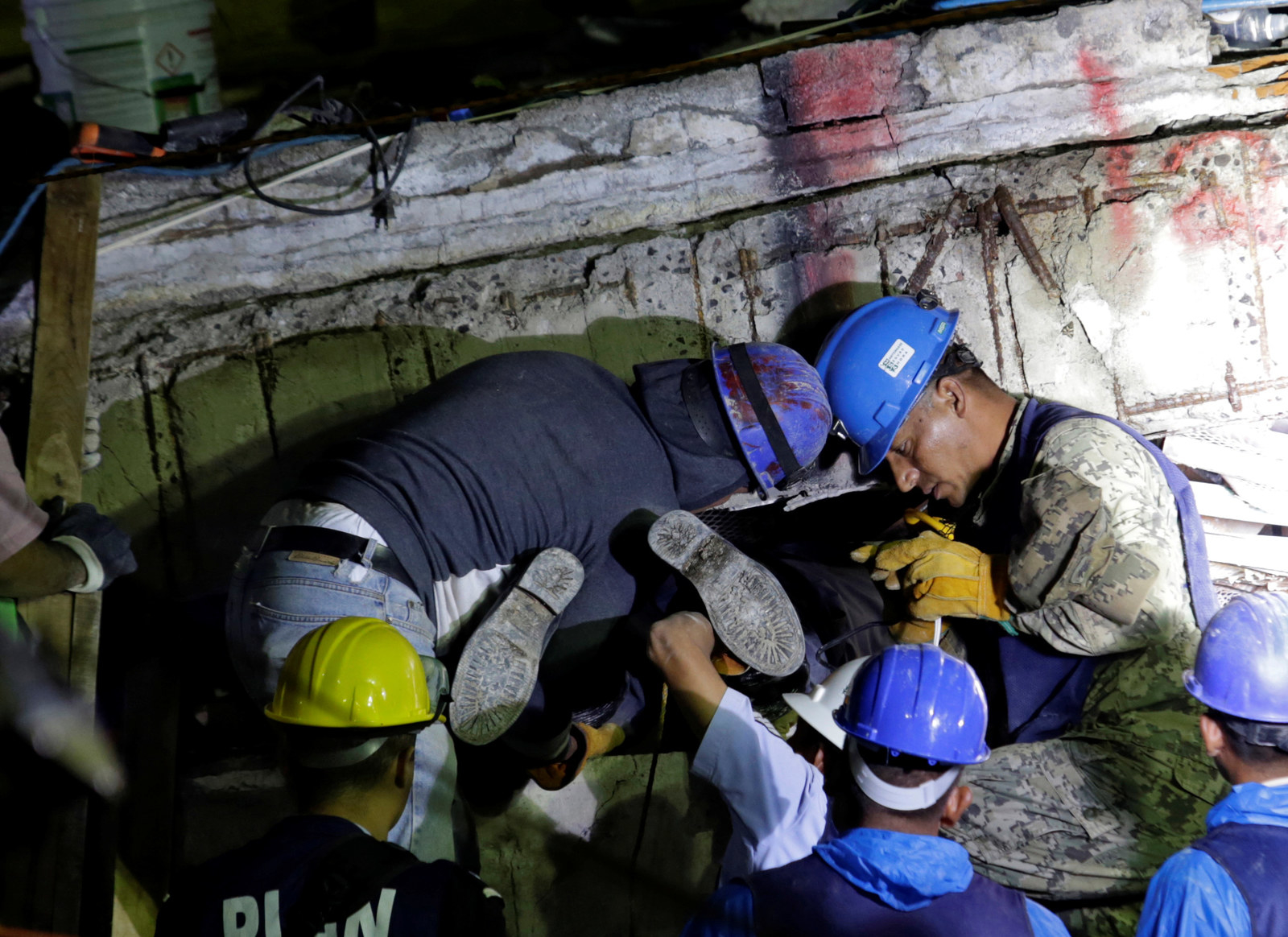 Across Mexico, at least 245 people died and nearly 2,000 people were injured by the quake.
With such a grim shadow falling across the country, Mexicans were clinging to the story of the young girl said to be alive in the rubble, with "Frida Sofía" trending widely on Twitter.
"Little Frida Sofía has spent 32 hours trapped underneath the rubble, fighting for her life. A true warrior, soon she will be out of this," tweeted YouTuber Ryan Hoffman.

Even before Thursday afternoon's announcement, there had been confusion about the girl's identity.

Secretary of Public Education Aurelio Nuño noted that the parents of "Frida Sofía" could not be located and the name "Frida Sofía" did not appear on school rolls, newspaper El Universal reported. All "Fridas" and "Sofías" at the school had been accounted for.
Rescuers, though, seemed adamant they had made contact with a girl and were shouting words to her. They routinely called for silence among those assisting at the scene by raising a fist in the air so they could try to listen for her.
As rescue efforts continued, the situation at the school remained precarious.
On Wednesday night, part of the area where rescuers were working at the school were said to have collapsed. On Thursday morning it was deemed so risky to continue rescue efforts that only one team of rescuers remained at the site.
"There's a girl alive in there, we're pretty sure of that, but we still don't know how to get to her," Admiral Jose Luis Vergara Vergara had told Televisa.
"The hours that have passed complicate the chances of finding, alive or in good health, the person who might be trapped," he added.
UPDATE
This story has been updated to include the comments from Almirante Ángel Enrique Sarmiento, deputy secretary of the Navy, saying the young girl does not exist.