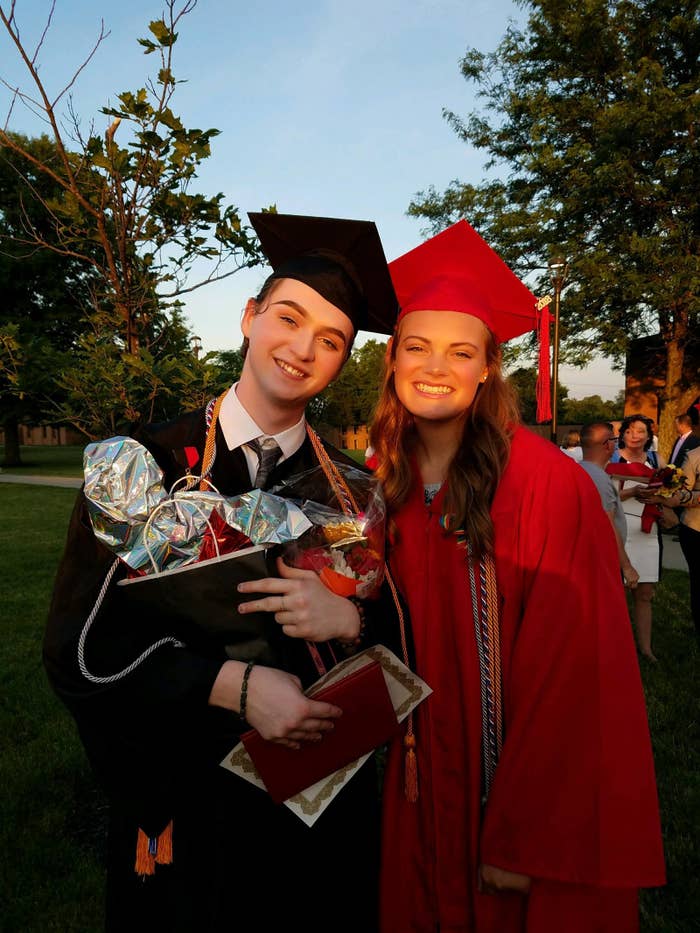 The valedictorian banned from giving a graduation speech at his Kentucky high school believes the local church diocese stopped him from speaking because he's gender nonconforming.
"Just myself being visible and existing has threatened them, in their minds," Christian Bales, 18, told BuzzFeed News Monday, three days after his high school barred him from giving a planned speech at its commencement ceremony.
Bales, who said he often wears makeup and traditionally feminine clothing to school events, found out he would be valedictorian of Holy Cross High School in Covington, Kentucky, three weeks ago. The distinction meant he would be able to give a speech at the school's graduation ceremony. His best friend, Holy Cross's student council president Katherine Frantz, was also slated to give a speech.
But on Friday morning, Holy Cross's Principal Mike Holtz called Bales' and Frantz's families to say that the Roman Catholic Diocese of Covington, which oversees their school, had deemed their speeches inappropriate to read at that evening's graduation ceremony.
The principal told Bales' mother that the diocese had declared his speech "too personal, angry, confrontational, and political," Bales said.
Bales' speech focused on a mantra often used by David Hogg and other student leaders from Parkland's Marjory Stoneman Douglas High School: "the young people will win."

The speech, which has been published in a Google Doc and shared via Twitter and Facebook, does not directly mention his gender identity or sexual orientation, or call for specific political policies to be enacted. While Bales' mentions his inspiration from the leaders of March for Our Lives, for example, his address does not call for new gun control laws.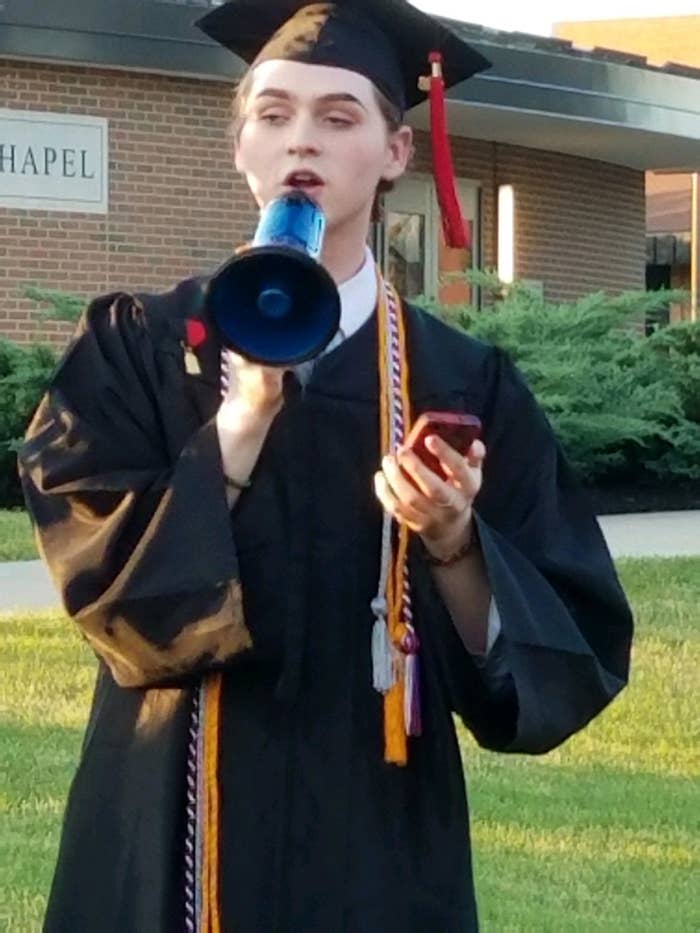 Frustrated by the diocese's decision, Bales and Frantz decided to read their prepared speeches through a megaphone after the ceremony outside of the venue where the graduation was held. Bales said his father borrowed the megaphone from the leader of a local Facebook group for parents of LGBT children.
Local media filmed the event and video of the teens giving their speeches, with students and parents gathered around them, quickly went viral.
"Throughout the past four years at Holy Cross, I've learned how to utilize my voice to advocate for my beliefs as an ethical individual," Bales said in his speech.
"I've faced opposition in a number of scenarios, but my voice continued to grow in intensity as I faced more adversity," he continued. "Rather than allowing opposition to silence us, we must utilize it as empowerment. As long as we nurture our minds as youth, we'll be able to be equally impactful as we encounter the world."
According to Bales, a religion teacher and the principal typically approve student speeches for Holy Cross's graduation ceremony. He said he handed his speech to the school's religion teacher on Tuesday and that the next day the teacher told him the speech was approved and that they were excited to hear him read it.
But this year, Bales said, the Diocese of Covington decided it would also need to approve the student speeches.

"It was not a normal occurrence," said Bales, who said the principal told him the diocese had "randomly selected" the school from the district.
"I don't believe we were randomly selected; I think they wanted to find a way the ceremony would go smoothly," Bales said.

In a statement provided to local TV station WLWT 5, Tim Fitzgerald, a spokesperson for the Diocese of Covington, said the speeches written by Bales and Frantz were banned because "they were found to contain elements that were political and inconsistent with the teaching of the Catholic Church."
Fitzgerald also claimed that the speeches "were not submitted for review before the deadline," although Bales said both he and Frantz were unaware of any deadline.
"I think I've been on their radar for a while," Bales told BuzzFeed News, who says he is not Catholic but tried to be respectful of his school's religious affiliation. "I'm a very gender-nonconforming person. I'm very vocal about my beliefs, I push for social reform a lot. As a result, I've been someone they've had to keep an eye on."

Bales said he uses "gay" or "queer" as umbrella terms to identify himself and avoids binary labels such as "boy" or "girl." He wore a floral jumpsuit, with pink eyeshadow and red lipstick, to prom, he said, adding that both students and teachers had been complimentary of the outfit, said Bales.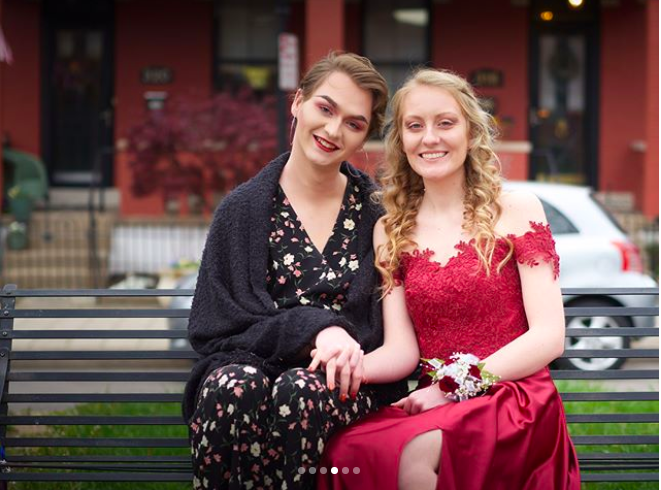 "Christian and I have worked for four years to earn the right to speak as valedictorian and student council president at graduation. I was shocked and upset when that honor was taken away from us on the morning of graduation. My speech is about trust in God, hope, and confidence in the future. Those are the lessons that the staff and faculty of Holy Cross gifted me with," Frantz wrote in the River City News, where her full speech — which was not political but focused on applauding graduating individuals — was published.

"It is still unclear to me why the diocese rejected my speech with no opportunity for revision and showed no consideration for taking my speech away from me, my family, and my classmates," she added.
BuzzFeed News has reached out to Holy Cross but did not immediately hear back Monday.
Bales said that there had been "little power struggles between me and the school administration in the past."
As a sophomore, he added, he would argue with teachers over whether he could wear bobby pins in his hair and makeup to school, arguing that nothing in the school's dress code explicitly banned male students from doing so.
This past October, Bales said, he submitted individual yearbook pictures in which he wore a black turtleneck and a pearl necklace, but school administrators had asked yearbook staff to photoshop the pearls.

And in recent senior pictures, Bales said he wore a jumpsuit and a wrap. Holtz, the principal, pulled him and another student, who is trans and wore a bowtie in his photo, aside, Bales said, and told them their outfits were inappropriate. The photos were retaken, with Bales wearing a shirt and tie.
On Monday, the school called Bales' mother to make sure that her son planned on following a formal male dress code for graduation, including no hair accessories, no makeup, and no heels. Or as Bales described it, to make sure he would "be boy enough for them, because the bishop was supposed to be there."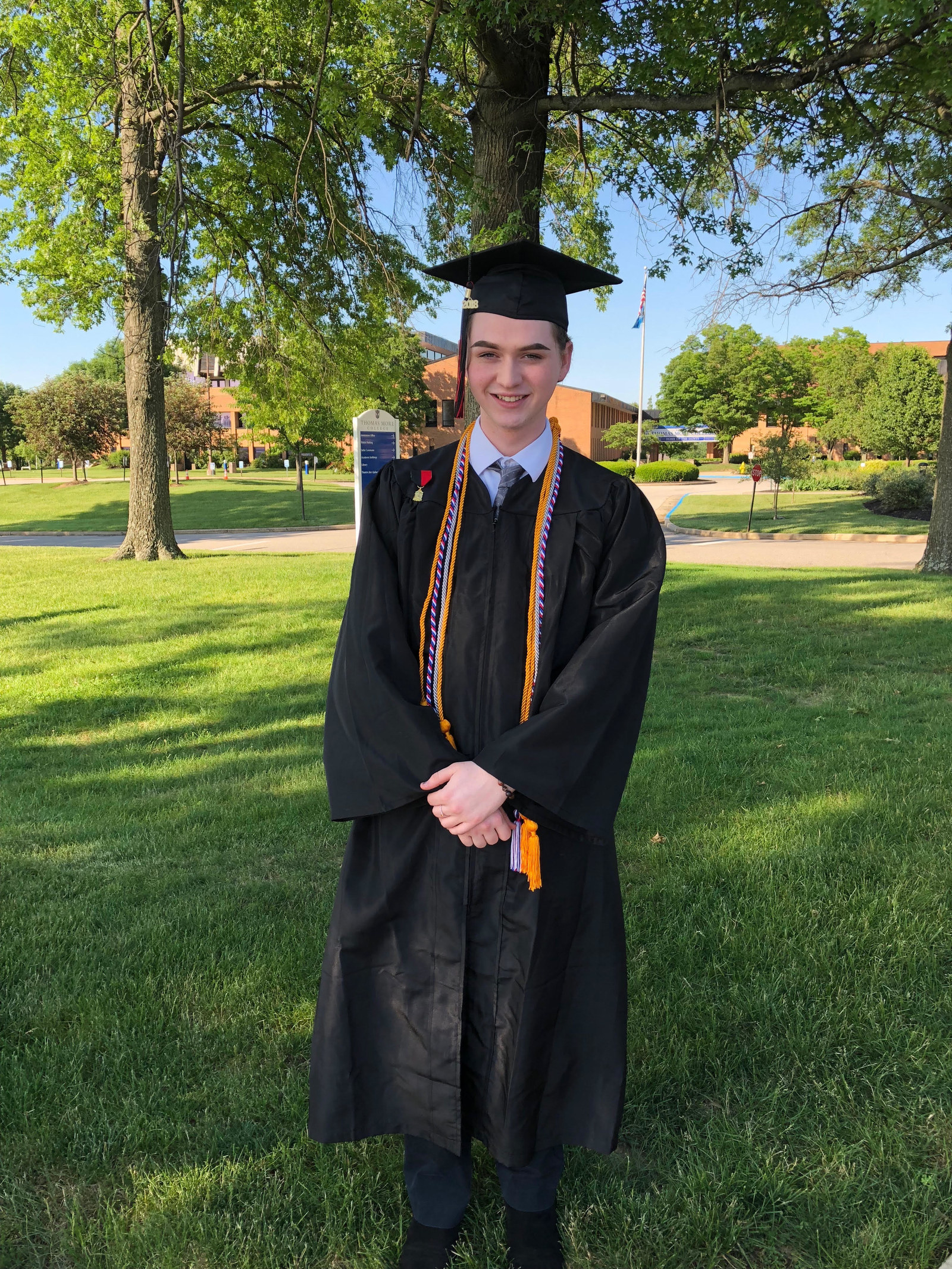 Bales said he was frustrated Holtz hadn't fought more to support his gender identity, but added that he understood the principal's position. "I don't think he's doing it to directly threaten me, he just wants to uphold a certain image of the school in the eye of the diocese, and falling in line with that traditional boy/girl mode," the teen said.

Bales made sure to follow the rules on Friday, even after being told he could not read his speech. "I still wore a shirt and tie. I wore flats. I drew on eyebrows and wore mascara, but that's very minimal for me," he said.

But the senior, who plans to study biology and ecology at the University of Louisville next year, noted that by banning him from speaking, the diocese ensured that more people than he'd ever imagined had read his speech and its message of progressive young people being able to change the complacent ways of society.
"The diocese definitely burned itself with this one," he said.