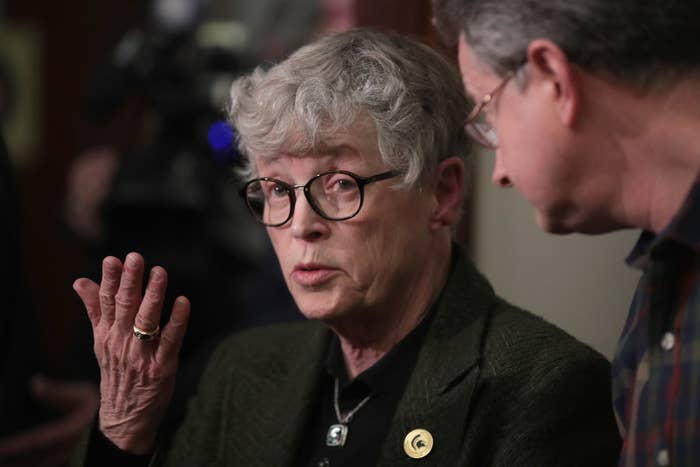 The former president of Michigan State University was charged Tuesday with lying to police during the criminal investigation into serial sex abuser Larry Nassar, who as a doctor for USA Gymnastics assaulted victims for years.
Lou Anna Simon, 59, stepped down as MSU's president on Jan. 24, just hours after Nassar was sentenced to 40 to 175 years in prison for sexually abusing young athletes who saw him for treatment at the university and USA Gymnastics.
Simon was charged with four counts of lying to a peace officer about her knowledge of Nassar and prior investigations into a sexual assault complaint against him.
In 2014, Amanda Thomashow, an MSU graduate, had gone to Nassar for help with hip pain. But during the appointment, he inappropriately touched her breast and vagina.
Thomashow filed a complaint to police and the university about Nassar's behavior, and a Title IX investigation into him was opened. However, the investigation cleared Nassar of any misconduct.
Simon told police she "was aware that in 2014 there was a sports medicine doc who was subject to a review." But in court documents filed in Eaton County District Court on Tuesday, the Michigan Attorney General's Office asserts that the former MSU president knew that Nassar was the target of the investigation and the nature of the complaint.
MSU spokesperson Emily Guerrant told BuzzFeed News that the university was aware of the charges against Simon and that she is taking "an immediate leave of absence" to focus on her legal situation.
Per Simon's contract, Simon has been on research leave at her full salary of $750,000 since resigning as president, Guerrant added. After her 12-month research leave, she is scheduled to return as a member of the faculty.

Simon's attorney did not immediately respond to BuzzFeed News' request for comment.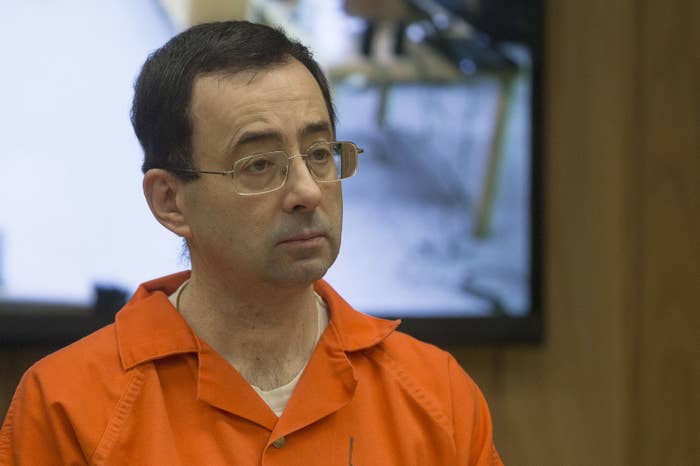 Nassar pleaded guilty in November 2017. But it wasn't until mid-January, as more than 150 women and girls spoke out in court about the abuse they endured, that pressure started to mount on MSU to remove Simon as president.
But behind the scenes, several donors, as well as current and former administrators and faculty members, emailed the board of trustees urging them to keep Simon, according to documents obtained by BuzzFeed News through an open records request.
When one trustee, Mitch Lyons, broke with the rest of the board and called for Simon's ouster, he was scolded by Peter Secchia, a major MSU donor and fundraiser for Republican politicians.
"This was a stupid move and one that will soon be exposed as [without] merit," Secchia wrote to Lyons on Jan. 21, 2018.
That same day, Secchia urged the rest of the board to "dig in" and support Simon. She resigned three days later.

Simon is the latest person in power to be charged for their role in allegedly helping to cover up Nassar's abuse.
Last month, the former head of USA Gymnastics, Steve Penny, was arrested for tampering with evidence in the investigation.
A former USA Gymnastics trainer, Debbie Van Horn, was also charged in September with second-degree sexual assault in another Nassar-related case.