SAN ANTONIO — The Trump administration is scrambling to reunite hundreds of immigrant families separated by its "zero-tolerance" policy in time to make a federal judge's deadline.
The court order identified 2,551 separated children — ages 5 and older — who were to be reunified with their parents. And Department of Justice lawyers said that there were 625 eligible parents in ICE custody.
The judge set a July 26 deadline, meaning hundreds of reunifications are happening at detention centers, airports, and other locations all over the country.

Below, three families, reunited just hours earlier at the South Texas Detention Center in Pearsall, tell their stories. BuzzFeed News has the full names of all the people quoted in this article but is choosing not to publish them as they are all asylum-seekers.
Immigration and Customs Enforcement, Customs and Border Protection, and Health and Human Services didn't immediately return requests for comment.
Elder, 39, and his daughter Kateryn, 13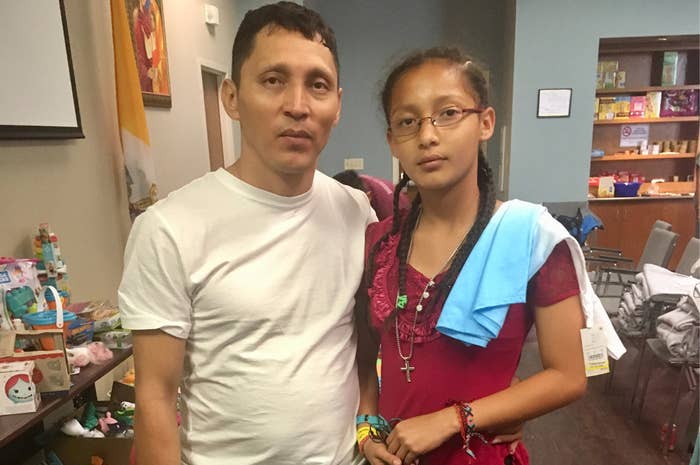 For nearly seven months, Elder, a 39-year-old Honduran, had begged the US government to reunite him with his daughter.

He was separated from Kateryn, 13, on Jan. 8, after the pair crossed at the port of entry in Laredo, Texas, seeking asylum.

In the months since, authorities took him to the airport three times to deport him, but Elder refused to sign any documentation or get on a plane without knowing anything about his daughter.

"I was at the point of going crazy," he told BuzzFeed News.
It was only the court-mandated deadline that got him his daughter back. They were separated before the "zero tolerance" policy came into place in April — although their experience has mimicked the confusion and lack of government guidelines around separation experienced by hundreds after the policy went into effect.
Elder says he has no idea why they were separated, but that Customs and Border Patrol officers initially told him his daughter was going to a children's detention center and he was going to an adult center, as if it were just a normal procedure.
"I thought it would be for just a short time," said Elder.
He spent four months at the Rio Grande Detention Center in Laredo, Texas. Shortly after he arrived, he said, he was given a "credible fear" classification in his asylum interview — a first step in the process that showed that he is afraid of returning to his home country.
"I begged them: 'My daughter, my daughter, I need to speak to her,' but they didn't want to," he said.

Elder fled Honduras, leaving behind his partner and three other children, because of threats made against him by gangs, who said he would be killed if he did not help them.
At the Rio Grande facility, he was able to make a call once a week to his daughter, who was living in a Southwest Key facility — the father-daughter pair jokingly put on what they called "Casablanca" accents to pronounce it as "Saltwhiskey" — in San Antonio, but couldn't always get through.

After four months, he appeared in immigration court, where he said he had two hearings.
"Please, if you could give me the opportunity to be with my daughter, I need to be with my daughter," he told one judge. "I can't do anything," he said the judge told him. "You have to talk to ICE."

But ICE told him to speak with the judge.
He was sent to Louisiana, where he had no contact with his daughter and was told he would be deported. It's unclear why he would be deported following a credible fear claim, but Attorney General Jeff Sessions recently announced a policy change so that gang and domestic violence were no longer grounds to seek asylum. A security guard warned him not to sign any documents that ICE presented him with.
"I am not going to sign this if you don't give me information about my daughter."
At first, Elder refused to get on the plane without his daughter. By the third time ICE had taken him to the airport to be deported, he simply told an official: "I am not going to sign this if you don't give me information about my daughter."

He was then sent to the South Texas Detention Complex in Pearsall, Texas. He was told he'd been cleared to be released and reunited with his daughter, but that he kept being delayed.

On Tuesday, the overwhelming burden of separation felt crushing and hopeless. Elder said he felt "despair, more than anything." He felt so ill, he nearly asked for medical attention. "It was too much," he said.
On Wednesday, it seemed at first that again no reunion would happen. Another man from his dormitory was taken to be reunited but he wasn't. "More despair," said Elder.
He called his daughter's social worker in a panic, demanding to know what was happening. "I am already desperate here and I don't know anything," he told them. The social worker told him not to worry as they were checking his daughter into the facility where he was at that very moment and they were about to be reunited.
Elder's face welled up with tears talking about the reunion with his daughter just hours before. He said it made him very "emotional, as you can imagine."

Kenia, 35, and her son Angel, 12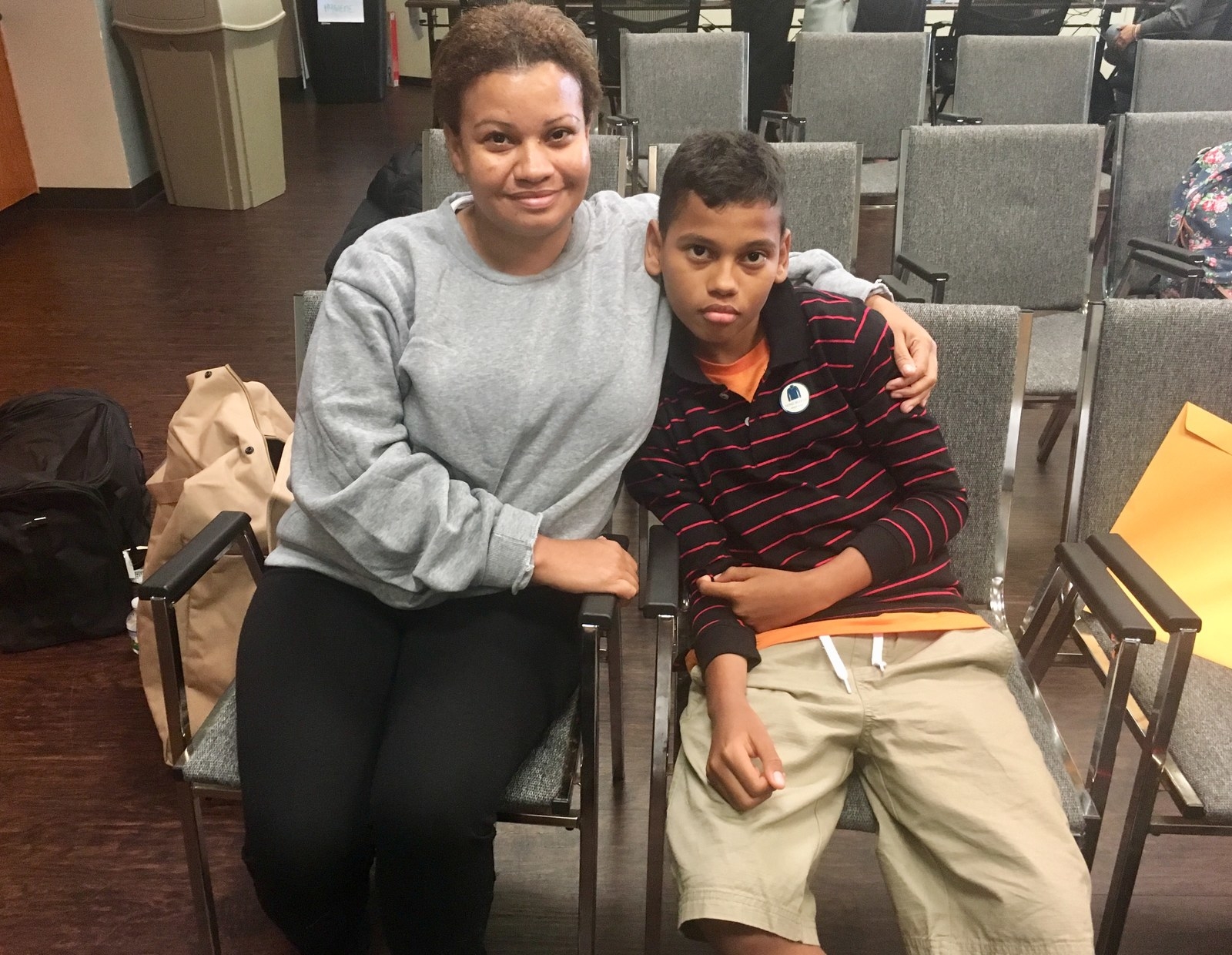 Kenia hadn't seen her 12-year-old son, Angel, since they'd been separated at the border six weeks ago after coming from Honduras. And in that time, the government started giving him medication twice a day "because he was sad."
Angel said the US Department of Health and Human Services didn't give him any records or prescription showing which medicine he'd been taking during his time at the Abbott House in upstate New York.
But Angel remembered the name "hydroxyzine pamoate." It's an antihistamine often used to treat anxiety.
"I worry that maybe he'll be suffering depression from now on," Kenia, 35, said. The pair were separated after being caught crossing the Rio Grande on June 18, and only spoke once while they were detained.

She'd also struggled deeply with the separation, and not knowing what was going on. "I was very unwell. He was so far away and what could I do?" she asked.

"For the time we were separated, we were undergoing the same situation, but one was an adult and the other was much smaller," said Kenia.

Kenia was moved to three different detention centers in Texas. First to Val Verde Detention Center, just near the border. Then to Maverick County Detention Center. Then back to Val Verde. Finally, she was sent to the South Texas Detention Center, where they were reunited on Wednesday.

She said when she first arrived at Val Verde, she joined other separated mothers who were all asking for their kids — but center staff told them they knew nothing about the children.
"We didn't know where they'd gone. We felt powerless to do anything."
"We didn't know where they'd gone," said Kenia. "We felt powerless to do anything."

She said she constantly put requests in to ICE to speak with her son or with a social worker to know more about him, but heard nothing.
It wasn't until she moved to the South Texas center that she spoke once with Angel, about two weeks after they'd been separated, and learned that he was in New York.
But while in lockup, Kenia had seen the news of the court-mandated reunion deadline. "Every night before dinner we'd watch the news. We saw the mothers getting reunited with their children and that before the 27th of this month they'd reunite us with our children," she said.

Twice this week she'd been removed from her dormitory and told she'd be reunited with Angel — only to then learn it wouldn't happen. The first day she was told something was wrong with the papers and that her son couldn't travel. The second day she was told there was no transport available.
On Wednesday, she finally got to cuddle him. "It felt like a dream — I couldn't believe it," said Kenia.
The change in him was immediately obvious. "My son is much bigger — I feel like a shortie next to him," she said.
Angel said the care in the facility had been fine. He played with a toy truck that he'd just chosen from Catholic Charities of San Antonio.
Immediately after their reunion, the families were bused to the charity headquarters, which has been turned into a temporary welcome center to handle the influx of separated families — feeding them, helping them book and arrange travel plans, connecting them with lawyers, and offering them clothing, toys, and other necessities.
The pair will stay with Kenia's aunt for a few nights, before going to live with Kenia's brother in Houston while they go through immigration proceedings.
She said she was praying to God to not be returned to Honduras. She said her ex-husband had sent a group of his friends to beat her up, leaving her arm badly injured, and he told her he would finish what he started.
She was waiting to hear about the next steps of her asylum case.
BuzzFeed News told her that the legal guidelines had recently changed and that domestic violence was no longer a reason to seek asylum. Her eyes filled with concern and tears.
Did she know that?
"No," she whispered.
Filadelfo, 34, and his daughter Angeline, 11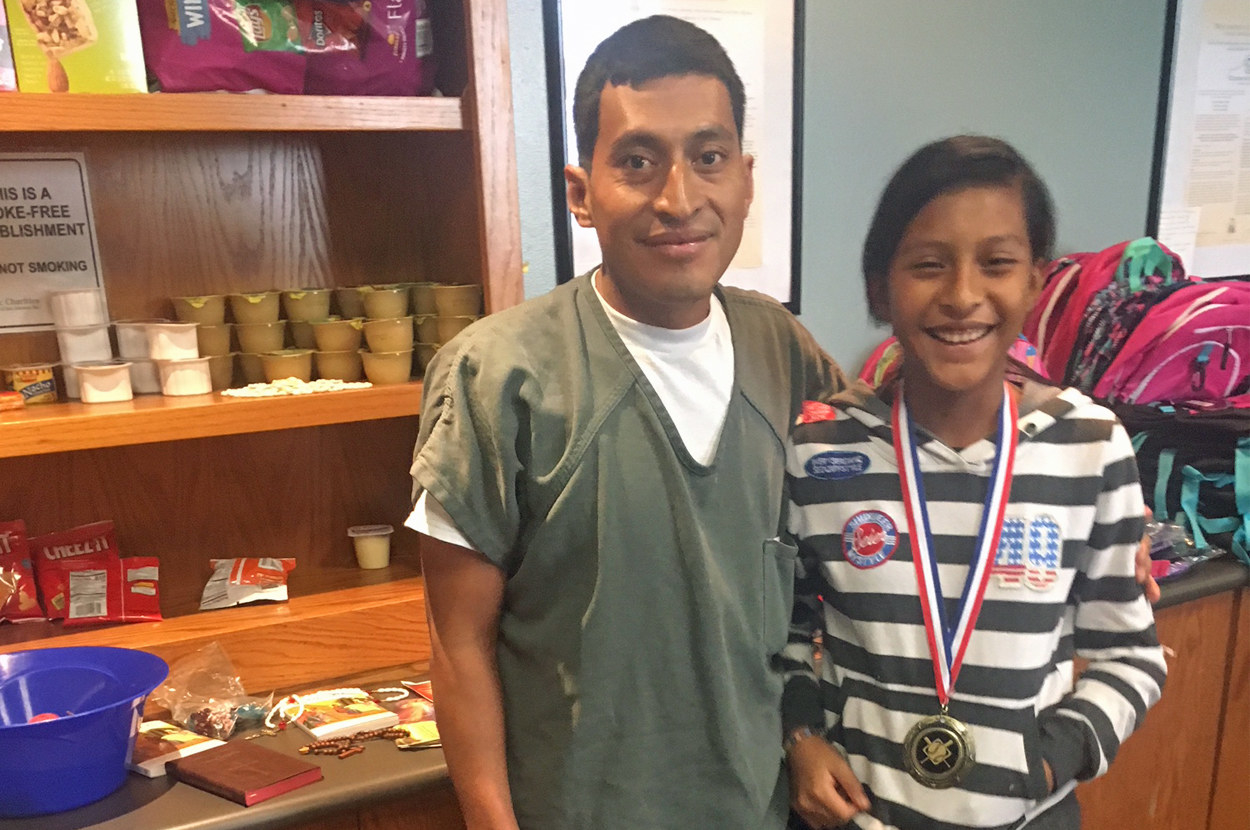 Angeline, 11, lived in fear for what might have happened to her dad, Filadelfo, after they'd been separated while crossing the Mexican border at Reynosa into McAllen, Texas, on May 8.

"I didn't know anything about my dad, until he called me," Angeline told BuzzFeed News. She was sent to stay in a facility in San Antonio with 25 other children. "I was thinking of my dad and where he could be," she said.
Filadelfo said he had no idea that customs officials would separate them after their journey from Guatemala. Authorities took photos of them, asked if she was his daughter, and placed them in what Filadelfo called a "cage."
Authorities gave him a general helpline phone number and told him to say goodbye to his daughter — because he wasn't going to see her.
"I was asking about her and they would never tell me where she was and where they'd sent her," he said.

But it took a month until Filadelfo was finally able to speak to Angeline on the phone, while he was at the Webb Detention Center near Laredo. They only spoke twice on the phone in 11 weeks.
"It was not easy for me to have my daughter separated," said Filadelfo, bursting into tears. He suffered from constant headaches during their separation.
The whole time they were apart, he said he was just thinking of one thing: "Of my daughter. Of my daughter, of my daughter."
He worked in the kitchen at Webb, which he referred to as a "prison," earning $1 for eight hours of work. He used it to buy phone cards to call his daughter in San Antonio, and his wife in Guatemala where she remained with their four other children.
A $5 phone card gave him about 11 minutes of credit, said Filadelfo.
He fled his home country with Angeline after he started receiving threats for money from a gang and threats about her, he said. They did not present themselves at a port of entry and ask for asylum but instead got caught by officials after crossing the border illegally.
He had a court hearing on Monday. It was determined he didn't have an asylum case, possibly because it was gang-related violence.
Filadelfo couldn't understand the decision. "It's not possible that I'm not credible," he said, using the court's terminology. He carried with him photos of himself after he'd been beaten and robbed by the group of men in 2016, and a police report that he'd filed with the local police, naming the people who'd attacked him. He showed the documents to BuzzFeed News.

"They gave me such a beating they almost killing," Filadelfo told the court, according to translated court transcript documents he showed BuzzFeed News.
"They started bothering me telling me they wanted her," he says in the court transcript, referring to Angeline. "That if I didn't give [them] money, they were going to kidnap and kill her since she was going to school."

"For the moment they have not threatened me but they were always close by the school," he said in the court transcript.
He said that two months ago, "when I arrive there to pick [up] my daughter and they just stay there and stare at me so we had to" move homes in Guatemala.

When he learned that he'd been rejected as a credible fear case for asylum, Filadelfo was very upset, but felt sure there was a mistake.
"There's not much I understood because the translator didn't talk to me," he said.
"Later I told them, if you're going to deport me, do it with my daughter because I'm not leaving without her," he said.

He was woken up and told he'd be reunited with Angeline on Wednesday morning. "I felt so happy because I was going to see my little girl," he said.
The reunion was "marvelous," said Filadelfo. Both of them cried.
He doesn't have a lawyer and said he'd just been given a number by Catholic Charities in Los Angeles — where they were flying on Thursday to stay with his mother-in-law's cousin — to find himself a lawyer and see what his options were.
Asked what would happen if they had to return to Guatemala, he said he doesn't see it as an option for his preteen daughter.
"I don't know," he said, "because with the age my daughter is, we can't leave here."