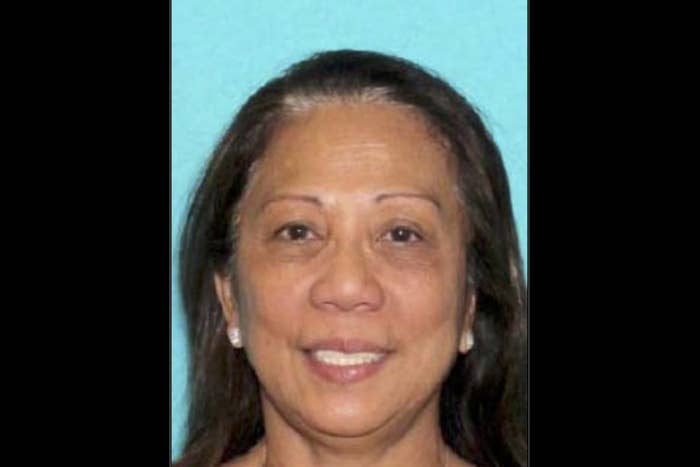 Marilou Danley, the girlfriend of Las Vegas shooter Stephen Paddock, arrived back in the United States from the Philippines on Tuesday night. Investigators are hoping she can help answer questions about her live-in partner of many years, who killed himself after carrying out the worst mass shooting in recent US history.
Danley, a 62-year-old Australian citizen, was pushed through Los Angeles International Airport in a wheelchair after landing Tuesday night from Manila just after 7 p.m. PT.

She immediately met with FBI investigators, but is not in custody.
In a statement read by her attorney Wednesday, Danley claimed she did not see any warning signs that Paddock was planning the attack, and that she believed he sent her to the Philippines — and later wired her money — as a way of breaking up with her.
"I knew Stephen Paddock as a kind, caring, quiet man," Danley said in her statement. "I loved him and hoped for a quiet future together with him. He never said anything to me or took any action that I was aware of that I understood in any way to be a warning that something horrible like this was going to happen."
The statement went on to explain that a little over two weeks ago, Paddock told her he found a cheap airline ticket to the Philippines, Danley's home country, and suggested she take a trip there to visit friends and family. While there, Danley added, Paddock "wired her money to buy a house for her and her family."
"I was grateful, but honestly, I was worried that first the unexpected trip home, and then the money was a way of breaking up with me," she said. "It never occurred to me in any way whatsoever that he was planning violence against anyone."
Danley's lawyer, Los Angeles-based Matthew Lombard, told reporters Tuesday that she is cooperating fully with the investigation, and returned to the US voluntarily to speak with authorities. Danley flew to the Philippines on Sept. 15.
Her brother, Reynaldo Bustos, who lives in the Philippines, said in an interview with ABC News that Danley told him she has a "clean conscience."

"I called her up immediately and she said, 'Relax, we shouldn't worry about it. I'll fix it. Do not panic. I have a clean conscience,'" said Bustos, speaking in Tagalog, his native tongue.

Danley is described as a friendly mother and grandmother who met Paddock while still married to her ex-husband and has spent the last few years living with him in Mesquite, Nevada.
Born in the Philippines on Dec. 12, 1954, Danley later moved to Queensland, Australia with her young daughter Sheila, married a local and became a citizen.

Danley lived on the Gold Coast in Queensland for a decade, until the late 1980s, according to Australia's ABC.

She moved to the US to marry Arkansas man Geary Danley, a FedEx auditor, in 1990, bringing along her daughter, who was then 15. The couple settled in Memphis, before later retiring to Nevada. She started dating Paddock in 2013.
Two of her sisters who live in Australia told Seven News that Danley was completely unaware of her partner's actions until after he perpetrated the mass shooting that left 58 people dead. Paddock killed himself before police could capture him.

"I know that she doesn't know anything," said one sister, who chose to remain anonymous.

According to the sisters, Danley believes she was sent away so that she couldn't stop Paddock from committing the shooting. Her sisters also said Paddock had sent Danley $100,000 while she was in the Philippines.
"She was sent away. She was away so that she will not be there to interfere with what he's planning," said one of her sisters, crying during the interview.

"She didn't even know that she was going to the Philippines until Steve said 'Marilou, I found you a cheap ticket to the Philippines'," said another sister.
"In that sense I thank him for sparing my sister's life. But that won't be to compensate the 59 people's lives," she added, describing Danley as a "gentle soul."
Danley's daughter, Sheila Darcey, is not currently speaking with the media. News crews are waiting outside her empty home in Venice Beach, California, where she lives with her husband and their young daughter. A voicemail box for Darcey directs people calling about "Marilou" to contact Matthew Lombard, Danley's lawyer.
Now an artist, Darcey wrote on her website that she feared pursuing art as she didn't want to disappoint her mother, but that after she changed her college major from computer science to fine art, Danley supported her completely.
"She stood by me and demanded the same excellence in this path as she did in the last. Her love never wavered," wrote Darcey.
Danley's 23-year-old nephew, Jordan Knights, told the Nine Network that he met Paddock on a trip to Las Vegas with his mother earlier this year, and was completely shocked to see the news about his aunt's partner. He noted that he had visited casinos and dined with Paddock during the trip, and that nothing he'd seen indicated any cause for concern.
"It seemed like he just looked after my aunty and that was it," Knights said. "He didn't seem like he was the type of guy to do that. I didn't even know he knew about guns."
Knights added that he was certain Danley wasn't involved with the shooting. "I knew that she would have had nothing to do with it," he said.
Neighbors at various properties owned by Paddock spoke of Danley as a friendly and kind neighbor, who would hug them hello and engage in friendly chitchat — but that Paddock kept to himself and rarely spoke.
Her former stepdaughter said she worked in retail selling jewelry and clothes. She previously worked at an airline in California and also sold Avon makeup.

Danley's LinkedIn profile classifies her as a "gambling and casinos professional," noting that she worked as a high-limit hostess at Club Paradise, part of the Atlantis Casino Resort Spa from 2010 to 2013.
It was while working at the casino in Reno, Nevada, that she met Paddock. They shared a mutual interest in gambling. She reportedly left her husband Geary Danley in 2013. When they divorced in 2015, the address given for Danley during the proceedings was for a home she shared with Paddock in Nevada.
Dionne Waltrip, daughter of Geary Danley, spoke warmly of her former stepmother.
"She's probably one of the most happy, outgoing, full-of-life people I've ever known," said Waltrip, reported the New York Times. "Everyone who has ever met her likes her."

Other friends of Danley's noted that she traveled regularly around the world.
"She was always gone," Connie Allred, a neighbor from Reno, according to the Times.
"She's a hard one to keep track of. We'd be in Zumba and then all of a sudden she would say, 'I'm leaving for a couple months,' and then she'd be back and then she's traveling other places," said Allred.

Paddock's brother Eric, who has expressed total disbelief at the actions of his brother, noted that she didn't expect Danley to be involved in the shootings at all.
"They were adorable — big man, tiny woman. He loved her. He doted on her," said Eric.
"She's a nice lady, I've met her three or four times," he told local TV station WKMG.
"She's got a Facebook page. She sends cookies to my mom," he added.
Eric also believed that his brother had sent Danley away overseas.
"He manipulated her to be as far away from here and safe when he committed this," said Eric Paddock, according to the Washington Post.
"The people he loved he took care of, and as he was descending into hell he took care of her," he added.
Workers at a Starbucks in Mesquite said they served the pair often —Danley would order a medium caramel macchiato, Paddock a venti mocha cappuccino — and painted a less kind picture of the couple. They noted Paddock would often insult his partner in public.

"It happened a lot," Esperanza Mendoza, a supervisor at the store — located inside the Virgin River Casino — told the LA Times.

One thing that would set Paddock off was when Danley asked to use Paddock's casino card for the purchase.

"He would glare down at her and say — with a mean attitude — 'You don't need my casino card for this. I'm paying for your drink, just like I'm paying for you.' Then she would softly say, 'OK' and step back behind him. He was so rude to her in front of us," said Mendoza.
It's not just investigators who think Danley might be able to shed light on the motives behind Paddock's actions, but also her family. They note that she, too, seemed deeply shocked by news of the massacre.
"No one can put the puzzles together. No one. Except Marilou," one sister said. "Because Steve is not here to talk anymore. Only Marilou can maybe help."
"She probably was even more shocked than us because she was more closer to him than us," another sister said.
"To be able to find out that the person you live with, that you love and live with can do such thing, and you thought you know the person yourself," she said.