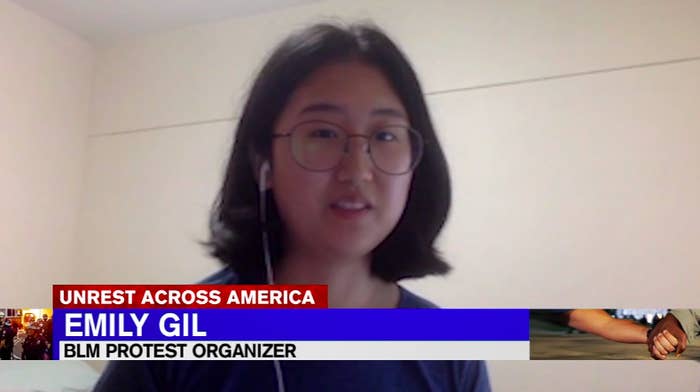 A New Jersey mayor sent a teenager a $2,500 bill for "police overtime" after she organized a Black Lives Matter protest — but he later rescinded it following media attention, claiming he had received "improper guidance."
Emily Gil, 18, organized a small Black Lives Matter rally in Englewood Cliffs on July 25 to protest the lack of affordable housing in her community, reported NJ.com. Around 30 people turned up to the peaceful event on a Saturday morning.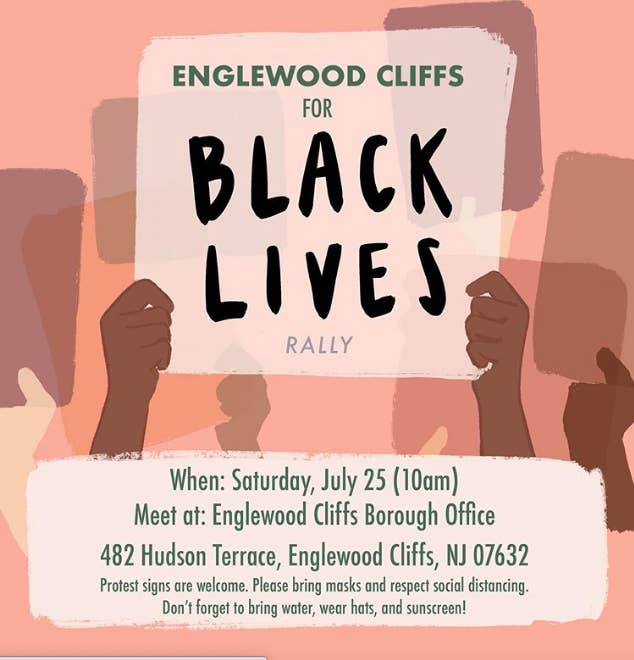 A few days later, Gil received a bill in the mail.
"Please promptly forward your payment to the borough in the amount of $2,499.26 for the police overtime caused by your protest," Englewood Cliffs Mayor Mario M. Kranjac wrote in the letter, according to NJ.com.

Gil told ABC7 that she had alerted the mayor to her upcoming protest.
"He said, 'So now that you've alerted me that this is going on, I'm going to have to send the police to you,'" Gil said. "So it wasn't something that I specifically requested. It was something that he imposed on me."
She also told ABC7 that the mayor also suggested she volunteer at a local food bank. "I felt a little disrespected, because the tone of the letter was condescending," she said.

A young activist, writer, and filmmaker, Gil graduated this year from Bergen County Technical School. Last year, she won the New Jersey Governor's Award and did an internship in Rep. Bill Pascrell's office.

Pascrell on Saturday called for the bill to be "rescinded immediately," adding that Gil was "apparently being sanctioned" for standing up for justice.
Kranjac wrote in the letter that it was necessary to charge Gil because she did not meet with officials before the protest. "Your lack of notification left the borough with little time to prepare for your protest so that the police department and department of public works could ensure that everyone would be safe," he wrote, according to NJ.com.

One of the co-organizers of the rally posted on Instagram that the police presence was minimal and mainly involved the erection of plastic barriers.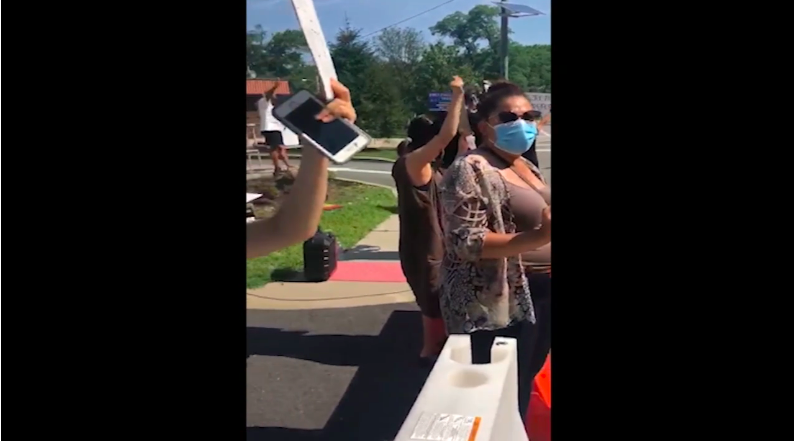 "The police came out ONCE to pull out these plastic things that was literally it," Vivian Chung posted on her Instagram, along with a link to a news story about the police bill. "Police overtime my ass."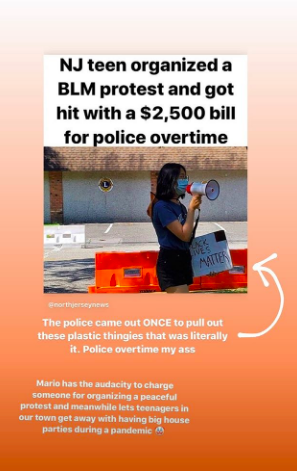 "Mario has the audacity to charge someone for organizing a peaceful protest," Chung continued, "and meanwhile lets teenagers in our town get away with having big house parties during a pandemic."
Gil said the mayor sent her the bill because of her political beliefs, telling NJ.com she had "reason to believe that it was because of my pro-affordable housing stance that Mr. Kranjac handled the situation this way."
She told BuzzFeed News that the letter was "a thinly veiled threat intended to chill free speech by leveraging financial power over a teenager."
At first, Kranjac stood by the decision to charge Gil, claiming it was a fee, not a fine. He told the Associated Press that Gil had not met with city officials beforehand.
"As with any privately sponsored event that takes place in the borough requiring police safety, an invoice was sent to the organizer for police overtime since it would be unfair to require our residents to financially support a private event," he told NJ.com.

It is not common for protest organizers to be charged for police attendance at a protest. Kranjac did not respond to BuzzFeed News' question about whether it was standard practice for his office to charge residents money for such events.
But after multiple media reports, the mayor changed his mind and canceled the charge.

"The bill was rescinded," Kranjac told BuzzFeed News. "I relied on staff that provided improper guidance."
But Gil doesn't see it as a win, she said, "since the 'bill' wasn't even legitimate in the first place."
"I think the mayor should be investigated for his actions to determine whether there was any wrongdoing on his part and to see if he's repeated this behavior elsewhere. We have to make sure this never happens again," she told BuzzFeed News.
She added that the reason she organized the rally was to bring attention to the "long history of exclusion and racism" in Englewood Cliffs. Though she's "glad the mayor is getting negative press for his wrongdoing and possible corruption," Gil hopes that people will continue to focus on the issue her rally was about: affordable housing and enacting systemic changes to improve their community.