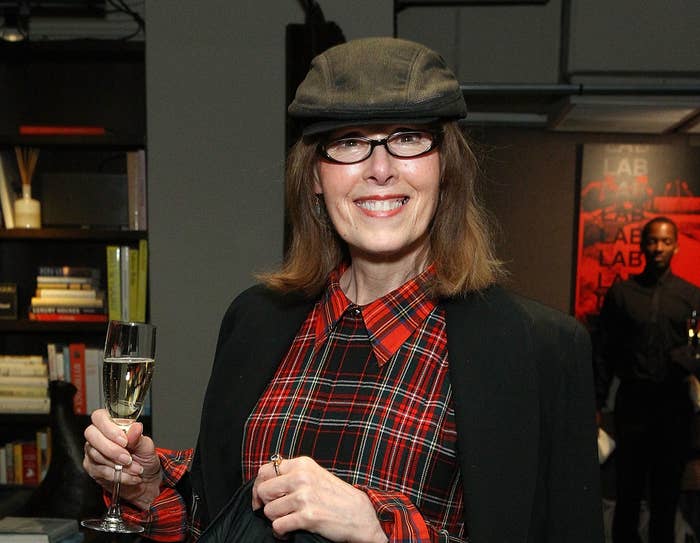 Writer and advice columnist E. Jean Carroll filed a defamation lawsuit against President Donald Trump on Monday, saying he lied when he denied her claims that he raped her in a New York department store two decades ago.
"Decades ago, the now president of the United States raped me," said Carroll in a statement. "While I can no longer hold Donald Trump accountable for assaulting me more than 20 years ago, I can hold him accountable for lying about it and I fully intend to do so."

In June, Carroll published a new book, an excerpt from which was published in New York magazine. She alleged Trump raped her in a Bergdorf Goodman dressing room about 23 years ago.

After she came forward with the allegation, the president not only denied raping Carroll but also said he had "never met that person in my life." He also accused her of making up other accusations — Carroll had also accused disgraced former CBS CEO Les Moonves of sexually assaulting her — and said the Democratic party must have been involved.
In a statement in June, Trump declared: "She is trying to sell a new book — that should indicate her motivation. It should be sold in the fiction section."
Trump also insinuated that Carroll was lying because she is not good-looking enough for him to be interested in. "Number one, she's not my type. Number two, it never happened," said Trump.
"After he lied about attacking her, he surrounded that central lie with a swarm of related lies in an effort to explain why she would invent an accusation of rape," reads the lawsuit. "To do so, he smeared her integrity, honesty, and dignity — all in the national press."

A few hours after this story was first published, White House press secretary Stephanie Grisham responded to a request for comment.
"Let me get this straight – Ms. Carroll is suing the President for defending himself against false allegations?" said Grisham in an email. "I guess since the book did not make any money she's trying to get paid another way. The story she used to try and sell her trash book never happened, period. Her version of events is not even feasible if you've ever tried on clothing in a dressing room of a crowded department store. The lawsuit is frivolous and the story is a fraud — just like the author."

In her book What Do We Need Men For? A Modest Proposal, Carroll described her allegations in detail. She wrote that after recognizing her as "that advice lady" (she appeared regularly on TV and in print at the time), Trump asked for her advice on helping him find a gift in the store for a "girl."
Carroll claimed Trump asked her to try on a bodysuit. In a dressing room, she alleged that he pulled down her tights and "thrust his penis" inside her.
In her lawsuit, filed Monday in New York County Supreme Court, Carroll said she kept the incident quiet, particularly during the 2016 election. She had seen how other women were attacked for coming forward, and she was caring for her elderly, dying mother who passed away just weeks before the election.
But the fall of Harvey Weinstein and the rise of the #MeToo movement inspired her to come forward and propelled her to file a lawsuit after being accused of lying by the president.
"Born a baby girl of the Silent Generation," said Carroll in a statement, "I was taught to laugh off sexual violence and believe that being raped was my own fault. Today, I am a grown woman who is suing the president of the United States for defamation."
"I am filing this lawsuit," continued Carroll, "for every woman who's been pinched, prodded, cornered, felt-up, pushed against a wall, grabbed, groped, assaulted, and has spoken up only to be shamed, demeaned, disgraced, passed over for promotion, fired, and forgotten."
The lawsuit said questions to Carroll's advice column have dropped 50% in the last year. It asks for Trump to retract all defaming statements and for a trial to decide monetary damages.

"No one, not even the president, is above the law," added Carroll.