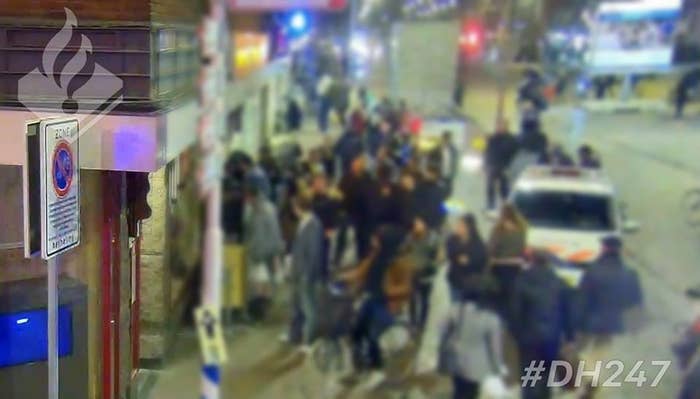 A Dutch police officer posted an emotional plea on Facebook this week for people to not use their cellphones to film strangers who are receiving life-saving medical attention.

"Imagine if it was someone precious to you, how would you like it?" the police officer, identified by the BBC as Gerwin Ouwehand, wrote in his now-viral post.
Ouwehand recounted that on Wednesday night he responded to a call for resuscitation in the Grote Markt, the main market in the center of the Hague, in the Netherlands.

"Immediately my colleagues and I jump up and drive with flashing lights and sirens to the location," he wrote.
Ouwehand and the officers arrived at a restaurant in the market and found the patient lying on the ground, with the other diners frozen, watching him.
A lady was already resuscitating him, and one of the police officer's colleagues took over. Ouwehand then searched for the victim's partner.
"I see her sitting at the table, intensely emotional. In her eyes I see disbelief and she asks me: 'He's not going to die, will he?' I tell her we are doing everything to keep her husband here," wrote Ouwehand, in his post on the Jan Hendrikstraat police station Facebook page.

The pair watched as officers used a portable cardiopulmonary resuscitation machine on her husband, which beeped loud alerts and sent electric shocks to help restart his heart.
Ouwehand said that he and the woman glanced outside and "to our horror" saw around 20–30 people standing and filming her husband being resuscitated.
"This cannot be true, is it?" the wife asked, according to Ouwehand. "They are just filming while my husband is dying there."

He ran outside and told the group at the window to leave "and that they should be ashamed of their behavior." The group of people then left.

The patient's heartbeat eventually returned and he began breathing on his own. He was rushed with his wife to a hospital.
While many people choose to film their encounters with officers carrying out police work, such as arrests, Ouwehand wrote that when he and his fellow officers debriefed at the station they spoke about their frustrations at people who watch and film while people are receiving urgent medical attention.
"As police we have no words for this," the officer wrote, noting that such behavior is not illegal. "We wish we could have confronted them."