The owner of a coffee shop at Duke University has apologized for firing two employees for playing a hip-hop song after a school official complained.
"We would welcome their return to the company," Robbie Roberts, who owns the popular North Carolina coffee chain Joe Van Gogh, told BuzzFeed News.
The issue arose when Larry Moneta, Duke University's vice president of student affairs, came into the campus Joe Van Gogh café on Friday for his regular tea and vegan muffin. Young Dolph's "Get Paid" was playing on the speakers, a track from a Spotify playlist chosen by Britni Brown, who worked on the register.
Moneta told Brown the lyrics of "Get Paid"— which include "get paid, young nigga, get paid" and "I fucked her so good, she got up and started cooking" — were "inappropriate," according to the Indy Week.
Brown quickly turned the music off, apologized, and offered Moneta his muffin for free, which he declined.
Shortly after Moneta left the store, her boss Robbie Roberts called her and said another university official, Robert Coffey, the executive director of dining services, had called him to pass on Moneta's complaint.
Brown, according to the Indy Week, apologized again and explained what had happened.
On Monday, both Brown and Kevin Simmons, who was working as a barista at the time of the incident, were fired.
A human resources representative for the coffee shop told Brown and Simmons that Duke University "has instructed us to terminate the employees that were working that day," according to Indy Week, who obtained a recording of the meeting.
"We had gotten a call from Robert Coffey of Duke saying that the VP of the university had come into the shop and that there was vulgar music playing," said Amanda Wiley, an HR representative for Joe Van Gogh, Indy Week reported. "Joe Van Gogh is contracted by Duke University, so we essentially work for them. And they can shut us down at any point."
On Wednesday morning, Roberts released a statement apologizing for how the company handled the situation while also welcoming the terminated staffers to return. He also noted that Duke was not to blame for the firings.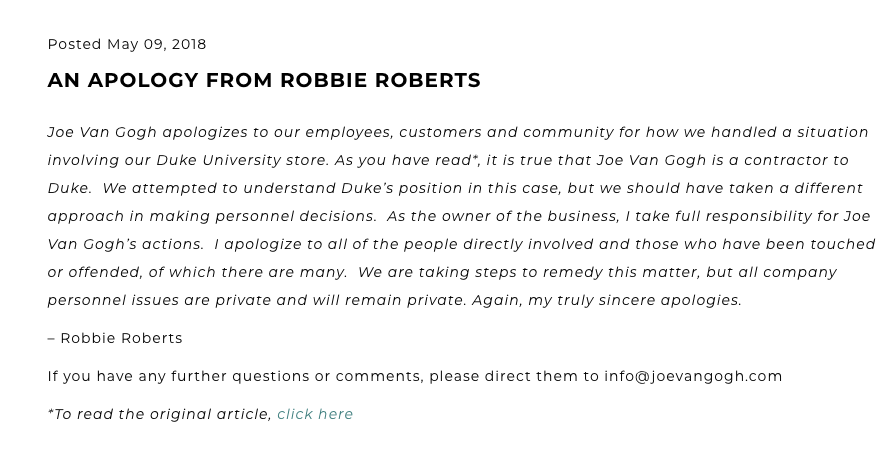 "We attempted to understand Duke's position in this case, but we should have taken a different approach in making personnel decisions," Roberts said. "As the owner of the business, I take full responsibility for Joe Van Gogh's actions. I apologize to all of the people directly involved and those who have been touched or offended, of which there are many. We are taking steps to remedy this matter, but all company personnel issues are private and will remain private."
Brown did not respond to questions about whether she planned to return to her old job. Simmons could not be reached.
Coffey did not immediately respond to BuzzFeed News' request for comment. Moneta told BuzzFeed News to contact Duke University's communications team, which sent a statement from Michael Schoenfeld, vice president of public affairs and government relations.
"Last week, a Duke official raised concerns about the fact that a song with lyrics containing offensive and explicit language was being played in the Joe Van Gogh coffee shop on campus," said Schoenfeld, linking to Roberts's apology. "Those concerns were brought to the attention of Joe Van Gogh's management, which took actions with regard to the employees for which Robbie Roberts, the owner, has now apologized."
He added that the college regrets "the pain this incident caused to those who look to Duke to uphold the highest values of fairness and equity to all members of our community."