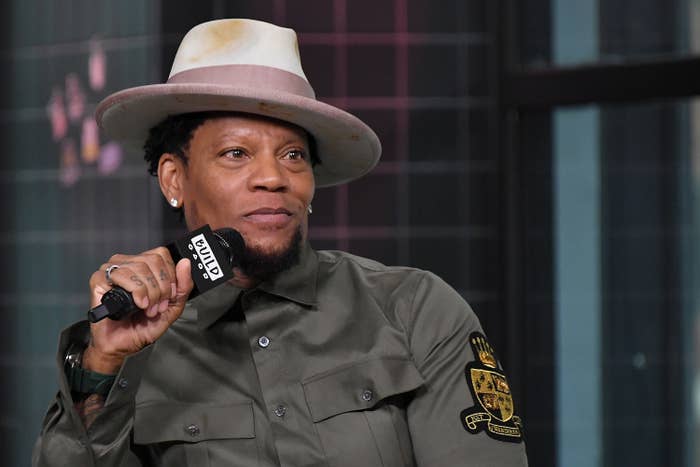 Comedian D.L. Hughley announced that he tested positive for COVID-19 after collapsing onstage during a stand-up gig in Nashville on Friday.
Hughley, 57, posted a video on Twitter on Saturday night explaining how shocked he was by the diagnosis.
"I was being treated for extreme exhaustion and dehydration. I was very dehydrated," said Hughley. "But it turns out they ran a battery of tests, and I also tested positive for COVID-19, which blew me away."
The former BET and CNN host said he was asymptomatic and did not have any of the normal symptoms of the coronavirus such as a fever, cough, or a loss of smell or taste.
"Apparently, I just lose consciousness," said Hughley. "In addition to all the other stuff you have to look out for, if your ass pass out in the middle of a show onstage, you probably need to get tested."
Video circulated on Twitter showing Hughley's collapse. In it, he's sitting onstage during his set at comedy club Zanies, and slightly slurs his words and then stops talking.

The crowd yells out in concern, and a person to the side of the stage rushes on as Hughley begins to collapse. A crowd of people then carry his unconscious body out of the venue.
In Nashville, current COVID-19 reopening guidelines permit event spaces to be open for up to 250 people (but most operate at 50% capacity to help with social distancing) and allow live music and entertainment.
Zanie's released a statement — before Hughley announced his coronavirus result — announcing the rest of his shows had been canceled and that the comedian was suffering from exhaustion. The comedy club has not yet responded to a request for comment after the comedian's COVID-19 diagnosis.
Hughley said he will spend the next 14 days quarantining in his Nashville hotel room.