Soccer Legend Diego Maradona Has Died At Age 60
Maradona, one of the game's most brilliant and controversial players, underwent brain surgery just weeks ago.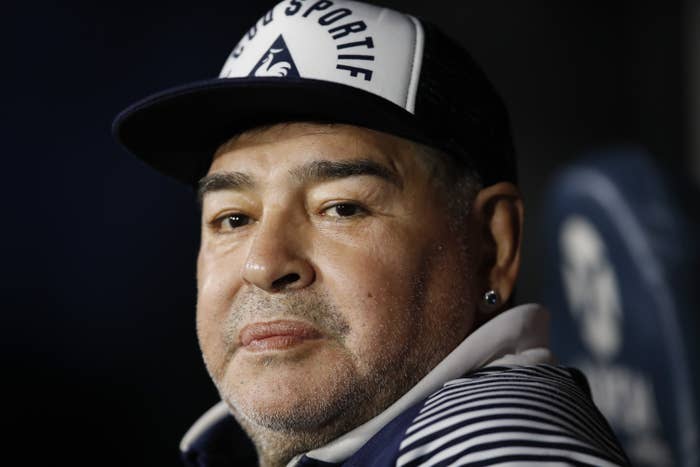 Argentine soccer star Diego Maradona, one of the game's most brilliant and controversial players, has died at age 60.
Earlier this month, Maradona underwent surgery to remove a blood clot on his brain, and then was discharged to a rehabilitation clinic to receive treatment for alcohol addiction.
The Argentina Football Association confirmed his death, writing that it "expresses its deepest pain for the passing of our legend, Diego Armando Maradona."
Maradona, one of eight children, was born on October 30, 1960 and rose from one of South America's poorest slums to become the dominant soccer talent of his generation and, by nearly all measures, one of the two or three greatest ever to play the game.

He led Argentina to a youth World Cup victory at just 18 years of age and went on to play in four more World Cups, including the 1986 edition in Mexico.
Diego, as he was known to millions of fans worldwide, starred in his country's championship run during that tournament, notably dispatching England in the quarterfinals with two of the most famous goals in soccer history.
The second, an eye-popping feat of skill that sent him weaving through nearly the entire England lineup before sending the ball home with his trusty left boot, is widely considered the greatest goal ever scored.
But it is the first strike in that match — perhaps more than any other feat in his career — that helped enshrine Maradona in the sport's firmament.
Jumping high over a taller goalkeeper on a crossing ball before the goalmouth, Maradona raised his left fist and drove the ball home, a violation of the sport's rules, which prohibit touching the ball with one's hands.
After the match, which Argentina won 2–1, Maradona was asked by reporters whether he'd handled the ball.
"It was a little bit with the head and a bit with the hand of God." To this day, the goal, revered in Argentina and despised in England, is known as the Hand of God.
Maradona played professionally in Argentina, Spain, and Italy, netting 312 goals in addition to 91 while wearing his national colors.
A standout star wherever he played, he reached his greatest glory at the beleaguered Naples club, where his playing led it to its first-ever Italian league title in 1987, followed by a second title in 1990.
The victories made Maradona a hero in Naples, revered as much in the southern Italian city as he was back home in Buenos Aires. But his time in Naples also resulted in public disgrace, as Maradona connected with both the Italian mafia and cocaine, two unsavory relationships that would change the course of his life.
As detailed in the 2019 film Diego Maradona, the Argentine fathered a child with a woman who was not his wife in Naples, got into trouble with his club for missing practices, and ultimately lost the favor of the local fans after Argentina eliminated Italy from the 1990 World Cup in Naples' own Stadio San Paulo.
After losing that World Cup in the final to Germany on penalties, Argentina was highly touted to win it outright in 1994. But after his team's second match, Maradona was ejected from the tournament after testing positive for ephedrine, a banned substance. He would never play in another World Cup, and his playing career ended four years later.
His life, however, would never be separated from the game he mastered. Standing in Buenos Aires' Bombonera stadium, home to his former club, Boca Juniors, in November 2001, Maradona formally retired, sharing his regrets to an overflow crowd of devoted fans.
"I made mistakes and I paid for them," he said. "But the ball cannot be stained."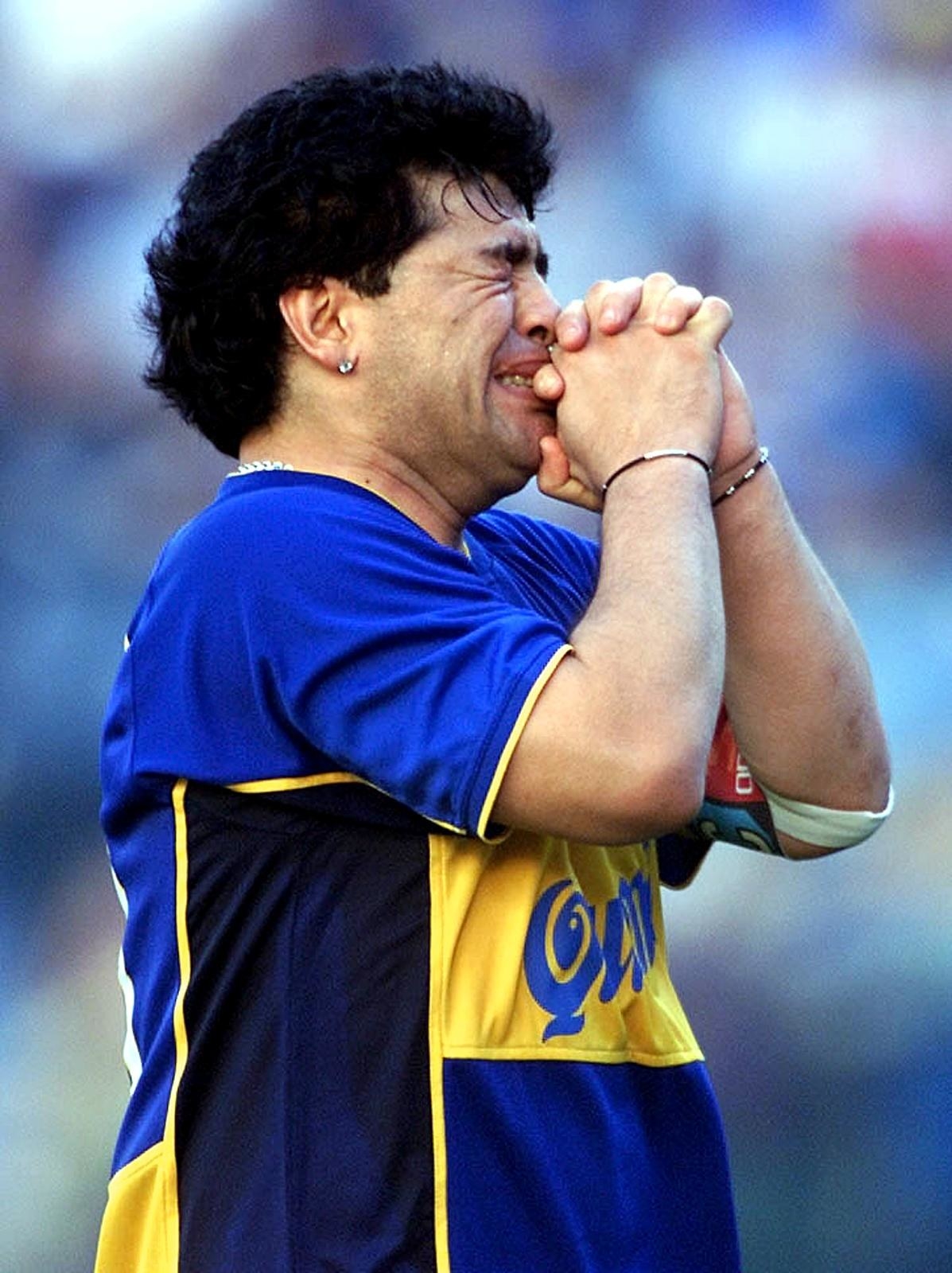 The soccer idol would go on to a coaching career, starting with Boca Juniors in 2005. But the aging superstar, his body bloated with neglect and persistent drug abuse, found far less success on the sideline than he had on the pitch. He helmed Argentina's national team at the 2010 World Cup, but was fired in the wake of a humiliating 4-0 shellacking by Germany that sent perhaps the tournament's most talented team — featuring Lionel Messi, another contender for the title of greatest-ever player — home once again in disappointing shame.
Subsequently, Maradona coached professional teams in the United Arab Emirates and Mexico, before returning again to coach in Argentina in September 2019. His arrival atop Gimnasio y Esgrima de la Plata convinced some 3,000 people to buy season tickets to watch the club play in just four days after the news broke.
Outside the pitch, Maradona enjoyed, and frequently suffered from, an unmatched degree of global celebrity. He caroused not only with famous athletes and actors, but with politicians, popes, and public intellectuals. Gossip magazines around the world followed his struggles with obesity, his often abject public vulgarity, and his flirtations with prominent political figures.
On several occasions, Maradona sought refuge on the island of Cuba, spending time with his friend Fidel Castro, whom he called a "second father." He was so devoted to the Cuban revolution, in fact, that he eventually got a tattoo of fellow Argentine Ernesto "Che" Guevara on his shoulder. He supported Venezuelan president Hugo Chavez, called himself a "soldier" for Nicolas Maduro, publicly sparred with Brazilian soccer legend Pelé, and hosted events with boxer Mike Tyson. Maradona wrote a best-selling autobiography and starred in a series of documentaries about his life. Ardent fans in Argentina even formed a church of Maradona devoted to worshipping him.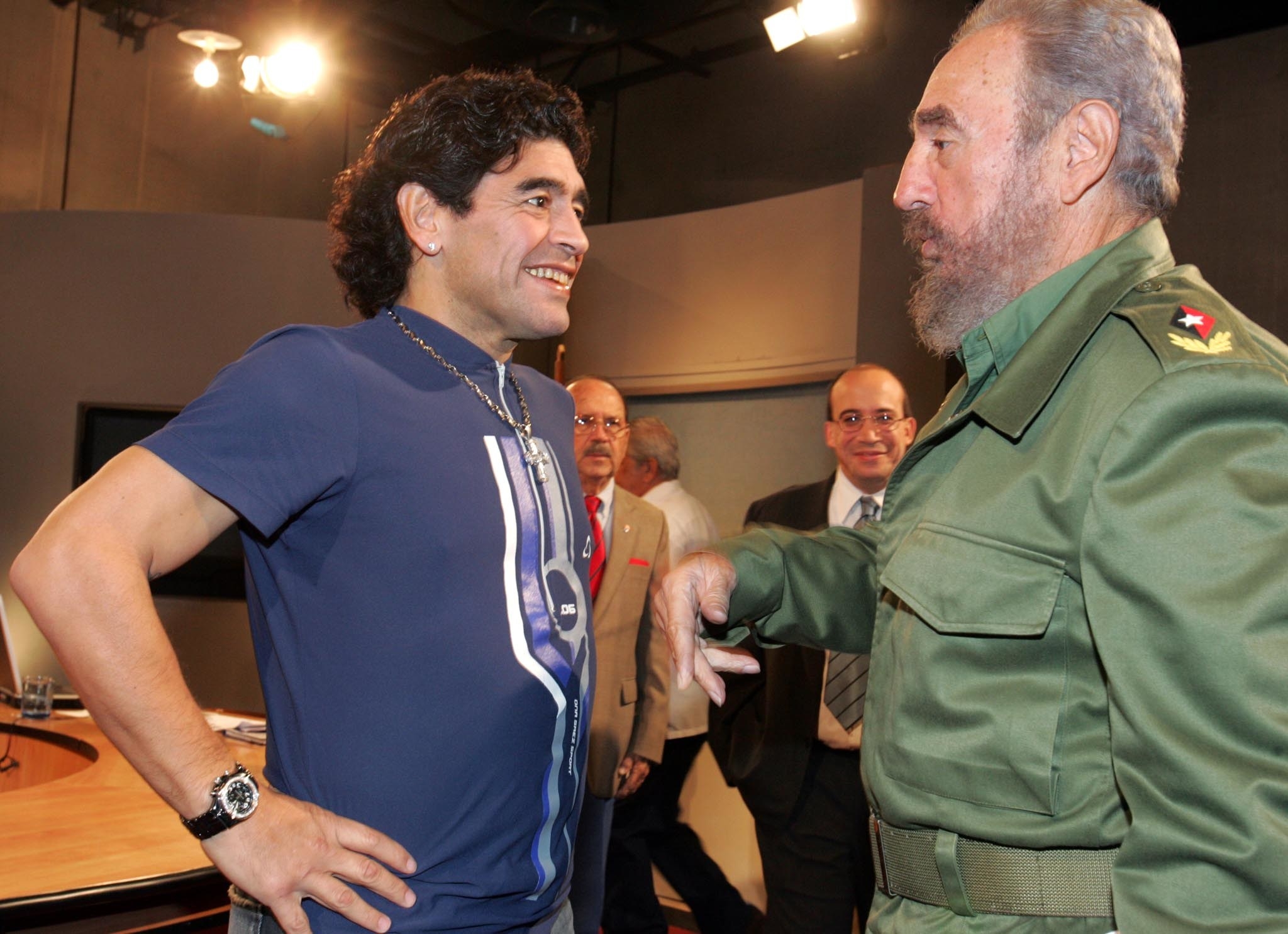 A celebrated guest of Russia at the 2018 World Cup, a seemingly intoxicated Maradona was photographed making vulgar gestures with both hands from a private box in St. Petersburg's Kretovsky stadium during Argentina's 2-1 victory over Nigeria. Just a few weeks before his death, Maradona said he believed his friend Vladimir Putin would deliver the first working vaccine for Coronavirus.
Maradona was married for 13 years to Claudia Villafañe, with whom he had two daughters, Dalma and Giannina. A son, Diego, was born to his girlfriend Veronica Ojeda in 2013. Maradona never formally recognized the son he is alleged to have fathered in Naples, also named Diego, nor a daughter named Jana born in Argentina in 1996.
His marriage to Villafañe ended acrimoniously in 1998 and he never remarried. In 2015 Maradona sued his ex-wife for alleged fraud.
He previously unsuccessfully sued his manager, and himself was sued several times by people who claimed he had assaulted them; in 1994 he notoriously shot an air rifle at a group of journalists waiting outside his house in hopes of an interview. The Italian government, for its part, said he left behind a tax debt in excess of $35 million when he departed Naples, and in 2006 seized several expensive watches he owned in a bid to recover some of those funds.
Despite his tumultuous personal life, Maradona remains a hero to millions willing to overlook his faults and celebrate his glories on the pitch that he dominated like no other.
"We remember Maradona for many things and for an influential and copious legacy; but above all his death signifies a farewell to the last people's player," tweeted Spanish journalist Chema Bravo, reflecting a feeling held by many, soon after Maradona's death was confirmed Wednesday. "Diego was the last idol that played for the fans and not for an industry."