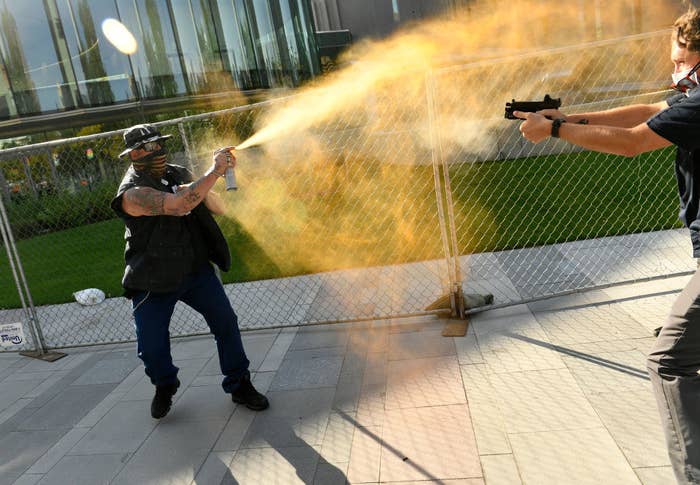 A private security guard hired by a news outlet is in police custody after allegedly shooting and killing a protester during a far-right "Patriot Rally" and a left-wing counterprotest in Denver on Saturday.
Denver Police said Sunday that 30-year-old Matthew Dolloff is "being held for investigation of first degree murder" in connection with the shooting.
The incident occurred during two heated dueling protests — the "Patriot Rally," in support of police, and a counterprotest, "BLM-Antifa Soup Drive," that was planned in response to the rally.
As the protests were ending, a "verbal altercation" took place between the suspected shooter and another man near Denver's art museum, according to Denver Police Division Chief of Investigations Joe Montoya.
"A firearm was discharged, an individual was shot and later pronounced deceased," said Montoya. Montoya said two guns were recovered at the scene, but police have not confirmed whose weapons they are.
The identity of the victim has not yet been released by police, but a woman who said she was his mother identified him as Lee Keltner on a Facebook group for the Northeast Arkansas Tea Party.
Another woman who said she was friends with Lee Keltner also posted about his death, calling him "an amazing friend, husband and dad."
In 2015, the Denver Post profiled Keltner, who ran a business making cowboy hats. "When I put a hat on someone who has been looking for the perfect hat for some time, and the hat just fits right, and it looks right, and they know it's finally right, they just light up," he told the Denver Post.
Photos taken Saturday by a Denver Post photographer who witnessed the shooting show a physical altercation between the two men.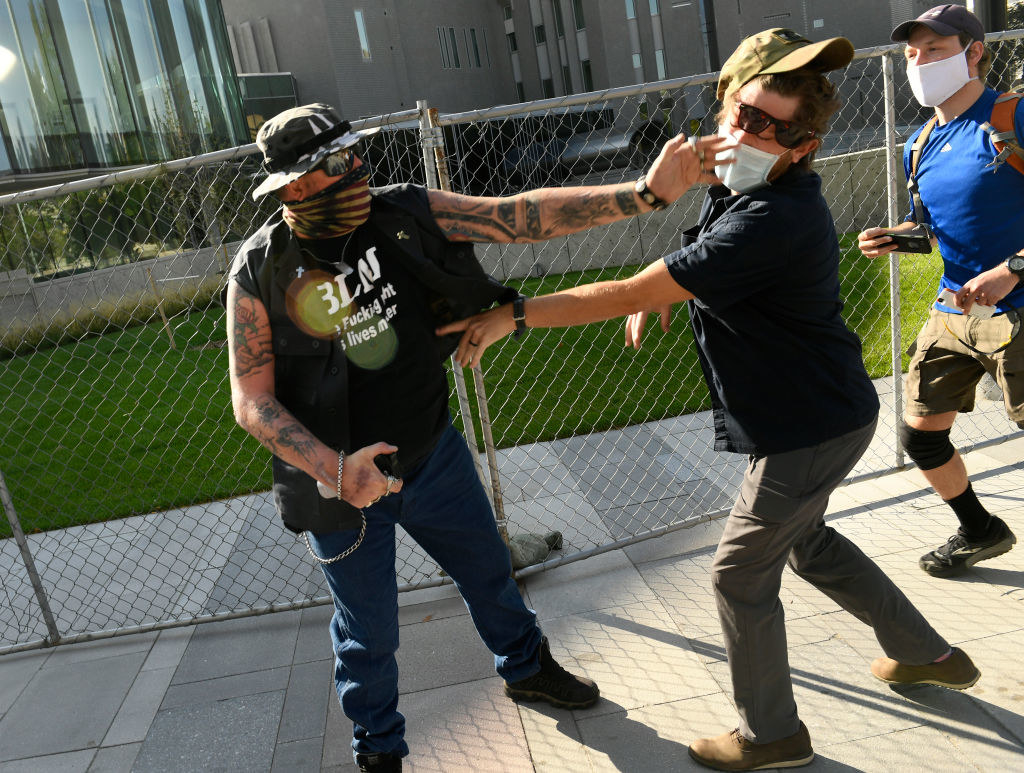 The photos showed the victim spraying mace at Dolloff, who had his gun drawn. Dolloff then shot him and was detained by police moments after.

Montoya said Saturday that police had not yet confirmed the affiliation of the victim nor the suspect.
However, after several right-wing individuals and groups claimed, without evidence, that the shooter was affiliated with antifa, Denver Police tweeted that "further investigation has determined the suspect is a private security guard with no affiliation with Antifa."

Local TV station KUSA, whose digital site is 9News, confirmed that Dolloff had been hired through Pinkerton, a security company, by the news outlet to protect their news staff at the protest. He did not appear to be easily identifiable as a security guard based on the photos of the incident.

"It has been the practice of 9NEWS for a number of months to contract private security to accompany staff at protests," 9News said in its report. The report also noted that one of their producers had been temporarily detained by police after the shooting but was later released.
9News did not immediately respond to BuzzFeed News' request for comment. Pinkerton confirmed to BuzzFeed News that Dolloff was a "contractor agent" and that it provides armed services, but would not expand on Dolloff's past work with the company citing client confidentiality.
Photos show the victim wearing a T-shirt that appears to match a bikers' meme that reads "BLM your fucking right biker's lives matter."

A video taken immediately before the shooting shows the victim standing with a group of right-wing protesters who are engaging in a verbal altercation with a different man who is wearing a "Black Guns Matter" T-shirt.

"Mace me motherfucker," the man wearing the "Black Guns Matter" T-shirt is heard saying in the video. The victim is seen walking away from that man, and seconds later, a gunshot is heard and the victim can be seen falling to the ground.
Patriot Rally organizer John Tiegen responded to the shooting in an Instagram post on Sunday.

"It's still unclear if the victim had been at the rally or just in the vicinity," Tiegen wrote. "We must continue to fight for the principles our country was founded on and not be scared to call out their radical leftist ideology and agenda."
Dolloff frequently posted online about his progressive politics, which in our hyperpartisan culture will inevitably be amplified and presented, especially by the far-right, as evidence of some sort of motivation.
But authorities have not provided a motive in the shooting and have made a point to say that Dolloff, who was at the protest as 9News' security guard, was not affiliated with antifa, as many far-right commentators immediately and without evidence assumed on social media after the shooting.
The president and far-right figures often immediately ascribe any violence at protests to "antifa." Antifa is not an organization, but a series of loosely defined groups of left-wing, anti-fascist activists who have, at times, engaged in violent tactics during protests.

But the right uses the term as a catchall for all protesters calling for racial justice as a way to discredit their message. Far often than not, violence at nationwide protests has been instigated and carried out by extremists, often on the far right.
According to Facebook posts that match public records for the full name and address for Dolloff, he and his wife run Lavender Moon Farm, a free-range turkey farm in Elizabeth, Colorado.
"We not only raise Turkeys but also Shetland Sheep, Goats, Chickens, bee's, and Great Pyrenees Dogs," reads an archived version of the farm's website, which has been deleted. The farm's contact information on its Facebook page was updated and removed early Sunday.
According to his personal Facebook page, Dolloff is studying at the University of Denver and describes himself as an atheist and a Democrat.
His most recent public post referenced the death of Michael Brooks, a progressive commentator who often appeared on The Young Turks, with Dolloff writing "#leftisbest." "The State of the Union is depressed, exhausted, and broke," he posted on Jan. 18, 2018. Dolloff posted photos from a Bernie Sanders rally in 2016 and an October 2011 Occupy Denver protest.