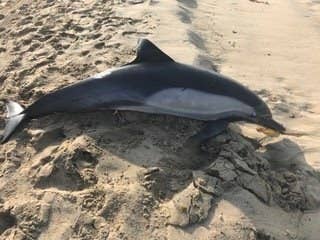 A dolphin that washed up into shallows at Manhattan Beach, California, died from a bullet wound, according to local animal welfare workers.
Peter Wallerstein, founder and president of Marine Animal Rescue, received a call to rescue a stranded dolphin on Nov. 9. But when he arrived, he and a lifeguard found the dead dolphin floating in the surf and quickly pulled it ashore.

Then, he noticed something surprising.
"I saw a little hole in the side," Wallerstein, 66, told BuzzFeed News. He immediately suspected it was a bullet wound.
Wallerstein took the dolphin to be checked at the Marine Mammal Care Center Los Angeles, where a veterinarian did a radiograph and verified it was a bullet.
Jeff Cozad, executive director of the center, confirmed a necropsy, an autopsy of an animal, was performed on the dolphin.
"We discovered a bullet, which had damaged the lungs. It appeared it was the cause of death," Cozad told BuzzFeed News. He described the dolphin as a young adult male, about seven feet long, and weighing around 170 pounds.
"There should never be any firearm injuries or deaths to a marine animal," said Cozad. He explains that a few times a year his center — which treated 239 marine mammals as of October — will receive a dead or injured small dolphin, sea lion or seal that had been shot, but added that it was rare.
"It's an act of brutality," said Wallerstein. His organization does 300–500 animal rescues per year in the Los Angeles area. This is the first time Wallerstein can remember having found a dolphin shot to death.
"We deal with a lot of sea lions shot. Very rarely dolphins," said Wallerstein. He estimated he's seen at least a dozen sea lions with bullet wounds in 15 years.

Wallerstein believes people on fishing boats sometimes shoot sea lions because they get in the way of their fishing. "Sea lions steal the bait off boats, they interfere. They shouldn't be shot or killed though," he said.
"For dolphins, it's an act of brutality. That's all it is. They don't interfere with fishing, apart from maybe the squid nets," he said.

He believes the dolphin was shot out at sea and then floated into shore.
Marine Animal Rescue is offering a $5,000 reward for information leading to the conviction of the dolphin killer.
The National Oceanic and Atmospheric Administration's National Marine Fisheries Service is investigating the death, according to Wallerstein. A representative for the group didn't immediately respond to a request for comment.
"We have to do something about it," said Wallerstein. "We have to stop these senseless killings of animals."