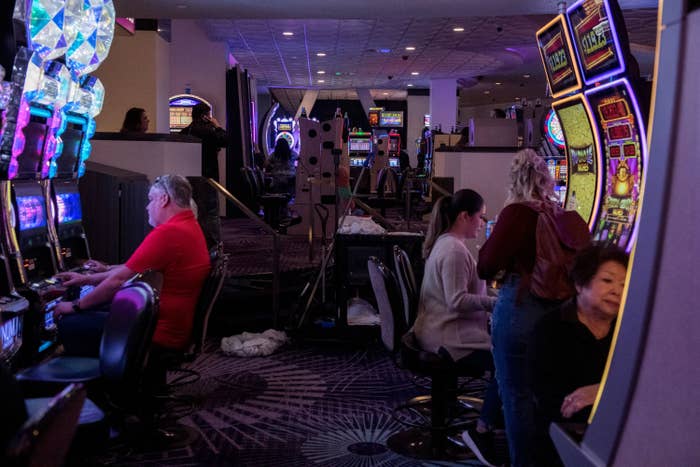 The journalists at BuzzFeed News are proud to bring you trustworthy and relevant reporting about the coronavirus. To help keep this news free, become a member and sign up for our newsletter Outbreak Today.

Unite Here — a major national union representing gaming, hotel, airline catering, and hospitality employees — expects up to 90% of its 300,000 members to lose work because of the coronavirus pandemic.

"The large majority of hospitality people in America are just laid off," D. Taylor, the president of Unite Here, told reporters in a call.
"We anticipate 80–90% of our members will not be working," Taylor said.
Hundreds of thousands of service workers around the country are losing their jobs as states close bars, restaurants, and hotels and large events are canceled.
Restaurant, club, and bar staffers have told BuzzFeed News they are already fearful how they will pay next month's rent after suddenly losing their jobs during a global pandemic. And more losses are expected in the coming days, union leaders said.
The initial deadly outbreak of the coronavirus in the US took place near Seattle. Of the 5,500 union members in Seattle and Portland, 4,000 to 4,500 have been laid off already, around 80% of workers, local Unite Here leader Erik Van Rossum estimated.
Nevada Gov. Steve Sisolak announced a shutdown of all casinos and hotels — the state's biggest industry — on Tuesday.
"Right now, nobody is working," said Geoconda Argüello-Kline, a Culinary Workers Union leader in Las Vegas. Her union represents 60,000 gaming workers.
Do you have questions you want answered? You can always get in touch. And if you're someone who is seeing the impact of this firsthand, we'd also love to hear from you (you can reach out to us via one of our tip line channels).

José Maldonado, one of the New York and New Jersey union leaders, spoke about how hotel, food service, and laundry workers he represents have weathered 9/11, Hurricane Sandy in 2012, and the devastation to Puerto Rico (where many members are from) in 2017.

"We endured all that," Maldonado said. "This is totally different. This is something we've never seen before."
All bars, clubs, and restaurants in New York City have been closed, as have theaters and concert venues. Hotels are closing en masse. In New Jersey, the governor introduced an 8 p.m. curfew on Monday.
"Mostly all our members are unemployed," Maldonado said.
The W San Francisco, a Marriott hotel, closed on Wednesday. Other hotels in the Bay Area are at less than 10% capacity and expecting to close.
"Thousands of our members are laid off now, [and] several thousand more will become impacted by the week's end is our expectation," said Anand Singh, president of Unite Here's San Francisco chapter.
President Donald Trump and Treasury Secretary Steve Mnuchin signaled they were trying to put together a plan to give every American adult $1,000. But the union is calling for a wider bailout package to be released by Congress that covers sick leave, quarantine leave, and health care for workers, since workers with employer-subsidized health care benefits will be losing that along with their jobs, despite the global pandemic.
"There needs to be a bailout of the American worker, not just a bailout for American industry," Taylor said. "This is a health care crisis and this is why people need health care, and yet they're losing it."