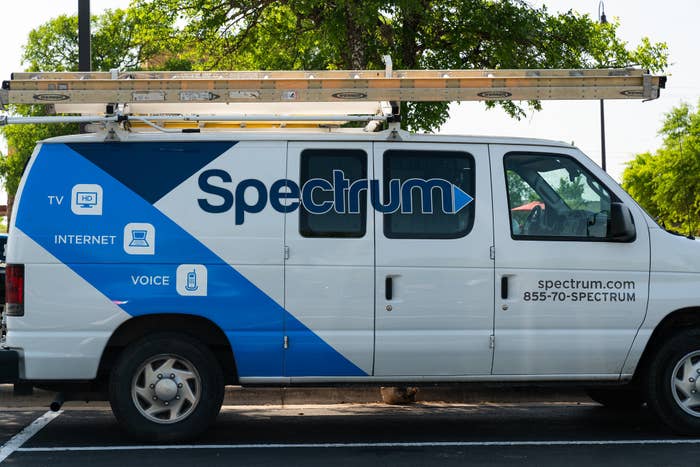 The journalists at BuzzFeed News are proud to bring you trustworthy and relevant reporting about the coronavirus. To help keep this news free, become a member and sign up for our newsletter, Outbreak Today.
The influx of employees working from home, kids attending school via video chat, and endless hours of TV streaming amid the extensive coronavirus lockdowns across the US mean demand for internet and cable is sky-high — but Spectrum technicians tell BuzzFeed News they are putting themselves and customers in danger by entering people's homes with no protective equipment.
"Spectrum, as a company, is not taking care of its employees," said one technician from New York City, who asked to remain anonymous to speak against his employer. "We don't have gloves, we don't have masks, we don't have hand sanitizer."
A family member managed to buy and send him gloves and hand sanitizer, but he's since nearly used it all.
He and a New Jersey–based technician say Spectrum has only sent generic emails offering health tips and hasn't called emergency meetings or answered staffers' concerns about how to properly protect themselves during the pandemic.
"They just tell us to wash our hands and stay as far away from the customers as possible," the Spectrum technician in New Jersey told BuzzFeed News. "There's nothing else they came up with to keep us safe."

For days, a chorus of public complaints has been building from Spectrum workers of all job types who are angry at how their company has responded to the coronavirus pandemic.
The newsletter Popular Information also reported Monday that cable technicians were entering homes without proper protections.

Spectrum had also insisted on call center workers coming into crowded offices despite social distancing guidelines. Spectrum only changed its policies to allow call center staffers to work from home once it was called out publicly.
Other Spectrum office staffers across the country told Gizmodo they were furious they were forced to commute into corporate offices despite the ability to work from home and contrary to CDC guidelines, which called for social distancing.

Cable technicians are classified as essential workers, and their job involves going directly into people's homes to install the cables and routers that ensure internet use can continue. "Your internet has to continue to work," said New York Gov. Andrew Cuomo on Friday as he announced a statewide lockdown of nonessential services.

But the physical nature of the work — which requires technicians to work directly in people's bedrooms, kitchens, and lounge rooms — puts both them and the customers at risk of exposing one another to the coronavirus.
"There are techs calling out because of it ... scared they are going to catch it," said the New York technician.
The technician said he tries to wash his hands immediately upon entering an apartment, but is not always able to. "Do you know how many times I've used a customer's bathroom and I can't wash my hands because they have no soap?"
Customers keep asking the Spectrum people why they aren't in full protective gear, both technicians said, as they worried about letting the workers into their home.
"Sometimes I forget what's going on. Then I'll walk into someone's house, and they'll be in a full hazmat suit with masks and gloves, looking at me like I'm crazy — but you asked for this appointment," said the New Jersey technician.

Currently, CDC guidelines suggest only health care workers or people in direct contact with a known or suspected COVID-19 patient should wear a mask, as there is a shortage, but many members of the public are wearing them regularly now.

"I've had a couple of people [over] the past week or so say, 'How come you don't have a mask? They're not giving out masks?'" said the New York–based technician. "I know it's [the coronavirus] hurting small business, but Spectrum is not a small business, it's a legit billion-dollar company."
Occasionally, customers offer a mask or gloves to the technicians. The technician in New Jersey was given a mask by a customer last week, which he has reworn. He was also given one pair of latex gloves by his boss last week, which quickly became dirty. Now, he's wearing his standard work gloves, which are breathable but "wouldn't protect my hand from any viruses."
The technician said he's fearful of perhaps unknowingly carrying the disease and infecting elderly customers with whom he comes into contact. A Comcast cable technician tested positive for the virus in Bloomfield, New Jersey, last week.
"People are scared," said the technician in New York. He said he was aware of one job recently where the request notes said the customer was an elderly high-risk person who wanted the technician to wear gloves — although no gloves were provided by Spectrum.

In a statement to BuzzFeed News, a Spectrum spokesperson said the company has been working in recent days to address staffers' concerns, including offering three weeks of paid leave for anyone affected by the coronavirus.
In an internal email sent to staff on Thursday announcing the three-week coronavirus leave policy, Tom Rutledge, chair and CEO of Charter Communications, Spectrum's parent company, wrote, "Our customer service and sales center call volume has increased significantly over the past week; our need for service and installation truck rolls is up."
Rutledge said the company was "developing further plans for increased social distancing, specifically creating more space in some of our Field operations, Customer Operations, Sales, Enterprise and Reach operating facilities," although there was no explanation of how that will work.
But technicians say the disconnect between management and field staff during this crisis is deeply frustrating.
"Easy for someone in a chair to say 'We'll do this' [and] then send someone else to go do the work," said the New Jersey technician.
The technician lives with a family member who has underlying health issues. He says he's considered using the three weeks of paid leave just as a quarantine measure to keep them protected.
The technician said that during an all-team call with management across New Jersey last week, "The numbers were the main talk of that conversation, as opposed to the pandemic."
"I know a lot of people don't have jobs at this point. I'm grateful to have one, but at the same time it's crazy," he added. "I feel like more could be done to protect us, and they're not doing it in the name of profits."

Despite multiple stories from fearful Spectrum workers across the country, the company says that the technicians who are complaining are in the minority.
"We're a company of 95,000 employees. If you want to find people who are unhappy, you're going to find them," Cameron Blanchard, a spokesperson for Spectrum, told BuzzFeed News.
Blanchard insisted there are "people who would also say they are comfortable with how things are rolling out."
The New Jersey technician said he wants the company to stop all nonemergency calls and installs; he noted that a client on one recent visit just had a cord plugged into the wrong spot, and another was a customer who wanted cable installed on the fourth TV in their home.

"People call in for the most random things that are nonemergency," he said.
Blanchard said call center staffers are trying to diagnose problems remotely to decrease the need for technicians to visit homes.
A photo circulating on Facebook groups for Spectrum cable technicians, which Gizmodo first published last week, shows a modem installation job request with the note "PLEASE CALL WHEN IN ROUTE**NOTE**CUST HAS CARONA VIRUS IS ISLOATED [sic] IN HOME**."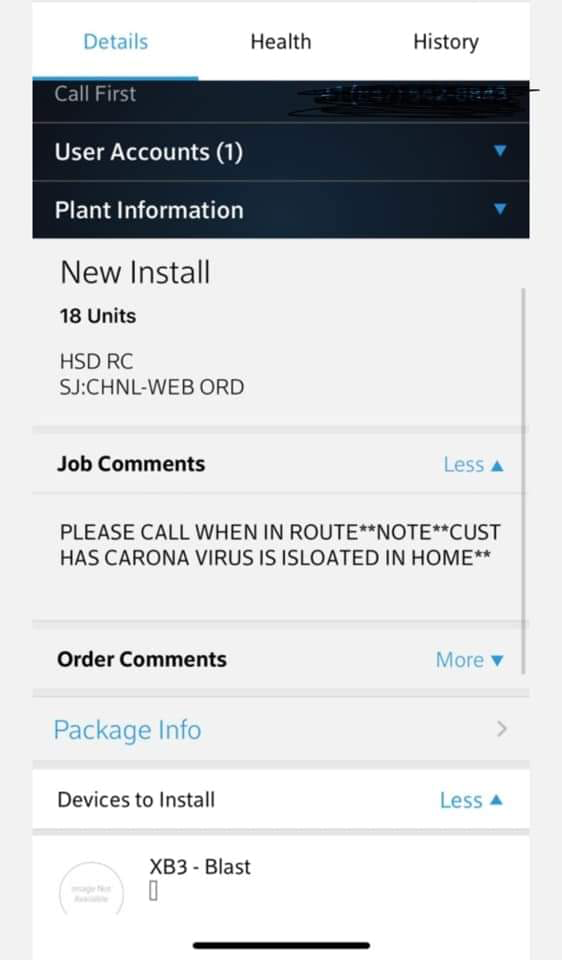 Blanchard said she doesn't know if the post is authentic, despite knowing about it for nearly a week. Technicians told BuzzFeed News this appeared to be the software used by the company for its jobs.

Blanchard added that the company has implemented rules in recent days to check if customers have the coronavirus.

"Our procedure now is to ask the customer if they are sick or have coronavirus," she said. "If yes, we will attempt to resolve the customer's issue remotely or from outside the home so as to avoid contact with the customer but to still be able to provide safe service."
But technicians don't believe customers will always be truthful even if they are sick, which could put the Spectrum workers' health at risk.
"There are people out here who are not going to admit it or say anything — because they want this service," said the New York technician. "If you are in quarantine for 14 days, as they want you to be, the main thing you're going to want is Wi-Fi, internet, and TV.
"I am happy to still be having a job and job security, but it's like, You want us out here working, so protect us," he added. "At the end of the day, we're still putting ourselves at risk with this."