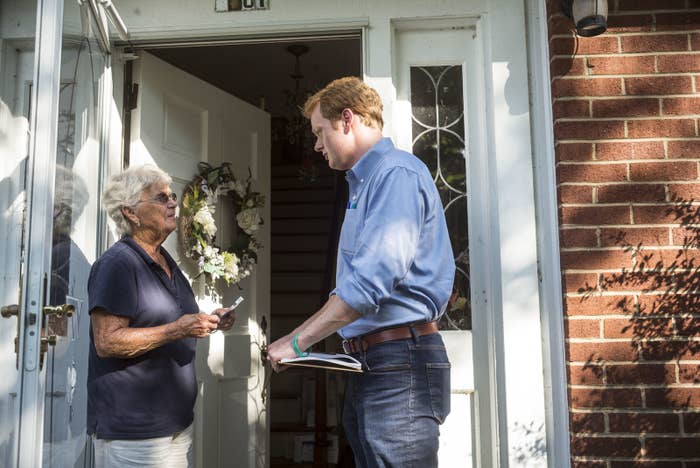 Former local TV news anchor Chris Hurst, the boyfriend of a journalist shot and killed on live television, won a seat in Virginia's House of Delegates on Tuesday night, part of a wave of Democratic election wins.
"We ran on one essential message of 'we're not going to BS you,'" Hurst told BuzzFeed News.

Hurst, 30, first gained national attention after his girlfriend Alison Parker, a reporter at Roanoke TV station WDBJ7, was shot and killed, along with her cameraman Adam Ward, during a live TV interview in September 2015.

On Tuesday, Hurst won over 54% of the vote against incumbent Joseph Yost, a Republican who has held the seat of New River Valley since 2011.

"I detest the narrative that has been portrayed in the media, 'man whose girlfriend has been gunned down runs against and beats NRA-backed candidate,'" said Hurst.
He called it "an insult to the legacy of Alison, who was about so much more, about how she lived her life rather than how she died."

Parker and Hurst, who met as coworkers at WDBJ7, had been dating for nine months. They'd moved in together shortly before her death, which came just days after celebrating her 24th birthday.

Hurst also described the narrative as insulting to NRA members who want common sense gun regulation (Hurst owns a shotgun and enjoys clay shooting), and diminishing to his campaign of public education, mental health, and Medicaid.

"It's very frustrating and will continue to be frustrating," he added.
After Parker's death, Hurst quit his job as a WDBJ7 evening anchor and moved to the nearby New River Valley. He announced his decision to run for state politics in February.
The most difficult thing about moving from journalism to politics?

"Not cursing in interviews," he quipped.
Tuesday's elections saw the Democrats sweep Virginia. Democrat Ralph Northam beat Republican Ed Gillespie, who had run on a pro-Trump agenda, 53–44 for governor. Democrats also won lieutenant governor and attorney general.
And Hurst was one of at least 15 candidates to flip Republican held seats in the Virginia House of Delegates, a shocking and historic swing in favor of the Democrats. By the time the vote counting is officially finished in tight races, they could pick up even more seats and possibly control of the legislature.
"All across Virginia people wanted to send a call to the rest of the country that we can stand up for progressive values and reject hatred and the tolerance for bigotry by some in the Republican Party and those in the White House," said Hurst.

But the president wasn't the main focus of his campaign.
"We could have run very anti-Trump. We actually thought it would have been electorally beneficial, but we made an active decision not to do that," said Hurst.

Instead his campaign team focused on local issues, such as expanding Medicaid, increased funding for public education, climate change mitigation, and LGBT protections.
After Parker and Ward's deaths, Hurst received online abuse calling him a crisis actor, by conspiracy theorists who believed the Roanoke shooting had been orchestrated by the government to push gun control. He still receives that abuse, he said.
"Haters are always going to be out there. Let trolls be trolls," said Hurst. "Screw them as far as I'm concerned."
He noted that major tech companies such as YouTube, Facebook, Twitter, and Google have allowed these conspiracies to populate.
"These major institutions have been woefully failing at the job of ensuring that content hosted on their websites is appropriate," said Hurst, noting that Parker's father works hard to remove video of his daughter's shooting from the internet.
Hurst said it was up to federal legislators to address the issue with tech companies.
Rather than fearing that conspiracy theorists would be emboldened by calling him a government actor once he was an actual member of the government, Hurst's main concern with running for office was a copy-cat style attack.
"The only thing I was worried about was that some person, in a health crisis, someone seriously disturbed, would try and stop me," said Hurst.
But he said that fear went away during his campaigning, as he became more certain of his political convictions.
"I'm now going to be among the powerful, holding the powerful accountable," said Hurst.

CORRECTION
Chris Hurst's campaign platform included an expansion of Medicaid. A previous version of this post misstated the federal program.