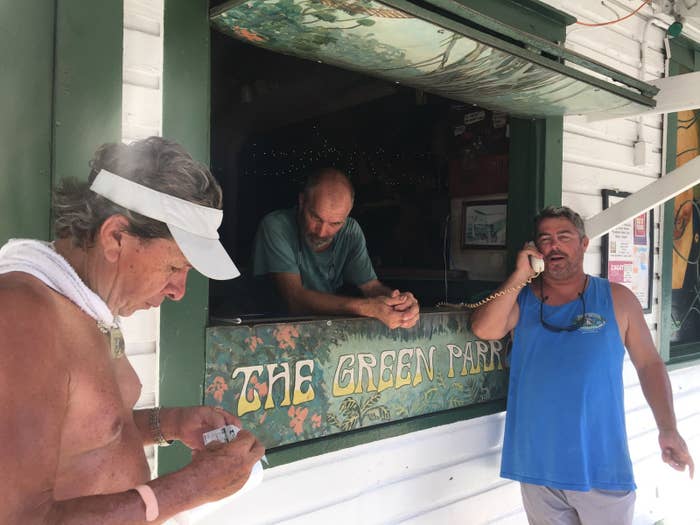 KEY WEST, Florida — Despite having no cold beer or whiskey for sale, Key West's iconic Green Parrot Bar is bumping post-hurricane. And that's because it's got one of the most precious supplies in town: a working phone.
Five hundred locals lined up outside The Green Parrot to use one of the town's handful of landlines, placing calls to worried mothers, kids, and fellow neighbors who'd evacuated before Hurricane Irma hit.
"Hey ma, it's Joe. It's OK, we're doing good, everything's fine," Joe Hayes, 66, told his mother, after finally getting through on the bar's phone, standing outside in the street to call. A few days earlier he'd left a voicemail for his "lovely 94-year-old mother, who is unfortunately still thriving," letting her know he'd made it through the storm unscathed, but he wasn't sure if she'd heard it. This time, he got through.
When Hurricane Irma hit Sunday, Key West, the southernmost tip in the Florida Keys, was just to the left of the eye of the storm. Other areas in the Keys suffered extensive home and property damage, with trailers flipped over, boats in the middle of the road, and missing roof tiles. But while Key West saw significant tree and debris damage, most buildings here are fine. Many residents continue to ride around the streets of town on bicycles.
However, there's no running water, no power, and no cell service — meaning many outside the Keys are still fretting about the whereabouts of loved ones who rode out the storm. So The Green Parrot's mechanic, Buco, rigged together a phone line after realizing the closed restaurant next door had a connection and an old handset that he could wire up to the bar with cables.
"He pirated the thing. He did it for the people," said a local who gave his name as Rick "Ricardo" and his age as "66 years and 6 months old."
"Perfect example of Key West coming together," he added.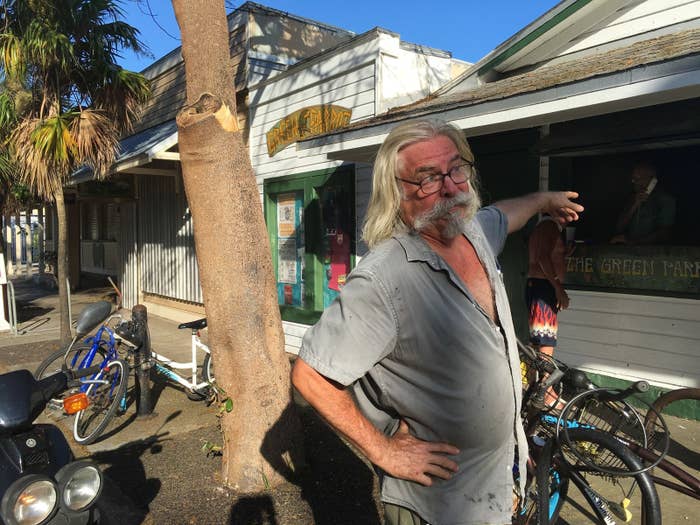 People turned up Wednesday to call grandparents, a sister in Mexico, and family in California, among others. The Green Parrot didn't charge for the calls, but there was a two-minute time limit, or five minutes if the bar was quiet.
Since there's no running water in town, the bar isn't allowed to open or sell alcohol, but people can reach the phone through a side door. Once there, Buco dials the number, and passes the phone when it starts ringing. Locals brought old address books and cell phones with stored contacts, since hardly anyone knows a number by heart.
"Maybe two out of a hundred. And it's always their mother's number that they remember," he said.

Keith Kneeland, 45, a dockmaster, placed a call on the Green Parrot phone to his sister. "Your big brother is OK!" he told her when she picked up.
He told her that if he'd evacuated, he would have been stuck outside the Keys for days because the government has limited access for residents while authorities clean up debris. "So it was a calculated, educated guess and turns out I am a genius," he laughed.
Afterward, he told BuzzFeed News that his sister had called and sent "4,000" messages before the storm, begging him to leave. "She's been worried sick," he said.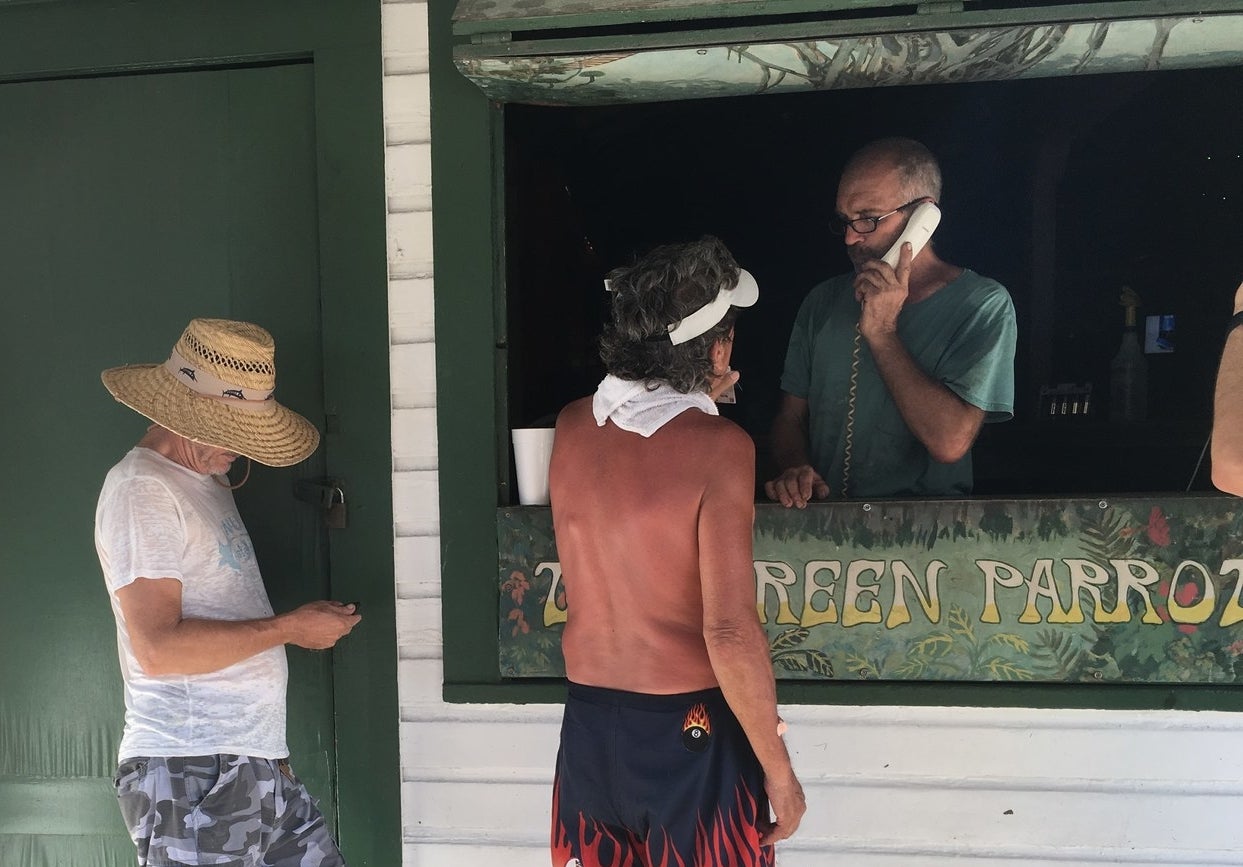 In line, Key West residents talked about hurricane news they'd heard broadcast on US1 radio, a Florida Keys station that's been providing updates on which phone lines are available and how long the wait times are at local businesses.
One line for a phone near K-Mart had a 90-minute wait on Wednesday, said Mike Tucker, 61, a cashier at the Salvation Army. He decided not to wait to make a call his friend, and instead headed in for a shift giving out food and water at a feeding station on Key West's Flagler Ave.
"Depending who she listens to on the news, she might be worried if I am OK or not OK," Tucker said of the friend he had planned to call.
Overwhelmingly, locals just wanted to call loved ones to tell them not to worry: The island was still standing. Power and water will come on eventually, they said, and though gas is scarce, it's available. Debris is being cut away and cleared.
"We know what we're doing here in a hurricane, us Key Westers," Kneeland said. "It's everyone back home that's giving us the problem for staying, because they don't understand. I finally got word out to my mother, and she said we're all devastated and it's all just simply not."

Andrew Kimmel contributed to this report