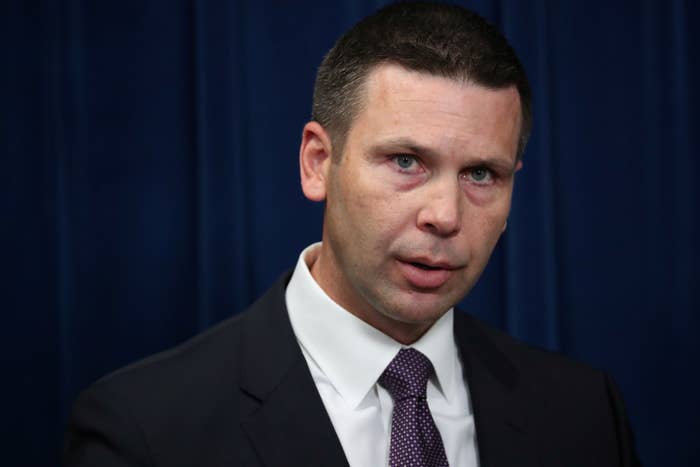 The Customs and Border Protection commissioner knew that a 7-year-old girl had died in CBP custody when he testified before a Senate judiciary committee hearing Tuesday, but did not mention it to lawmakers.
The girl from Guatemala, identified as Jakelin Caal, died in Texas less than 24 hours after being taken into CBP custody on Dec. 6. Her death was first reported by the Washington Post on Thursday night.

Texas Rep. Julian Castro, a Democrat, said on MSNBC Friday night that CBP Commissioner Kevin McAleenan admitted to him that he'd known about Caal's death before he testified in front of the Senate committee.
"I was very disturbed by that answer," said Castro, saying that if someone dies in CBP custody, the agency is supposed to notify Congress within 24 hours, which he said McAleenan failed to do.
Congressional guidance that accompanied the 2018 Department of Homeland Security Spending Bill directed CBP to "report the death of any individual in CBP custody ... within 24 hours, including relevant details regarding the circumstances of the fatality."
McAleenan testified in front of the Senate Judiciary Committee four days after the girl's death and did not notify lawmakers of the news.
"Now his argument was that he had not gotten a privacy release from the family, and that also, he didn't want to politicize the death," Castro said, arguing that McAleenan could have simply described her as a 7-year-old girl and not identified her.
"So this is going to be a very serious problem for him and an issue that the next Congress will look into," Castro added.

A CBP spokesperson declined to comment for this story, but the Washington Post reported that McAleenan wrote a letter to another member of Congress on Friday saying he didn't tell lawmakers about the girl's death due to privacy concerns and to avoiding politicizing it.

A press release from CBP published Friday noted that CBP's Office of Professional Responsibility and the Department of Homeland Security's Office of Inspector General are conducting a review of the girl's death and also reviewing the agency's public notification policy about deaths in custody.
"Out of respect to the family of the deceased, CBP did not issue a statement regarding the child's death at the time of the death," the CBP statement said.
Jakelin Caal had crossed the border with her father, Nery Caal. They were part of a group of 163 people that turned themselves into CBP officers after crossing the border illegally near Lordsburg, New Mexico.
The girl began to have seizures within hours of being in CBP custody and was found to have a body temperature of 105.7 degrees, prompting officials to call emergency medical responders and fly her to a hospital in El Paso, Texas. She died less than 24 hours later.

Trump administration officials defended their response Friday, saying they were not to blame for the girl's death and that her father had failed to alert authorities to her illness.
In the CBP press release, McAleenan spoke about the danger of crossing the border.
"We cannot stress enough the dangers posed by traveling long distances, in crowded transportation, or in the natural elements through remote desert areas without food, water and other supplies," he said.
"No one should risk injury, or even death, by crossing our border unlawfully. This is why I asked Congress on Tuesday to change our laws so that the United States is not incentivizing families to take this dangerous path," McAleenan's statement continued.

In his Tuesday committee appearance, McAleenan spoke about how previously the majority of people who crossed into the US illegally were single adult men, but that families and unaccompanied minors now represented up to 59% of border arrests or people who went to ports of entry without proper documentation in November.
He also told the committee that CBP holding cells were unsuitable for families and that more medical staff were needed.
CORRECTION
An earlier version of this post misspelled the name of Jakelin Caal.
CORRECTION
An earlier version of this post misstated the name of Customs and Border Protection.