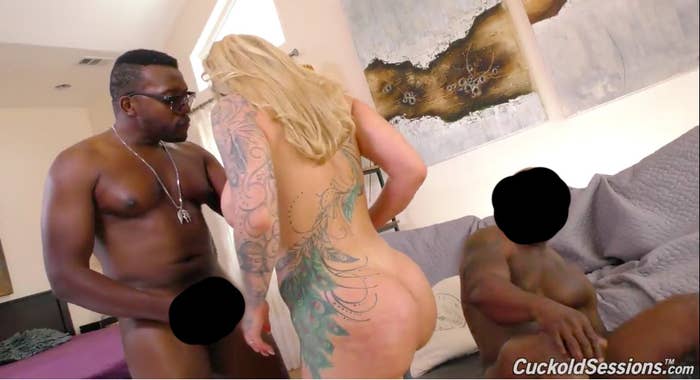 A black male porn star is suing his former employer after a white female costar called him the n-word twice without his consent while filming a scene and footage of the incident then appeared in a porn video online.
Maurice McKnight, who performs under the name Moe the Monster, filed a lawsuit against DF Productions Inc. and his former supervisor James Camp in Los Angeles County Superior Court on Thursday.
The lawsuit alleges that during filming on July 12, 2017, director Camp asked McKnight on two occasions if he would consent to being called the n-word during filming by his white costar, and both times he refused.
"I told him, 'No, I don't like the word,'" McKnight told BuzzFeed News on Thursday.
He said Camp told him that fans enjoy hearing the word during porn. "I still don't like it," McKnight said he replied.
McKnight said the director then came back later in the day and again asked, noting that his costar, Deborah Hinkle, who performs as Ryan Conner, was OK with saying it.
"I said, 'I don't care if she's OK with it — I don't like that word and I'm not down with it,'" said McKnight, who has worked in the adult film industry for nine years.

He also said that Hinkle was standing next to the director both times that he refused.

However, during the filming of his ejaculation, aka the money shot, Hinkle can be heard saying the word twice.
"Give me that nigger load. Give me all that nigger cum," said Hinkle, in a video that was uploaded to dogfart.com, a porn network run by DF Productions.
Hinkle did not immediately respond to BuzzFeed News' request for comment.
"The use of the n-word in the workplace is considered by courts, and our society, as the most offensive racial slur imaginable," said McKnight's lawyer, Dan Gilleon. "It embodies the evil of racism.
"Unfortunately, Dogfart makes a lot of money catering to racists in our society, so they were willing to dupe Moe into performing this scene, knowing Ryan Conner planned to use this vulgar language," he said.

It's unclear if the video is still available on the Dogfart network, which specializes in interracial videos.
News of the lawsuit was first published Thursday by the New York Daily News.
McKnight alleges in his lawsuit that the company "targets racist viewers and entices them into paying DFI money in exchange for the right to view racist adult films."

He said he requested that the footage be edited after he realized it was being sold online from December 2017, and that staff at DF Productions refused.
Alleged text messages published in the lawsuit show Cable Rosenberg, the owner of DF Productions, and Camp insulting McKnight.

"Make your dick hard again and stop being a beta male ... It's getting embarrassing. Anymore tortious interference and we'll take this to court," Rosenberg texted, according to the lawsuit.
BuzzFeed News was unable to reach Camp, Rosenberg, or anyone from DF Productions for comment.
McKnight said black adult stars already experience a lot of discrimination while working in porn and that he wanted to pursue his lawsuit to help fight against it.
"I want that word and those types of stigmas to be eliminated from the adult industry," said McKnight.