Billy Graham, the world-famous evangelist preacher who died Wednesday at 99, will be buried in a plywood casket made by a convicted killer.
Convicted murderer Richard Liggett led fellow inmates at Louisiana State Penitentiary, the country's largest maximum-security prison, to design and build the casket over a decade ago.
Liggett was serving a life sentence for second-degree murder and died in prison in 2007.
The simple casket is lined with a mattress pad and has a wooden cross nailed to the top. Brass handles are on the side.
Graham's son Franklin, president of the Billy Graham Evangelist Association, saw the caskets being made during a tour of the prison in 2005. The caskets were normally made for inmates who could not afford them. He asked the inmates to build caskets for his parents.

"The Graham family requested no upgrades to the plywood casket. Only a few modifications were made to allow the casket to be transported easily," said the Billy Graham Evangelist Association in a statement.
Graham's wife Ruth, who passed away in 2007, was also buried in an identical casket.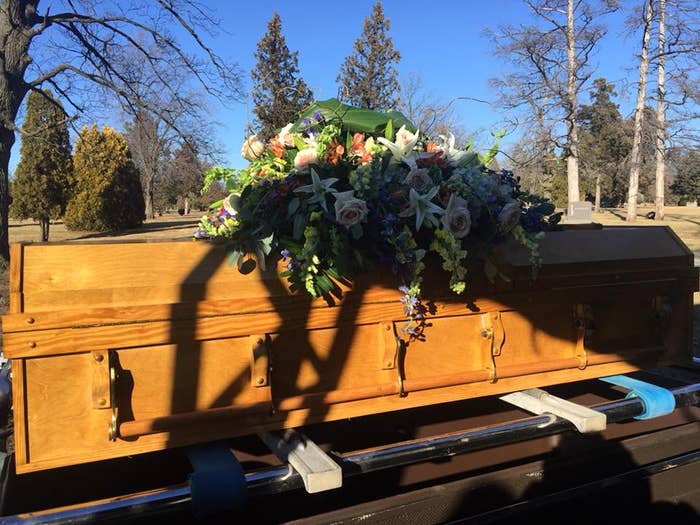 Art Rorheim, the cofounder of Awana, a Evangelical Christian nonprofit and ministry, was buried last month in an identical coffin made by the Louisiana State Penitentiary inmates.
His granddaughter, Kim Ahlgrim, director of the Cove at Cedarville University, provided BuzzFeed News with photos from his funeral showing the casket.
"What strikes me the most about the prisoners who made the casket for Billy Graham and my grandfather is that it's a 'beautiful act of love.' Both Billy Graham and my grandfather knew these men would likely spend the rest of their lives behind bars. Yet, they invested in their lives," said Ahlgrim.
The memorial events for Graham will begin Saturday, with a motorcade from Asheville to Charlotte in North Carolina.
On Wednesday, Speaker Paul Ryan announced that Graham's casket will lie in honor in the rotunda of the US Capitol building for two days next week, from Feb. 28, before a private funeral March 2.
It's a rare instance that a private citizen will lie in state after their death — the last instance was civil rights icon Rosa Parks in 2005.
CORRECTION
Rosa Parks's name was misspelled in an earlier version of this post.