BEAUMONT, Texas — With no running water since Thursday morning, intermittent electricity, few medical facilities, little food, and rising floodwaters, the situation in Beaumont, Texas, became increasingly dire for its trapped residents, forcing the evacuation of the city's two relief shelters to Dallas.

More than 120 evacuees from Harvey relief shelters in Beaumont slept on buses overnight outside the Jack Brooks regional airport as they waited to be flown to the mega-shelter evacuation center in Dallas on Friday.

"It looks like a war zone," said Beaumont resident Shayla Harris, 50, as rescue helicopters buzzed overheard outside the Beaumont Civic Center Shelter on Thursday afternoon.
Harris, a Red Cross volunteer, had moved into the Beaumont Civic Center shelter on Monday with her elderly mother after the floods began.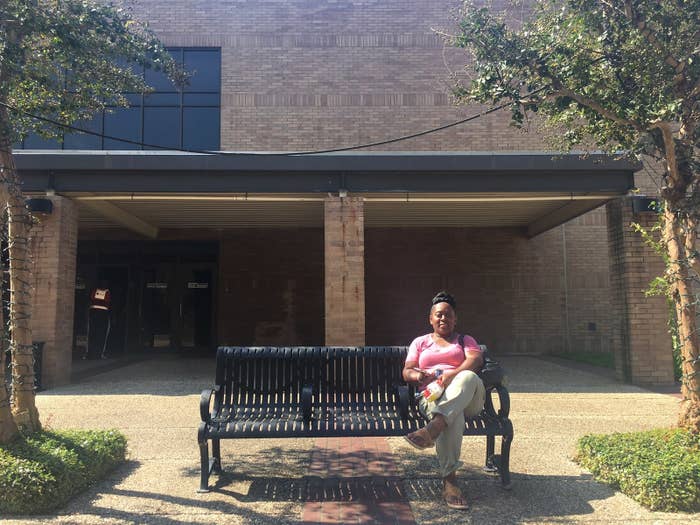 "I just found out we have no bread in the city. No bread, no water, electricity dropping in and out," Harris said. "There is no money in the teller machines. What do you do in this city with nothing?"

By late Thursday, the aftermath of Harvey was squeezing Beaumont, a city of 120,000 people, on multiple fronts.
The Neches River, which flows through the middle of the city and alongside the Beaumont Civic Center, was rising rapidly as officials upstream released water from a dam, Beaumont Officer Haley Morrow told BuzzFeed News. The rising water raised concerns that additional neighborhoods might be flooded.
On Thursday, picnic tables and park benches visible a day earlier were covered by floodwater.

A day earlier, evacuees watched as an entire house floated down the river in front of them. The house hit a bridge and then broke down and sunk, its roof the last bit to slip under the floodwaters, witnesses told BuzzFeed News.
Harris drove to the town's cemetery on Wednesday to check on the grave of her daughter, who was murdered as a newborn.

"I tried to go around to make sure my daughter wasn't floating through there. You can see the headstones sitting underwater," Harris said. "I was stopped in my tracks by the water. I couldn't see anything but water, nothing but water."
Jenna Rector, a 25-year-old 911 dispatcher in Beaumont, closed the purchase of her new home in nearby Lumberton on Friday. But she only spent one night in the new home before the water started seeping in.
At first, it was just a few inches, but over the next several days, the water rose higher and higher until Wednesday, when it was brushing the roof.

"It's considered a total loss," Rector — whose sister, father, and brother also work for the police department — told BuzzFeed News Thursday. "It's to the roof. It's an indescribable feeling. I feel like I don't have anything."
"I couldn't cry more tears if I tried," she added.
Accessing medical supplies was also an issue for Beaumont flood victims, specifically because the civic evacuation center said they could only fulfill prescriptions – not write them.
Harris's mother is diabetic and insulin-dependent, and also uses an oxygen tank regularly, but Harris did not have her prescriptions with her.
"I have one vial of insulin," she said. "I've been trying to call the pharmacy all day and they're closed."

Diabetic Dionya Holloman, 23, had fled her Beaumont home to the civic evacuation center when the water reached the balcony and did not have an insulin prescription with her.
Holloman hadn't tested her blood sugar for two days and had gone out without her normal insulin injections for three or four days before finally receiving an insulin shot by doctors on Thursday morning.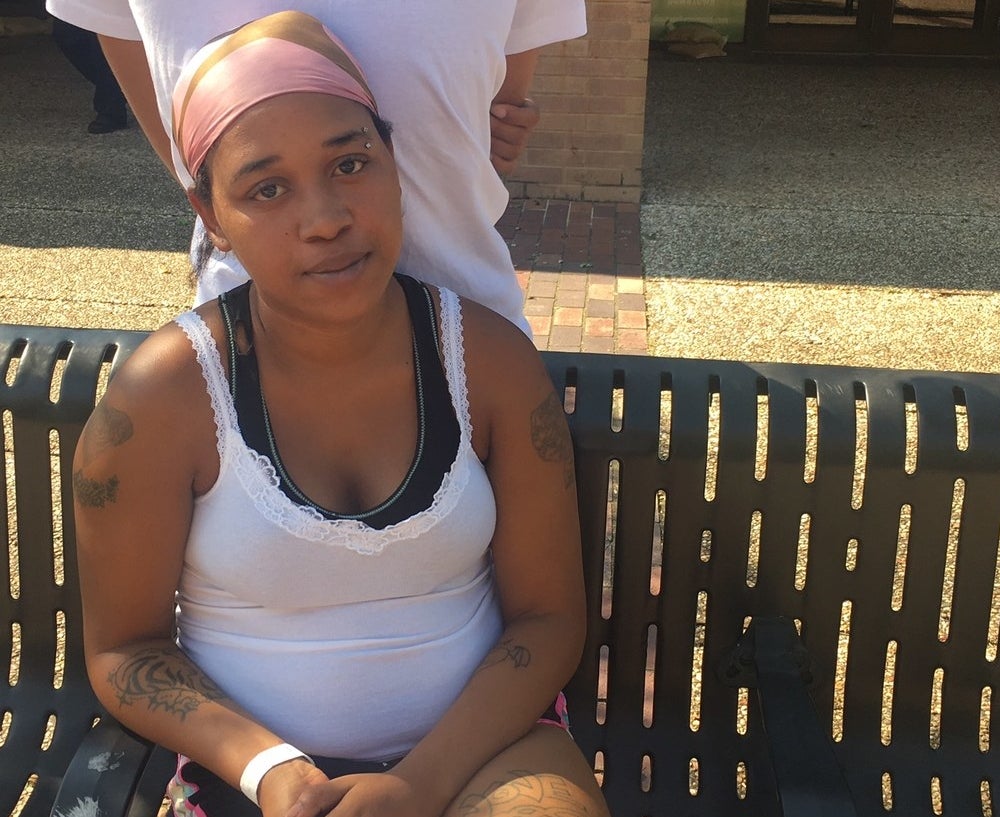 "Before they gave me my medicine I was dizzy, I was nauseated," she told BuzzFeed News, clearly still weakened and ill. Her blood-sugar level, which is not supposed to be above 170, was at 378 when doctors checked it.

"They told if I had went into diabetic shock here, they would have had to care of me here, all the hospitals are closed down," she said.
Others were just desperate to eat.
Robert Jones, 66, from Beaumont dropped by the center with his two young granddaughters, trying to get some food and water. Their electricity had cut out Wednesday night, and they'd eaten the leftover chili, rice, and milk left in the fridge. Now the water was no longer running and the fridge was bare.
Jones said he's on a fixed monthly income that had already gone to rent and bills. He had $4 in cash left and was trying to conserve gas as they drove to supermarkets with empty shelves.
His 11-year-old granddaughter, Myiunique, lives in Port Arthur with her mother and sister, but had been staying with her grandfather when the floods hit, her mother escaping to an evacuation center on the back of a pick-up truck.
"To be honest, I'm very depressed. My spirits literally dropped," Myiunique said before breaking down in tears.
But people were arriving with food supplies. Thursday afternoon, Will Reddy Johnson arrived at the Beaumont Civic Center with several friends in his "party bus" — which they had loaded with donated supplies.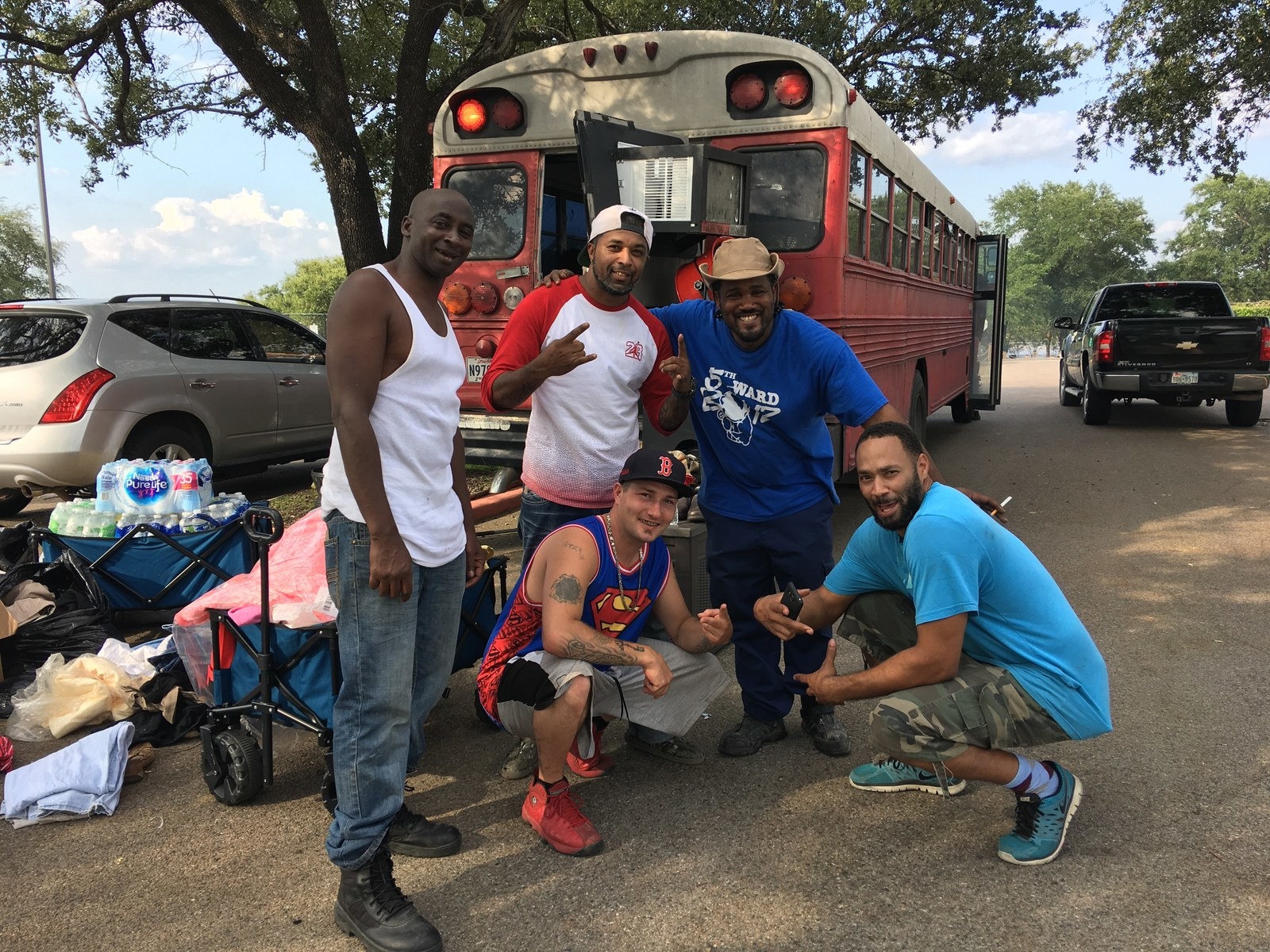 The men drove two hours and came into Texas under the escort of a National Guard convoy that they had encountered while trying to find a way around the flood waters.
Johnson said that he and his friends came to Texas to help people as they attempt to rebuild their lives.

"With all the blessings you've had in life," Johnson added, "how you know you don't owe God one."
As BuzzFeed News walked into the convention center at around 4:40 p.m. on Thursday, the electricity suddenly cut out and the building was plunged into darkness.

"Go back to your cots," officials yelled out.
Evacuees walked around in the dark, or huddled around their beds. Only a few had flashlights. After about 30 minutes of pitch black, the lights came back on and officials immediately announced that the center was to be evacuated that evening.

Residents could either return to their home in Beaumont, if it was safe, or they would be evacuated to San Antonio.
"We need to go ahead and start packing up our cots and making a decision about what you're going to do," declared a Red Cross official with a megaphone.
Red Cross volunteers began handing out black garbage bags.
Asked whether she planned to head to San Antonio, retired special education high school Lynette Sturgal, 69 replied: "I can't go home. My house is completely underwater."
When she left her Beaumont home with her husband as the Harvey floods hit, their home was filled with 4 feet of water.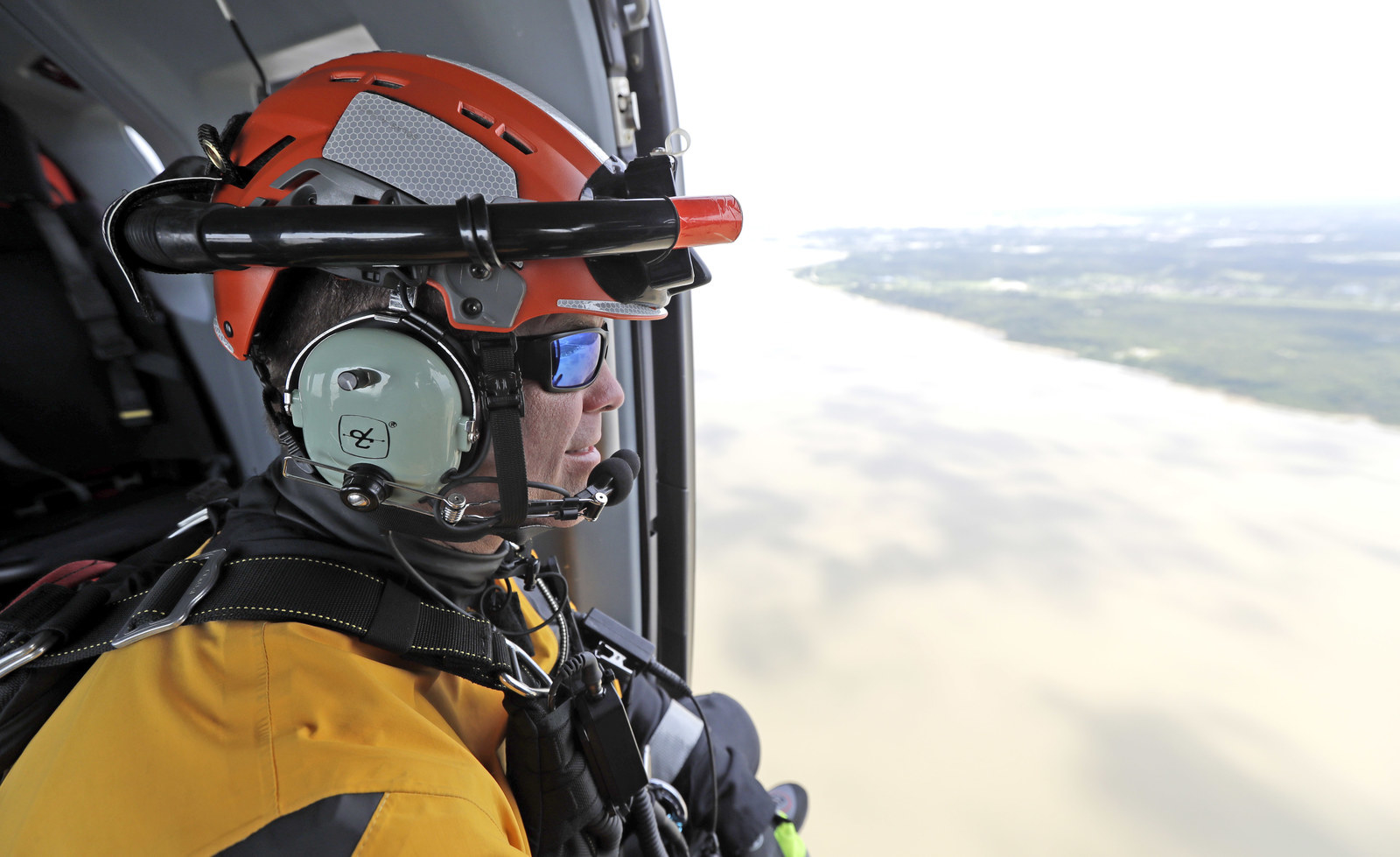 "When I left, I was carrying a 25-pound dog, my husband was carrying a dog, and the water was in the street to here," Sturgal said while motioning to her upper thigh.
Her car, paid off in full three months ago, was flooded to the windows when they left.
"They're all gone. Everything is gone," she said. "I think I lost all my cats, because I couldn't bring them. I had to leave them in the house. There were eight of them, my babies. The water was getting so high, so fast."
She saw two of them swim through the water and climb to higher ground and hopes they survived.
Luckily, Sturgal was able to keep her dogs with her at the shelter and officials said they too would be transferred with their owners by bus to San Antonio – before the plan changed again.
Officer Morrow said Friday the shelters served a total of about 1,500 people before they shut down.
Many of the evacuees were able to return home by Friday, but about 40% of the remaining people then had to be flown to Dallas — a "Plan B" that Morrow said needed after roads proved to be too flooded for buses to make it through.
According to Dallas city manager TC Broadnax, 120 people arrived in the city from Beaumont Friday morning. Others were on their way, with more flights planned for the afternoon.

Harris and her mother boarded a plane to Dallas at 3:30 p.m. after sleeping overnight on the bus at the airport and waiting for a flight.
"We are OK, but still have no insulin," she texted BuzzFeed News.
If you've been impacted by the storm in Texas or have a tip about rescue, relief, government, or aid efforts, call the BuzzFeed News tipline at (646) 589-8598. Find us on Signal, email, SecureDrop, and more here.