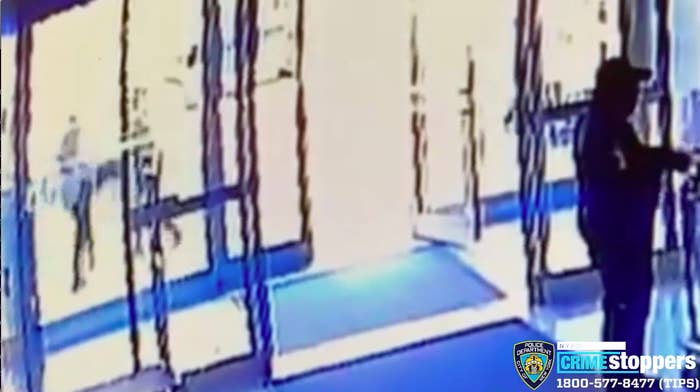 An older Asian woman walking down the street in Manhattan was kicked to the ground and had her head stomped on in a horrifying attack by a man spewing racist insults on Monday morning.
The NYPD's Hate Crime Task Force is investigating the assault of the 65-year-old woman in front of a building on West 43rd Street in Midtown, which was captured on security footage.
Police said the male suspect made "made anti-Asian statements toward her" as he kicked her in the body and head.
The woman sustained a serious physical injury and is in a stable condition in a local hospital. She was identified as Vilma Kari by her daughter, who started a GoFundMe on Wednesday night to raise money for her recovery.

Police released a photo of the suspect from the Monday attack and are asking for anyone who can identify him to come forward.
While surveillance camera footage captured the woman being violently assaulted, it also shows security staff in the building fail to render her aid and close the door on her as she lies in the street.

In a now-deleted tweet, the NYPD's Asian Hate Crimes Task Force called out the building staff: "The cold hearted building security guard not only failed to render aid, he closed the door on the victim," they wrote, according to ABC7.
The Brodsky Organization, which manages the building where the attack took place, posted a statement on its social media saying the workers seen in the video had been suspended.
"The staff who witnessed the attack have been suspended pending an investigation in conjunction with their union," it reads.