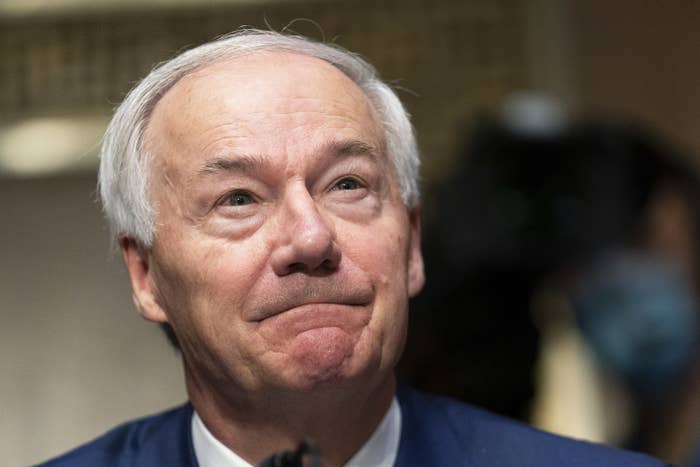 Politicians rarely admit when they've messed up, but as the Delta variant surges across the US and his state, Arkansas Gov. Asa Hutchinson said he now regrets signing a law banning mask mandates.
"In hindsight, I wish that had not become law," said Hutchinson in a press conference on Tuesday.
"But it is the law," the Republican governor continued. "So the only chance we have is to amend it or for the courts to say it has an unconstitutional foundation."

The Arkansas mandate means businesses, schools, and cities cannot implement rules to allow entry only to masked or vaccinated people in order to limit the spread of the coronavirus.
Multiple Republican-led states around the country have implemented similar laws banning face coverings in schools or other places, including Florida, Arizona, Utah, and Texas.
With children returning to in-person learning in the fall, Arkansas schools are not able to enforce masking — putting those under 12, who do not yet qualify for a vaccine, particularly at risk.
And the governor acknowledged that was a possibly deadly mistake.
"I signed it at the time because our cases were at a very low point," said Hutchinson. "Everything has changed now."

Arkansas, like most of the country, is seeing a huge surge in cases of COVID-19 sparked by the more contagious Delta variant. The state's seven-day moving average was 1,901 on Monday, according to the CDC. On Tuesday, the state reported 2,343 more cases. And there's been a 50% increase in children's cases in recent weeks.
"There is a current public health emergency in Arkansas," said Hutchinson.

Arkansas has some of the lowest vaccination rates in the country, with just 46.6% of the population having at least one COVID-19 vaccination shot, according to the CDC.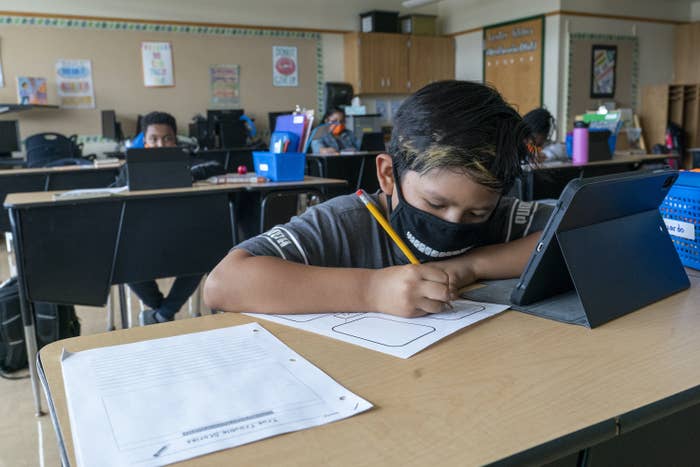 But the governor's regrets around banning mask mandates only focused on school-aged children under 12 because, he argued, people older than that should get vaccinated — although he noted he does not support a vaccination mandate.
"The 12 and under is the only category that has no choice," said Hutchinson.

On Wednesday morning, the Arkansas state legislature began a special session to examine whether the law banning mask mandates should be amended specifically to allow school boards and local school districts to have them.
After legislators read the special session announcement from the governor, noting that "this variant has effected a higher rate of school-age children" and that "there is an urgent need to enact exceptions," the session adjourned until Thursday morning.
"I understand that some legislators are reluctant to allow school boards this freedom, even in this limited way," said Hutchinson in a press release. "But the exceptions for which I am asking are true to the conservative principle that puts control in the hands of local government."
In Florida, one school district voted on Tuesday night to make masks compulsory despite Gov. Ron DeSantis's executive order banning schools from implementing mask mandates and threatening to pull state funding if they do so. That decision came after another school district in the state reversed their mask mandate out of fear of losing funding.

In early July, the CDC announced that fully vaccinated students and teachers did not need to wear masks for in-person learning.
But two weeks later, the agency changed that recommendation, instead suggesting all people in schools — students, teachers, and other staff — should be masked regardless of vaccination status.