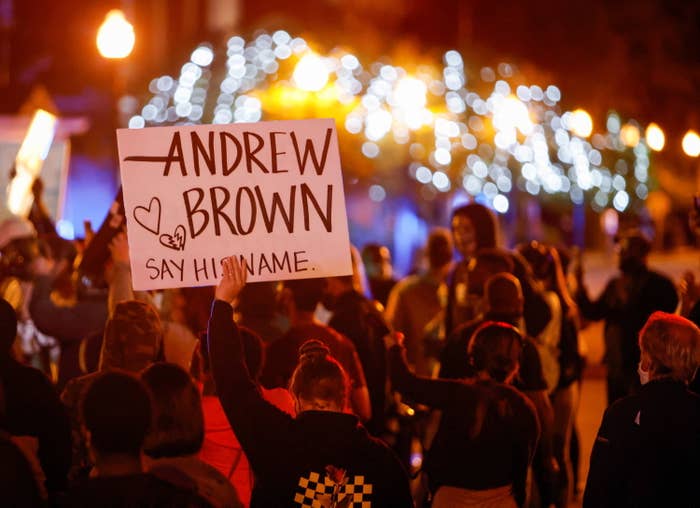 An independent autopsy organized by the family of Andrew Brown Jr. found that he was shot five times by police: four times in his right arm and a fatal shot to the back of his head.
"It was a killshot to the back of the head," said attorney Ben Crump, who is representing Brown's family, in a press conference Tuesday morning.
Brown was shot and killed in his car outside his home in Elizabeth City, North Carolina, on April 21 as deputies from the Pasquotank County Sheriff's Office attempted to execute a search warrant. Seven deputies were placed on administrative leave after the incident.
The office didn't immediately return a request for comment on the autopsy report, although Sheriff Tommy Wooten II did release a statement to some media outlets.
"The private autopsy released by the family is important and I continue to pray for them during this difficult time," Wooten said in a statement published by WAVY-TV. "However, a private autopsy is just one piece of the puzzle. The independent investigation being performed by the SBI is crucial and the interviews, forensics, and other evidence they gather will help ensure that justice is accomplished."
The FBI announced Tuesday it was opening a civil rights investigation into the death of Brown "to determine whether federal laws were violated," according to the Associated Press. In a statement, attorneys for Brown's family welcomed the federal probe, saying that they trusted the FBI's inquiry would "overcome any local bias that may prevent justice from being served."
On Tuesday, WAVY-TV published a video of deputies arriving at Brown's home at the beginning of the encounter. Multiple sheriff's deputies, who appear to be in helmets and full riot gear, can be seen standing in the back of the pickup as it drives down Brown's street.
Crump tweeted that the footage showed the "militarized police force rushing to kill Andrew Brown."
He added, "This has become a constant sight across America, the evolution of policing that's now terrorizing communities of color!"
Brown's family viewed 20 seconds of bodycam footage of his death for the first time Monday, which they said showed officers shooting at him at least 27 times as he sat in his car. He tried to drive away, the family said, before he lost control of the vehicle moments later and crashed into a tree.
Wayne Kendall, one of the attorneys for Brown's family, said the independent autopsy revealed that he was shot in the right arm four times but was able to continue driving as they were "glancing shots, they were not fatal shots."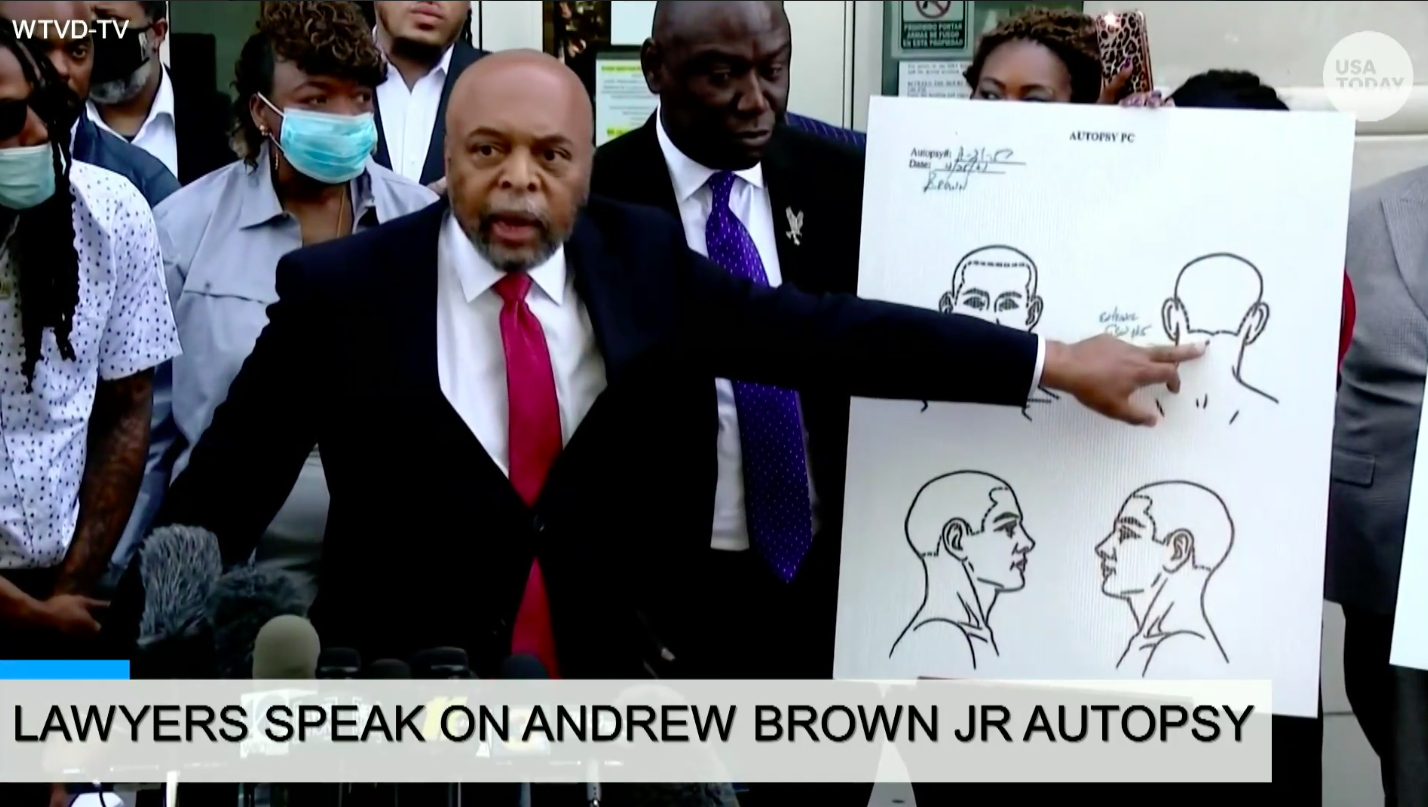 "As these shots were coming into the vehicle, he was able to back up, turn the vehicle around, spin off across a vacant lot, and at that time he was hit at the back of the head," Kendall said. "And that is the fatal bullet wound that is described in the death certificate as 'a penetrating wound to the skull,' and that was the cause of death."
Demonstrations have been taking place nightly in Elizabeth City since Brown's death as part of a global movement protesting police brutality and the killings of Black people. During the press conference on Tuesday, members of the crowd yelled out in frustration at the news of how Brown was killed. "Arrest him right now," one woman screamed repeatedly.
"An execution — that's what took place," said Harry Daniels, an attorney for the Brown family. "The law enforcement in this country cannot be judge, jury, and executioner."
The family's lawyers said the video clearly shows Brown complying with orders and not threatening officers when he was killed. The bodycam footage has not yet been made public. It is expected to be released Wednesday following a court hearing.
"Yesterday, I said he was executed. This autopsy report showed me I was correct," said Khalil Ferebee, one of Brown's children, on Tuesday. "It's obvious he was trying to get away. It's obvious. And they're going to shoot him in the back of the head? Man, that shit's not right."