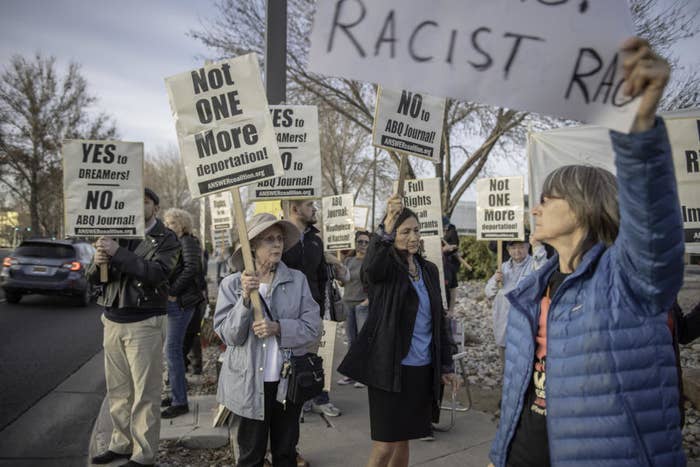 Margarita Maestas, one of the demonstrators, said she cancelled her 17-year subscription to the Journal in response to the cartoon. "It labeled our Dreamers as criminals," she told the paper.

The cartoon by Sean Delonas — who once portrayed Barack Obama as a monkey — showed a white couple being held up by a man holding a gun. Behind him, another man, wearing a MS-13 jacket, holds a weapon, while a third man holds a bloody sword and explosives.
"Now honey...I believe they prefer to be called 'Dreamers'...or future Democrats," reads the speech bubble of the man being robbed.
The syndicated cartoon appeared in the opinion pages of the paper Wednesday.
Readers, activists, and lawmakers immediately responded to the racist overtones. New Mexico Democratic Sen. Martin Heinrich called the cartoon "a heinous and bigoted depiction of Dreamers" and slammed the paper on Twitter for publishing it.

Fellow Democratic Sen. Tom Udall, from New Mexico, also tweeted his anger.
DREAMers refers to children of undocumented immigrants who were brought to the United States at a very young age. President Trump rescinded their Obama-era temporary protection from deportation, effective next month, and Congress is debating the DREAM Act as part of immigration reform.

Trump has used MS-13, a violent gang with links in Los Angeles and Central America, as a key reason why immigration laws need tightening.

On Wednesday evening, Karen Moses, the editor-in-chief of the Albuquerque Journal, issued an apology. She also noted that the paper had long advocated for a legal path to citizenship for the country's 1.8 million DREAMers.
Moses published an expanded apology statement Thursday morning:

Political cartoons are often satire and poke at more than one point of view. I do not presume to know what cartoonist Sean Delonas was trying to convey in his cartoon that was published in Wednesday's Albuquerque Journal. But on one level it appeared to us to be poking at President Trump's rhetoric by portraying a quaking Republican couple who were painting Dreamers with a broad, totally false, brush.

Obviously, that was not the message received by many readers. Instead, many saw an extremely objectionable cartoon and thought that was the position of the Journal. It is not.

In hindsight, instead of generating debate, this cartoon only inflamed emotions. This was not the intent, and for that, the Journal apologizes.

I repeat that the Albuquerque Journal does not condone racism or bigotry in any form.
Moses also noted that the opinion page is decided by the editorial board and is not something the newsroom or she herself had control over. In the future, she said, editorial cartoons will be checked.
The cartoon was syndicated by Cagel Cartoons, which has around 1000 subscribers, including newspapers, magazines, and websites, that receive access to cartoons and illustrations.
"We don't typically censor the cartoons for political content," Cagel Cartoons' executive editor Brian Farrington told BuzzFeed News. "We let the editors and publishers who subscribe make that decision."
Farrington noted that Cagel Cartoons was unable to tell which other publications had also republished Delonas's DREAMers cartoon, as it is available to all subscribers, although he was only aware of controversy at the Albuquerque Journal.

"We syndicate a variety of opinions, both on the left and right of all issues," added Farrington.

The cartoon was argued in the New Mexico state legislature for 30 minutes Thursday, with both Democrats and Republicans slamming it. Senate Majority Leader Peter Wirth, a Democrat, called it "highly offensive," while Lt. Gov. John Sanchez, a Republican, declared it "wrong," according to the Journal.

Back in 2009, Delonas depicted then-president Barack Obama as a chimpanzee in the New York Post — where he worked from 1990 to 2013 — sparking outrage. In 2012, his cartoon linking the Taliban, Islam, and Scientology was condemned by Muslim leaders as anti-Islamic.

Delonas told the Albuquerque Journal that he thinks illegal immigration impacts wages and safety.
"I'm not saying they can't come in; they have to come in legally, and they have to be vetted," he said. "I think you can call them Dreamers, but I kind of agree with Trump that Americans have Dreams, too."

BuzzFeed News has reached out to Delonas for comment.