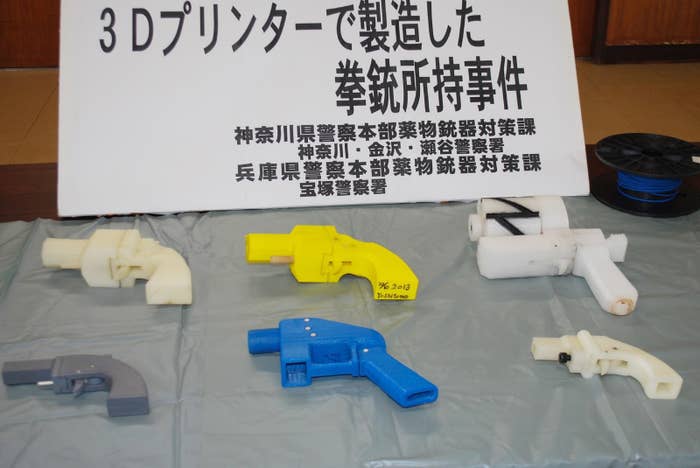 President Donald Trump said he is examining a settlement made by his own administration that will allow people to download and build guns using 3D printers, tweeting on Tuesday morning that the homemade weapons don't "seem to make much sense."
Starting Wednesday, it will be legal to download plans on how to build a gun using a 3D printer, after a Texas company, Defense Distributed, reached a settlement with the federal government.
"The age of the downloadable gun formally begins," reads the company website. "Legally manufacture unserialized rifles and pistols in the comfort and privacy of home."

The files were already being distributed as of Friday, and by Sunday, 1,000 people had downloaded plans to 3D print an AR-14, Pennsylvania attorney general Josh Shapiro said.
The main concern with 3D-printed weapons is both the accessibility and ease with which they can be built and that they remain largely untraceable through most security screenings.
Nine attorneys general — from Washington, Connecticut, Oregon, Maryland, New Jersey, New York, Massachusetts, Pennsylvania, and the District of Columbia — have banded together to sue the Trump administration over the settlement.

"For unknown reasons, the federal government has put the country in a clear and present danger of the irreversible proliferation of untraceable and, if made with nonmetal components, undetectable guns," reads the complaint filed in a federal court in Washington on Monday.
Untraceable guns are already against the law, and have been since 1988, Chris Cox of the NRA's Institute for Legislative Action said in a statement.
"Many anti-gun politicians and members of the media have wrongly claimed that 3D printing technology will allow for the production and widespread proliferation of undetectable plastic firearms. Regardless of what a person may be able to publish on the Internet, undetectable plastic guns have been illegal for 30 years."
Trump's tweet on Tuesday morning came shortly after Fred Guttenberg, whose daughter, Jaime, was killed in the Parkland school shooting in February, spoke on CNN about the news.

"This is the most important story in this country right now," said Guttenberg. "What this administration did, and they did not need to do it, they actively rolled back the public safety of citizens in the greatest way ever in my lifetime."
Later on Tuesday, the White House described Trump's views on 3D-printed guns as the same as those outlined by the NRA.
"In the United States, it is currently illegal to own or make a wholly, plastic gun of any kind — including those made on a 3D printer," deputy press secretary Hogan Gidley told reporters. "The administration supports this nearly two-decade old law. We will continue to look at all options available to us to do what is necessary to protect Americans while also supporting the First and Second amendments."
So far, 10 blueprints have been uploaded to the site. A judge in New Jersey has ordered that no additional plans be added pending the outcome of a court hearing in September, New Jersey's attorney general said.
CORRECTION
Nine attorneys general are suing the Trump administration over the 3D-printed guns settlement. An earlier version of this post misstated the number of attorneys general.