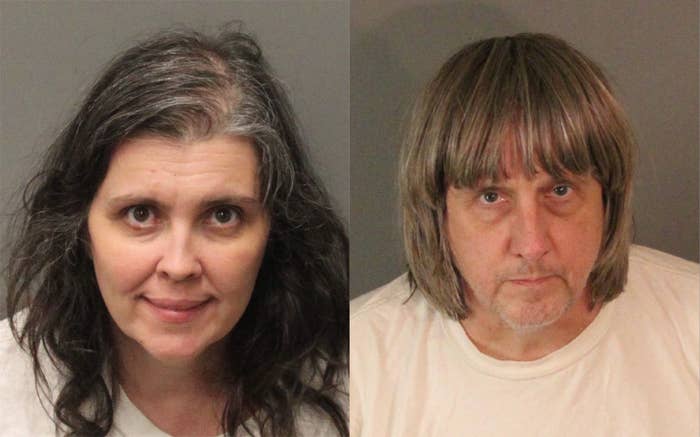 A 17-year-old girl who said she was being held captive by her parents escaped from her Southern California home on Sunday and alerted authorities, who rescued her 12 siblings from the residence, some of whom were shackled to their beds and malnourished.

The girl, who escaped from a window in the house, used a cell phone to call 911 and tell police her brothers and sisters were being held captive in their Perris, California home and were "bound with chains and padlocks," the Riverside County Sheriff's Department said. The teen showed some photos that led the officers to believe her information was accurate, Perris Police Chief Greg Fellows said Tuesday.
Police said that, despite being 17, the girl who alerted them appeared around 10 years old and was "slightly emaciated."

When deputies responded to the scene, they found three of the children "chained to some type of furniture" inside the house, according to Fellows. He said the children were malnourished and were living in "horrific" conditions in the filthy and foul-smelling house.
Their biological parents, David Allen Turpin, 57, and Louise Anna Turpin, 49, could not explain why the children were tied up, the sheriff's department said.

Louise Turpin appeared "perplexed" as to why police had arrived at the residence, Fellows said. He said there was no indication that the mother was mentally ill.

The couple was arrested and booked on torture and child endangerment charges. Their bail has been set at $9 million each.
Police said they they had no prior complaints about child abuse or neglect at the residence.
Although authorities at first believed they'd found 12 children inside the home, they were "shocked" to discover seven were actually adults. The children ranged in age from 2 to 29, and appeared malnourished and very dirty, police said.

"If you can imagine adults who appear that they're children because they're so malnourished, and they're not being fed, and they're living in these filthy, dirty conditions....I would call that torture," Fellows said.

Once freed, the victims told officers they were starving, and were given food and drinks. They were later admitted to hospitals for treatment.

Seven of the adult children — ages 18 to 29 — were in stable condition but were being kept under observation at the Corona Regional Medical Center.

"It's hard to think of them as adults when you see them," the center's CEO, Mark Uffer, said Wednesday. "Because they're so small, it's clear that they are malnourished."
Uffer said that the children had gone through a "traumatic ordeal" but were "very friendly and cooperative" with the staff. "They're hopeful that life will get better for them after this event," he said.
Elizabeth Jane Flores, 41, Louise Turpin's sister, told Good Morning America she was "shocked" by the news.
She said she had lived with the couple in Texas for several months while she was a college student. She said that she didn't see "any type of abuse" of their children, but said that her brother-in-law had made her feel uncomfortable.
"If I went to get in the shower he would come in while I was in there and watch me, and it was like a joke. He never touched me or anything," she said. "I was young, I was scared, I was in Texas where I knew nobody. I had no family. I was treated like one of the kids, kind of. So I had rules... Now that I'm an adult and I look back I see things that I didn't see then."
Around six years ago her father had tried to fly out to see the couple and their children, but Louise had told him not to come.
"They were always funny and private anyway, even before they ever had children," Flores said. "If it had been like two years ago that she'd cut us off then we might think wow, you know, something's not right. But this had been going on even before they had children."
Flores said that she still wants to reach out to her sister, in spite of what happened, and hopes to see the children.
"I want her to know that she's still my blood and I love her. I don't agree with what she did and her actions [have] made the whole family suffer. And I want to her know that I'm praying for her salvation, and that we do love her," she said.

"But mainly I want to reach out to the kids, I want them to know that [for] years we begged to Skype them, we begged to see them. The whole family have asked for 20 years to be able to Skype them. And I want them to know that they do have family... whether they know us or not, that love them."
While officials could not say how long the children were held captive, medical professionals who were treating the siblings said that their condition indicated they had been subjected to "prolonged" periods of starvation and malnutrition.

The family had lived in Perris since 2014 and the children were homeschooled at the residence, Fellows said. State records show a private K-12 school was registered to the suburban family home in March 2011, with David Turpin listed as the principal. Last year, six children were enrolled in grades five through twelve, the records said. Police said there was no indication of any other children apart from the Turpin siblings, enrolled at the school.
David Turpin's parents, James and Betty Turpin, told ABC News that the couple had so many children because "God called on them." They said that their grandchildren were given "very strict homeschooling" and would be made to memorize long passages from the Bible.
The grandparents said they were "surprised and shocked" at the allegations against the couple.
Neighbors said they did not know much about the children or parents, although several noted that their front yard was badly kept.
Neighbor Andria Valdez told the Press-Enterprise her family joked that the Turpin family were like vampires from the Twilight series.
"They only came out at night," she said. "They were really, really pale."

Another neighbor, Robert Perkins, told the paper that he and his mother once saw members of the family constructing a nativity scene on the front lawn.
Perkins complimented the scene, but "they didn't say a word," he said.