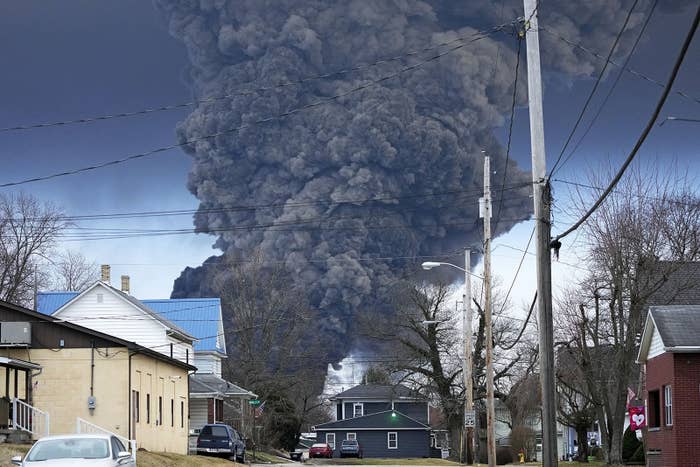 Residents in eastern Ohio are posting about dead and injured animals as well as their own health symptoms after a train carrying industrial chemicals derailed earlier this month, causing the release and "controlled burn" of potentially hazardous chemicals.
Twenty of the train's 150 cars were carrying hazardous material, including five with vinyl chloride, a known carcinogen, which is used to produce PVC and other chemicals.
"I've been having headaches, chest tightness, and eye pain," Taylor Holzer, 28, told BuzzFeed News. "What else could happen down the line for both me and [the] animals? I'm worried about cancers and organ issues."
Holzer, who lives in East Palestine about a mile from the accident, has around 100 rescue animals, including parrots, foxes, coyotes, and a wolf dog. Some of his animals have swollen faces, weeping eyes, and stomach issues, he said. One of his foxes broke its leg trying to run away from the commotion, and another died.
A veterinarian treated one of Holzer's sick foxes for vinyl chloride exposure. Tests showed the animal had lung inflammation as well as elevated liver values, said Holzer, who posted about his animals on Instagram and TikTok.
About 3,500 small fish representing 12 species were dead, the Ohio Department of Natural Resources said in a press conference.
Amanda Breashers told WKBN News that her rooster and five hens were all dead Tuesday morning. She lives in North Lima, about 10 miles from the train accident.
​​Jenna Giannios lives in Boardman, about 12 miles away, and started a Facebook group for people affected by the derailment. "The plume floated through our whole area," she said. " We could see it traveling across the county."
Giannios has shortness of breath and "the worst cough I've ever had in my life." Her biggest concern now is water, followed by contaminated soil.
Release of toxic chemicals
The train derailed in East Palestine on the evening of Friday, Feb. 3. The following Monday, officials began a "controlled" release to prevent an explosion. Ohio Gov. Mike DeWine said the controlled burn sent "toxic and potentially deadly" fumes into the air.
"I saw large plumes of smoke and flames," Holzer said. "The smell is like a mix of superglue and bleach, but it has a bit of sweetness."
Chemicals spilled into nearby streams, and the EPA said it is continuously monitoring water and air quality. After hundreds of residents were evacuated, DeWine and other officials said residents could go home on Feb. 8.
As of Feb. 15, the EPA said more than 20 wells and the indoor air of 450 homes had been screened for vinyl chloride.
Norfolk Southern Corporation, which operates the railway, is bringing in bottled water to East Palestine, the EPA said.
How toxic is vinyl chloride?
The EPA says that there are no dangerous levels of chemicals in the air and the odors still emanating don't necessarily reflect toxicity. "People may smell these contaminants at levels much lower than what is considered hazardous," according to the EPA's website.
Chemicals that are harmful to animals may not be equally harmful to humans, said Dr. Kelly Johnson-Arbor, a medical toxicologist and interim executive director of the National Capitol Poison Center. It all depends on the size of the animal or human, the dose, the route of exposure (inhaled, ingested, etc.), and the length of exposure.
Short-term effects of vinyl chloride can include eye and airway irritation, dizziness, disorientation, and headaches, Johnson-Arbor said. Long-term exposure (over years) may be associated with certain cancers, according to the National Cancer Institute.
The train also carried other potentially dangerous substances. Some, like isobutylene, are flammable gases or liquids, Johnson-Arbor said. The EPA said in a letter to the railway company that a number of other hazardous chemicals — including butyl acrylate, ethylhexyl acrylate, and ethylene glycol monobutyl ether — were observed entering storm drains and could be detected in at least six creeks and rivers.
There were also two tank cars that contained benzene, but these were empty according to the list, and the tanks were not breached.
Lingering danger
Despite assurances from the EPA, residents of the eastern Ohio area, near the Pennsylvania border, are not convinced they're safe. "There are a lot of health issues that go along with these chemicals," Holzer said. "These chemicals don't just blow away and leave in a week."
Johnson-Arbor said that if smaller animal species are showing evidence of toxic effects, that does suggest harm could come to humans, as well, and EPA monitoring is warranted. "It is completely reasonable for people to be concerned about their health in circumstances such as this.
And given that animals are dying in and near water, "further testing of the water supply is needed to determine whether it is safe for human consumption," Johnson-Arbor said. "People who are concerned may want to drink bottled water until further testing has been completed." Local authorities echoed that recommendation.
People who have lung disease, including asthma or bronchitis, may want to stay as far away as possible to avoid aggravating symptoms.
"I want my animals and my family to be safe," Holzer said. "What else could happen down the line for both me and the animals? I am worried about cancers and organ issues."
Anyone with concerning signs or symptoms should contact poison control at www.poison.org or by phone at 1-800-222-1222.