Over the past few years, as Colorado, Washington, Alaska, Oregon, and Washington, D.C., have all successfully legalized recreational weed, the Golden State has been left awkwardly behind. The first state to legalize pot for medical use since the federal government outlawed the drug in 1951, California now seems a murky backwater, where your local dispensary may very well be selling moldy, pesticide-drenched bud, operating illegally under municipal law, and overpaying off-duty cops as security to keep from getting shut down.
For the past two decades, despite intermittent federal raids and ever-shifting local rules and rulings, a semi-legal, multibillion-dollar marijuana industry has thrived on the West Coast, growing more sophisticated and less likely each year to make a smooth and orderly transition into a fully licensed, inspected, and aboveground economy. A recent report found 49% of the country's cannabis sales in 2014 took place in California. Once a pioneer, California's chaotic, deeply rooted gray market is now a cautionary tale for states looking to avoid similar problems.
"It's a disgrace and a joke," said UCLA professor of public policy Mark A.R. Kleiman, who served as the top adviser to Washington state when it was establishing its highly regulated recreational marijuana market. "If every state took California's medical marijuana policies and put a minus sign in front of them, they'd have a pretty good system."
Pro-legalization groups want to change that in the next election cycle. But state-level and national marijuana activists have never been able to coordinate their resources for a sustained campaign supporting a single, co-written ballot initiative, which is why the initial measure passing medical marijuana in 1996 was so vaguely worded, why the pro-legalization measure in 2010 went down in defeat, and why no measures made the ballot in 2012 and 2014.
Though voters in 24 states are able to pass legislation through ballot initiatives, California has always been the biggest, and therefore the most expensive for activists when it comes to gathering signatures and drumming up support. Despite the populist rhetoric around the direct democracy of a ballot initiative, special interests and deep pocketed donors have always controlled the proposition process in California. And so most of the infighting over legalizing pot comes down to a single problem: If you want to pass a ballot initiative in California, you need the support of the billionaires. Not every marijuana activist is polished or pragmatic enough to earn the confidence of the big-money benefactors.
The activists with access to major donors only want to deploy their millions if they're going to win, so they rely on polls and focus groups when deciding how many plants should be legal for a patient to grow at home or whether individual counties will be able to opt out of recreational weed. Everyone else refuses to compromise and therefore lacks the funding necessary to get their initiatives passed.
The savvy political consultants trying to usher the pot industry into the mainstream already blame the local activists they see as irrational hippies for the current legal mess. Now they worry the same idealists whose antics and disorganization they've been facepalming over since the '90s could spoil their opportunity to exploit the fragile advances in public opinion made in the past five years. Which means that the fringe population that's spent decades crusading for legal access to marijuana now finds itself rejected by the very movement they helped to start.
"We all have the same goal. We all want marijuana to be legalized," said San Francisco lawyer and activist Matt Kumin. "Why it is that we can't get folks to sit down at a table is still baffling to me."
Everyone agrees that the time for change has come.
But the personal resentments and backstabbing disarray of the past three election cycles have hardened into a fatalistic recognition that California's pro-legalization factions may end up working against each other — and killing the chances for legalization in the process.
"If we have two initiatives on the ballot, we're likely to lose," said Santa Monica political consultant Bill Zimmerman, who helped to pass medical marijuana in California 20 years ago.
After devoting decades to reforming a national drug policy that wastes taxpayer money and disproportionately locks up communities of color, most activists are dismayed at the possibility that 2016 could come and go without California uniting behind a sensible ballot initiative.
Dale Sky Jones, chair of the Coalition for Cannabis Policy Reform, said she would not be surprised if competing ballot initiatives split the vote next year.
"For many years, the cannabis industry has been a circular firing squad," she said.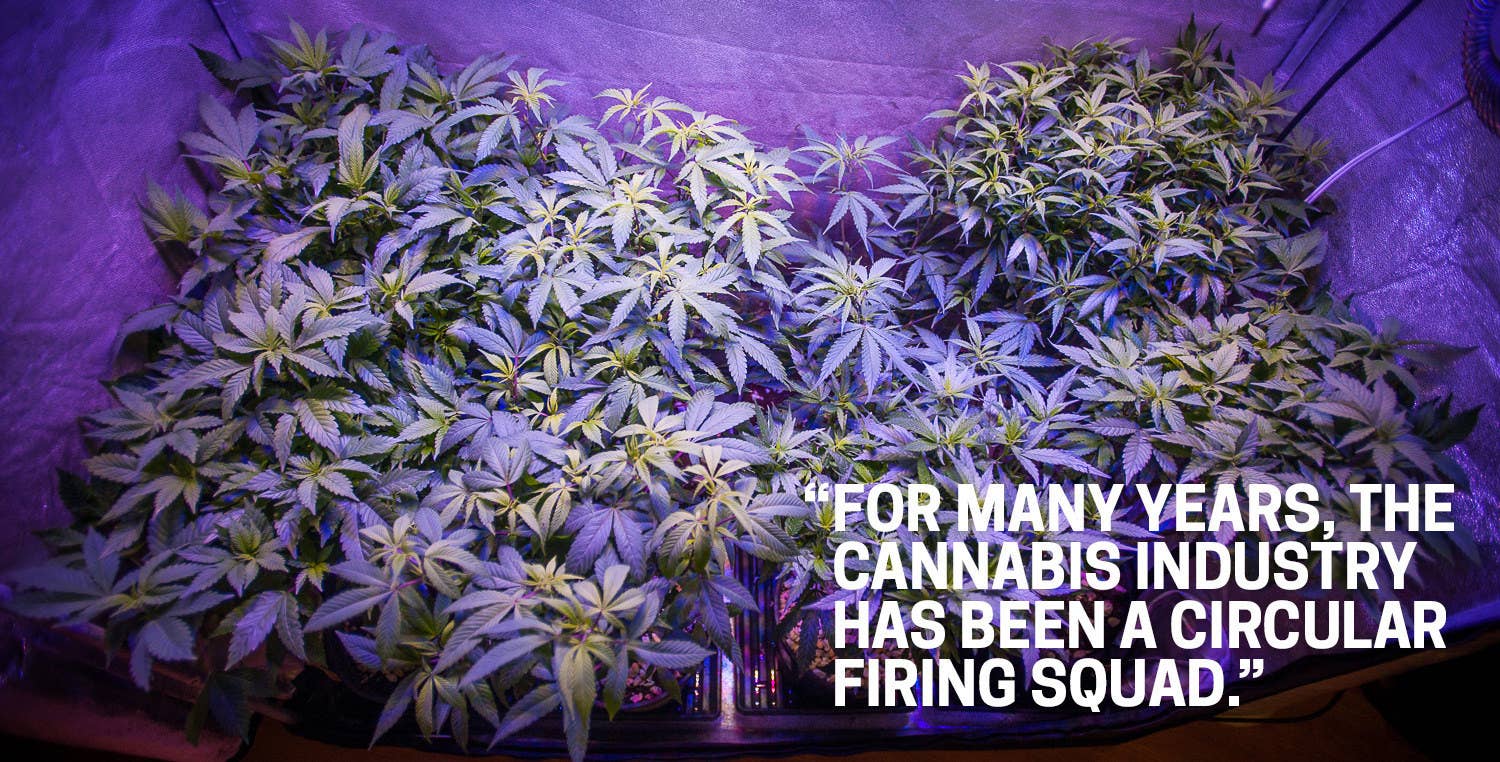 The bad blood between the calculating politicos and the free-spirited local organizers began in the mid-'90s, when San Francisco lawyer Bill Panzer and cannabis dealer Dennis Peron ran a grassroots campaign to get their pie-in-the-sky medical marijuana initiative onto the 1996 ballot. In the early '90s, Peron ran a marijuana buyer's club primarily aimed at AIDS and cancer patients, not unlike the Dallas one celebrated in the 2013 Matthew McConaughey film. Peron's pot shop attracted international attention and earned the explicit support of San Francisco's mayor and board of supervisors.
Panzer and Peron's proposed law was revolutionary in its goal but imprecise in its wording. Other than protecting patients, doctors, and home growers from prosecution, the initiative's wording was left as flexible as possible. There were no details about how commercial growing might work, how marijuana would get distributed to patients, or how cops could distinguish between criminal and medical possession. In its most notorious clause, Prop 215 listed several specific diseases the drug could be used to treat before adding: "or any other illness for which marijuana provides relief."
Despite popular support, it soon became obvious the San Francisco activists didn't have enough money to run a proper statewide campaign. The most powerful national drug reform organization, the Drug Policy Alliance, decided to step in to get the initiative passed, but it was unable to change the language that had already been submitted, leaving the state with a system full of loopholes.
"We wound up with a very chaotic situation that gave medical marijuana a bad reputation in California," Zimmerman said. "The DPA went on to manage medical marijuana initiatives in [Alaska, Oregon, Maine, Nevada, New Mexico, Colorado, New Jersey, and New York], and none of those states had the kinds of problems with distribution that we have here in California, because the crazies didn't write those other initiatives."
For the rest of the country, the 1990s were a terrible time to be a pot smoker. President Bill Clinton, whose tough-on-crime bonafides were central to his political identity, oversaw more marijuana arrests than any other president before him. Arizona voters passed an initiative similar to Prop 215 in 1996, but the state legislature gutted the law, rendering it useless. Even traditionally liberal media outlets disapproved of medical marijuana. Two days after the 1996 election, New York Times columnist and former Executive Editor A.M. Rosenthal declared weed "the proven gateway drug to hard drugs and mean deaths." For the Feb. 17, 1997, issue of the New Republic, Hanna Rosin visited Peron's dispensary and mocked the people she found waiting for medical weed as "a bunch of homeless men streaked with grime, a very large and fierce-looking woman in a wheelchair, [and] a gaggle of mulatto transvestites."
Like Rosin, most pundits mocked the loose interpretation of the "medical" part of medical marijuana. Zimmerman readily admits now that medical was always meant to open the door to full recreational legalization. But the system of legally bringing cannabis to those who wanted it was never supposed to be this disorganized. After Prop 215 passed, Peron's dispensary was raided several times by the DEA before ultimately being shut down. Federal raids and arrests of pot shops legal under state law would continue in fits and starts for the next two decades, with some occurring as recently as October 2014.
The California legislature's attempt at filling in the details with the absurdly named SB-420 bill, which passed in 2003, only exacerbated the situation. The new law introduced a voluntary system of identification cards to help cops distinguish patients from illegal pot users and attempted to establish cultivation limits to discourage large-scale commercial farming. But the law itself was contradictory, offering plant and dried cannabis maximums before mentioning that more could be allowed if a doctor felt more was needed. Few cultivators paid these restrictions any mind, and California courts declared the limits unconstitutional in 2008.
Perhaps most importantly, SB-420 codified the existence of nonprofit "collectives" where patients could share access to marijuana, ignoring the way this unregulated free market would likely behave once storefronts were tacitly allowed. Soon, massive grow operations were supplying thousands of dispensaries statewide. Despite federal raids and local attempts to curb the spread of pot shops, the new wave of marijuana businesses were able to deploy their growing piles of cash at lawyers and lobbyists to defend their existence.
In 2009, the animosity between the idealists and the pragmatists deteriorated further, when a group of Oakland activists decided to make the first serious attempt at fully legalizing pot in California, and received only minimal, last-minute financial help from the two major national drug reform organizations — the DPA and the Marijuana Policy Project. The national organizations felt that it made the most sense to wait until 2012, a presidential election, when younger and more liberal voters would be most likely to turn out.
But the Oakland activists, led by dispensary owner Richard Lee, didn't want to wait, and didn't want to be told what to do in their own state. Lee spent his entire life savings, more than $1.5 million, in an attempt to pass Proposition 19, but it wasn't enough.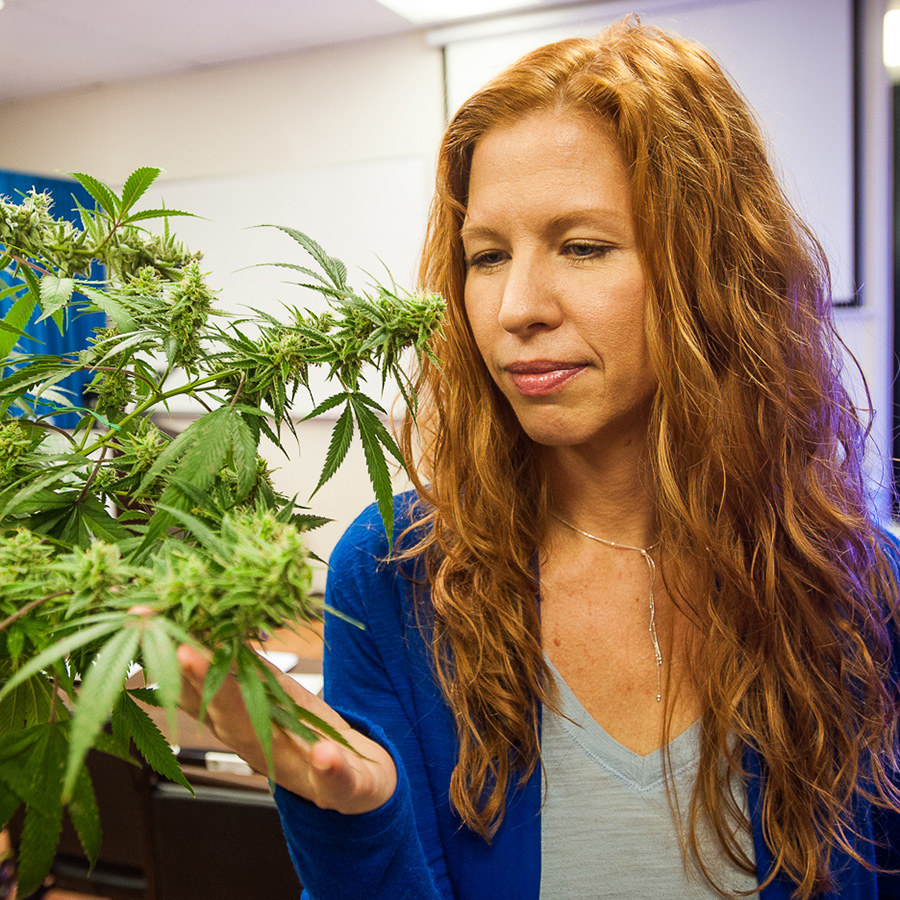 "There's this national triumvirate that holds all the power," said 2010 campaign spokesperson Dale Sky Jones. "This really pisses California off, because it's colonialism."
The hostility is mutual.
"There's a really unwarranted and unfair and inaccurate accusation that somehow the DPA is not a California organization," said Lynne Lyman, the DPA's California state director. "The idea that somehow we're not indigenous and can't lead this for California — it's disingenuous."
Jones' husband, Jeff, had started one of the original marijuana dispensaries under Prop 215. Campaign funding for Prop 19 was so tight that, at the couple's wedding in summer 2010, they asked for campaign donations in lieu of gifts. (They raised about $12,000.) It was only in the final weeks before the election that the Drug Policy Alliance helped connect them with billionaire donors Soros and Peter Lewis, of Progressive Insurance.
Still, the final infusion of cash and the television commercials it paid for didn't accomplish much. Proposition 19 received only 46% of the vote, partially because older voters strongly disagreed with legalization, but also because many smokers and more liberal voters saw opposition ads and editorials from growers, activists, and dispensary owners who did not support the measure. Although Prop 19 did not detail exactly how the state would regulate weed cultivators, just the possibility of restrictions and taxes spooked growers into opposing the initiative.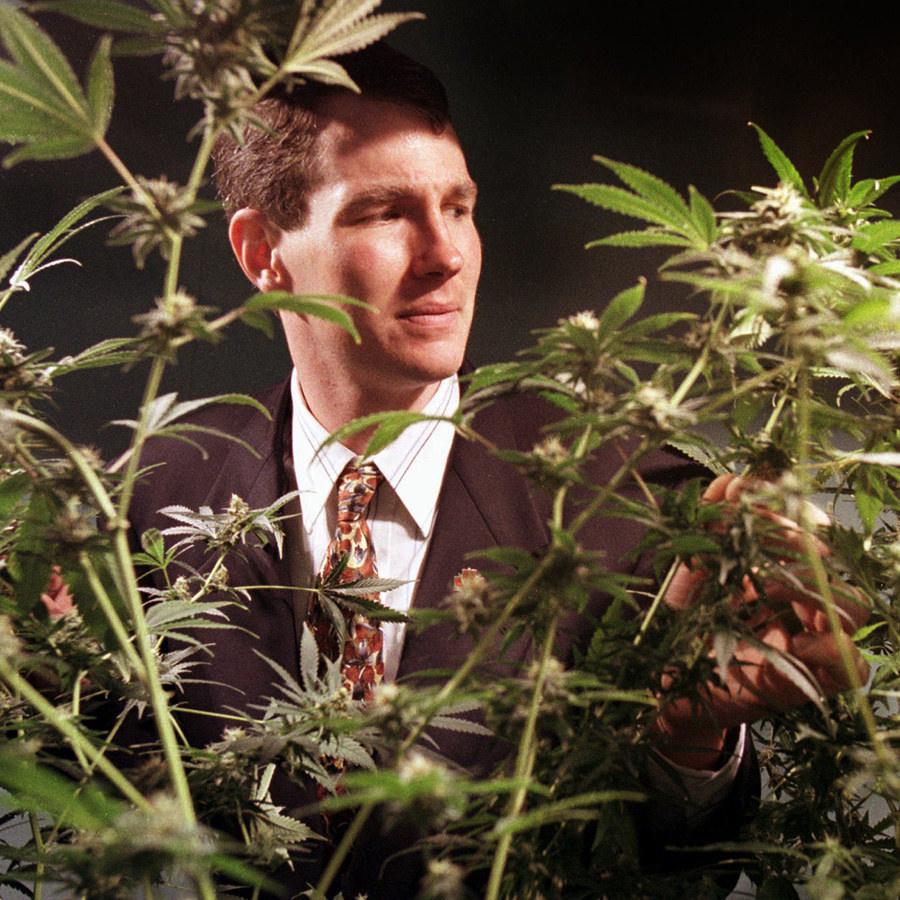 In the wake of that loss, with a commitment to unifying the base, Jones helped found the Coalition for Cannabis Policy Reform (CCPR), which at least nominally brings together unions, industry representatives, judges, former law enforcement officers and activists.
Annoyed at how much money and time had been wasted in the 2010 attempt, the DPA and the MPP decided to hold off on dealing with the argumentative eccentrics in California until the next presidential election in 2016, focusing their 2012 efforts instead on Colorado and Washington.
Again, the California activists refused to fall in line and cooperate with the long-term plans of the national organizations. Although it costs nearly $2 million to gather the signatures necessary to get an initiative on the California ballot, plus several million more to run a successful campaign, five competing and cash-poor groups of California activists sought to put their own initiatives on the ballot for 2012.
None was able to garner the hundreds of thousands of signatures necessary.
"I kind of mind-blocked 2012, because it was pretty ugly," Jones said, referring to the acrimonious jostling among legalization proponents for donations, signatures, and support.
Everyone returned to their respective corners, licking their wounds and planning to go all out for 2016.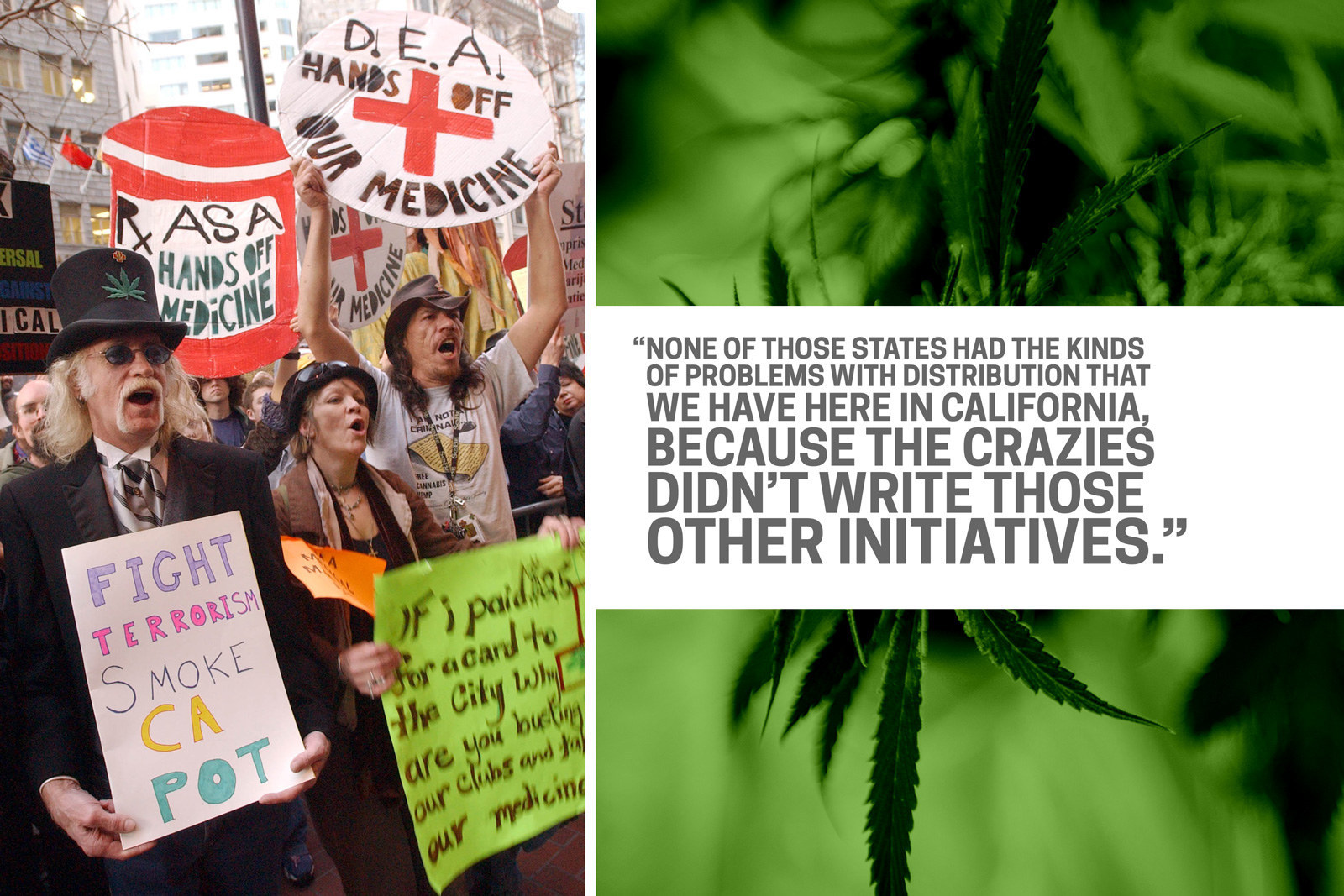 In 2013, another seemingly quixotic dispensary owner, Los Angeles native Daniel Sosa, decided he didn't want to wait. In spite of his good intentions and commitment to civil rights, Sosa is just the kind of activist that the national organizations want to keep away from television cameras, as he tends to wear pajama pants to work.
In a city of 500 or 600 dispensaries, his popular La Brea Collective, which opened in 2007, is lucky enough to be one of only 135 deemed officially legal. Still, Sosa was tired of standing helplessly by as his friends got arrested, his product seized and his patients of color harassed. He reached out to all of the state and national groups, eager to get everyone unified behind a single ballot initiative for 2014. Some of the more liberal California activists were happy to jump on board, and Sosa hoped he could build a bridge between them and the national organizations.
But the DPA and its legal advisors reiterated that unless they had hard data showing that the older, more conservative voters who comprise the majority of voters in midterm elections would support legalization, there was no reason to fund a California campaign for 2014.
So in the early fall of 2013, Sosa paid for a poll himself, shelling out over $40,000. As he expected, public opinion among even conservative voters had significantly changed, and the numbers were there. If an initiative made it to the ballot in 2014, California could legalize pot.
At the end of October, the DPA's leadership came together at the International Drug Policy Reform Conference in Denver. Energized by Sosa's polling numbers, which they had tested again with two slightly different polls of their own, and by the buzz around the upcoming opening of the recreational market in Colorado, they decided to make a bid for legalization in California in 2014.
Alone.
Without consulting Sosa or any of the activists he had been working with, the DPA filed paperwork with the secretary of state and set a campaign in motion. But Sosa's most cherished principle — a clause that made sure no one would go to jail for marijuana, even if they didn't have a license — was now off the table.
For years, California activists had been struggling to get the DPA to throw their finances behind a serious bid for legalization. But in November 2013, they came to see what a DPA-led campaign would truly look like: Local groups consulted in the early phases and then kicked out of the conversation once the real decision-making began.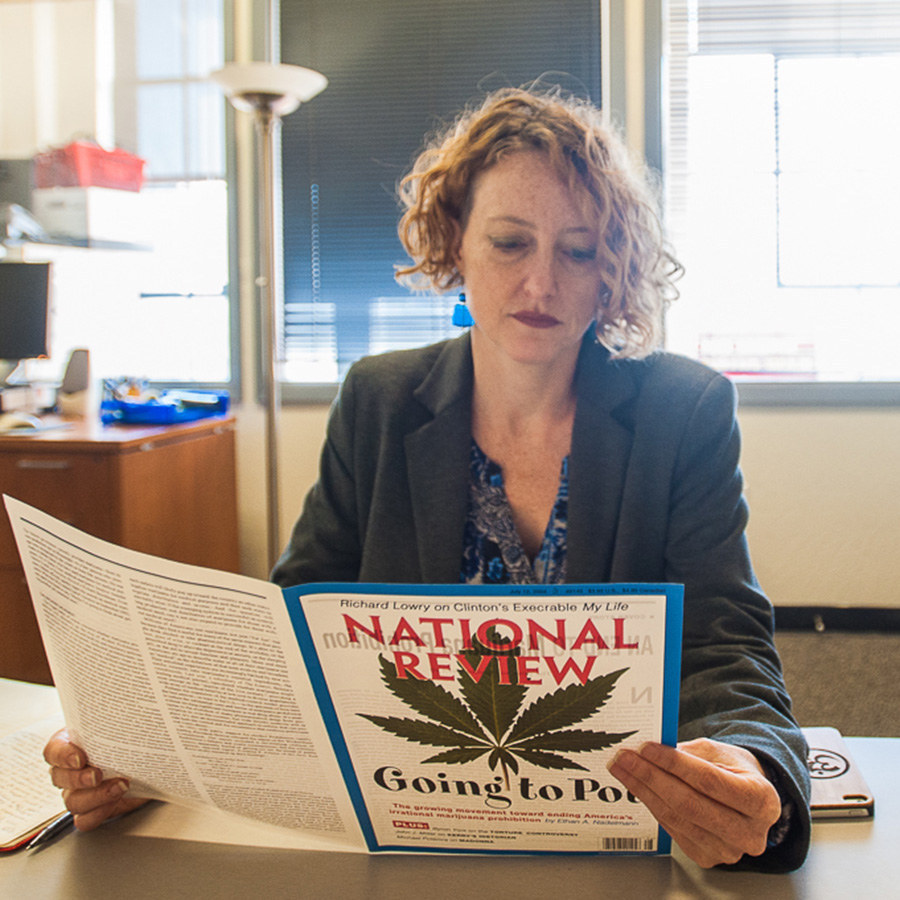 "It was a matter of sharp political analysis," the DPA's Lyman said. "And the process was so compressed." Normally, she said, the DPA would prefer to spend a year or two gearing up for a statewide campaign. In 2013, they had only a few months.
"We reached out to folks in the other camps, but it was pretty clear to me that their vision was different," said Graham Boyd, who was then serving as policy adviser to one of the DPA's main backers, billionaire Peter Lewis. "We were miles apart and there wasn't any interest on anyone's part of compromising."
Sosa was dejected. Jones and many of her colleagues were furious.
"What they did for 2014 offended a lot of people," she said. "I know that Daniel felt very burned, I felt very burned, a lot of people felt very burned."
It seemed, for a few weeks, as though legalization might pass in 2014 after all — but not the type of legalization that state-level activists had been looking for. A few other activists hastily filed their own initiatives, but clearly none had the funding to collect enough signatures.
Then, unexpectedly, billionaire Peter Lewis died on Nov. 23, 2013. Over his lifetime, Lewis had devoted an estimated $40 t0 $60 million of his fortune to drug policy reform. With much of the funding for the DPA's proposed California campaign now in question, the organization was left scrambling for cash.
"We just couldn't raise $10 million in three months," the DPA's Lyman said. Calling it a "dress rehearsal," they let the deadline for getting on the ballot come and go, without funding a full-fledged signature drive.
Now, gearing up for 2016, the DPA and the MPP plan to consult with as many stakeholders as possible and then unilaterally draft an initiative, which will likely be released this summer.
"We assume that many people will be disappointed," Lyman said. "The law enforcement community won't be completely happy. The activist community won't be completely happy."
This commitment to compromise — on issues such as allowing individual cities and counties the ability to opt out of a recreational marijuana market or capping the total number of licenses available — infuriates many California activists.
"[The initiative] can't just be poll-driven. You have to also provide good policy," Jones said. After all, just as conservative voters will want the strictest possible regulations, the darkest corners of the black market in California will need to feel the rules are reasonable enough for them to willingly participate in a fully legal system.
Jones' group has 135,000 supporter email addresses and at least 20,000 committed volunteers, and she plans to use these resources as leverage to convince the DPA to include them at the drafting table. Her group has even hired powerhouse Democratic consultant Joe Trippi's firm to help with strategy.
Still, Jones' detractors compare her to Ralph Nader and whisper that she only wants to lead the legalization movement to promote herself. Jones expressed frustration that the DPA will smile and nod when listening to the concerns of activists like herself but refuses to commit to specific language for the initiative.
Jones said that if they're frozen out of the process, she and other local activists are not afraid to file a separate, competing ballot initiative, which could split the vote and destroy the chances for legalization. "I don't need your billionaire. I'm going to get a million people to give me $5," she said.
This combative attitude has left the more experienced activists, including Zimmerman, exasperated.
"People who go into this and say, 'Fuck the polling results and screw all the suits' — there's no point in working with people like that," Zimmerman said.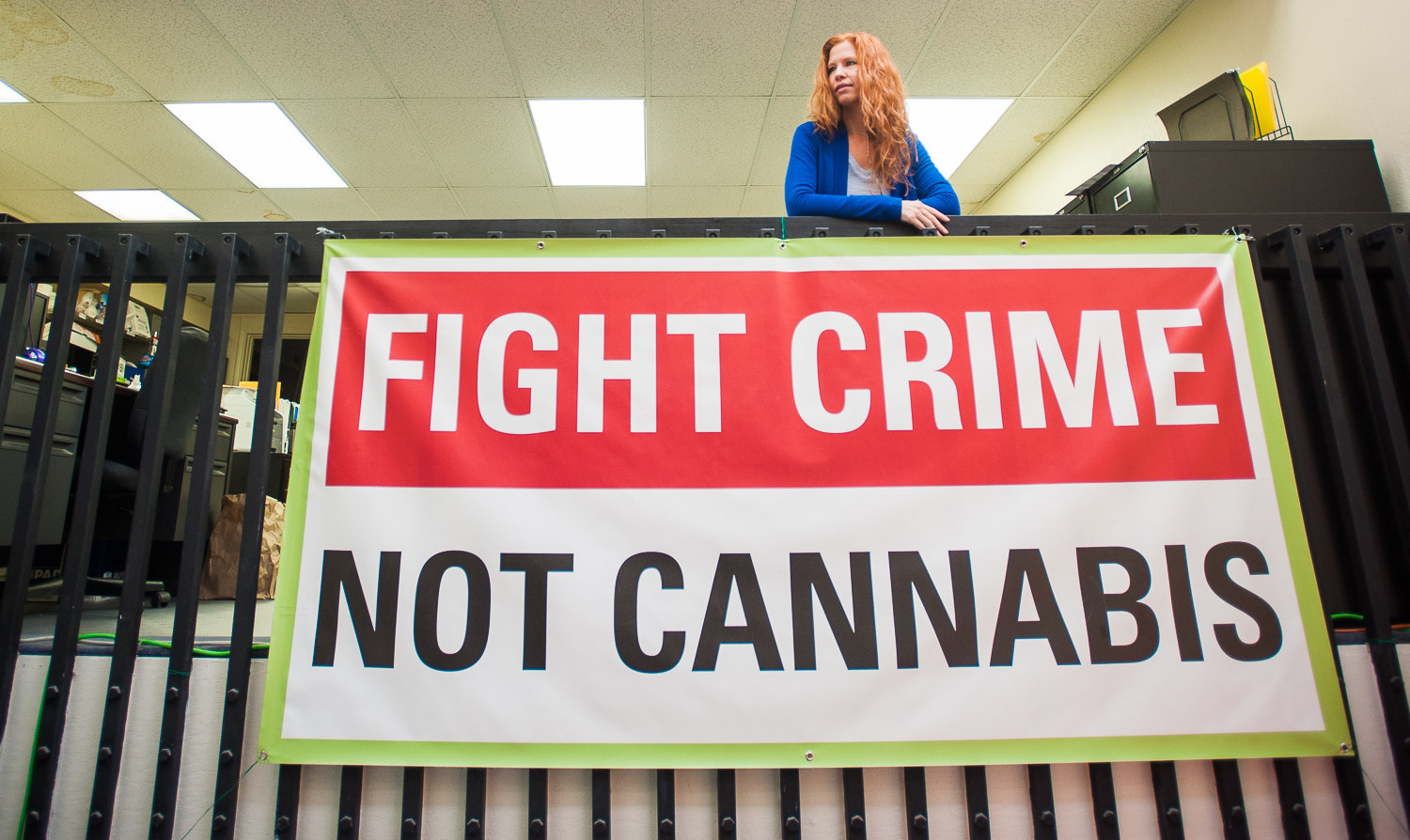 Washington, D.C., did vote to legalize recreational marijuana use in 2014, but the law remains in limbo because of Congress, which retains authority over laws passed in the city. A previous version of this piece stated that D.C. had successfully legalized marijuana.