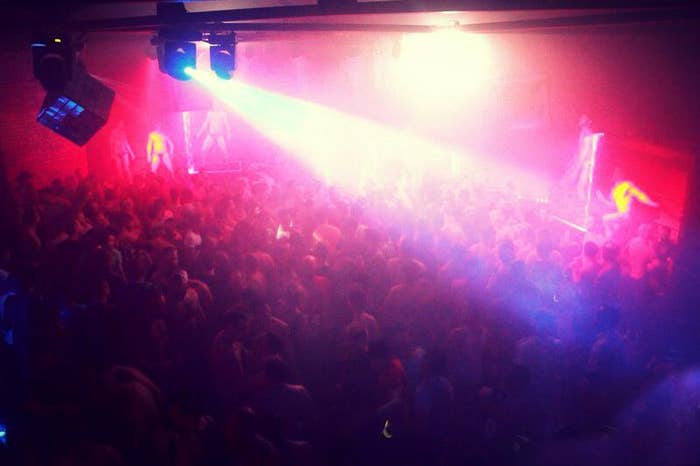 One recent weekend in San Francisco, a guy we'll call Jesse was dancing the night away at a house party when he grabbed the wrong cup. Instead of the tart cranberry and vodka he was expecting, he tasted red Gatorade. Within half an hour, he felt disoriented and had to sit down. Just as Jesse began to pass out, his friends, a group of gay men he parties with all the time, recognized that he was "falling out," or overdosing on the drug they call "G." They gave him water, walked him the five blocks to his apartment, made sure he was sleeping on his stomach so he wouldn't choke on his own vomit, and headed back out.
Three hours later, Jesse reappeared at the party, sober and awake, like nothing had ever happened. Some were shocked to see him again, so soon after what had appeared to be a dramatic overdose, but his friends were unperturbed. They laughed, and everyone went on dancing.
A quick recovery time is one of the primary appeals of G, which has long been present in some raver circles and gay clubs but has become increasingly popular in the last few years. While substances like Molly, alcohol, and cocaine typically lead to a day of physical and emotional recovery, with users experiencing exhaustion, pain, or chemically induced depression, G does not. And as long as you follow the rules — take small doses at deliberate intervals, no mixing with alcohol — you're guaranteed all the perks of coke or MDMA with no hangover. But have just a few sips too many, or give in to the temptation to take a shot, and you could wind up limp, like a rag doll, with little control over your own body.
The overdose effects are why most people know G not as an exhilarating high but as a disturbing low — specifically, as the date rape drug GHB.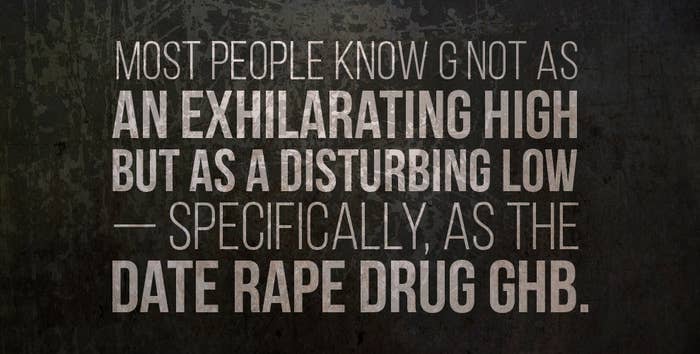 That's right. A substance most often portrayed in movies and TV shows like Veronica Mars as a tool for rapists is not only being taken recreationally, but those who use GHB consider it a perfect high, and a safer, more responsible alternative to alcohol. You know, as long as they only use it around people they trust.
GHB, or gamma-Hydroxybutyric acid, was first synthesized in France in 1960 as an anesthetic but soon proved to have a surprisingly varied set of uses. While late-night revelers appreciate the lowered social inhibitions and heightened sex drive, bodybuilders take GHB for its supposed release of human growth hormone, and narcoleptics use an FDA-approved version to get to sleep. Club kids began dabbling in GHB recreationally in the late 1980s, leading the government to list it alongside heroin and LSD as a Schedule I substance in 1990, but its popularity had dropped significantly by the end of the 20th century.
Now doctors and partiers, particularly in San Francisco, say they're seeing a resurgence of the odorless, transparent liquid, primarily among gay professionals.
"It's a pretty popular drug in our city. I've definitely seen it much more as a recreational drug of abuse [than as a date rape drug] in recent times," said Dr. Craig Smollin, who is the associate medical director of the San Francisco Division of California Poison Control and has been an emergency physician at San Francisco General Hospital for the past 10 years.
In a city fixated on developing ways to live and work more productively, it's no surprise a drug promising temporary euphoria and no hangover has found a significant following. But just as many of Silicon Valley's supposedly time-saving technologies have enabled unprecedented levels of procrastination, the efficiency of GHB's high and comedown process depends entirely on how you use it. Despite the pervasive sense among partiers that G is safer than alcohol, Smollin said a breathing tube and placement in the intensive care unit is more likely to be necessary for a GHB overdose than for an alcohol overdose. Combining GHB with alcohol can be lethal, and frequent GHB use on its own can lead to addiction, seizures, hallucinations, and serious respiratory and central nervous system problems.
Another part of the appeal is that GHB can be made at home, because the necessary precursor chemicals are available online as cleaning solutions, adhesives, and paint strippers. Most of the time, those making the drug will mix liquid GHB into a sweet nonalcoholic drink to mask the sour, salty taste one user compared to Windex, and take sips every half an hour or every two hours, depending on the concentration.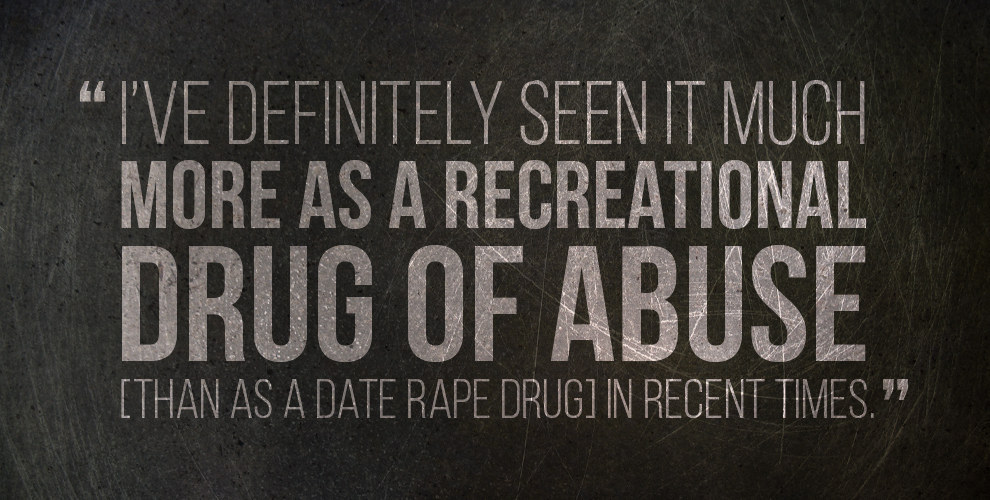 Those who work with victims of sexual assault agreed that recreational use seems to be more common these days. Jennifer Marsh, the VP of victim services at the Rape, Abuse and Incest National Network, said it's more rare than people expect for predators to slip GHB into a victim's drink.
"The same way that we see people who drink alcohol and the perpetrator uses alcohol as a way to incapacitate the victim, people will knowingly take drugs and be assaulted," Marsh said.
Still, most people — especially straight people — see GHB as one thing only: a tool for rape. That's why Republican Tom Lackey recently introduced a bill in the California state assembly that would make possession of GHB, along with Rohypnol and ketamine, into a felony, after a ballot proposition passed in the state last year reduced most drug possession crimes to a misdemeanors.
"Date rape drugs are tools in the hand of predators and they're not a recreational drug," Lackey said in a statement.
All of the gay men BuzzFeed News spoke with in San Francisco would strongly disagree. One described G as "all the best parts of alcohol and Molly, with no downside." He had recently taken a tropical vacation where he and the other guys he was with dosed themselves every hour or so with G, eight hours a day, for four days straight. The best part? At the end of the trip, he went back to his high-powered job at a technology company feeling rested, alert, and healthy.
"It's honestly one of my favorite things," he said. "It's like you're perfectly two or three drinks in, all loosey-goosey and chatty, your inhibitions lowered and having a good time, and then it wears off and you're back to normal three or four hours later."
Some attributed GHB's recent comeback to the mainstream rise of electronic dance music, and its attendant need for dance-all-night stimulation. Others, like party promoter and socialite Locoya Hill, cited the unique "work hard, play hard" nature of San Francisco's gay nightlife.
"In New York or L.A., a lot of people who have fun on the gay scene are creatives, servers, or striving actors of some sort," Hill said. "The people who go out and spend money in San Francisco work 9 to 5 and take their careers seriously."
Many of the men frequenting the parties he throws are very deliberate in how and when they let themselves lose control, Hill said.
"If you think about a room of a thousand people, and half are doing drugs, the fact that that party could go without incident is not what you're taught," Hill said, explaining that the drunk people at his events are always more difficult to deal with than those on GHB or other party drugs like ketamine and MDMA. "A lot of people here are responsible. They do research on side effects. They try stuff at home first to make sure they know how it affects them. They make sure a friend is watching them."
The same evanescent quality that makes GHB such a convenient drug for practical pleasure-seekers makes it particularly pernicious when it comes to date rape. Because GHB typically disappears from blood and urine less than eight hours after ingestion, very few sexual assault victims are able to prove they have been drugged.
"If you are asleep or unconscious, you don't wake up until the next morning, and a lot of times the drug may be gone," said Dr. Alan Wu, the director of clinical chemistry, toxicology, and pharmacogenomics at San Francisco General Hospital. "In addition to that, there are no lab methods available that hospitals can use, so even if you got somebody who came in very soon after being date-raped … they would have to be sent out to a reference lab, and that requires time and money."
This ambiguity contributed to a recent uproar at Brown University, where two girls believe they were given a drink spiked with GHB at a campus fraternity this past October.
Because lab tests proved inconsistent and inconclusive, neither the boy who slipped them the drug nor the student who later sexually assaulted one of the girls was punished, though the fraternity itself lost its housing and status. The boy who gave them the drug is also the son of a big donor and college trustee, leading incensed students to start a protest campaign with the hashtags #MoneyTalksAtBrown and #GHBGetOutOfRapeFree.
Although recreational use of GHB seems to be far more common than predatory use at this point, the confusion surrounding these two wildly divergent uses seems to have made at least one population uncomfortable: drug dealers.
In a 2006 study on gay men using GHB in New York City, published in the International Journal of Drug Policy, one subject described what happened when he asked his dealer to help get him some GHB.
"He was like, 'Oh my God, I don't go near that stuff.' And here he is, a drug dealer, I mean, he's getting all judgmental on me."