The eight licensed medical marijuana dispensaries in Oakland, California have banded together to limit the number of dispensaries in the city in a bid to consolidate their grip on the legal marijuana market.
A document obtained by BuzzFeed News shows that those eight dispensaries hired a lobbyist in July and last month announced that they would be forming the Oakland Dispensary Council to advocate on their behalf, raising questions about the extent of the cannabis industry's growing spending power and political influence.
As legalization becomes more common, pot consumers are starting to pay more attention to the details of proposed regulatory schemes and who will profit from them. Last week, Ohioans voted overwhelmingly against a legalization initiative that would have given control of all commercial cultivation of cannabis to the same group of wealthy investors that bankrolled the campaign. Polls showed that a majority of voters in the Buckeye state support both recreational and medical marijuana, but 53% of voters felt this specific initiative was a "bad idea" because it created a "monopoly on growing marijuana."
In Oakland, the existing dispensaries say offering an unlimited number of cannabis retail licenses could overwhelm city staff, oversaturate the market, and make it more difficult for the city to keep a careful eye on all of the shops. But some activists and industry observers say the existing dispensaries are only looking out for themselves.
"From an economic perspective, this has the same impact as if they did engage in unlawful collusion, because they're coordinating their behavior in a way that makes consumers worse off," Joseph Harrington, a professor of business economics and public policy at Wharton, told BuzzFeed News. "There's always concern when competitors start talking that their discussions will spill over into something that is anti-competitive."
The Mayor of Oakland and the city's Cannabis Regulatory Commission support allowing anyone who qualifies to open a dispensary, and a plan like that could result in dozens of new dispensaries opening in the city.
But last month assistant city administrator Greg Minor presented a comprehensive cannabis licensing plan that would take a very different approach, capping the number of permitted cannabis retail operators at just 16, including delivery services.
At the moment, in addition to the eight brick-and-mortar dispensaries in the city, there are at least another 21 cannabis delivery services operating in a legal grey area.
The city council is expected to vote by early next year on the new cannabis plan, which also includes new licenses for cultivating marijuana plants and manufacturing end products, such as pot brownies or cannabis concentrates such as butane hash oil. None of those other types of licenses will have caps.
At recent meetings of the Cannabis Regulatory Commission, Minor repeatedly made reference to what the existing dispensary operators want when discussing what city policy should and will look like. When BuzzFeed News asked Minor how much influence the lobbyist hired by the dispensary owners had over his policy recommendations, he laughed and said, "None."
But the dispensary owners themselves were a different story ."I think [the existing dispensary owners] have wisdom to share," Minor said. "The reason for not having an unlimited number is because it's worked. We have these successful operators that are highly compliant with operating standards."
Both potheads and activists tend to loathe anything that resembles what they see as "Big Pot"—that is, a marijuana market dominated by corporations wielding influence over those in power to shape the new cannabis landscape to benefit themselves, not the consumer. But the line between which cannabis businesses can truly be considered small and which are "corporate" is quickly blurring. Even marijuana businesses backed by wealthy investors and operating in several states seek to dispel the "Big Pot" label, lest they alienate their customers.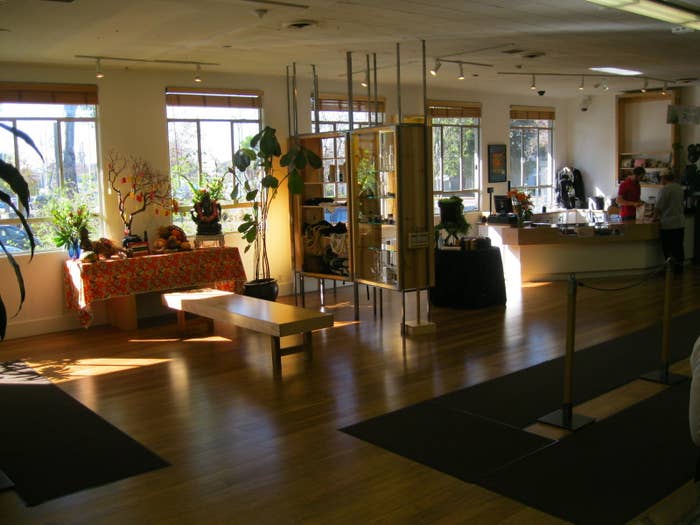 Oakland has long been a leader on cannabis policy in California, offering licenses as early as 2008 and suing the federal government in 2012 to protect Harborside Health Center, its biggest dispensary, from prosecution.
Perhaps as a result of the early legitimacy conferred by being licensed in Oakland, the owners of Harborside and another big dispensary in Oakland, Blüm, have both expanded well beyond the East Bay, setting up dispensaries, cultivation centers, and testing labs in other counties and states, as well as companies with national reach. Now, just as taxi drivers, barbers, or any number of other more traditional business owners have in the past, dispensary operators may be trying to use licensing to keep competitors out, according to Harrington. Additional documents show that Blüm and Harborside have been paying $30,000 a quarter to the same lobbying firm used by AirBnB to represent their interests in conversations with city administrators, including Greg Minor.
And as the Oakland cannabis industry has grown in profit and political know-how, concerns about corruption and influence have increased.
In August, the FBI indicted a key member of the Oakland cannabis scene — coordinator for the medical cannabis division of the United Food and Commercial Workers union, Dan Rush — for taking bribes, laundering money, attempted extortion, and manipulating union agreements to benefit dispensary owners at the expense of their workers.
Now, as the city discusses whether to cap the number of permitted dispensaries, local advocates say they worry about how backroom conversations and industry lobbying are affecting city policy.
"The cannabis movement came out of Oakland's progressive and diverse roots in political and social protest, which has been going on since the Civil Rights movement. But as the industry's legitimacy rose, they went into the more traditional insider game and not merely outsider protest politics," said David McCuan, a political science professor at Sonoma State University.
The political consultant hired by the eight existing dispensaries, Lupe Schoenberger, said that she disliked the word "lobbying." She acknowledged to BuzzFeed News that she had initially been asked to prevent the city from opening up licenses to an unlimited number of dispensaries, but said that her clients no longer agreed on how many additional dispensaries should be allowed.
City Councilmember Rebecca Kaplan supports keeping the number of brick and mortar dispensaries fixed for now.
"There is literally a question of how many applications our staff can process," Kaplan said. "The people who don't have a permit and want a permit want there to be more permits, and people who have a permit might equally much have an incentive to want there to be less permits. The profit motive is equally on both sides."
However, Harrington, the business economics and public policy professor, said the two sides could not quite be weighed equally, as the eight existing dispensaries working together to reduce competition would be bad not only for aspiring dispensary owners but for the pot smokers of Oakland, because studies have consistently shown that fewer competing businesses in a market leads to higher prices and lower quality.
At the October meeting of the Cannabis Regulatory Commission, a series of uniformed dispensary employees approached to say they felt the city does not need any additional dispensaries. Commission member Sean Donahoe said he found their arguments unpersuasive.
Donahoe noted that most of the commenters touted "the benefits of medical cannabis and the benefits of good, well-paying, regulated jobs and the good nature of their relationships with their neighbors. And then they said they don't want the city to allow any more [dispensaries]," Donahoe recalled. "It was a nonsensical and illogical conclusion, because every talking point pointed to opening more and there was no policy argument for why there should be no more. You have the impression there's action happening behind closed doors."
Donahoe and several other advocates and industry observers in Oakland mentioned to BuzzFeed News that the August FBI indictment of UFCW organizer Dan Rush had led them to be more suspicious of how private dealings are influencing the conversation about new regulations. Rush's lawyer Marc Terbeek, who according to an FBI complaint allegedly received $110,000 in kickbacks from Rush over the past few years, was one of the more outspoken voices arguing against lifting the cap on the number of dispensaries at a Cannabis Regulatory Commission meeting back in July.
"We don't want to hamstring our local businesses, particularly the businesses that have been here for years that have established Oakland as the local leader," Terbeek said at the meeting. "Letting the market decide can be a religion sometimes that doesn't bear fruit … There are businesses that have invested and staked their resources on the concept of limitations."
Terbeek began cooperating with the FBI on the Rush investigation in January of this year but, according to the agency, has agreed to plead guilty to charges stemming from the kickbacks.
Harborside executive director DeAngelo told BuzzFeed News that he supports Minor's plan to increase the dispensary count to 16, but denied that there has been any inappropriate behavior among the existing dispensary operators.
"I can absolutely guarantee there's been no collusion whatsoever. The fact that we get together and meet from time to time? That's not collusion," he said. "When new regulations are being considered, we have a set of common interests, and we typically get together and talk about those interests."