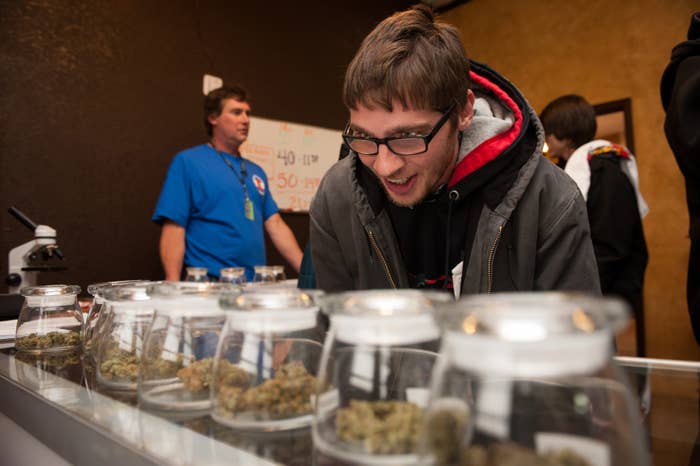 Black and Latino adolescents in Colorado are being arrested for marijuana offenses at more disproportionate rates than they were before the state legalized recreational use of the drug, according to a new report from the Colorado Department of Public Safety.
The report, released in March, found a striking racial disparity in how adolescents aged 10–17 are being arrested: White juvenile marijuana arrests decreased by 8% between 2012 and 2014, while black juvenile arrests increased by 58% and Latino juvenile arrests increased 29%.
Colorado voters passed an initiative legalizing recreational marijuana use in 2012 — the year is used in the report to represent pre-legalization. The first full year that the state's 21-and-older recreational marijuana market was operational was 2014.
Between 2012 and 2014, Colorado elementary and secondary schools saw a 34% increase in marijuana arrests, the overwhelming majority of which were for possession. These arrests were often done by "school resource officers" — local police officers who have increasingly been stationed on campuses in recent years. Although most of these juvenile arrests do not involve jail time, the student must pay a fine and, in order to get the arrest expunged from their permanent record, pay to participate in a drug education class.
The bulk of the juvenile arrests took place in 10 counties, each of which had over 100 marijuana arrests in 2014. The other roughly 50 counties typically had fewer than 25 arrests each. The state report analyzed which schools, specifically, were suspending, expelling, and arresting the most adolescents for marijuana crimes: "The drug suspension rates are lowest in schools with a smaller proportion of minorities … Schools with the highest proportion of minorities have a drug suspension rate 110% higher than schools with the lowest proportion of minorities."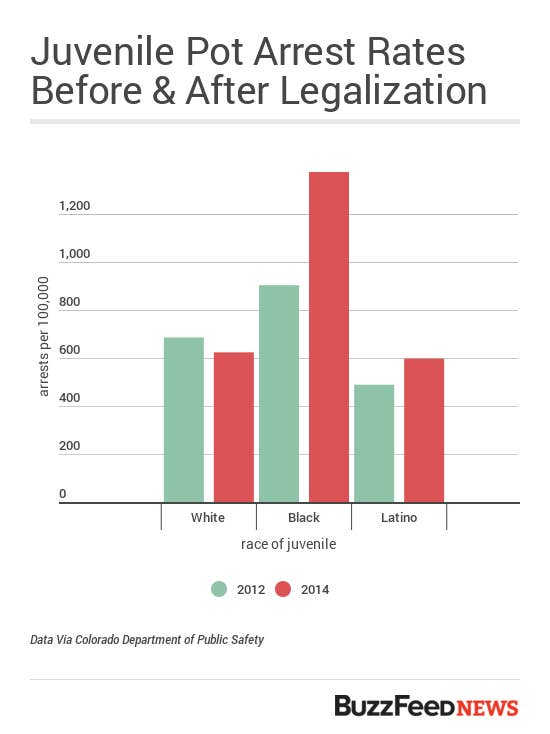 Since 2009, the Department of Justice has listed preventing minors from accessing marijuana as one of its top priorities for states looking to experiment with legalization. But in Colorado, enforcement of laws surrounding juvenile marijuana use varies greatly from county to county, and is not at all dependent on how popular smoking weed might be at a given school.
According to a 2013 survey done by the Colorado Department of Public Health and Environment, Pueblo County has the highest rates of teen marijuana use in the state — 32.1% of high schoolers — but only five adolescents were arrested for marijuana-related crimes there in 2014. Compare that to Arapahoe County, which has about average rates of teen marijuana use (20.6% of high schoolers) when compared to the rest of the state (19.7%), but where nearly 400 students were arrested for marijuana in 2014.
Tustin Amole, the director of communications at Cherry Creek Schools in Arapahoe County, said that while her district decides how to handle marijuana offenses on a case-by-case basis, she felt the students who are being arrested accurately reflect which students are smoking pot.
"We don't really have zero tolerance policies, because there are so many variations and circumstances. You have to take them all into account," Amole told BuzzFeed News. "All I can say is while it may seem disproportionate, those are the students we're catching with the drugs."
The state also found that while marijuana arrests among adults have nearly been cut in half since legalization, the racial disparities among those still being arrested grew slightly worse. In 2014, black people were arrested and cited for marijuana-related offenses at almost triple the rate of white people. Back in 2012, black people in Colorado were being arrested for pot crimes at a little less than double the rate of whites.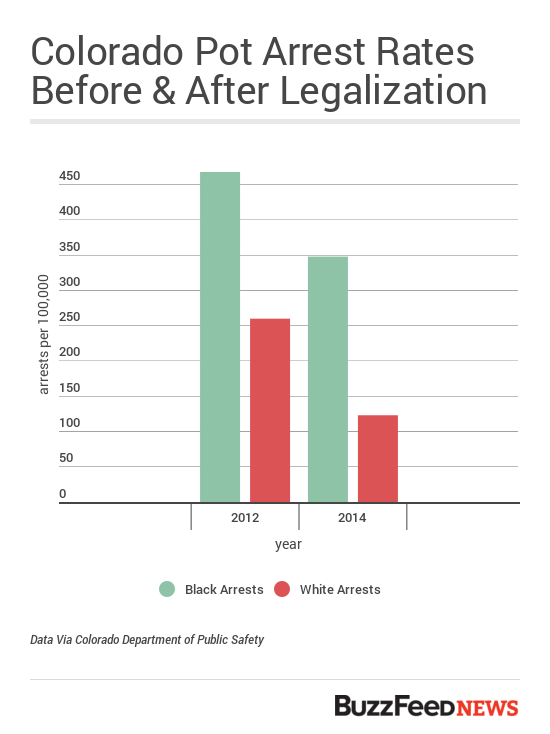 While national data has shown that adults and juveniles of all races use and sell marijuana at very similar rates, the 2013 survey done by the Colorado Department of Public Health and Environment found that a slightly bigger percentage of black (25.9%) and Latino (23.6%) high schoolers had used marijuana in the past 30 days, compared to white students (17%). But even if the disparity in that sample was representative for the entire state, the marijuana arrest numbers for black juveniles would still be wildly disproportionate.
Other states and cities that have decriminalized or legalized recreational marijuana use — including Massachusetts, Chicago, and Washington state — have seen a similar trend: a drop in overall arrests but persistent or increased racial disparities among those still being arrested.