Aide To California Senate Leader Accepted Pot Gifts From Marijuana Lobbyist
A political adviser to California Senate Leader Kevin de León accepted vape pens and edibles from a marijuana industry lobbyist while talking about how to best convince de León to support a cannabis regulatory bill currently in the state Senate. Although the interaction was not illegal, ethics experts agree it violated the spirit of the law.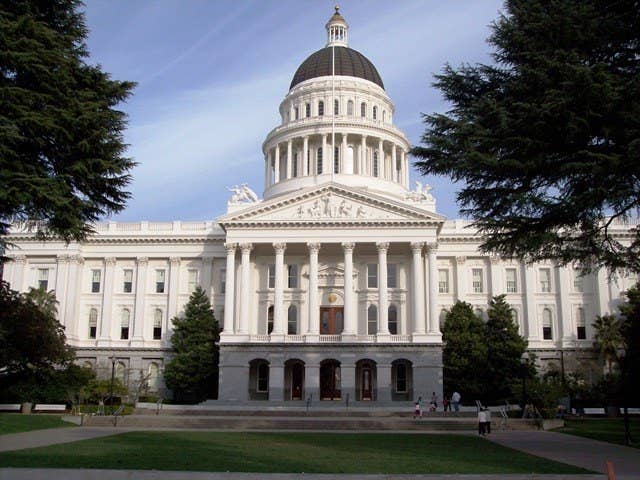 A political aide to California Senate President pro tempore Kevin de León accepted at least $85 in marijuana products from a pot lobbyist at the end of May before discussing how his boss needed to be "educated" into taking a more liberal stance on medical marijuana.
According to California's Political Reform Act, both full-time employees and contracted consultants for state legislators are barred from accepting unreported gifts worth more than $10 from lobbyists in any given calendar month. However, the adviser in question inhabits what several ethics experts described to BuzzFeed News as a legal loophole, because although he refers to Sen. de León as his boss, he is technically paid by the California Democratic Party and therefore is not required by law to report his gift. Therefore, Josh Drayton, a political adviser to de León via a group called the Senate Democrats, cheerfully accepted at least one hash oil–filled vaporizer pen and a container of marijuana edibles from pot lobbyist Nate Bradley in front of a BuzzFeed News reporter.
Public officials exchanging gifts and favors with lobbyists has long been a focus of public concern, but the legalization of marijuana raises the possibility of politicians and their staff being swayed not just by traditional incentives like financial donations, fancy lunches, or free concert tickets. The future of legislative influence may very well be in expensive buds or a passed joint.
In statehouses across the country, elected officials are trying to figure out how to turn a black market narcotic into a legitimate medicine or commodity. There are few precedents for how this should work, so they're making up the rules as they go along, with great variety and little guidance from the federal government. With so much money at stake for those who want licenses to grow, process, or sell legal weed, local legislators have a lot of influence over who will get to run a lucrative industry.
Although the value of Bradley's gift to Drayton is relatively low, this interaction represents a chumminess between political advisers and lobbyists that dances very close to the stated intention of the Political Reform Act, which was put in place to prevent gifts and financial interests from influencing legislation. Drayton's lawyer, Lance Olson, defended his client by saying Drayton did not do anything illegal, because he is not under contract with de León nor with any state or local agency. As a result, he said, Drayton is not subject to the gift-reporting requirements that an adviser or consultant under contract with de León's office would need to abide by.
Drayton's boss, de León, is one of the most powerful Democrats in California state government and has considerable influence over whether a bill supported by Bradley that would create a regulatory framework for medical marijuana will pass the state Senate this August. The bill would provide a state-level licensing system to codify the existence of the cannabis businesses that Bradley represents, which currently operate in an unregulated legal gray area.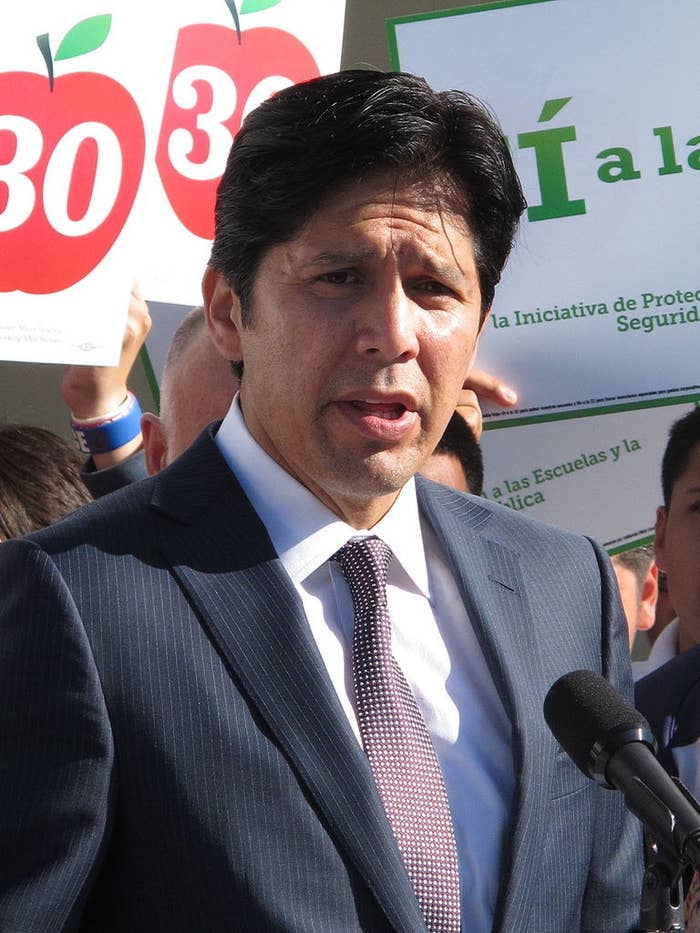 Although Drayton introduced himself to BuzzFeed News by saying he worked for de León, he later offered some clarification on how de León's office, where staffers are subject to gift restrictions because they are paid by the state Senate, works in conjunction with the Senate Democrats, where staffers are not subject to gift restrictions because they are paid by the California Democratic Party.
"We are the political arm for whoever the pro tem of the Senate is," Drayton said. "We are a piecemeal office that does a lot of little things. Mainly what we do are campaigns. Any time there's a changeover in the pro tem, our office structure changes. They bring in their own political director and adviser."
Drayton's business card lists his title as "advisor," has about 90% of the seal of the California state Senate, and has de León's name at the top.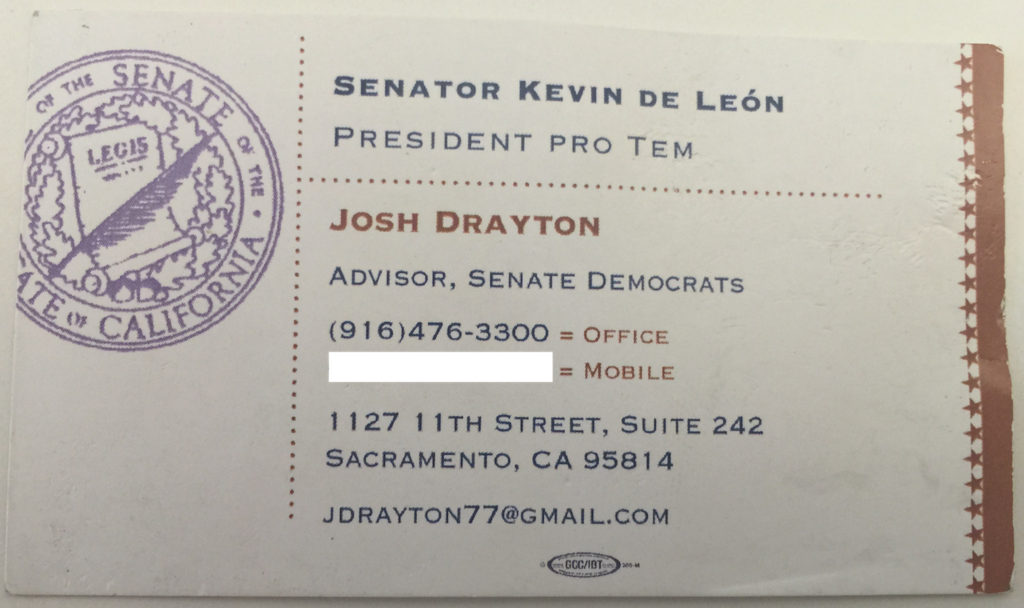 "It's fairly standard behavior, but it is misleading. You can use a very close approximation of the seal without breaking any laws, and you can imply you work for the government as long as you don't specifically state that you do," said Dan Schnur, the director of the Jesse M. Unruh Institute of Politics at the University of Southern California.
Schnur said that he felt Drayton's acceptance of the gifts while presenting himself as working for de León violates the spirit of the law. "There's no question it's a loophole that should be closed. The problem is the people who would have to close it are the ones benefiting from the loophole."
Gary Winuk, the former chief enforcer of the California Fair Political Practices Commission, told BuzzFeed News that although the FPPC has not specifically addressed this question before, Drayton's actions would violate the spirit of the Political Reform Act if he does any advising to de León.
"It doesn't really matter who's paying him," Winuk said. "If his job is to provide advice, and he's paid to give advice to a legislator, he should be subject to the gift ban."
Loyola Law School professor and Vice President of the Los Angeles Ethics Commission Jessica Levinson agreed, saying she felt that having an adviser who is not under contract directly with the legislature and therefore is not subject to gift limits seemed to show a violation of the intent and spirit of the law.
"If it's permissible, it shouldn't be," said Levinson. "He seems to be holding himself out as working for the Senate pro tem and enjoying the benefits of working for Kevin de León but not the burdens. Along with the privilege and power of working for a state senator, particularly one in leadership, comes certain responsibilities, and chief among those is filing disclosure reports and being subject to a variety of restrictions."
The Fair Political Practices Commission was created in conjunction with the passage of the Political Reform Act as the bipartisan government agency tasked with enforcing the separation of financial interests and political influence in California, and imposing penalties where necessary. Jay Wierenga, the FPPC's communications director, said he had never heard of a politician or legislative employee legally reporting the gift of a federally illegal narcotic and that the organization could only determine whether Drayton had broken a law after doing an independent investigation.
"The public, when trying to decide who to vote for, should always make sure public officials work in the public interest, not in their own. Just because something is legal doesn't always mean it's right," Wierenga said.
The exchange happened in the office of the California Cannabis Industry Association (CCIA), two blocks from the domed white Capitol building, in late May after a chance encounter on L Street. After the two greeted each other, Bradley told Drayton he had just received a new shipment of vape pens and brought him upstairs to the CCIA office to give him some.
"You have the battery still?" Bradley asked Drayton, once they got upstairs. When Drayton said he didn't have it on him, Bradley gave him a new one, as well at least one cartridge containing a gram of hash oil and a package of THC-infused espresso beans. Such cartridges typically cost about $50, while the cost of a battery is around $25 and that brand of marijuana-infused chocolates usually sell for $15 — all of which would go over the $10-a-month gift limit if he were subject to the restrictions.
Although there was no quid pro quo agreement between Bradley and Drayton stipulating a specific favor in exchange for the marijuana products, conversation swiftly moved from the presents to de León. The state senator has said that he opposes any effort to pass a ballot initiative in 2016 legalizing recreational marijuana and is working on legislation to punish people who are growing marijuana on public lands for damage done to the environment.
"Thank you for the treats!" Drayton told Bradley, after putting the vape pen and the edibles into his bag.
"No problem. I figured we just got a fresh load, and I'm like, I better hand them out while I have them, to friends," Bradley replied.
"You know, my boss really needs to be educated, the whole way through, you know, Kevin de León. He just wants to stay away from this," Drayton said.
Bradley told Drayton that one of his colleagues at the CCIA had spoken to de León's main policy consultant the day before and had come away convinced that de León's office was ready to help pass the bill but de León himself was not.
"We'll get him somehow," Drayton said. "I think nobody has approached him with the thought that regulating keeps it out of [kids'] hands."
Bradley liked this suggestion and added that in his speaking engagements he often uses a photograph of women in the early 20th century trying to end the Prohibition era with a sign that says "Legalize Alcohol, Save Our Kids."
The potential ethical implications of the exchange between Bradley and Drayton became known to BuzzFeed News after Bradley requested a correction to a story about how his experience in law enforcement and gregarious personality was allowing him to bridge partisan divides in Sacramento and usher a fair set of medical marijuana regulations through the California legislature.
The request, which was related to consumption of marijuana on the night a BuzzFeed News reporter was shadowing Bradley, drew BuzzFeed News' attention to the nature of the exchange between Bradley and Drayton. BuzzFeed News did not issue a correction.
When asked for comment on the interaction with Drayton, Bradley's lawyer, Khurshid Khoja, responded, "CCIA and its board are not aware of any laws that have been violated by the activity you alleged. We are assessing the factual circumstances surrounding these allegations, and will determine what, if any, action must be taken as a result."
Schnur said that although giving or receiving an undisclosed gift is a relatively minor violation in the eyes of the law, doing so on an ongoing basis or explicitly in exchange for influence over legislative activity would be a much bigger problem.
"When [Gov.] Jerry Brown first pushed for [the Political Reform Act] back in the '70s, he called it 'two burgers and a coke,"' Schnur said.
"Just because it's two joints and a coke doesn't change the underlying statute."