Memories of Riley Hancey's life line the walls of his room at the Penn Transplant Institute at the University of Pennsylvania. In one picture, a strong and lanky Riley wears a life jacket while paddleboarding, his blonde hair falling past his ears. In another, he's standing in front of a whitewater raft. The caption reads: "Only a river gonna make things right." There he is in another image kicking back on a ski slope, looking right at home sitting on a mountain bench, his skis propped up in the snow. Prayer flags hang near the photos, along with crayon-colored pictures that his sister's elementary-school students drew, an effort to brighten up his corner of the cardiovascular intensive care unit.
This is where Riley has been for five weeks, watching Spaceballs and maybe a few too many episodes of My Name Is Earl while his parents and siblings rotate through, watching him teeter near death while tethered to the ECMO life support machine pumping blood through his frail body.
Riley wasn't in his room on this day because he was on an operating table, having his scarred lungs removed and replaced with a new pair. It was his only chance at survival, and it could have come a lot sooner if he hadn't been rejected by another hospital's transplant team because he'd smoked pot.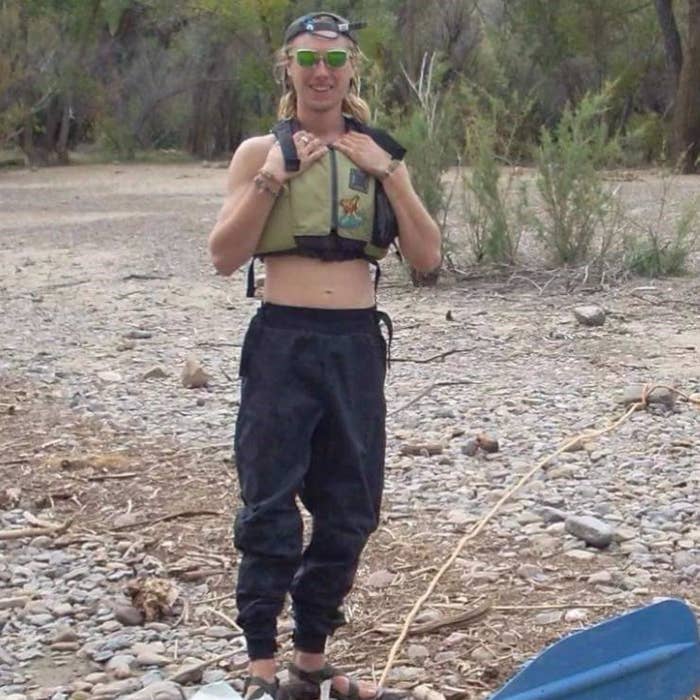 Until last Thanksgiving, Riley's life was typical for a 19 year-old. He ate a big meal with his family at his sister Summer's house in Salt Lake City, then went to hang out with the same old friend he saw every Thanksgiving. Riley smoked some weed, something he rarely did. He couldn't have known that this move, something countless Americans do each day, would define his life in a catastrophic way, leaving him at the mercy of a US health care system that has no guidelines when it comes to treating patients who consume either medical or recreational cannabis.
On Black Friday, Riley told his father, Mark, that he wasn't feeling well, so he spent the weekend resting and watching movies. He went to a nearby health clinic the following Monday and was diagnosed with the flu. By Friday, still sick and feeling worse, Riley returned to the clinic, had a lung X-ray, and was told he had pneumonia. That night, as Riley struggled to breathe, his father rushed him to the hospital. Within days, he was on life support at the University of Utah Hospital, machines doing the jobs his sickened organs could no longer handle. Doctors weren't able to explain why an otherwise healthy young man would get so sick, so fast. Pneumonia can be serious, and even lead to death, but that's usually in people older than 65. Only about 3% of pneumonia and flu deaths occur in people younger than 45, according to the American Lung Association.
"She was willing to let him die over testing positive for marijuana. This is what shocked me."
Mark Hancey nervously bounced his knees and tapped on his cell phone as he described the conversation with doctors in Utah, when it became clear that Riley's lungs wouldn't heal on their own. His son had been on life support for 30 days, and doctors said he needed a double lung transplant. Riley was given a drug screening, routine for transplant patients, and he tested positive for THC, the high-inducing chemical compound in marijuana; that Thanksgiving night hangout with his friend had come back to haunt him. As members of the transplant team gathered in Riley's room with the Hancey family, a doctor broke the news: The hospital didn't consider Riley a good transplant candidate because of the marijuana in his system. Riley would not get new lungs there.
"I said, 'What if we don't get a transplant? What if you cannot find another facility that will take him? What happens then?'" Mark Hancey said. As he recalls it, the doctor said to Riley: "'You will die, get your affairs in order." "She was willing to let him die over testing positive for marijuana. This is what shocked me," Mark said, his voice loud at first, then cracking with emotion. (When BuzzFeed News contacted the University of Utah, the doctor involved in Riley's treatment would not comment, citing hospital policy that prohibits doctors from talking about specific cases.)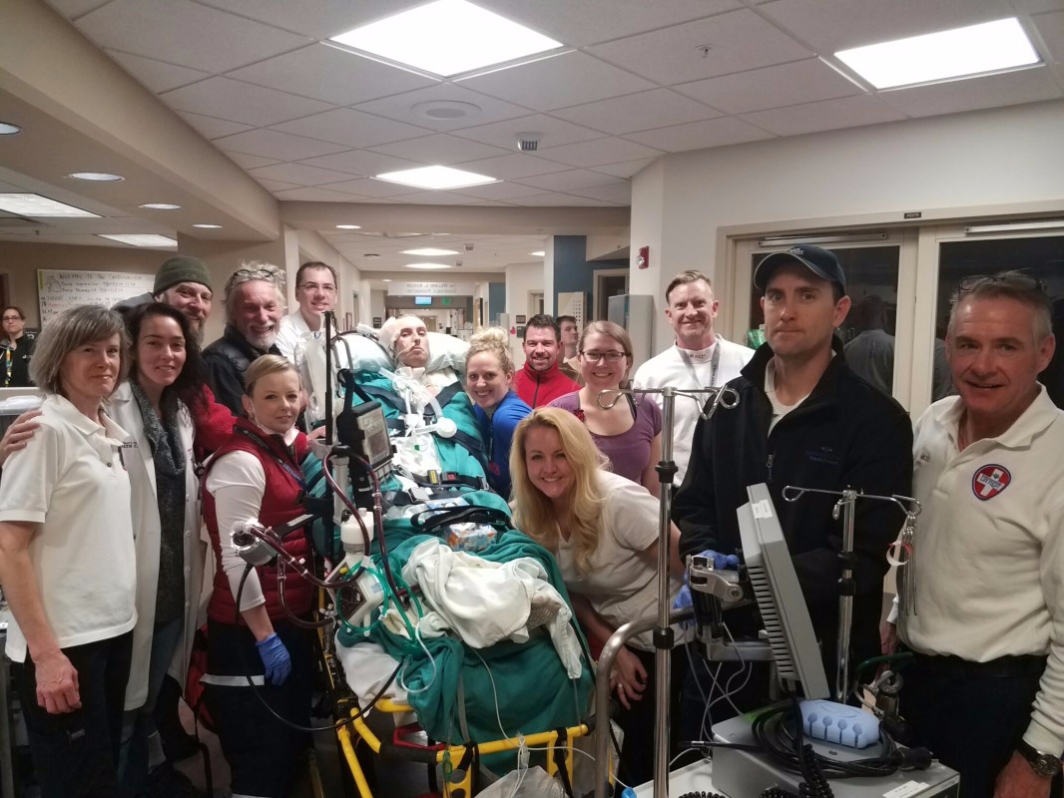 There are no federal guidelines or laws dictating how hospitals handle cannabis users who need organ transplants. The private nonprofit organization that manages the country's organ supply, the United Network for Organ Sharing, doesn't have a policy regarding use of drugs or alcohol for organ recipients. So it's left to individual hospitals to set their own rules, and if a patient is unlucky enough to end up in a facility with strict anti-cannabis policies, they're either out of luck or forced to find an alternative medical facility and get themselves there. Now that more than half of the states in the country have legalized medical marijuana, and eight states and Washington, DC, permit recreational marijuana, hospitals that offer transplants are being forced to look at whether their rules need updating. "Just denying access to a life-saving procedure for someone who's just using marijuana? I think that we have to rethink that policy nationally," said Bilal Hameed, a doctor at the University of California, San Francisco, which specializes in treating patients with liver disease.

The Utah transplant team began looking for another option, but Mark Hancey said that at least a half a dozen hospitals, from Arizona to Indiana, refused to take Riley. Mark and Carole Schaefer Hancey, Riley's parents, aren't sure if this was because of the cannabis test or because of the ECMO machine necessary to keep their son alive. The machine, which pulled blood out of his system, removed carbon dioxide, oxygenated it, and pumped it back in, made treating him more difficult, and some hospital transplant teams just weren't prepared. Their search was made tougher by the fact that there's no national database of hospitals that accept transplant patients who use cannabis, and the various rules set by individual hospitals reflect the mishmash of laws governing the drug.
"Denying access to a life-saving procedure for someone who's just using marijuana? I think that we have to rethink that policy nationally."
BuzzFeed News contacted a dozen hospitals in states that either ban or allow medical or recreational cannabis use. Of those that responded, approaches to cannabis use and transplants vary widely. The Nebraska Medical Center, in a state that prohibits all cannabis use, calls it "a complex issue that is dealt with on a case-by-case basis between the patient and their transplant team."
At Massachusetts General Hospital, a hospital in a state that has legalized both medical and recreational marijuana, it's a far different story. "If someone is abusing marijuana — either medically or recreationally — they would not be a candidate for transplant," a spokesman said.
At the University of Utah Hospital, where Riley was initially treated, cases are evaluated individually, a spokeswoman said. "We do not have a specific policy regarding cannabis, but generally speaking, we do not transplant organs in patients with active alcohol, tobacco, or illicit drug use or dependencies until these issues are addressed, as these substances are contraindicated for a transplant," she said. The state of Utah bans both medical and recreational marijuana except for a very limited program geared toward treating people who suffer seizures.
The University of Vermont Medical Center, in a state that allows medical marijuana, said it has no policy related to cannabis, "but our position with patients is no smoking. Period." At UW Medicine in Washington, where cannabis is legal for medical and recreational purposes, smoking of any kind is discouraged, but using cannabis "doesn't necessarily exclude" a patient from a transplant. Some hospital transplant centers are amending their policies. At Yale-New Haven Transplantation Center at Yale University, a zero-tolerance policy on cannabis evolved to a 30-day window for potential transplant patients to clear cannabis from their systems.
California is arguably the American epicenter of cannabis culture. Its original medical cannabis law, passed in 1996, was the first in the nation. The industry that took shape there influenced the shape of the cannabis industry across the country, and since 2015, California law has prohibited denial of an organ transplant based solely on someone's use of medical marijuana (today, 12 states plus Washington, DC, have similar laws). Even so, at Stanford Health Care at Stanford University in Northern California, drug use, including medical marijuana, can disqualify someone from being added to a transplant list.
Eventually, the Hospital of the University of Pennsylvania agreed to take Riley's case. Riley rode in an ambulance to the Salt Lake City airport on February 17, where a two-engine plane brought Riley and the medical equipment keeping him alive to Philadelphia. The plane wasn't big enough to fit any other family members, so Mark said his goodbyes before Riley, strapped to a stretcher and barely visible beneath a mountain of blankets and tubes, took off.
"I said to Riley, 'We're going to get you to Philadelphia, and we're going to get all this stuff off of you. And get some lungs,'" Mark said.
Riley looked at his dad and said, "Philadelphia?"
"Yeah," Hancey replied.
"'I'm having a Philly cheese," Riley said.
Mark's anxiety faded a little recounting that moment, as he sat in the Philadelphia hospital while his son was being cut open to receive his donor lungs. "To me, that said 'I'm willing to live," he said of Riley's wisecrack. "I'm getting a Philly cheese in Philly."
He paused.
"I'm going to buy him one for sure."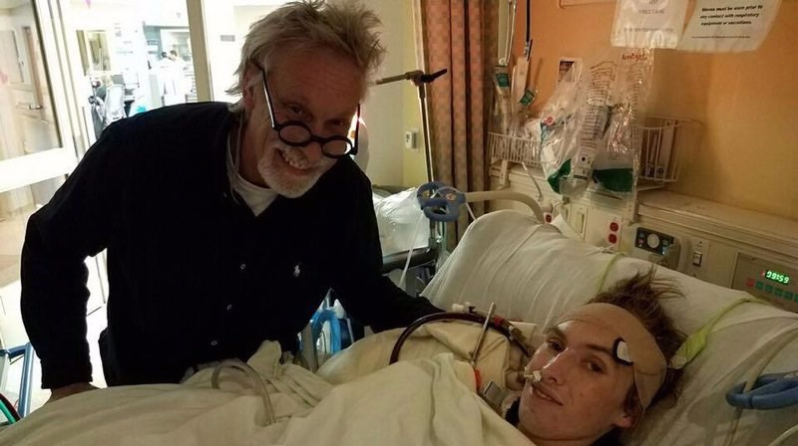 Mark Hancey made the trip to Philadelphia from Salt Lake City again on March 28, at least the third time he'd done so in five weeks. While Riley was undergoing his eight-hour operation, his family talked about the call Carole received the night before, telling her a new set of lungs was available. It wasn't the first time Riley's parents had gotten such a call — other lungs had become available, but weren't a perfect match — so they didn't know whether to be hopeful or skeptical.

"We both looked at each other and said, 'Let's not tell anyone and jinx it,'" Mark said, leaning back. Though he was at a hospital, in his shorts and canvas boat shoes, puffy green vest, and rugged backpack, he could have fit in at any outdoor store. One of Riley's nurses pulled back the curtain and popped her head in the door, about midway through Riley's surgery. "No news. They're still working," she said. Riley's parents looked at each other without speaking.
Nobody knows how many people have been caught in Riley's situation, because no agency collects this data. One thing is clear, though: As increasingly liberal laws on medical and recreational cannabis are enacted throughout the country, some medical experts say hospital rules are outdated. That's especially true when it comes to the use of medical marijuana.
As increasingly liberal laws on medical and recreational cannabis are enacted throughout the country, some medical experts say hospital rules are outdated.
Some American doctors want federal guidance and think it will happen eventually. Michael Shullo, associate director of heart transplants for the Heart and Vascular Institute at the University of Pittsburgh, is a member of the International Society for Heart and Lung Transplantation. One of the most-anticipated sessions at its annual meeting this month will cover marijuana use as it relates to transplants. When doctors have discussed cannabis in the context of transplants, the focus tends to be why cannabis use is bad, Shullo said. "There's not a larger national conversation that's going on in an organized way."
The meeting comes at a time when more transplant teams are working in states with legal access to cannabis.
"I think that medicine has been outflanked by legislation," Shullo said.
In addition, medical experts appear divided over whether patients who use medicinal marijuana should be treated differently than those who use it for recreational purposes. An international study published in the Circulation: Heart Failure journal in 2016 surveyed 360 heart transplant providers from 26 countries, and almost two-thirds of those who responded supported allowing legal medical cannabis patients to be listed for transplants. When it came to recreational users, that support dropped to just over one-quarter.
Some transplant physicians argue that in people with compromised immune systems, inhaling cannabis could increase the risk of dangerous fungal infections if they received transplants. Others say cannabis users might not be as reliable as nonusers at sticking to the strict regimens necessary to care for their new organs.
Arthur Caplan, head of medical ethics at the NYU School of Medicine, thinks another factor may be driving the anti-cannabis argument: organ supply versus demand. There has been a 20% increase in organ transplants in the last five years, according to the United Network for Organ Sharing, and there are more than 118,000 people waiting for organs now.
Caplan said the problem is particularly acute with livers but affects all organs. "You can just see they're looking for some way to kick people off the list and make it work, because they really are facing way more people who could benefit than they've got livers," Caplan said. "You can't discriminate against people for using substances that are legal. And I know that places are doing it, and it just strikes me as utterly wrong."
Hameed, the UCSF physician who specializes in treating liver disease, said that while some transplant teams are confronting the issues surrounding transplants and cannabis, he's not sure national change will happen during President Donald Trump's term. Attorney General Jeff Sessions has previously issued strong anti-cannabis statements, and some industry members and regulators are concerned about a crackdown.
"I don't know whether with this environment right now, this will be the right time to talk about it," Hameed said. "I can imagine it will be a pretty red and blue state kind of a thing."
Before April 2015, Hameed said UCSF required that the patients stop consuming cannabis to be admitted as patients and put on transplant lists. Now, patients are not encouraged to use cannabis -- but they're not punished for it, either.
"We just want to find out the reason they are using it, whether it's medical, and we just have that discussion with them about it," Hameed said. "We explain to them that based on our policy, that the marijuana use does not impact their candidacy for transplantation."
"You can't discriminate against people for using substances that are legal. And I know that places are doing it, and it just strikes me as utterly wrong."
He plans to launch a study in the next few months to follow patients who have used cannabis, who are currently using cannabis, and who have never used cannabis, and compare how they do after transplants.
Pauline Rogers is a social worker at UCSF and part of the team that assesses whether a patient is a good candidate for transplantation. She described the phone calls that she fields from social workers on transplant teams in other states who ask her, 'What is going on in California? How does UCSF treat transplant patients who are also medical cannabis patients?' Often, she says, social workers tell her that transplant teams are split on the issue.
"I think in California it's really different than, for example, in Utah, where it's a big Mormon state," Rogers said.
Almost 400 miles south of San Francisco, Tamra Howard, 52, of Los Angeles, said she was rejected for a kidney transplant nine times after disclosing her use of medical cannabis. Howard said drug use in her younger years caused high blood pressure and, later, kidney failure. At one point, she remembers, her blood pressure was 216 over 109. "I was on very, very thin ice," she said. Howard started dialysis in the mid-'90s, and over the next 20 years says she was bounced from one hospital to another as she tried to get on a transplant list. Howard said she kept using cannabis because it was the only thing that helped with the pain, and because she wanted to use something natural instead of the pills some doctors suggested. After so many rejections, Howard was losing hope.
"I gave up. I totally gave up. This was going to be my last fight," Howard said. "I felt like if I got my [medical cannabis] recommendation, why should they deny me [a new kidney]?"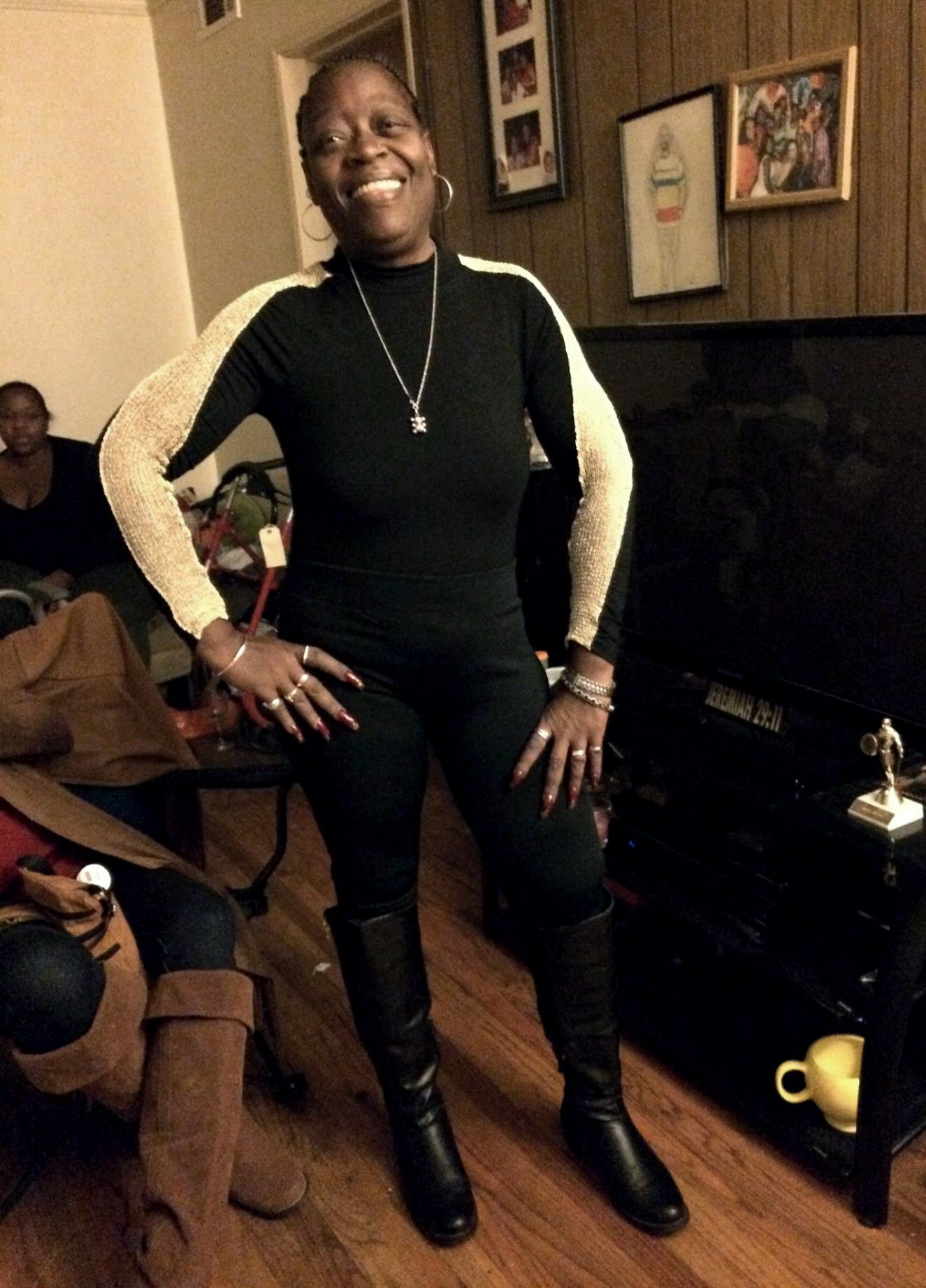 Despite the denials, Howard continued dialysis and kept up her medical regimen, in part to show that a medical cannabis patient could be a good candidate for transplant. "From A to Z, everything they asked me to do, all the tests, all the labs, everything. And they said the weed kept coming up in my system. And I told them, 'it will continue to come up in my system. I'm not going to stop," she said. "I had to go the extra mile to prove to them, even though I use cannabis, I can still comply."
Howard eventually received a new kidney in May 2016 and believes that the passage of the 2015 California law helped change her doctors' minds. She also credits her own persistence.
While undergoing dialysis at Cedars-Sinai Medical Center in Los Angeles one day, Howard says she asked doctors how they would treat a loved one in her position. "If it was a family member or a significant other, what would you do?" she recalled asking them. A few days later, there was a kidney available for her.
"I never thought that day would come, and it did. I just thank God and the doctors who believed in me and stuck in there with me," Howard said.
California's law came too late for Norman Smith, who had liver cancer. He was removed from a transplant list at Cedars-Sinai because he used medical cannabis and missed a required drug test, according to the LA Times. Smith was told he could get back on the list if he abstained from cannabis for six months; he died at 64 in 2012 before he could have his liver transplant.
Medical cannabis patients, or those who have used cannabis recreationally, still have a shot at an organ transplant if they find a team to accept them and if other factors make them a strong candidate. Riley has been quiet about his own cannabis use, which his family said is characteristic; Riley can have a goofy sense of humor, but he can also be serious. "He hasn't said anything. He just said, 'I can't believe this has happened. I'll never smoke again,'" Mark said.
"I had to go the extra mile to prove to them, even though I use cannabis, I can still comply."
Today, Riley has a long recovery ahead of him. He'll need two to three months of rehabilitation and monitoring post-transplant to make sure the anti-rejection drugs are working properly. At first, Riley's family and medical team planned to transfer Riley back to Utah for his recovery, but that's no longer possible, given how weak he is.
"We're going to have to create a life here in Philadelphia for a year," Carole said.
For anyone who has talked with Riley, Mark, or many of the Hanceys, Grateful Dead will inevitably come up. In his later teenage years, Riley made every effort to see more concerts, and Mark said the family outings to see Dead shows were "about the love." So it wasn't surprising that the day Riley got his new lungs, Mark wore a shirt with the Grateful Dead lightning skull logo on it. Mark noted an irony to Riley's care at UPenn: When Riley dropped to 97 pounds, he was prescribed Marinol, a synthetic form of THC that is FDA approved, to stimulate his appetite. The compound in cannabis that made his doctor in Utah refuse to treat him was part of his treatment plan in Pennsylvania.
Mark is a retired schoolteacher and a painting contractor, and the family is not rich. Insurance will likely cover the cost of the medical transport plane that carried Riley from Utah to Philadelphia, and it should cover most of the transplant costs. But the Hanceys aren't certain, and friends set up a YouCaring crowdfunding page to help with expenses that insurance didn't cover, like travel for family members and lodging in Pennsylvania. The family worries about the future, which is sure to be heavy with medical bills. "I've been scared shitless," Carole said of the possibility of Riley losing coverage someday.
For now, though, they're focusing on their son's recovery.
Around 7 p.m. the night of his surgery, about a dozen surgeons and members of Riley's transplant team rolled him back to his room.
With new lungs, he's already looking stronger and is no longer tied to that ECMO machine. But Riley's not safe yet. His parents used a climbing analogy to describe the next phase: They have summited Everest and taken a picture at the top together, as a family. Now comes the descent, which can be just as dangerous.
"You can't believe how good he looks," Mark said, about 24 hours after the surgery. "At some point I'm going to be able to hug my son, hold my son in my arms, and I can't wait."
UPDATE
Riley Hancey died on April 22 from complications related to a fungal infection after his lung transplant. "It has been a long battle to save Riley's life. We know that in our hearts we gave him every opportunity to survive," a family friend wrote in an email. "He is now free to climb every mountain and run every river and will continue to do so with his family in spirit." The family asked that those who want to remember Riley do so with a random act of kindness.