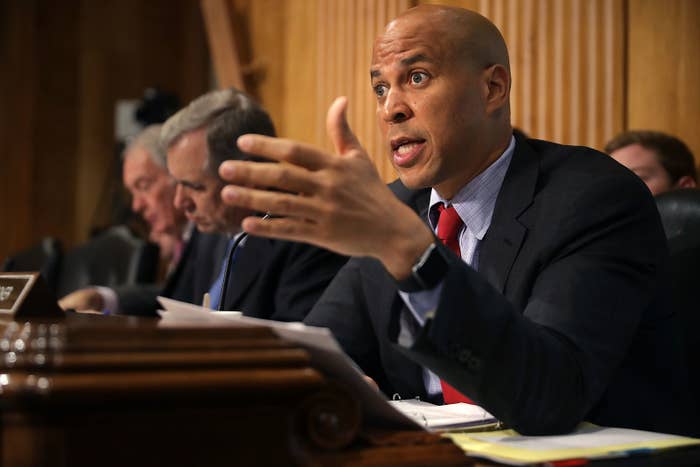 Democratic Sen. Cory Booker unveiled a far-ranging marijuana bill that would legalize cannabis on the national level — and that could erase convictions resulting from law enforcement practices that have targeted people of color and low-income communities — in an announcement on Facebook Live on Tuesday.
But if you think this bill has an easy road to passage, don't hold your breath. The Marijuana Justice Act would likely face an uphill battle in the Republican-led Congress. While cannabis has been gaining approval across the country — with more than half the states now permitting medical cannabis use, and eight states and Washington, DC, allowing recreational marijuana use — lifting the federal ban has been a tougher sell, especially with staunch opponent Jeff Sessions as attorney general.
Taylor West, deputy director of the National Cannabis Industry Association, wrote in an email to BuzzFeed News that the organization "applauds" Booker for taking on legalization with a strong eye on criminal justice reform. "However, given the general lack of activity in Congress, it's hard to make predictions about any piece of stand-alone legislation passing," West said.
Morgan Fox, senior communications manager of the Marijuana Policy Project, said Booker's bill is "indicative of how much thinking has changed on a national level," adding that cannabis law reform is "a bipartisan issue, and it's becoming increasingly so."
Even if the bill doesn't gain traction, cannabis advocates say that its introduction highlights important issues that aren't discussed often enough. "It's legislation like this, and leaders like Cory Booker, who are going to change the conversation where we need to be," said Justin Strekal, political director for the National Organization for the Reform of Marijuana Laws. In that regard, the senator "hits the nail on the head," Strekal said.
The bill would be retroactive, and could wipe clean records of people convicted in federal marijuana possession and use cases.
The Marijuana Justice Act would remove cannabis from the Controlled Substances Act, where it's currently listed as a Schedule 1 drug — which means it has a high potential for abuse and no accepted medical value. The bill would be retroactive, and could wipe clean records of people convicted in federal marijuana possession and use cases. It also could free some people serving time for cannabis-related offenses. The bill would use federal funds to try to encourage states to change their laws, especially in states where there is disproportionate enforcement of drug laws based on race or socioeconomic status.
Booker said in a statement that this is "a necessary step in correcting this unjust system. States have so far led the way in reforming our criminal justice system and it's about time the federal government catches up and begins to assert leadership."
Between 2001 and 2010, more than 8 million people were arrested for cannabis-related offenses, the American Civil Liberties Union found in a 2013 report. And, while black and white people use cannabis at similar rates, black people are nearly four times more likely to be arrested for marijuana possession, the ACLU noted.
"Our country's drug laws are badly broken and need to be fixed," Booker said in a statement. "They don't make our communities any safer — instead they divert critical resources from fighting violent crimes, tear families apart, unfairly impact low-income communities and communities of color, and waste billions in taxpayer dollars each year."
Kayvan Khalatbari, director of the Minority Cannabis Business Association, which advocates for minority marijuana entrepreneurs, employees, and medical patients, said the legislation is a huge step in the right direction.
"What we have out there in these states right now is not considerate of these communities that have been harmed by the war on drugs. And it's not that people don't want to support these folks." Khalatbari said. "They just don't think to inject it into the conversation soon enough that it never happens.
The bill would also establish a "'Community Reinvestment Fund" aimed at providing communities "most impacted by the failed War on Drugs" with services like reentry programs and job training.
Legal recreational sales don't begin in California until next year, but Oakland has already established the "Equity Applicant" system, which aims to give longtime Oakland residents who are lower income or who might have cannabis-related criminal records a jump start in the medical cannabis industry.
"Oakland is one place, but this is a federal bill that will hopefully seep into other states," Khalatbari said.
Booker, the former mayor of Newark, New Jersey, has been a longtime supporter of marijuana law reform. He was a sponsor of the CARERS Act, another piece of federal legislation that focuses on medical cannabis.