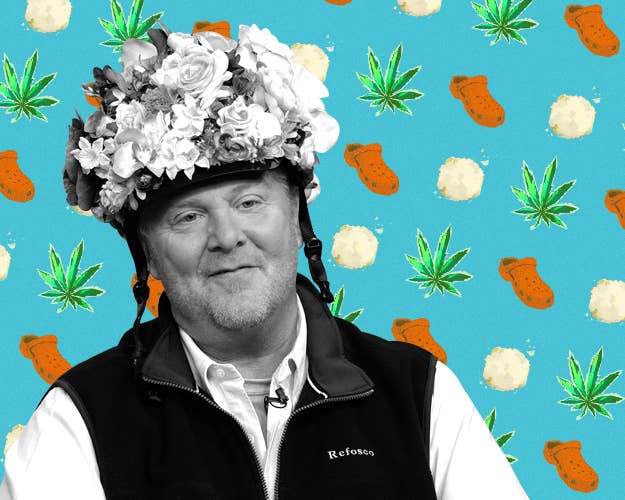 Mario Batali, the chef with orange hair, and usually with orange Crocs on his feet, released a recipe for cannabis brownies last year. Today, just in time for 4/20, Batali shared with BuzzFeed an exclusive recipe for Herbaceous Snowdrops — or cannabis cookies.
Like all of Batali's creations, these aren't mere delights to be eaten and forgotten. They're an experience.
"I'm known to find deep intellectual satisfaction in a variety of altered forms of consciousness when it comes to food and drink, be it the precise number of shots of Mezcal, the historically correct euphoric state after eating a dish of cacio e pepe showered with white truffles, or the tuned in phase of a sweet herbaceous snack or edible succulent," Batali told BuzzFeed News.
Batali recently visited BuzzFeed headquarters, and the conversation turned to the pizza at his restaurant, Rossopomodoro, in Eataly. Knowing that the unofficial cannabis day was coming up, I asked if Batali had a special recipe for 4/20. He did, and he offered it exclusively to BuzzFeed News, along with some blunt advice.
"An herb-induced food or treat should taste delicious, no matter the sensory experience you seek," he said in an email.
Here's the recipe: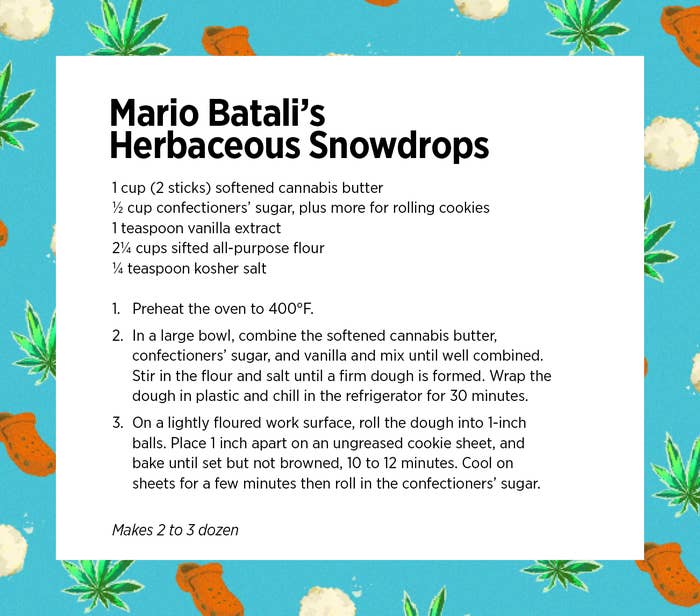 Mario Batali's Herbaceous Snowdrops

1 cup (2 sticks) softened cannabis butter

1/2 cup confectioners' sugar, plus more for rolling cookies

1 teaspoon vanilla extract

2 1/4 cups sifted all-purpose flour

1/4 teaspoon kosher salt


Preheat the oven to 400°F.

In a large bowl, combine the softened cannabis butter, confectioners' sugar, and vanilla and mix until well combined. Stir in the flour and salt until a firm dough is formed. Wrap the dough in plastic and chill in the refrigerator for 30 minutes.

On a lightly floured work surface, roll the dough into 1-inch balls. Place 1 inch apart on an ungreased cookie sheet, and bake until set but not browned, 10 to 12 minutes. Cool on sheets for a few minutes then roll in the confectioners' sugar.


Makes 2 to 3 dozen