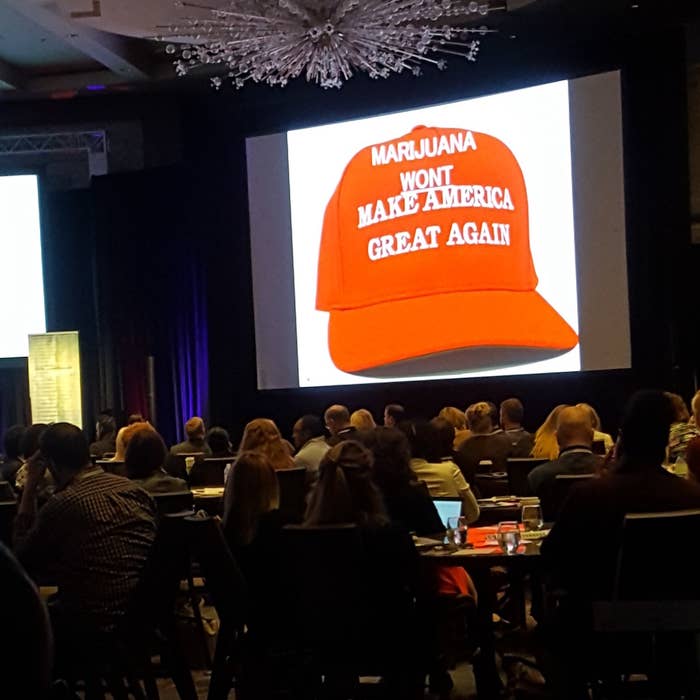 It's April 20, the day when opaque plumes of pot smoke can be seen wherever cannabis enthusiasts gather. But at a fancy conference center in downtown Atlanta, the only mind-altering substance in sight was from Starbucks. The professional crowd wasn't talking about the joys of legalization — it was focused on how to stop it.
The national "taking back 4/20" summit was hosted by Smart Approaches to Marijuana (SAM), the largest anti-marijuana legalization group in the country. And while Kevin Sabet, the president and CEO of SAM, said it was just a coincidence that the annual summit landed on 4/20, he also "didn't want to say we can't do it on 4/20 because it's a marijuana users day."

At the summit, to a crowd of about 250 people, Sabet passionately compared the pot industry to Big Tobacco, claiming that cannabis is "about profits over people." The new regime in Washington was on everyone's minds: When Sabet projected an image of a red cap emblazoned with the words "Marijuana Won't Make America Great Again," many attendees laughed quietly.
"We want to see a federal law against marijuana enforced. On the other hand, we don't want a punitive war on drugs, focused on enforcement that goes around arresting users," Sabet said from the hotel where the event was held. Sabet was particularly high-energy and expressive for having slept just three hours the night before, thanks to a late-night meeting with a SAM funder. Donations to SAM have tripled since November, Sabet said, in response to more states passing legalization measures.
Today, 28 states and DC have legalized medical cannabis, and eight states and DC have legalized cannabis for recreational purposes. In other words, there's more momentum than ever before, right? Sort of. One state, Arizona, failed on election night. And when Donald Trump won the presidency, he ushered in an era of unpredictable politics, especially with the selection of Attorney General Jeff Sessions, who has been vocal about his anti-cannabis stances.
"I'm not sure we're going to be a better, healthier nation if we're going to have marijuana being sold at every corner grocery store," Sessions said at a meeting of the National Association of Attorneys General in February. Some members of the cannabis industry, which has grown to $7 billion annually, are concerned about a potential crackdown from the Department of Justice, especially given that Sean Spicer, Trump's press secretary, said in February that he thought there would be "greater enforcement" against recreational cannabis.
SAM was founded shortly after Colorado and Washington legalized in 2012, and it was a one-man show — just Sabet — for the first couple of years. He hired his first employee in 2015. Since November, SAM has made four more hires.
"Every action has an equal and opposite reaction. And I feel like in these states that have passed [legalization], it's woken up a lot of people," Sabet said. "They've said, 'Wait a minute. I voted for this because I didn't want people to go to prison. I didn't vote for it because there were going to be pot shops next to my kids' schools or pot edibles or whatever or smoking in public.'"
Justin Luke Riley, a founder of Young People in Recovery, is a clean-cut 29-year-old who has spent his life in Colorado. Riley has seen the state transform "dramatically" over the last five years, to the point where public cannabis smoking has made it harder for him to enjoy living in Denver. "We don't really go downtown," Riley said. "It's just exhausting, frankly."
Susan Newberry is part of the community prevention alliance workshop with the Barrow County Family Connection in Georgia. She attended the SAM summit with a member of the Athens Police Department.
"I think it's good to get the opposite side, because we're getting inundated with how lovely and wonderful and happy everything is with marijuana," she said. Anna Chappell, a grant writer for the Madison County Health Coalition in Arkansas, where voters passed medical cannabis in November, jumped in. "They have millions of dollars to tell us that," she said. "I think it's opened the door to a lot of problems."
The history of 4/20 is, er, hazy. The explanation that has stuck is that high school kids in California used to meet at 4:20 p.m. to share a joint. Over time, the number 420 became significant to smokers living under prohibition.
"It defined all of us who smoked as criminals. But at the same time, it established a culture," said Keith Stroup, founder of the National Organization for the Reform of Marijuana Laws (NORML), the oldest cannabis lobby in the country. To watch out for, say, a cop looking to bust everyone, Stroup said, it was helpful to have a code.
"Because there is a new administration, there is a clean slate in terms of where we're going with this issue."
"If you used the phrase 420 or even made reference to it, everyone who heard it, who was in on the joke, understood that you were one of the good guys. You were one of us," Stroup said.
It's possible that this moment in time, this early part of Trump's presidency, could look a lot like the tail end of the 1970s. Pro-pot advocates were high from a number of wins, including passing decriminalization in 11 states between 1973 and 1978 and coming closer to national decriminalization than the country had ever been.
Then, everything changed. Between 1978 and 1996, pro-cannabis advocates had zero statewide victories, so people who remember those dark years are anxious about what will happen next.
"You can never be certain that the progress you're making will continue indefinitely. You cannot totally anticipate public attitude," Stroup said. "I'm sure [anti-pot groups] will feel emboldened in the short run."
Sabet seems to agree with Stroup on that point. Anyone who thinks that continued cannabis progress is inevitable, Sabet said, should remember that many people also thought Hillary Clinton would win the presidency, that Obamacare would be repealed by now, and that La La Land would win the Oscar.
"Because there is a new administration, there is a clean slate in terms of where we're going with this issue. It also proves kind of the unpredictability of politics," Sabet said, just before he took the stage.
One area of cannabis policy that has very high support is medical cannabis. A February Quinnipiac University poll found that over 90% of those surveyed supported medical cannabis, if recommended by a physician. Sabet also talked about the "potential" and "promise" of medical cannabis, but through the lens of regulated and developed pharmaceuticals, not the medical cannabis clinics in California where, it seems, people just "want to smoke pot," regardless of whether it is truly therapeutic.
"It's just a joke. Call it what it is. Don't say that it's about the people with terminal cancer," Sabet said. "This is about the 32-year-old white guy that has a headache and some anxiety." Yes, cannabis is a plant, Sabet said — but so is poison ivy, and it's not harmless.
"Medical marijuana is sheer poppycock."
Former White House drug czar Gen. Barry McCaffrey also spoke at the SAM summit and said that the "political intensity" around cannabis is "simply unbelievable." "Medical marijuana is sheer poppycock," McCaffrey added, to loud applause, when an audience member asked his views on it.
Sabet warned that because efforts to legalize are rolling out faster than conclusive data can be produced from states like Colorado — which was the first state to open a legal cannabis market three years ago — policymakers might not be seeing legalization's negative repercussions clearly enough.
"It's going to be a few years before we have enough change, and also have enough post data, to begin really trying to look at this," said Beau Kilmer, co-director of the RAND Drug Policy Research Center.
Arizona Gov. Doug Ducey also spoke at the event, and gave a "special shoutout" to SAM for its support in defeating Prop 205, the only legalization initiative to fail last November. "Fortunately, Arizona is a place where common sense still can work," Ducey said. "We fought very hard and we won this round."
Ducey, the former CEO of Cold Stone Creamery, said he knows what happens when the power of the free market and innovation is released. "They have pop tarts that they label pot tarts and they look identical," Ducey said of cannabis business owners who develop cannabis-infused products.

During a short question-and-answer period, a question came from a Georgia business leader: What arguments did you use with the business community to get them on board? Ducey answered by saying the winning argument came down to children and addiction. "Why would we be promoting this?" he said.
In some ways, the fight for and against legalization has become a race to raise money. In the four states where cannabis legalization advocates outspent those working to stem legal weed, legalization passed. But in Arizona, the pro-legalization side raised just a comparable amount to those fighting legalization.
"We're not giving up, folks. We're doubling down," Sabet said. "This is about money now."