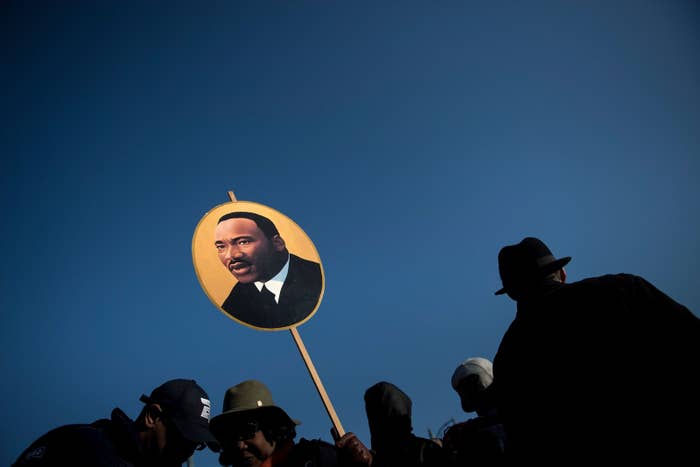 Less than a week ago, I gave a eulogy for Stephon Clark, a young, unarmed black man who was shot and killed by the police in California. Today I am in Memphis, Tennessee, where the Rev. Dr. Martin Luther King Jr. was assassinated 50 years ago. For those of us paying tribute to Dr. King today, Stephon Clark's death was a stark reminder that despite all of the progress we have made as a society, we have a long way to go to reach Dr. King's dream — and the battle is far from over.
Today, 50 years after his life was so viciously and violently cut short, we have someone in the White House who is committed to undoing all that Dr. King fought for. In the realm of voting rights, the focus is on creating new ways to suppress the vote rather than protect it, while police officers are being told that they should be rougher on those they arrest. This president regularly uses inflammatory language to sow divisions, and his Justice Department is literally halting progress toward justice.
As we mourn Dr. King's assassination, the greatest challenge we face is to maintain his dream and all that he and others achieved after so much sacrifice — including sacrificing his own life. It is not enough to memorialize him; we must continue the work.
I was 13 years old when Dr. King was killed. I had just become the youth director of the New York chapter of Operation Breadbasket, a group founded by the Southern Christian Leadership Conference, which Dr. King helped establish. I never really knew him personally, although he had twice visited my Brooklyn church. But his work and his legacy have been pivotal forces in my own work, and they have illuminated our country's righteous fight for justice.
We have made tremendous gains thanks to that righteous fight, from voting rights to civil rights. Many people, myself included, never believed we'd live to see an African American sworn in as our president, and when that day came it was groundbreaking. I had access to President Obama and was able to witness the barriers that he broke down, as well as change that he tried to implement. The progress goes beyond his election and reelection, to laws against racial profiling, protections against discrimination in the workplace, corporate inclusion at the board level, and increased diversity almost everywhere.
But many challenges remain. In 1968, the Kerner Commission released groundbreaking findings which concluded that racism, inadequate housing and schools, a flawed justice system, aggressive policing tactics, high unemployment and poverty rates, institutional discrimination, and more were responsible for the anger and frustration in the black community. Fifty years later, a study that builds on the Kerner Report finds that poverty has increased and so has the inequality gap between whites and black, brown, and Native American communities.
Healing Our Divided Society: Investing in America Fifty Years After the Kerner Report is a stark and troubling reminder that racial injustice, economic injustice, and social injustice continue to plague us and we must renew our commitment toward fighting for freedom and equality for all. Despite the progress, we have a long way to go.
Dr. King told us as much. We have difficult days ahead, he warned, but we as a people will get to the promised land. I was 13 years old when people began attacking me and the work that I was doing, but I too still firmly believe that we will get to that promised land. Even a White House committed to reversing Dr. King's legacy cannot stop us, for our cause is the cause of what is right. Fifty years after his assassination, we remember the civil rights warrior, his unyielding dedication, and his fight for equality.
On this day, let us remember his words: "Our lives begin to end the day we become silent about things that matter."