The ancient Greek city of Ephesus, which lies inside modern day Turkey, is a popular tourist locale and UNESCO World Heritage site that Turks regard with pride.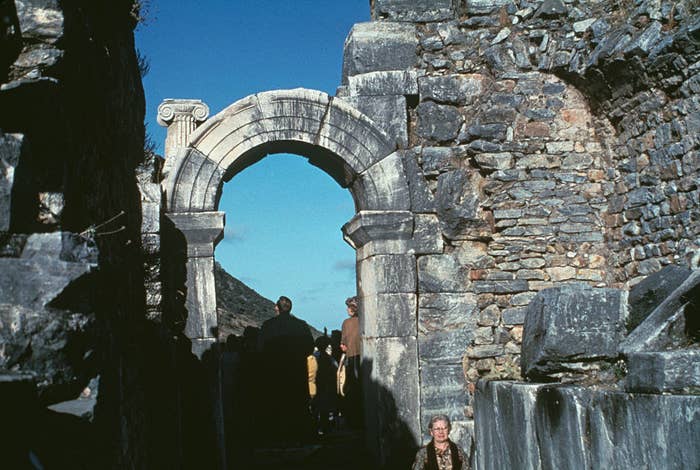 So when a local writer shared images of the site being bedecked with tables for a private event, the people of Turkey went off.
Turkish Twitter absolutely blew up over the photos, which many regarded as an affront to the dignity of the site.
Soon the original picture began to spread with declarations that the event taking place was a wedding or, in some tellings, a circumcision ceremony.
"Can you imagine the city of Rome opening up the Coliseum for weddings?"
"The Ministry of Culture apparently rented out the Ancient City of Ephesus for a circumcision celebration. Man, even Apollo himself didn't get his child circumcised there. This is a first in history."
Some on Twitter demanded that the Minister of Culture either step in to intervene or resign.
The Ministry of Culture and Tourism released a statement to try to quell the flames, promising that things were less shady than they seemed.
It...didn't exactly help. Especially since the photos were actually from an event on Tuesday for passengers of the Wind Star Cruise Ship.
"The company has paid the appropriate fees to the relevant arm of the Ministry," the ministry said of party's host, Sea Song Tours. They added that the decorations were resting on a concrete cover that had been there since 1978 and that the utmost care was taken not to disturb the site, the Celsius Library.
Though to be fair, some were pretty rightly offended not by the site's rental, but how basic the decorations were.
Archeologists Association Izmir Branch Chief Assistant Professor Ahmet Uhri actually agrees with the ministry, saying in a post that events such as this have been happening for the past 40 years.
Uhri has added that similar events have happened in other ancient sites as well, saying that these events are good for the promotion of Turkey.
However, he did agree that the table settings were just kind of tacky.