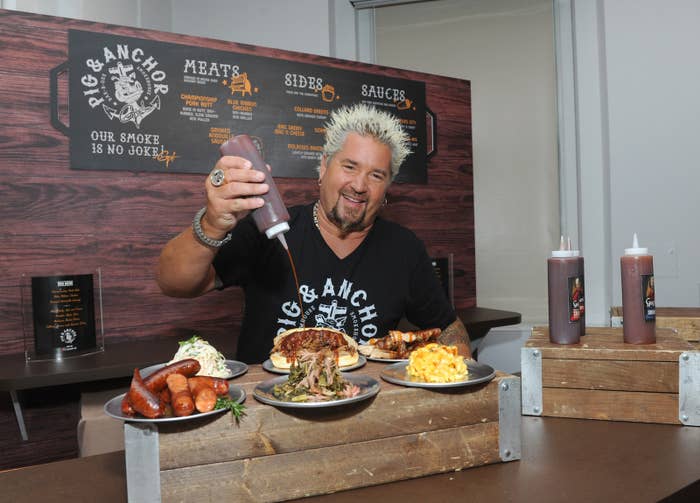 A carnival of meat, sugar, and celebrity roils on a wide cement pier jutting off the edge of Manhattan into the Hudson River. Bobby Flay is brushing pork ribs with rust-red Korean barbecue sauce and handing them to a group of Instagramming fans. One hundred and fifty paces along the tented pier, past heaving chefs spit-roasting venison with mole and plums, past apple pie–spiced pulled pork sliders with chipotle and bacon mac 'n' cheese, and just before a serving station offering "housemade Spam" on buttered rolls, is a tray of rapidly vanishing desserts.
Here, deep into the "Coca-Cola Backyard BBQ," a $175-a-ticket, all-you-can-eat event that is part of the annual Food Network and Cooking Channel New York City Wine and Food Festival, aggressive ticketholders are still holding Chef Michael Symon's kielbasa-spiced beef ribs on paper plates as they elbow forward to get at s'mores cake pops. These, produced oxymoronically by a company called Just Cupcakes, are rounds of fudgy chocolate cake, rifled with caramel, cloaked in marshmallow, and impaled on a stick.
As a young woman with a blowtorch puts the finishing scorch on the last dozen of the erect treats, a live band rips into an appropriate song, "Ophelia," by the Band: The old neighborhood just ain't the same / Nobody knows just what became of Ophelia / Tell me, what went wrong?
What, indeed? When did Food Network start encouraging us to get fat?
Back in 1993 when Food Network debuted on cable, trained chefs like Sara Moulton taught viewers the difference between kale and chard. Brainiacs like David Rosengarten used a daily program called Food News and Views to debate federal nutrition guidelines. One of Flay's first recipes on his first show, Grillin' and Chillin', was rosemary-marinated chicken thighs. It sounds as healthy as steel-cut oatmeal compared to what the channel's stars are slinging these days.
Paula Deen is gone from Food Network, but her buttery, frosted spirit lives on, y'all. We've gone beyond chefs being rock stars — now they're hawking pans on QVC and leasing their names in Vegas and Dubai. A hedge fund titan paid Guy Fieri $100,000 to pal around Connecticut dives for a day. Meanwhile, ABC's The Chew attracts as many viewers as The View, and The Pioneer Woman is considered an embodiment of American family values. Maybe it's time to stop chewing for a minute, take a restorative breath, and consider what we're being fed.
Somewhere along the line, mainstream food TV changed its diet — and maybe yours. A recent spate of research strongly indicates that food TV can rewire the brain. When you see Fieri pounding pork belly po'boys with maple mayonnaise, you may subconsciously feel permitted to eat more yourself.
Who among us has not fallen victim to what befell Duncan Shields, a video game animator in Vancouver, Canada? Shields was on a treadmill in the gym when he saw a Food Network show touting a local diner, Deacon's Corner, and its Big Mountie breakfast special. Resistance was futile: "It was like watching a nice fantasyland," he told me. Within days he found himself at Deacon's digging into a slice of brioche French toast topped with pulled pork topped by more French toast topped by Swiss cheese and fried chicken topped with more French toast topped with two sunny-side up eggs.
Credit to Shields: He didn't finish it.
The question Food Network and its competitors face as evidence mounts that they are contributing to the nation's obesity is whether it is even possible for them to add enough fiber back into their programming to make it a little less deadly, while keeping their viewers entertained. That might not even be possible: Food entertainment may have not merely jumped the shark, but processed the shark's meat into nuggets, coated them with brown sugar habanero beer batter, and deep-fried them beyond healthy redemption. If food media can't or won't change, how do we fight back against its influence?
When Food Network started, there were very few TV food celebrities, and most of them, like Julia Child and Jeff Smith, the Frugal Gourmet, were relegated to weekend shows on PBS. Flay says that the main requirement to be on New York–based Food Network in the early days was the ability to get there by subway. The "talent," like Tyler Florence, Mario Batali, and Emeril Lagasse, were chefs first, not performers. They soberly taught the network's very few viewers what they had learned in culinary school and restaurant kitchens.
The modern incarnation of food TV as spectacle first stirred at the Big Feast on the Beach in Miami in 1994, a food festival organized by a chef-obsessed rock 'n' roll promoter, Shep Gordon. By bringing his clients — rockers Alice Cooper and Sammy Hagar and actor Michael Douglas — along to cook with Food Network talent, he aimed to sell fans on the idea that chefs were rock stars and celebrities, too. When Lagasse, a Gordon client, kicked things up a notch in 1997 with his catchphrases — Bam! — and a live band, Food Network ratings improved. Alton Brown's food nerd bonanza Good Eats added a creative twist, and then the successful debut of the original Japanese Iron Chef in 1993 showed campy food competition as a primetime main course.
But the network didn't start to earn big profits until Rachael Ray's 30 Minute Meals debuted after the terrorist attacks of 9/11. Here was a chipper, neighborly young woman and cookbook author showing a frazzled nation how to find its way back to the simplicity of home cooking. It was a welcome salve, but the resulting drive to deliver more comfort food got twisted.
Throughout the early 2000s, internal Food Network research reports urged it to show fewer chefs, more relatable personalities, and more desserts — to be more "stimulating." The network had begun to understand, explains Susie Fogelson, who rose to be the head of marketing at Food Network during her 15 years there starting in 2001, that viewers didn't want to watch it while standing in their own kitchens chopping.
"They wanted to lean back and be entertained" by the spectacle of food, she told me. "The more indulgent and spectacular — that could be pizza tossing, it could be mixology – the better. It could be oversized food. It's about the entertainment value of cooking."
It worked. A generation of eminently watchable household names was minted: Ina Garten, Giada De Laurentiis, Sandra Lee, Paula Deen, and more. Sometimes they cooked healthy, sometimes not; the business of the Food Network and its then–parent company Scripps Network Interactive, was clear to its stockholders if not its fans: They wanted more viewers to whom they could market toothpaste, cars, and whatever else advertisers were selling. It wasn't that the network instructed certain chefs to up the calorie count. It was that they canceled those who didn't.
"Towards the end," said Sara Moulton, a classically trained chef whose Cooking Live ran from 1996 until 2005, "they didn't want me to do a vegetarian show. They didn't want me to use the V-word and they didn't want me to talk about healthy cooking." By the time Fieri won Next Food Network Star in 2005 and, in 2007, launched Diners, Drive-ins, and Dives, the pattern was set. Newer stars, like Ree Drummond, the Pioneer Woman, perform TV tricks like adding extra cheese to regular pizza and pasta, transforming them, the Food Network website promises, "into especially decadent dishes."
The problem is that some people eat what they see on Food Network. Defenders claim that viewers of shows like "Triple D" crave cheeseburger porn because they are engaging in "vicarious gluttony." By watching, "you fulfill the drive to eat those gluttonous foods so you don't have to actually eat them," explained Lizzy Pope, a professor of nutrition at the University of Vermont, who tested the argument in a study called "Viewers vs. Doers."
The results were more disturbing than she and her coauthor expected, and were similar to those of a University of Michigan study. Viewers of any food TV shows who reported cooking at home frequently had higher body mass indexes (BMIs) than those viewers who did not cook as frequently. In plain pounds, the food TV watchers who cooked were about 12 pounds heavier on average than those not inspired to make smashed potatoes by food TV chefs. The widely believed idea that cooking at home is nearly always better for you than eating in a restaurant may not be true if what is inspiring you to cook at home are Food Network shows.
In the Michigan study, conducted with undergraduate students, researcher Adam Kern concluded that those who watched either educational cooking shows or "edutainment" (competition-type) shows were far more likely to be binge eaters than those who watched little food TV. Combine this with a 2012 study showing that increased exposure to fast-food advertising causes increases in body fat in adolescents, especially males, and 2011 academic research concluding that children who see enough ads for soft drinks and fast food will eat and drink more of those items, and there are strong indications that the more junk one sees on TV, the more likely one will eat junk.
It's easy to blame carb-slingers like Fieri for the unhealthiness of what's served on Food Network. But changes in the business of cable television have forced the network to become more reliant on the few shows that still deliver viewers. Pressures to preserve profits in a shrinking industry are why Scripps agreed in 2017 to be acquired by Discovery Networks (which got Food Network, HGTV, and the rest of the Scripps portfolio in the deal), and why on any given night Food Network runs hours of Fieri shows back to back. Nothing else beats the ratings.
Efforts over the years to establish vegan and healthy cooking shows failed, said former Food Network executive Bruce Seidel, who helped develop Iron Chef America. Not enough viewers wanted to watch shows about cooking kale, "unless it was kale mac and cheese," he told me.
To give Food Network its due, you can find your spirulina on its website. "The 'healthy' topic has a somewhat more significant presence within our digital assets," network spokeswoman Irika Slavin told me, "where we can offer audiences more specific packages of content without having to be mindful of whatever a specific series has going on within its narrative."
In other words, trying to force healthier recipes onto a season of Trisha Yearwood's show Trisha's Southern Kitchen in which she is primarily discussing Mama's Fried Chicken With Gravy, could take away the escapist pleasure of spending time in the star's orbit.
At least one Food Network show offers to lead novices into the kitchen. Worst Cooks in America promises that pretty much anyone can be taught to cook. If a newbie's first successful home-cooked meal is fried chicken with honey mustard dipping sauce, their fifth or 50th might be spaghetti squash with roasted tomato sauce and chard. The kitchen path has many forks.
But if you're not a new cook, and if you've already watched enough food TV to be able to tell crème brûlée from flan, maybe it's time to take the food TV path less traveled. If you're going to improve the way you eat, you ought to consider improving what you watch. You don't go to mass market fast-food restaurants expecting to be served something healthy, dietitian Valerie Berkowitz told me. So why would you expect mass-market food TV to do so? To eat better stuff, watch better stuff. Start a diet with your eyes and your waist may follow.
Blocking social media feeds ("Feeds." Interesting word, right?) from relentless brownie posters, as Pope suggests, is one way to start. But the next step is more fiber in your TV intake. Shows like the classy Chef's Table on Netflix and even Action Bronson's Fuck, That's Delicious on Vice have found a new formula that does not rely on the stunt cooking of shows like Alton Brown's latest Food Network competition show Cutthroat Kitchen. Netflix, Vice, and narrowly focused YouTube channels for vegans, gluten-free eaters, whole grain bakers, sugar-free dessertists, and explorers of every world cuisine are delivering content that can be healthy and respect the artistry and cultural heritage of great cooks.
Or, at least try to do as Shields, the animator, does, and use Food Network's stacks of French toast as inspiration to intensify your workouts, telling your sweating self, 'I can have that one day.' That s'mores pop? "It's what you're working towards," Shields said. Not every day; maybe only rarely. But sometimes.