All Doped Up: a nouvelle, if questionably legal, Friendsgiving plate.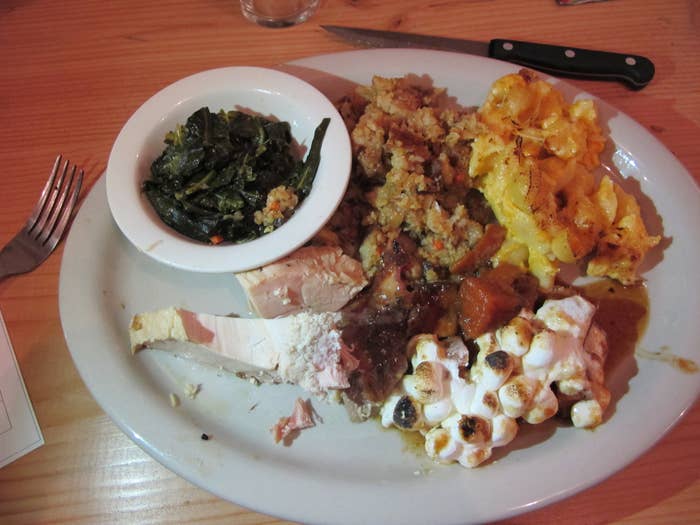 I was somewhere around the edge of the sweet potatoes topped with marshmallows when the drugs began to take hold.
Call it a Cannabis Friendsgiving, call it a way to avoid — or dive deeply into — the tribulations Thanksgiving can dredge up in the soul (not all family memories are chestnuts, aight?). Call me Ishmael, but don't call me too early in the morning the day after.
I was one of about 20 folks gathered in a secret location in downtown Manhattan on the Saturday before Thanksgiving for a pot-infused Friendsgiving feast orchestrated by "Hawaii Mike," a chef and cannabis evangelist (who spent part of his childhood on the islands of Aloha). Was it legal? Probably not in NYC, but Mike tries to keep it on the DL and bestow a haze of well-it's-not-entirely-illegal upon his moveable feast.
"We are a monthly supper club with a community of professionals, creators and entrepreneurs whose common interests are food and cannabis," Hawaii Mike instructs in an email. The location is not revealed to diners until the morning of.
But think beyond illegality, and bigger than this one gathering. Especially interesting about Mike's affair is that, in a nation legalizing Mary Jane faster than Hunter S. Thompson could drive from LA to Vegas while chewing an adrenal gland, it foretells of Thanksgivings Future: You may not be having a lit turkey dinner with the in-laws yet, but you might soon, because the sharpest minds behind the business of selling cannabis to the masses are shrewdly enacting a food-centered marketing strategy.
The market for cannabis sold in edible form is set to grow from $1.5 billion this year to nearly $5 billion by 2021, according to the Brightfield Group, a cannabis-focused market research firm. Most cannabis consumers are young and male. But as more dispensaries open in more states, the industry knows it needs more young female customers, and hitching marijuana to food is the way in, said Drake Sutton-Shearer, the founder and CEO of Prohbtd, a cannabis-focused marketing and video production house in Los Angeles.
With Facebook users tallying billions of views for short food videos — spend a minute with a luscious wedge of caramel chocolate cake! — Prohbtd started producing a series of videos called "The Smoking Pot," one featuring a recipe for collard greens and bacon made with cannabis butter.
The demographics stunned them. "Millennial females are overindexing for food content," Sutton-Shearer said, meaning that the company's projections for how many women of a certain age would watch a certain video were way lower than real-world results. "We felt like we were onto something."
Prohbtd dove into production on a new series, Edibles with Birdie, starring Woody Harrelson's niece. Birdie Harrelson visits food purveyors, then figures out in the kitchen studio how to tweak the recipes to include cannabis. "We were looking for a show that could speak to the female quotient of our audience," the Prohbtd CEO said, sounding rather corporate.

A new report on the prospects for the pot business prepared by the cannabis tech firm Headset along with Prohbtd is titled "The World's Largest Untapped Consumer." With a forward by a professor of marketing from the University of Pennsylvania's Wharton School of business, the report notes that people who have viewed marijuana content online show "voracious appetites for premium content formats, as well as for short-form content, including the memes and word videos that populate all of our social media feeds."
In other words: With cannabis expected to be a $50 billion industry by 2025 and with more than 50,000 cannabis-related companies in existence already, if you want to get rich, try piggybacking on what is already working on the web and make marijuana use seem as normal as apple pie – or Thanksgiving turkey.
So there's the playbook for the business-heads. How does it work out in beta-reality for potheads? Of the 27 million total American cannabis consumers, 2.8 million live in states with legal recreational marijuana, and another 1.7 million use it legally in states with medical marijuana. Fifty-five percent of legal cannabis consumers already use edibles, Brightfield reports.
One thing I can report to the 27 million is that there are some chairs so uncomfortable that no amount of psychoactive substance can completely compensate.
Higher Cider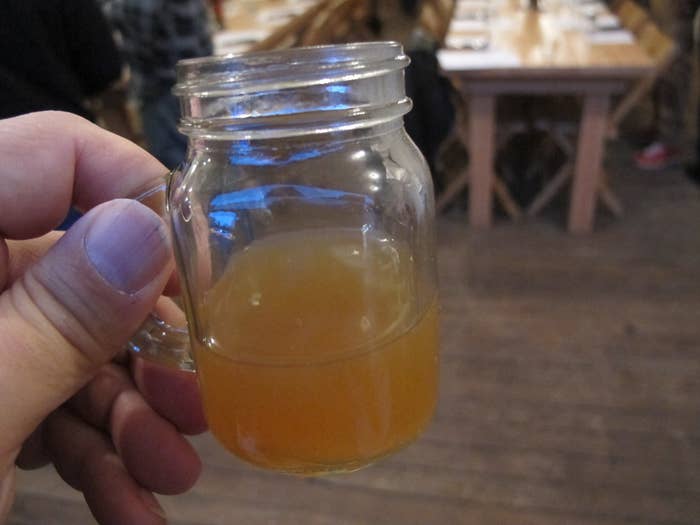 As I sipped a "Higher Cider" (apples, whiskey, clove, and infused honey) I was seated on a wood chair with a brutally narrow back strip that managed to dig ruthlessly into the soft tissue just below where the ribs dovetail into the spine. I felt the sharp edge even as the first floral notes of green bud revealed their pungency in the "Lord of the Rings" appetizer (a ring of roasted acorn squash piled with wild rice and roasted squash seeds).
"Lord of the Rings" appetizer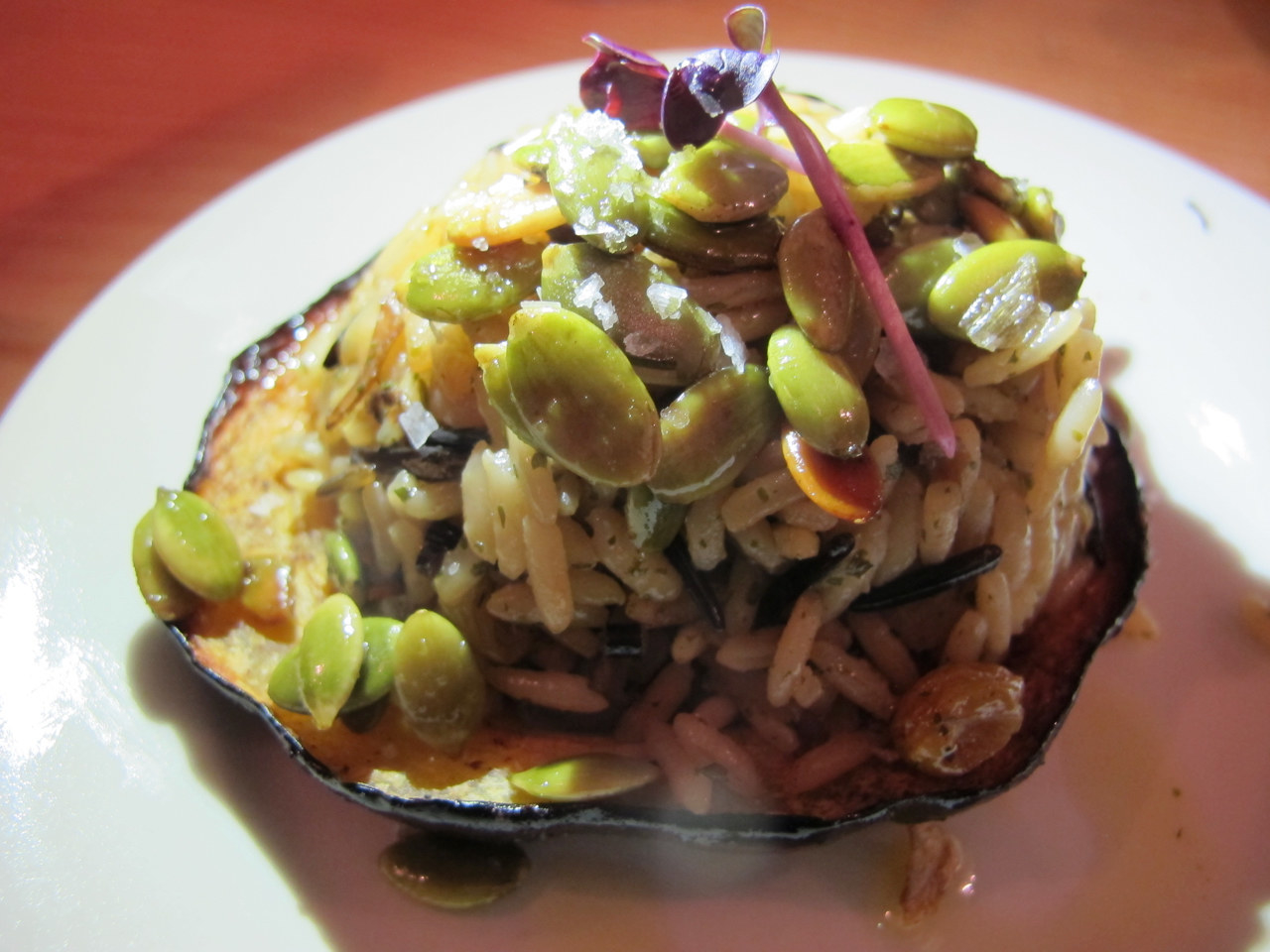 Hawaii Mike, whose company is called Chef for Higher, does know how to cook some tasty, infused vittles. Everything on the menu except the turkey itself was infused with cannabis using pot butter or another method. IMHO, Hawaii Mike is a wizard not only of flavor but of timing.

I felt a little something-something sprouting in my temporal lobes after the next appetizer course, "Everything's A Go" (cornbread with apple sausage and fried sage). But not a full kick-in. Just a warmth. A slightly increased interest in both what was going on in the room and in my head.
This cornbread is, like, so dope.
There was a smoke break.

The conversations got louder. Brittany, a public health scientist seated across from me with her husband, discussed with slashing hand gestures how mood and weather are related.
By the time the main course arrived — a bird smoked during after-hours at Hill Country BBQ near the Flatiron Building, by a friend of Mike's who works there — my thoughts were starting to ricochet. I dug into the stuffing, the "smac 'n' cheese," and then the sweet potatoes with marshmallows. The smooth tubers had a satisfying citrus note cutting usefully across the sticky sweetness of the slightly charred white gelatin sugar nuggets.
While the turkey was cannabis-free, it was definitely smoked.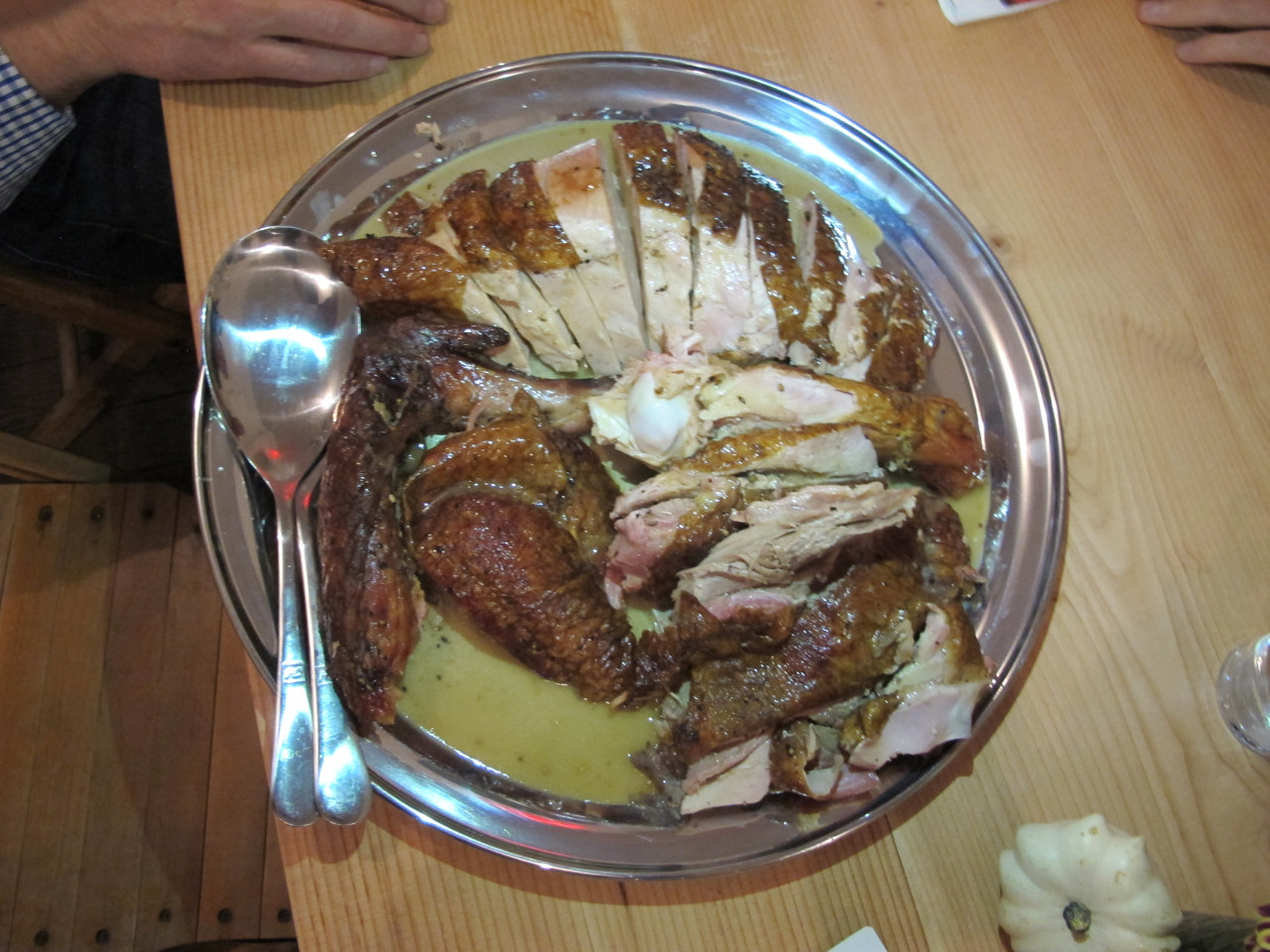 Some entries from my notebook at the time:
"Half the diners are engaged in the calisthenics of amateur food photography, moving the phones to catch the glistening gravy just so.
"'How do I ensure I don't get too fucking high?' I ask a woman server. There are green and red flashing laser lights. I'm not having a problem with them yet but I'm worried I will.
"'I've had 72 moles cut off my body,' says Chris, a dispensary owner from downtown Denver. … 'I went on a 115,000-mile drive across the country to learn what I could about all the strains of marijuana I liked.'
"'It's rare you get such a great view of a nail salon,' I say to the woman dining next to me, nodding out the window across Canal Street.
"'Yeah,' she replies, 'but I've been watching the reflection of the floor above us in the glass of the building across the street.'"
A further semi-stoned (and sentimental) entry in the notebook:
"My father died four years ago. The last time I saw him in good health was Thanksgiving 2012. He'd BBQ-smoked a turkey. I'd done two Thanksgivings that day, one in LA with my mom and brother, one after driving two hours to Palm Springs with my nephew to my dad's rented apartment in the desert. My heart aches now as I remember his turkey in slices, lifted on a platter in front of me, at how late my nephew and I were in arriving at my father's home. He was really proud of that bird, somehow tea-smoked on the communal gas grill in the patio area of his complex. He didn't mean to end up in a $1,000 a month rental in the uninteresting part of Palm Springs. He'd wanted to live out his days in the Marina Del Rey condo…"

No toking required.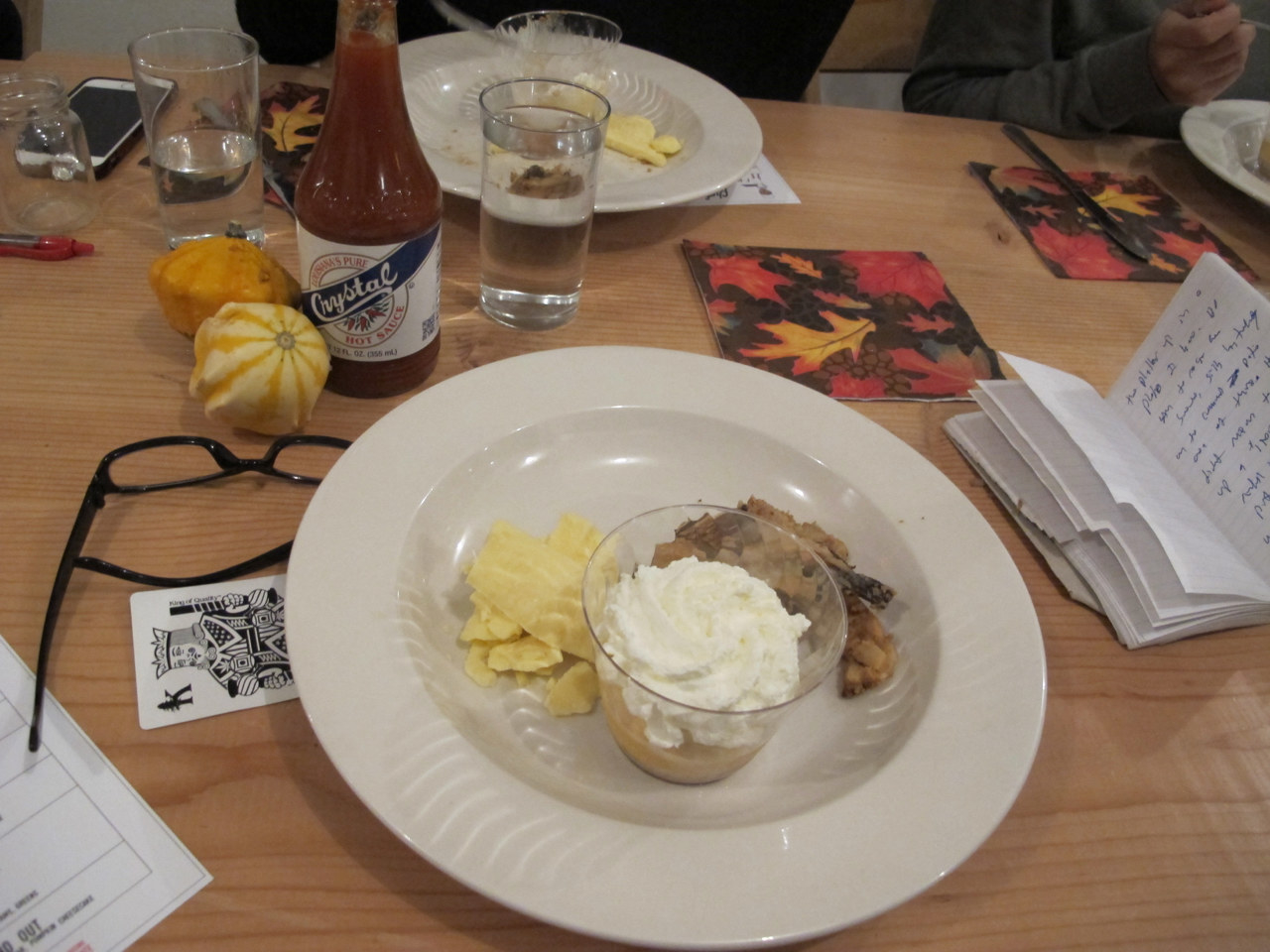 When I say Hawaii Mike is a wizard, I mean that he seems to have an ability to alchemically craft an infused dinner that eases one into a high, dials it up to a 4 by the time the pumpkin cheesecake is polished off, and then sends one out the door. An hour later, I arrived at some friends' "Pre-Thanksgiving Party" where the drug on offer was wine: Then, the high reached its peak at 9.5. It was a lot to deal with, honestly, but I dealt. I felt high all the next day and maybe still am a little. The hosts said my insights were funny. Like when I said I'd come up with the perfect answer to the question "how are you?" (you're welcome to borrow this): "I went to a strange feast earlier."
Some are skeptical of the culinary merits of infusing food. It's one thing to get high as a way to intensify the sensory enjoyment of good food. Anyone who has ever imbibed and then, let's say, fed the munchies via grade-A super-fresh Santa Barbara uni at Enya in Downtown Los Angeles, knows the power pot can exert to pry open the stamens of the human taste buds.
But to actually distill a stinky weed into something that adds to and does not detract from food is another matter. "If coffee didn't get people high, no one would have spent time on it," said Jim Lahey, the owner of Sullivan Street Bakery (and the inventor of the famous no-knead bread recipe). I once saw Lahey at a James Beard Foundation fundraiser cradling a joint he planned to enjoy as a digestif. "It's the power of coffee's intoxication that gave birth to all the experimentation with varieties and breeding and trying to intensify it. It's the same with pot. If it didn't get you high, no one would give a shit. It's fucking grass. Meaning lawn grass."
Maybe so, but perhaps we ought to hew to the middle path as suggested by Jonah Reider, the young Brooklyn chef behind the popular supper club Pith? "I wouldn't advocate for infusing weed into your entire Thanksgiving meal," he said by phone while cracking king crab. "I think maybe a dessert or a cocktail might be a fine touch. But I do have fond memories of stepping out to the backyard with the fam [sic] to indulge during Thanksgiving."
Even Hawaii Mike tried to spin the experience as a kind of middle ground in a post-event email: "This is the Art of Social Dining, we're not leading with it [cannabis] but treating as another ingredient that heightens the sensory experience of eating."
The family or group of friends that tokes together stays together?
I don't know. And I don't know if the marketers of marijuana will be able to use neo-celebs in food videos to pry open new markets and big profits. They will find one way or another, I'm sure, like the alcohol conglomerates have.
Is the dessert real, or a hallucination?
Mostly, my lit Thanksgiving left me wishing I'd gotten to my dad's condo a little hungrier and lingered longer at that last Thanksgiving. I don't think we spoke of anything particularly deep. My dad partook now and then, but that night we didn't.
Probably we should have.
Contact: salkin@allensalkin.com