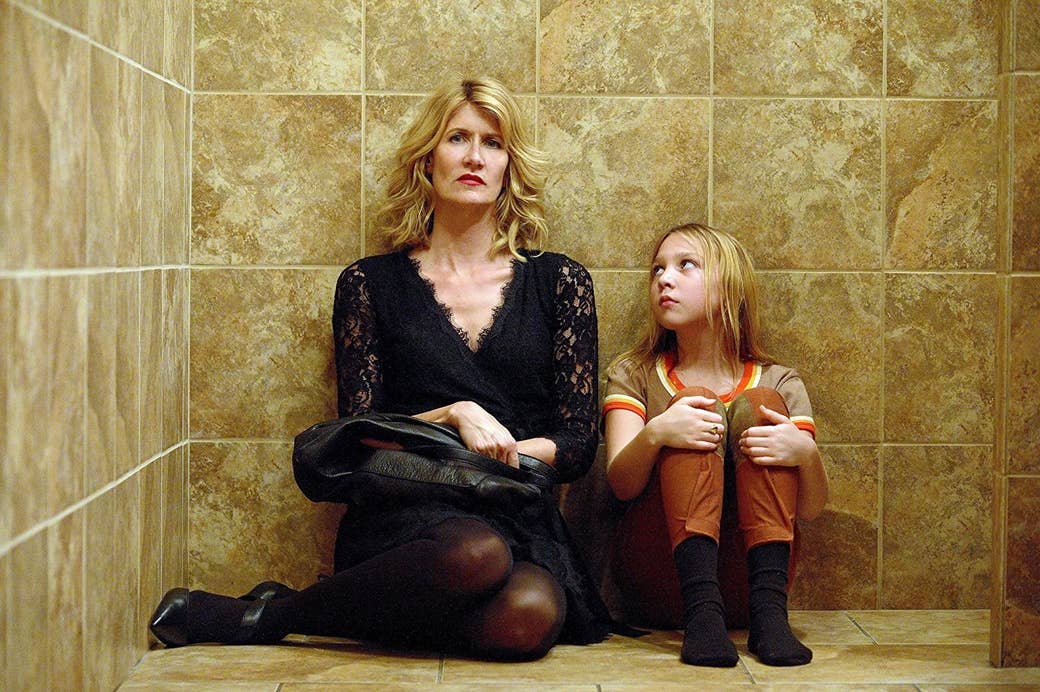 Harvey Weinstein attended last year's Women's March at the Sundance Film Festival. Weinstein walked on behalf of women's rights among the Utah locals and festival attendees that turned Park City's Main Street into a sea of pussyhats and pointedly worded signs — the same man whose decades of alleged sexual assault, harassment, coercion, and silencing of women would shake Hollywood to its core and kickstart the #MeToo movement just nine months later.
I heard repeated references to this incident at Sundance 2018, which was notably the most female-driven iteration of the festival I've ever attended, with 37% of the features directed by women — from Desiree Akhavan's young adult adaptation, The Miseducation of Cameron Post, to Alexandria Bombach's documentary portrait of a Yazidi activist, On Her Shoulders — all four directing prizes going to women, and countless panels about sexism and unconscious bias and pay parity. Weinstein's march worked both as a grim punchline about what a difference a year makes and a cautionary reminder of how little public gestures of allyship have to do with how someone really behaves.
While people once again gathered for a rally in the Park City snow, where the likes of Lena Waithe and Jane Fonda delivered rousing speeches about unity and the need to organize, there was a decidedly skeptical undercurrent throughout the festival toward performances of allyship. The tradition of saying one thing while doing another isn't new or unique to Hollywood, but it does come across as more galling in the light of #MeToo — all that talk, and the pins and T-shirts and marching, looking especially cheap without accompanying action.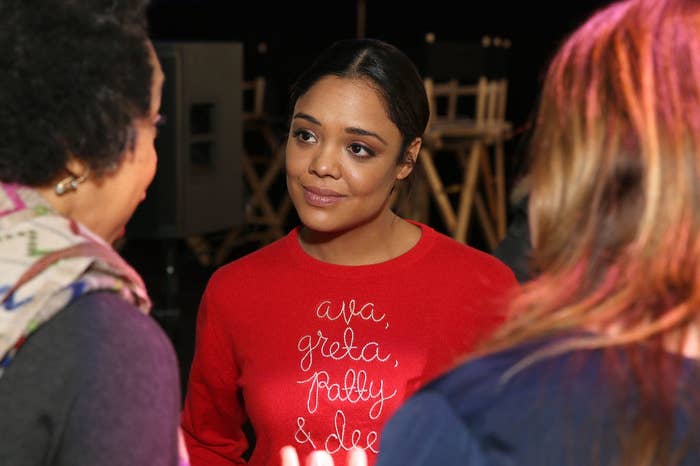 Sexual misconduct was certainly discussed during the last week and a half (the festival even launched a hotline to which it could be reported), but the more urgent questions on everyone's minds had to do with money, and the power it has to reshape workplace culture. At the packed Women at Sundance brunch, in an eyebrow-raising reworking of Naomi Klein's concept of disaster capitalism, panelists talked about how they hoped to be able to enact "disaster feminism," using the moment as an opportunity to make inroads into systemic imbalances in the industry.
But money, until the festival approached its end, wasn't doing much flowing toward films helmed by women directors. Films were being snapped up, but it was only in the second weekend that major deals were done for women-helmed scripted fare like Leave No Trace and The Tale. This may have been a female-driven Sundance, but the narrative that started a few days in and built to an apparently firm verdict by the end was that this year's festival was a disappointment, a down cycle, devoid of any obvious breakouts. It's hard not to see these two things as related, especially with unnamed but apparently powerful distributors tellingly grumbling to Variety, "Who are these movies for?"
Women are making movies, and some of this year's were genuinely great — but in order to get those movies seen, they have to contend with a gauntlet of distributors who make the calls on what's relatable and viable, and who, in doing so, dictate the kinds of stories that end up in theaters, and who gets to tell them. Everyone is eager to say that they support women, that they're listening to women, that it's more urgent than ever to give work and equal pay to women in addition to assuring their safety. But when it comes to taking chances on women-directed work and seeing it as commercially viable, Sundance 2018 mostly felt like a long lesson in just how far we still have to go.
If you've never been to Sundance, you may have developed a rough idea of it as a snowy wonderland of celebs, tucked into $1500 puffy coats and cashmere beanies, wandering around a small ski resort town collecting freebies from gifting suites. And this is all true in ways that are incredible to witness, but it's only part of the picture. Sundance is Hollywood's dream of its best self, a showcase for work that is, at least theoretically, made outside the system, the product of bold sensibilities and diverse voices and artistic integrity.
Every year, whole swaths of the industry gather to watch films that are meant to be the kind they'd love to make if only they weren't subjected to market pressure. And then those films are immediately subjected to market pressure, as distribution companies battle to purchase the most promising titles for theaters, for video on demand, or for streaming. Incredibly ill-advised deals have been made in the giddy high altitudes of the festival, but then influential discoveries have been made there, too — and these deals, whether they turn out to be lucrative for the company or not, are showy gestures of companies throwing their weight behind a work of art. It's why Sundance remains, even in a "quiet" year, important. It's an event that promises to kickstart careers and allow people in from outside the industry, even if the reality turns out to be more complicated than that.
The most talked-about movies at Sundance last year — The Big Sick, Call Me by Your Name, and Mudbound — were all picked up by theatrical distributors and are all currently Oscar contenders in various categories. The most talked-about movie at Sundance this year, The Tale, will bypass theaters to premiere on HBO.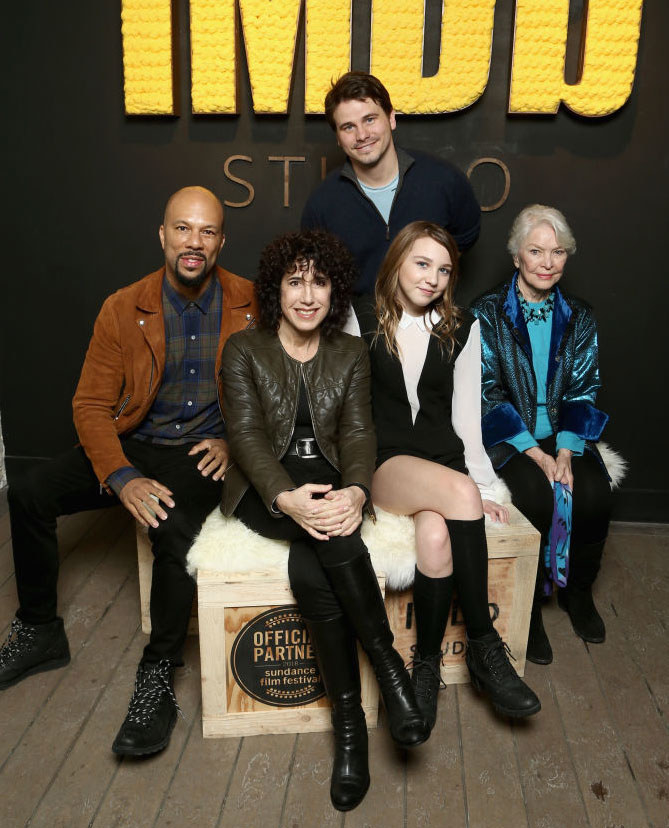 Whatever combination of bidding and filmmaker negotiations went on behind the scenes, the result was that the company that stepped up with the best deal for the film wasn't a theatrical distributor but a cable network. There's no need to relitigate pointless movies-vs.-television debates. But it does feel like a startling whiff on the part of the film studios to pass on such an ambitious prestige title, letting it go to the small screen, which has been notably much friendlier to female-driven stories and creators in recent years.
The Tale is an autobiographical drama of sexual abuse from Jennifer Fox, a documentarian making her scripted debut. Laura Dern plays an on-screen incarnation of the director, a woman who starts to question whether what she'd insisted to herself at the time was a consensual relationship was actually abuse — she was 13, and he was her 40-year-old running coach (played by Jason Ritter). The Tale slips between the past and present, depicting the unreliable nature of memory and how we use it to shield and harm ourselves by reworking history into something easier to deal with. It is #MeToo the movie, complete with power imbalances that protect and enable a predator long after his first victim has left him behind.
Perhaps The Tale is timely in the wrong way, enough to scare off buyers with its unflinching sequences of the adolescent Jennifer (played by the painfully young Isabelle Nélisse, just now 14) being groomed and eventually coerced into sex. Those scenes are no less agonizing when watched with the knowledge that they were shot using an adult body double. The movie is insistently frank about what statutory rape looks like, in direct contrast to the glossed-over version of events that older Jennifer convinced herself of. It refuses to look away from difficult scenes, and its gaze is steady and distinctively female.
Indie film is often about hawking the idea of "importance," so what film executives (and critics) relate to impacts what gets bought.
I don't want to imply that The Tale got a rough shake in being picked up by HBO, which is a huge platform that will probably put the film in front of more eyeballs than a theatrical release would, and the reported 7 million dollars paid for it makes it the second biggest deal of the festival. But it seems worth mentioning that the biggest deal, for a reported 10 million dollars, was for Sam Levinson's Assassination Nation. It's a film I didn't see and can't speak to the quality of, but it's described as a violent satire about a town that goes off the rails when a hacker starts posting its secrets online, including ones about the four teenage main characters who become targets of hate. In other words, it takes on misogyny and female revenge on a much broader, less serious scale. That there was a rush to secure the rights to Assassination Nation indicates it's not necessarily proximity to the #MeToo movement that's a red flag for buyers — "This is a film that everyone needs to see and discuss," the Russo brothers, who were part of the deal, declared in the acquisition announcement.
Rather, the problem seems to be one of perspective and approach, where the raw realness of Fox's film about her own experiences is judged as less significant than a flashy, button-pushing romp. Variety's Owen Gleiberman even went so far as to refer to The Tale as a "sketchy postmodern Lifetime movie." That's language that recalls the chick lit-ification of books by women in the publishing world; their femininity is treated as a sign that they're lightweight, disposable, and lacking in artistic substance. Indie film is often about hawking the idea of "importance," so what film executives (and critics) relate to impacts what gets bought. And executives and critics are still not a demographically diverse group.
I have no idea who will buy my favorite film at the festival, an impressionist portrait called Madeline's Madeline, directed by Josephine Decker. Decker's earlier output veered into the experimental, and her new movie isn't that — it has a clear story to tell — but it's not conventional, either. The story drops you into the chaotic interior life of a ferocious teenage girl with a never-specified mental illness and makes you navigate an often slippery sense of reality alongside her. The viewing experience hits you like a fist, thanks in part to the awesome intensity of its lead actor, Helena Howard, in her heavily improvised first on-screen role. As Madeline, she burns so brightly that you can see how the character compels and alarms so many people in her orbit, including her smothering mom (Miranda July) who Madeline sometimes thinks about harming, and the theater director (Molly Parker) whose rehearsals are a sanctuary until their "collaborations" start to feel vampiric.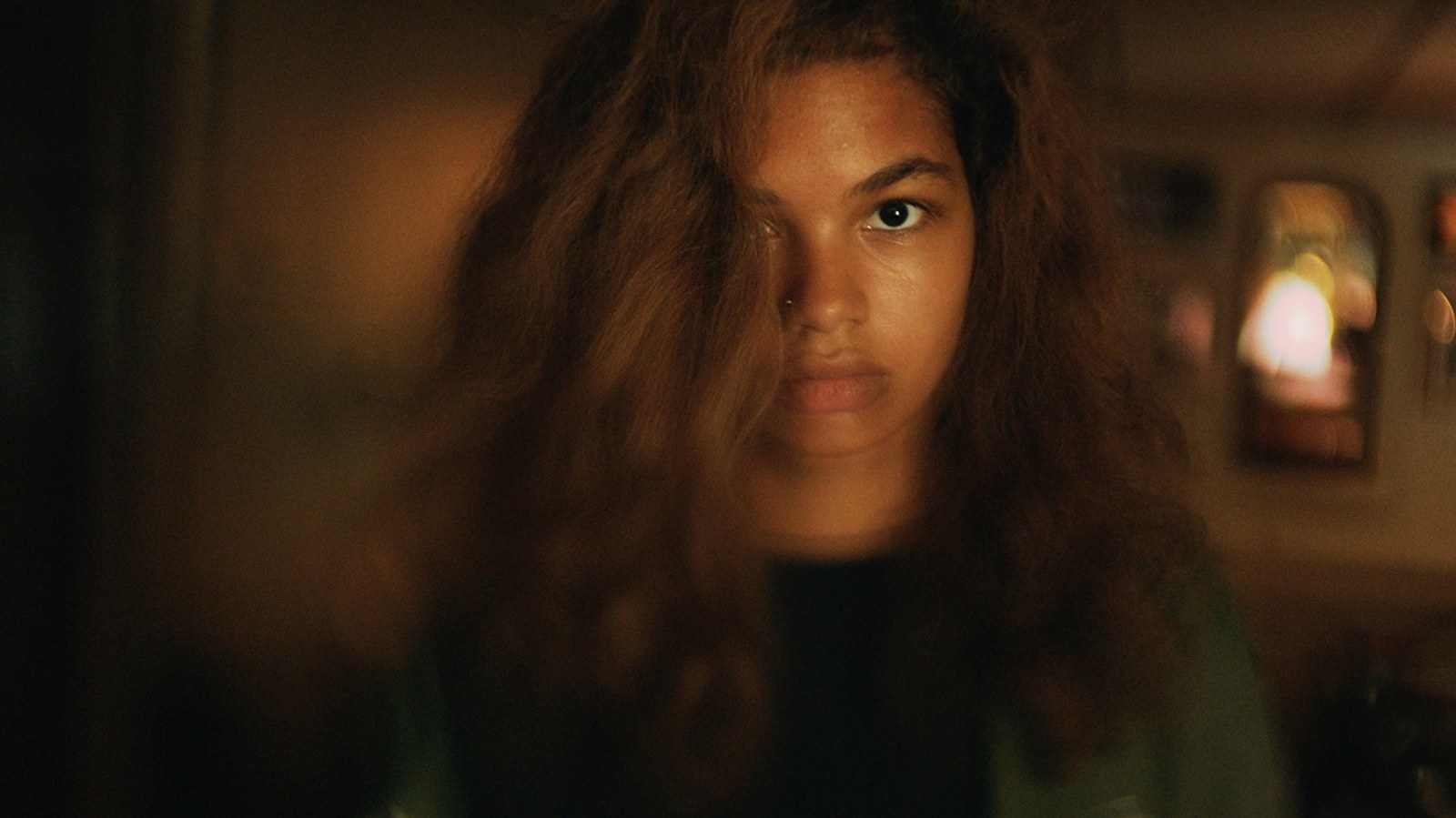 But Madeline's Madeline doesn't have an easy marketing hook. It bristles with ideas about race and class and inspiration and mental health while refusing to be a treatise on any one of those in particular, to the benefit of viewers and detriment of anyone trying to pitch it for sale. The movie is neither overtly woke enough to be presented as a movie that will teach people something, nor the product of one of the established (and near-universally male) auteurs from whom some playfulness with form is tolerated — your Paul Thomas Andersons, your Coen brothers. As a result, Madeline's Madeline might be doomed to festival purgatory. Even fans of the film at the festival seemed to talk about it as if it were already consigned to the past, a footnote in the bright career Howard seems destined to go on to have. Though even as I say this, I wonder if I haven't simply internalized the industry's cynicism about how a ticket-buying audience (or their narrow idea of one) will behave.
There are more women behind the camera, but they're still predominately white, even as casts become more diverse.
Just as mesmerizingly uncomfortable, but more straightforward, The Kindergarten Teacher at least stands a better chance of landing a bigger distributor. That's thanks to the star at its center, Maggie Gyllenhaal, who also produced the film. The Kindergarten Teacher is a remake of an Israeli film, reworked with a Staten Island setting by writer-director Sara Colangelo. Like Madeline's Madeline, it plays around with an attentive-bordering-on-predatory relationship between an ominously well-meaning white lady (who Gyllenhaal doesn't soften one bit) and the young person of color whose bones she seems to want to suck the talent out of — in this case, a kid in her class (Parker Sevak) who she becomes convinced is a poetry prodigy. Seen in the context of the festival, that recurring motif is like a dark on-screen acknowledgement of another Sundance reality: There are more women behind the camera, but they're still — like filmmakers in the festival in general — predominantly white, even as casts become more diverse.
But while The Kindergarten Teacher leans into that anxiety, there's none of the same tension on screen at all in Skate Kitchen, another personal favorite and another film that's still waiting on distribution. Ironic, given that director Crystal Moselle's first feature, The Wolfpack, a doc about siblings who'd spent their lives locked away in an apartment, teetered right on the edge of art and exploitation. In Skate Kitchen, Moselle stumbled upon another group of highly cinematic New York City kids (a cluster of extremely hip skateboarding girls) and built a scripted movie around them, but the results feel collaborative. You forget they're mostly first-time actors because this fearless, racially diverse, sexually fluid crew of trash-talking young women feels like a convoy from a cooler future — until Jaden Smith, perfect as a stealth fuckboy, stirs up drama regarding rules about dating your friends' exes that go way, way back.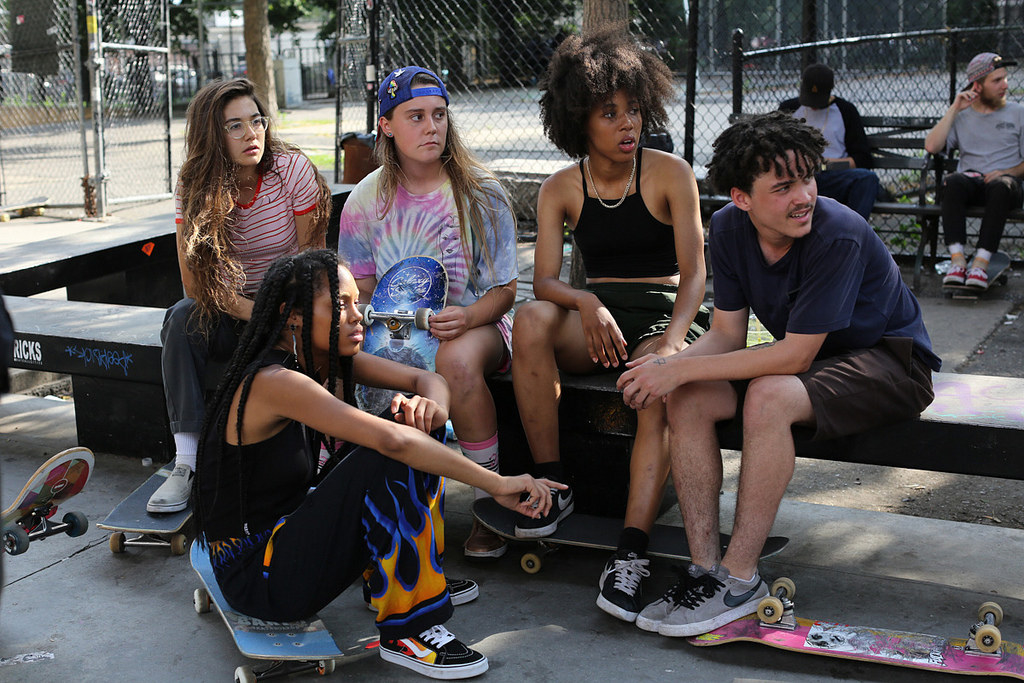 Skate Kitchen feels gratifyingly fresh, but it also could be in conversation with Larry Clark and Harmony Korine's 1995 landmark film Kids, as it revisits and reclaims some of its teens-roaming-the-city-unsupervised territory. Whereas Kids played like a button-pushing cautionary tale of very bad behavior, this new film finds a sun-streaked but unromanticized hope in its skater collective — like maybe all we ever needed was to put the girls in charge.
It's been almost a quarter century since Kids, which, of course, had its premiere at Sundance, and which, of course, was released in theaters by Harvey Weinstein to all sorts of uproar over its content. The idea of "indie" film — as a market, as the way certain films get financed, and as a sensibility — has changed a lot since then, and it's illuminating to contrast the prurient outrage that boosted the profile and box office draw of Kids with the debate over the abuse scenes in The Tale. And it seems that it's still a bigger risk to bet on a woman's film about her own sexual initiation at the hands of a predatory man than on one about a predatory teenager who gets his kicks deflowering barely pubescent girls.
Sundance has often been a better incubator and showcase for women directors than a direct launching pad into a still-indifferent industry. Its history is peppered with breakouts from women who did not go on to bigger film careers — like Leslie Harris of Just Another Girl on the I.R.T. (who's working to get a new movie funded), or Donna Deitch of Desert Hearts (who moved into directing TV). Ava DuVernay, who did manage to move on to making studio films (and history), told the crowd at the premiere of her 2013 ESPN doc, Venus Vs., that after she won the Sundance directing prize in 2012 for Middle of Nowhere, she was approached about new projects by brands and cable networks, but not by movie studios.
DuVernay went on to direct 2014's Selma, and this year has A Wrinkle in Time coming out with Disney in March. But for other women, the gaps between films can stretch from years to decades, due to difficulties finding financing, projects falling apart, and studios being unwilling to greenlight or invest in pitches. That struggle is evidenced by two other features that premiered at the festival this year, both from acclaimed female directors returning to Sundance after long breaks.
The first, Leave No Trace, came from Debra Granik, whose 2004 debut, Down to the Bone, and 2010 follow-up Winter's Bone both played at the festival in previous years. The first film, a cliche-defying drama about drug addiction, provided Vera Farmiga with a breakout role; the second, a critically adored Ozark-set thriller, was the start of Jennifer Lawrence's ascension into A-list movie stardom. There were six years in between the first two films, and it took another eight for Granik to make her new feature (though she did make a small documentary), 2014's Stray Dog, in between.
Leave No Trace is a film I admired more than I enjoyed, but it's undeniably the work of a major talent. It tells the story of a father (Ben Foster) and daughter (Thomasin Harcourt McKenzie) who are living off the grid in Oregon until social services comes calling. It's a drama that plays out on an intimate level between characters who never had much need for talking. The film did snag a distributor in the past week, so we'll be able to see if its performance in theaters will help or hurt Granik's chances to put together her next project.
Meanwhile, it took Tamara Jenkins 11 years to complete her new movie Private Life, a follow-up to The Savages (2007), which starred Laura Linney and Philip Seymour Hoffman as difficult siblings. The Savages premiered at Sundance and went on to get two Oscar nominations (supporting actress for Linney and original screenplay for Jenkins). Yet it was over a decade before Jenkins, who made her debut with the wry Slums of Beverly Hills (1998), could get a new project funded and finished.
Private Life, which screened the first night of the festival, is an infertility dramedy starring a career-great Kathryn Hahn, with Paul Giamatti. And though it's rough around the edges, it has a big, broken heart, as it tracks a couple's experiences with IVF and the adoption process, and the emotional and financial toll of both. It feels, in the best possible way, like a film that could only come from a woman director. Jenkins digs deep into the feeling so many women have that there is still a choice to be made between career fulfillment or family, by exploring the ways Hahn's character — having pursued the first — feels like she's now being punished for wanting the other.
To answer that unnamed executive wondering "Who are these movies for?" — well, as mindblowing a concept as it may be, women.
How Private Life will do at the box office isn't all that important — it was produced by Netflix, is slated to premiere there Sept. 21, and its theatrical release will likely be nominal at best, an award-qualifying gesture. Its main life as a film won't take place on a big screen, but on thousands of smaller ones, reflecting how audiences are increasingly preferring to watch things.
Which is why, when you consider that only 7% of the 1100 highest grossing movies released in theaters in 2017 were directed by women, the drift of women-directed projects like Private Life and The Tale toward streaming and television starts to feel like it's really the theatrical industry's loss. Distributors may not see these more intimate, women-directed films as capable of breaking through the noise, but that doesn't mean there isn't a significant audience invested in seeing them. To answer that unnamed executive wondering "Who are these movies for?" — well, as mindblowing a concept as it may be, women.
Sundance is a cozy bubble, in which almost everyone is genuinely concerned about representation and tackling relevant issues, and the statistics regarding who makes the movies that are shown and who acts in them are changing faster there than in the film industry at large. To be at Sundance is to bask in a temporary community's conviction that films are art, and that art, whether it's good or bad, is very important. But films are also a product that need to be sold (and marketed) to reach the largest possible audience, to generate the kind of success that lets someone make more films. Plenty of voices aren't getting amplified by studio marketing machines, and while some of that is due to myopic thinking, it's particularly frustrating — after a year that made it clear how little women have been heard — to see that work women have made, good work, will continue to struggle to be seen.
The festival this year was flush with vibrant, edgy, interesting, emotional work from women directors, beyond just the ones I mentioned, but it's going to be a slow, difficult process for some of them to gain traction in the wider world. And if distributors aren't willing to gamble on them at even the festival level, what chance is there for women filmmakers to make gains in the broader film industry?
There's a reason so many women at panels this year wanted to talk about money — about getting women paid and hired. It's money that makes the industry run, and it's the potential for money in your work that gets it greenlit or acquired, and it's only in having people in power who can see that potential, and audiences eager to come out and support it, that practical change can happen. In a year in which film and television have been rocked by sexual misconduct revelations, it's important to consider that plenty of the same power structures that enabled abuse also shaped the kinds of projects that got funded or acquired. The industry needs more than surface gestures — it needs to shift on seismic levels if it's going to stay relevant.