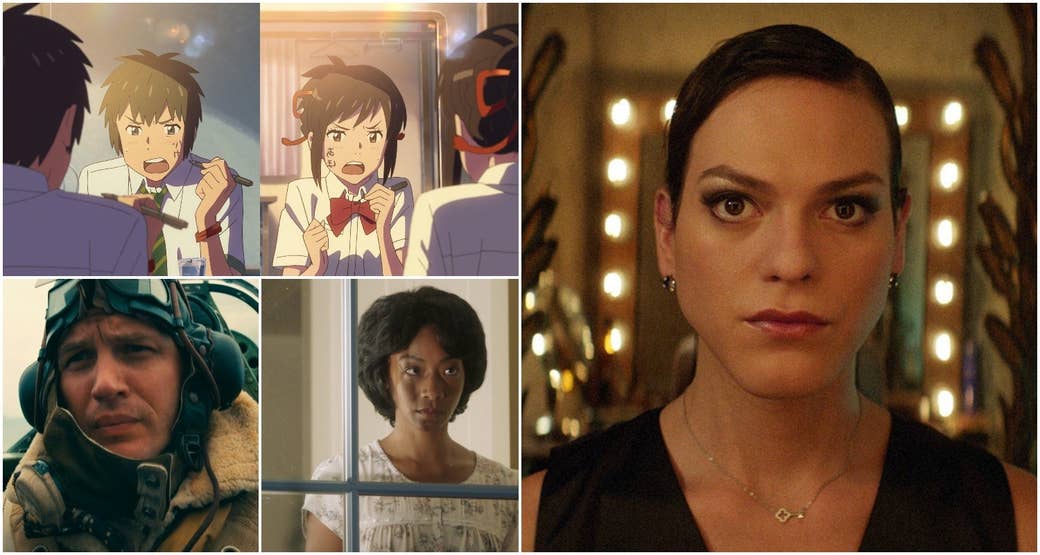 Why wouldn't a year that has had no use for subtlety end with the Los Angeles area literally going up in flames? After all, Hollywood has been on fire, figuratively, since the Harvey Weinstein story broke in early October, and since long-tolerated toxicity in the industry has suddenly, shockingly, and gratifyingly become something that comes with consequences.
This is a strange time to be a culture writer, for reasons that go beyond the sexual misconduct reckoning that has demanded everyone reconsider the relationship between artist and art. On one hand, the jittery, neverending rush of urgent political news means there are times at which writing about film and television can feel hopelessly frivolous, like fiddling while Ventura County burns. On the other, having a president who's a former reality TV star and who continues to take cues from the format can sometimes make pop culture seem like the only lens through which it makes sense to see current events.
Either way, when it comes to the movies, I haven't been in the mood for comfort. What's lingered with me have been the titles that are big and bold, either in theme or aesthetics or tone. There's a time for subtlety, and it isn't now.
11. The Post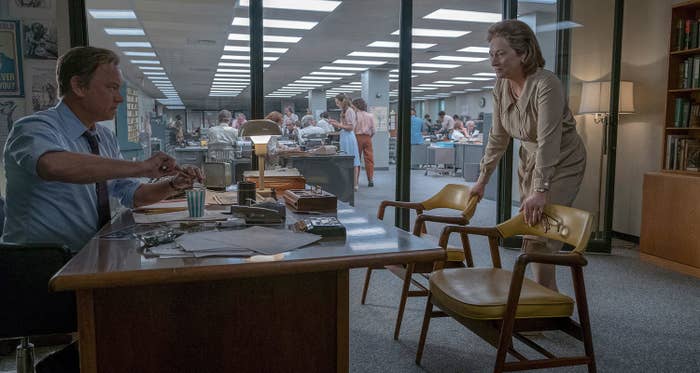 Steven Spielberg's The Post is about the publishing of the Pentagon Papers in 1971 and the accompanying battles over freedom of the press, which means that it is both timely as fuck and very aware of that fact (it came together, was shot, and was completed within this year). But it doesn't start with the obvious outlet (the New York Times, which got the material first) or the obvious subjects (the reporters who broke the story). Instead, it focuses on Washington Post publisher Katharine Graham (Meryl Streep), who never expected to find herself in control of her family's paper, and whose uncertainty about how to take a leadership role is exacerbated by how often she's the only woman in a room full of men (played by Tom Hanks, Bradley Whitford, Tracy Letts, and others) who have no hesitations about telling her what she should do.
She's not a radical or anachronistic heroine, but a product of her time, and she's someone whose job it is to care about the unsexy realities of the paper as a business, not a public good. It makes her eventual decision, which she stammers out during an impromptu conference call, inexpressibly rewarding, because it doesn't come easily. The risks she's taking have been made so clear. The sheer grown-upness with which Spielberg tells the story makes its occasional sentimentality endearing — including a shot of Graham outside a courthouse that should be intolerably cornball, but instead is irresistibly tear jerking.

10. A Fantastic Woman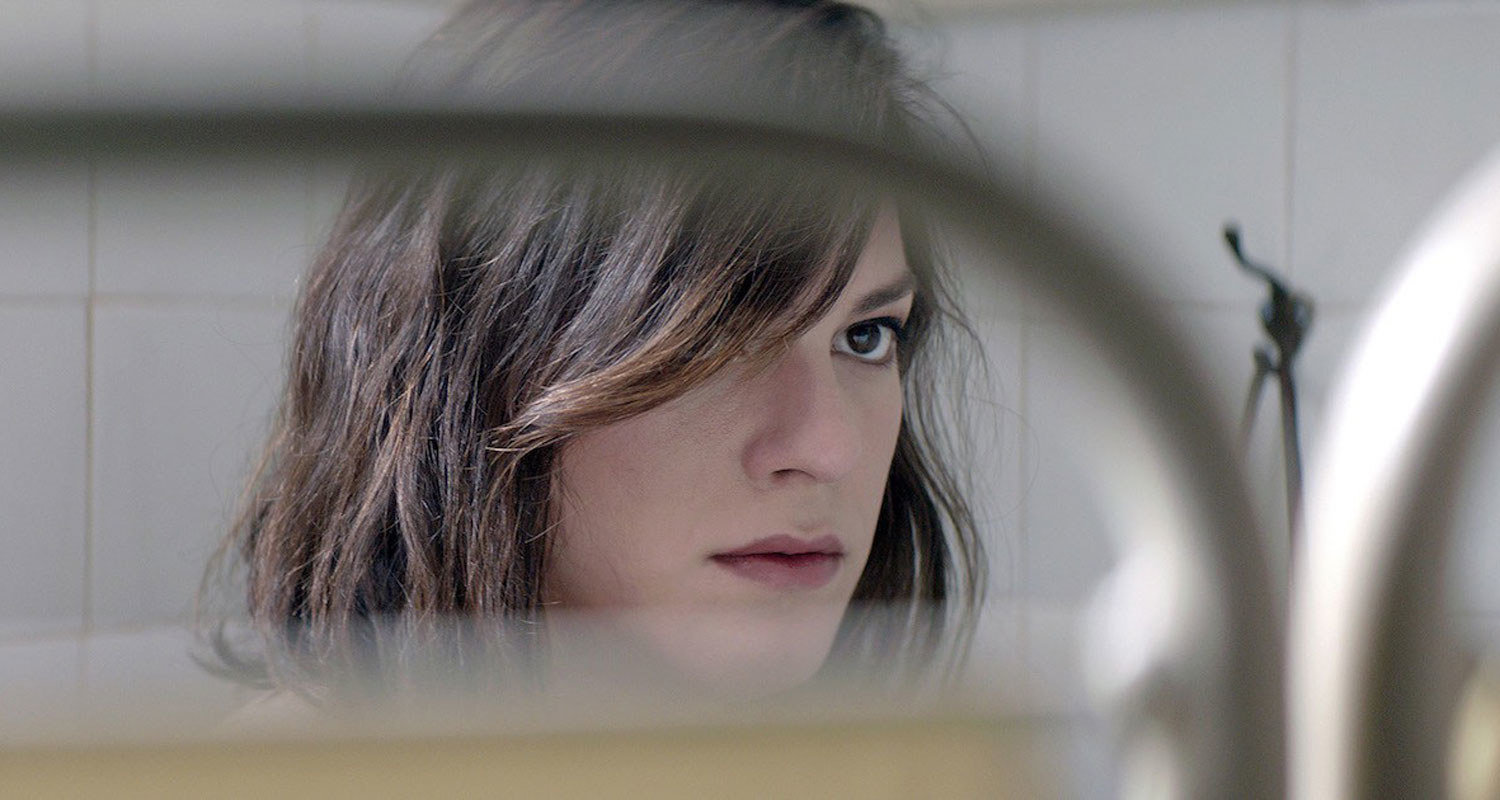 When Marina, a waitress and nightclub singer living in Santiago, learns of the unexpected death of her lover, a doting older man named Orlando (Francisco Reyes), any attempts to mourn him are cut short by the suspicion and hostility she immediately finds herself facing. The police quiz her about whether she's a sex worker and maybe a murderer. Orlando's son tries to take back the dog his father gifted to her. Orlando's ex-wife forbids her from attending the funeral, not wanting anyone to know that Orlando was in love with a trans woman.
It's a sustained blast of virulence that's grueling to sit through, but Sebastián Lelio's film isn't about intolerance — it is about Marina, played by first-timer Daniela Vega with the presence and infinite watchability of a classical Hollywood star. Marina is neither reduced to a victim nor simplified into a symbol over the course of the movie, and the hatred she contends with becomes another way for her to examine her own identity as others try to dismantle her sense of self. How she emerges, stronger and more certain, is a startlingly lyrical journey, an exploration of grief and introspection peppered with scenes of richly depicted magical realism.
9. Get Out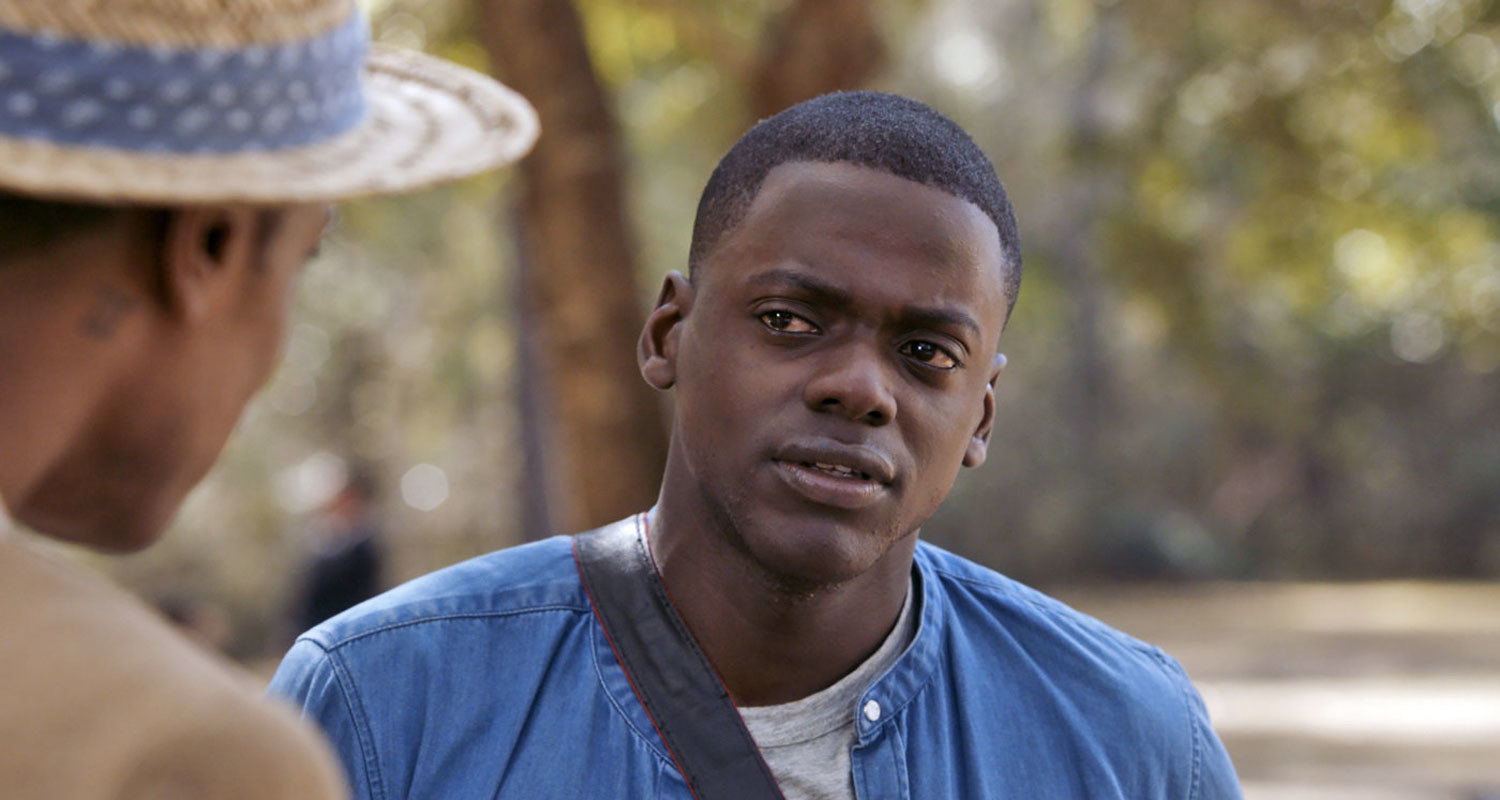 It feels like a decade has passed since February, when Jordan Peele's directorial debut opened in theaters and went on to become one of the year's biggest cultural breakthroughs. Looking back on Get Out from the vantage point of December, what's striking about it is how funny it is (sorry, Golden Globes truthers) as well as how eerie. Peele's is a sharp, incisive film about liberal racism and supposed allies who are actually engaged in a very literal and gruesome appropriation of blackness. But it's also a deft, meticulously made horror comedy that doesn't waste a beat or a bit of imagery.
Even the throwaway anecdote Dean (Bradley Whitford) tells about how his father lost an Olympic slot to Jesse Owens lines up with that deeply unsettling late-night encounter Chris (Daniel Kaluuya) has with the house's caretaker, Walter (Marcus Henderson), though we don't know it at first. The scene in which Rose (Allison Williams) challenges the cop who's asking for her boyfriend's ID takes on a very different meaning by the end of the film. And that last glimpse of Rose provides a bleak but resonant parallel with the story Chris tells about his mother. The whole film comes together likes a power chord.
The strangest truth about writer-director Julia Ducournau's virtuosic first film is that even though its scenes of flesh-eating had audience members fleeing theaters and fainting, it's much more a story about freshman year of college than it is about cannibalism. The urge to eat other humans is really just another complication that former vegetarian Justine (Garance Marillier) has to contend with when she starts veterinary school in Belgium. Other challenges include a brutal hazing process, a frenemy of an older sister (Ella Rumpf), unimpressed professors, and a roommate (Rabah Naït Oufella) on whom she's developed a confusing crush.
This has been a great year for coming-of-age films, like Lady Bird and Call Me by Your Name, both of which barely missed spots on this list. But nothing can touch the woozy, hallucinatory rush of Raw, in which the main character's journey of self-discovery turns out to be viscerally (lol) fraught. College might be a place to experiment and find yourself, but there are no promises you'll like all the things you turn up. Female desire has rarely been portrayed in such a provocatively dark way.
How to describe Bong Joon-ho's fabulously indescribable movie? It's a slapstick comedy about a bunch of corporate and anti-corporate goofballs that also manages to be a razor-edged satire about globalism. It's a dark story about meat as a mass commodity, in addition to being a bright kiddie-led action adventure. It's Korean in sensibility and in its main character, but features Tilda Swinton (pulling double duty as twins), Paul Dano, and Jake Gyllenhaal in major roles. It is a saga of how businesses are getting bigger and the world is getting smaller and how these developments are inexorably and irreversibly making everyone's lives worse — plus, it has an adorbs CGI animal.
And, in maybe the greatest contradiction of all, it's a film about a giant company feeding everyone in the world the same products, produced by Netflix, which essentially does just that with streaming content. It's hard to imagine any other studio shelling out the reported $50 million budget on something so chancey. The future may be an uncertain thing unfolding in the shadow of mega-conglomerates, but at least the movie business is staying interesting.
Maybe the reason that there were three (three!) different movies about the Dunkirk evacuation this year is that there's a grim longing for the solidarity that comes with being desperate and under attack. Christopher Nolan's Dunkirk is the best of the trio, maybe because it demonstrates a way to make an epic World War II movie without focusing on the usual feats of attack — a great story about a squeaker of an escape, not a guns-blazing triumph. The movie is a fascinating meditation on nationalism, and something even more abstract than that. It's about what it means for a group of people to turn themselves into an army, a teeming temporary organism of war made up of people who have accepted they might die for the greater good, or who are trying their best not to.
Dunkirk proceeds with a mathematical complexity — Nolan is totally to filmmaking as Rush is to music — and without anything that could be traditionally labeled as characters. Fionn Whitehead on the beach, Mark Rylance on the water, and Tom Hardy in the air are all ways of looking at the evacuation, as well as ways of looking at warfare — through a scrabbling attempt at survival, or willing volunteering, or self-sacrifice. Formwise, it's nothing like the usual war movie — instead, it's a sweepingly cinematic work on a larger, but not dehumanizing, scale.

Makoto Shinkai's body-swap romance is the highest grossing anime film of all time, and the fact that it made such a relatively small mark in the US is a reminder, if you needed one, that as a country we're still mostly bewildered by animated fare that isn't primarily aimed at kids. Your Name is for the teens and the teens-at-heart, a tearstained, feels-laden magical romance that's as ecstatic as a Carly Rae Jepsen chorus. Taki is a Tokyo boy and Mitsuha is a country girl. When they start inexplicably waking up in one another's bodies, it's first the stuff of awkward comedy, then emotional connection, and then something grander. The two main characters spend most of the movie apart, with hundreds of miles between them, which only makes the beautiful scene in which they finally meet all the more deliciously swoon-worthy.

4. Faces Places
When 89-year-old Agnès Varda first embarks on this road trip of a documentary with a thirtysomething street artist who goes only by JR, it's just on the right side of cute. They're like a quirky, Gallic-inflected buddy comedy, tootling around the countryside in a van that JR has customized to print large-format versions of the pictures he takes of people, portraits he pastes on the sides of buildings. But Faces Places turns out to have a steely spine. The codirectors seek out subjects in former mining towns, farms, and docks, speaking with ordinary workers in unseen or fading industries, and then splashing their larger-than-life photos on walls for everyone to see. There isn't an explicitly political message to their collaboration, but it is as undeniably political as it is lovely, an elegy for aspects of the country that are vanishing with time.
Varda, who contemplates her own mortality over the course of Faces Places, is in many ways herself a figure from an older France. But it's when she goes to visit to an old filmmaking friend, with unexpected results, that the film clicks together devastatingly. Time may move on, but that doesn't mean you have to turn away from the world — so much better to be like Varda, still hungry for new experiences and new people.
No single movie scene this year brought me as much satisfaction as the climactic action sequence in The Villainess, in which anti-heroine Sook-hee (Kim Ok-bin) runs down a speeding bus, leaps onto the back of it and hacks her way inside with a hatchet. Director Jung Byung-gil was a stuntman before he stepped behind the camera, and there are action sequences in The Villainess, like the one on the bus, or the one that takes place on motorcycles, that feel like he's reinventing how fights can be shot, moving the camera in fluid ways that seem almost impossible.
It's all extraordinarily violent and cinematically inventive, but the surprise is that these sequences get paired with a story that's part La Femme Nikita, a little Kill Bill, and all blissful melodrama. It's a heady pairing of macho action and unapologetic soapiness that intersect in sequences like the one in which Sook-hee hefts a sniper rifle in her wedding dress. Sook-hee is a resonant, formidable avatar of wounded female rage — both terrifying killer and a woman who's been terribly wronged. The anguish she feels is as memorable as her talent for brutality.
2. Phantom Thread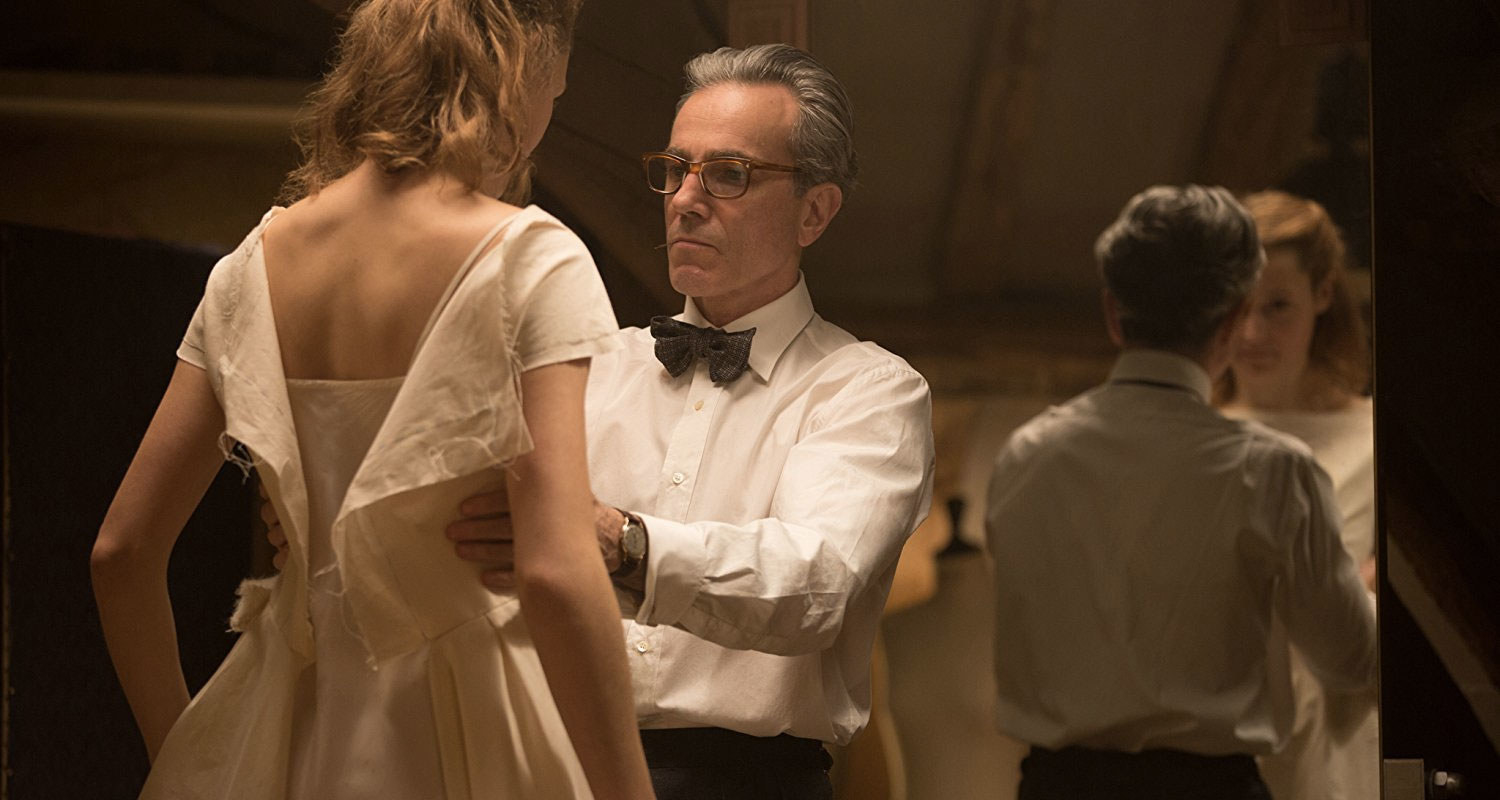 Paul Thomas Anderson's film is a love story, though it doesn't look it at first. It looks like it's about a naive young woman, Alma (Vicky Krieps), who's destined to get swept up, used, and eventually discarded by a prominent man — the both stuffily and phallically named Reynolds Woodcock (Daniel Day-Lewis, in his last role before retiring), a celebrated dressmaker in 1950s London. Reynolds' creative process cannot be extricated from his regimented personal life, and both are guarded ferociously by his sister and business partner Cyril (Lesley Manville). If this sounds, in 2017, uncomfortably close to the stories of abuse of power that have come flooding out of various industries in the past few months, what happens is instead a sly subversion of that dynamic.
Anderson portrays Reynolds' airy atelier and home as a kingdom of rustling gowns, respectfully flirtatious client interactions, and silent breakfasts, all of it more sensual than the relationship Alma shares with a man who is so accustomed to being accommodated in all things that any change to his routine baffles and angers him. He wants Alma as a muse, but she refuses to accept the distance he so desires to keep. Their relationship is an enigmatic, totally engaging duel that I could watch forever.
There are people who don't take to the ending of The Florida Project, when the movie breaks with the reality it has been hewing to for close to two hours — a reality that has finally become unbearable — and escapes into a heartbreakingly close-at-hand flight of fantasy. Then there are people like me, who feel like they left some fragment of themselves frozen in that moment, when Sean Baker's feature takes a leap into the saddest instance of escapism 2017 had to offer.
Until that point, childhood hasn't exactly been a sanctuary for 6-year-old Moonee (Brooklynn Prince), whose unsupervised adventures bring her into the vicinity of a prowling predator and an act of arson. But it has been a bubble of kidlike unconcern, with the Magic Castle motel in which she and her young mother Halley (Bria Vinaite) live serving as a brightly painted, run-down playground brimming with potential friends who have similarly transient existences, a half step above homelessness. There's always a lurking sense of economic dread, but Halley shares her daughter's talent for living in the moment, a quality that's much more alarming in someone who's an adult, albeit just barely.
Throughout The Florida Project, some sort of terrible development seems inevitable, which is why every instance in which Halley is able to avoid disaster feels like a minor miracle. And it's why that final sequence, when it arrives, is so gutting. Because whatever comes next for Moonee, that bubble is forever burst, and what remains is a dream of running away into a corporate re-creation — the happiest place on earth, provided you can afford the entrance fee.