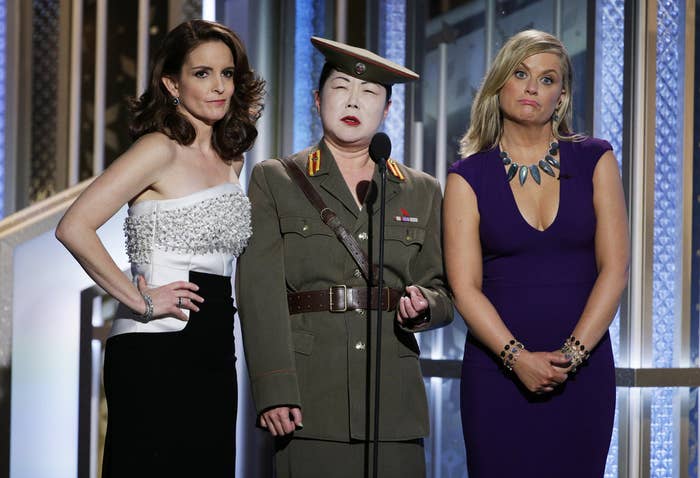 It's no small feat to generate more controversy than a Bill Cosby rape joke, but Margaret Cho managed it at the Golden Globes award telecast on Jan. 11 with her appearance as "Cho Young Ja," a North Korean general and journalist who, hosts Tina Fey and Amy Poehler claimed, was the newest member of the Hollywood Foreign Press Association, the voting body behind the annual awards show.
In a nod to her role as late North Korean dictator Kim Jong-Il on Fey's 30 Rock, the actor and comedian donned a military uniform, spoke in a heavy accent, and affected gruff humorlessness (and some unexpected insight into Orange Is the New Black: "It's funny, but not ha-ha funny. Also, Piper and Alex's relationship is very toxic"). She demanded a photo with Meryl Streep, and declared the show a failure due to its lack of Dennis Rodman and babies playing guitars, and goose-stepped off the stage.
The bit instantly became the most divisive aspect of the ceremony, with some calling it out as a racist caricature and others defending it as a genuinely edgy moment. Cho, speaking to BuzzFeed News on the phone from her apartment, was unapologetic, and sees it as an extension of what she's been doing in her stand-up for years.
"I'm of North and South Korean descent, and I do impressions of my family and my work all the time, and this is just another example of that," she said. "I am from this culture. I am from this tribe. And so I'm able to comment on it.
"I can do whatever I want when it comes to Koreans — North Koreans, South Korean. I'm not playing the race card, I'm playing the rice card. I'm the only person in the world, probably, that can make these jokes and not be placed in a labor camp."
Cho was asked to participate in the ceremony several weeks ago, and worked on the jokes with Fey and Poehler. "It was just a lovely opportunity to spend a couple of days with my friends," she said. As for the reactions, she said: "I feel if there's negativity, it's other people's judgments about what they feel that Asian-Americans are allowed to do, really. You're putting expectations on us that we have to remain Asian-American, that we can't actually play people from Asia.
"When we have British people playing American icons, there's no backlash. But for Asian-Americans, it's a very particular set of expectations that we are set to maintain, and that in itself is racist."
Cho, whose 1994 sitcom All-American Girl was a short-lived landmark in the history of Asian-Americans on screen, and who's currently hosting the TLC talk show All About Sex, is well aware of how little progress has been made in terms of visibility. After all, she was the lone Asian-American representative to be part of the awards last night — and not as a nominee. "I think that we're being held down by that incredible tide of invisibility that we're constantly fighting. Whenever there is visibility, it's shocking. Whenever there is visibility on our terms, it's shocking. That's why any visibility is so highly scrutinized. I'm so used to it that it doesn't alarm me, it doesn't bother me. I welcome the controversy. And I don't care."
She added, "If it's Asian-Americans making fun of Asians, we're claiming our own voice, we're claiming our heritage. We're claiming all of the aspects of our own culture, and we're allowed to. Even though it may get us put in a labor camp.
"If that happens," she joked, "you have to send Bill Clinton to come and get me."