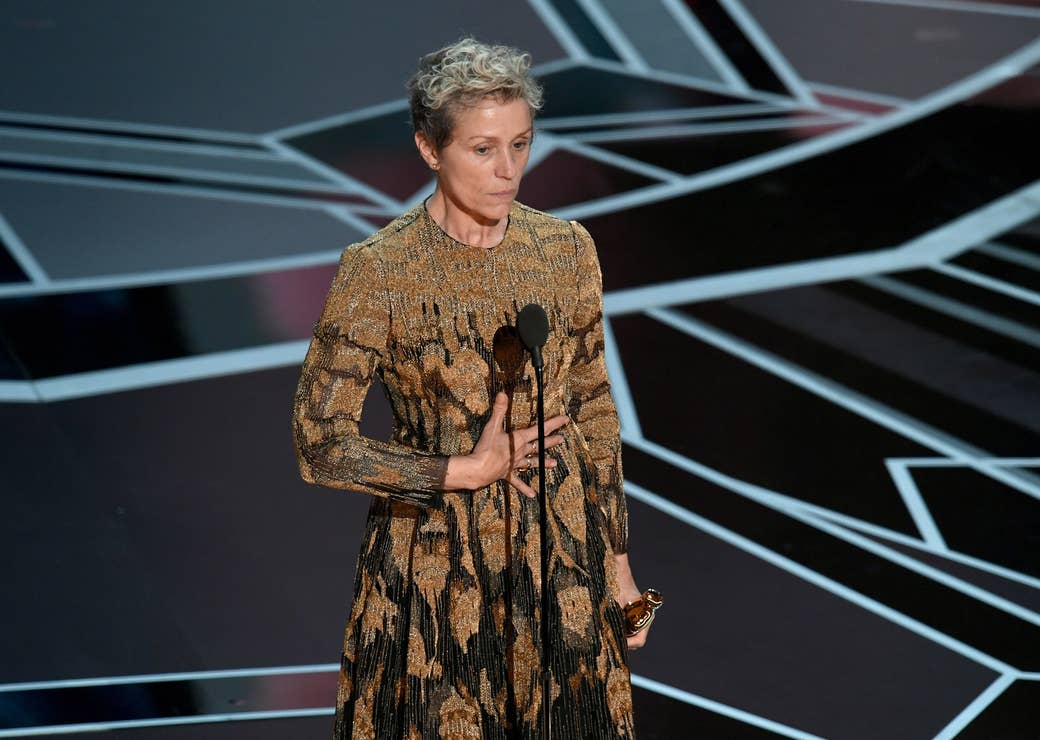 Well, all that anger was exhilarating while it lasted. After a year that saw the inauguration of Donald Trump, the downfall of Harvey Weinstein (the man who, incidentally, created the modern Oscar campaign), and the massive #MeToo movement that erupted as a reaction to both men, some viewers might have gone into this year's Academy Awards expecting to see more of the raw emotion that's been on display in news coverage and interviews for months now. But to watch the ceremony was to be assured that in the time between the Golden Globes in January — at which almost everyone wore black and spoke pointedly — and Sunday, something significant had changed.
In contrast to the kind of year they were summing up, both in terms of what's happened nationally and within the industry, these Oscars felt practically apolitical; the most notable statement made was pro-immigrant messaging so gentle it could scarcely be read as a challenge to presidential policies. Host Jimmy Kimmel's opening monologue made dutiful but hardly sharp-edged references to sexual misconduct and the box office successes of the milestones that are Wonder Woman and Black Panther. He reminded winners that "you have an opportunity and a platform to remind millions of people about important things like equal rights and equal treatment" — before jokingly urging them to keep their speeches short: "You don't have to change the world." With one or two exceptions, it's safe to say that no one tried. It was too much to expect Hollywood to stay so electrifyingly mad forever, but who would have thought it'd be over so quickly?
The biggest prize of last night's Oscars did not go, as had been anticipated, to either the cutting racial satire of Get Out or the precariously messy drama about rage and revenge that was Three Billboards Outside Ebbing, Missouri — two films that, in typically dramatic awards narrative fashion, had been positioned as rivals in a battle for the soul of the industry. Instead, the Best Picture trophy went to the third frontrunner, Guillermo del Toro's darkly fantastical The Shape of Water. It was the closest thing the race had to a safe choice, if a story involving sex with a merman could ever be considered safe.
Call it a gesture of hope for progressive unity, if you'd like. The Shape of Water is a film in which a group of marginalized outsiders — a mute woman, a gay man, a black woman, and an immigrant — join forces to free a creature being held captive by a villain who is the embodiment of the American dream gone viciously wrong. It's a vision that was in line with a ceremony that determinedly turned its attention away from the tumult of the #MeToo moment to the future, to broad messages of inclusion and representation and, as Weinstein victim Annabella Sciorra put it, trembling with emotion on stage, to the "new path" that has emerged.
Hollywood, last night's strikingly well-behaved Academy Awards suggested, is ready to put all those ugly revelations behind it and move forward down that path, back to the comfort of its own mythmaking. In that light, the triumph of The Shape of Water makes another sort of sense — it's a movie about the movies, something the Oscars have always had a soft spot for (think Argo, The Artist, even last year's almost-winner La La Land). Guillermo del Toro's movie is awash with references to studio classics and features a scene in which its amphibious romantic lead stands in the middle of an empty theater, awestruck by what's onscreen in front of him — the magic of film transcending species. And you could feel how desperately the industry needed to believe in its own magic yesterday, in every gorgeously made montage and speech asserting the power of dreams and of storytelling.
In contrast to, say, Oprah's expansive speech at the Globes, which expressed hope without shying away from the work still to be done, the Oscar winners' speeches were overwhelmingly nice: tasteful expressions of gratitude and astonishment. There were occasional acknowledgments, like that by original song winner Kristen Anderson-Lopez, that change is already taking place ("Not only are we diverse, but we are close to 50/50 for gender representation," she noted of her category). And then Frances McDormand, accepting the prize for Best Actress, asked all the female nominees to stand, calling attention to both who they are and how few of them there actually were. When she urged the crowd to finance those women's projects and insist on inclusion riders to ensure cast and crew diversity, the sheer practicality of the moment made it feel disruptive — she was talking money when almost everyone else (bless you, Kumail Nanjiani) was talking around it.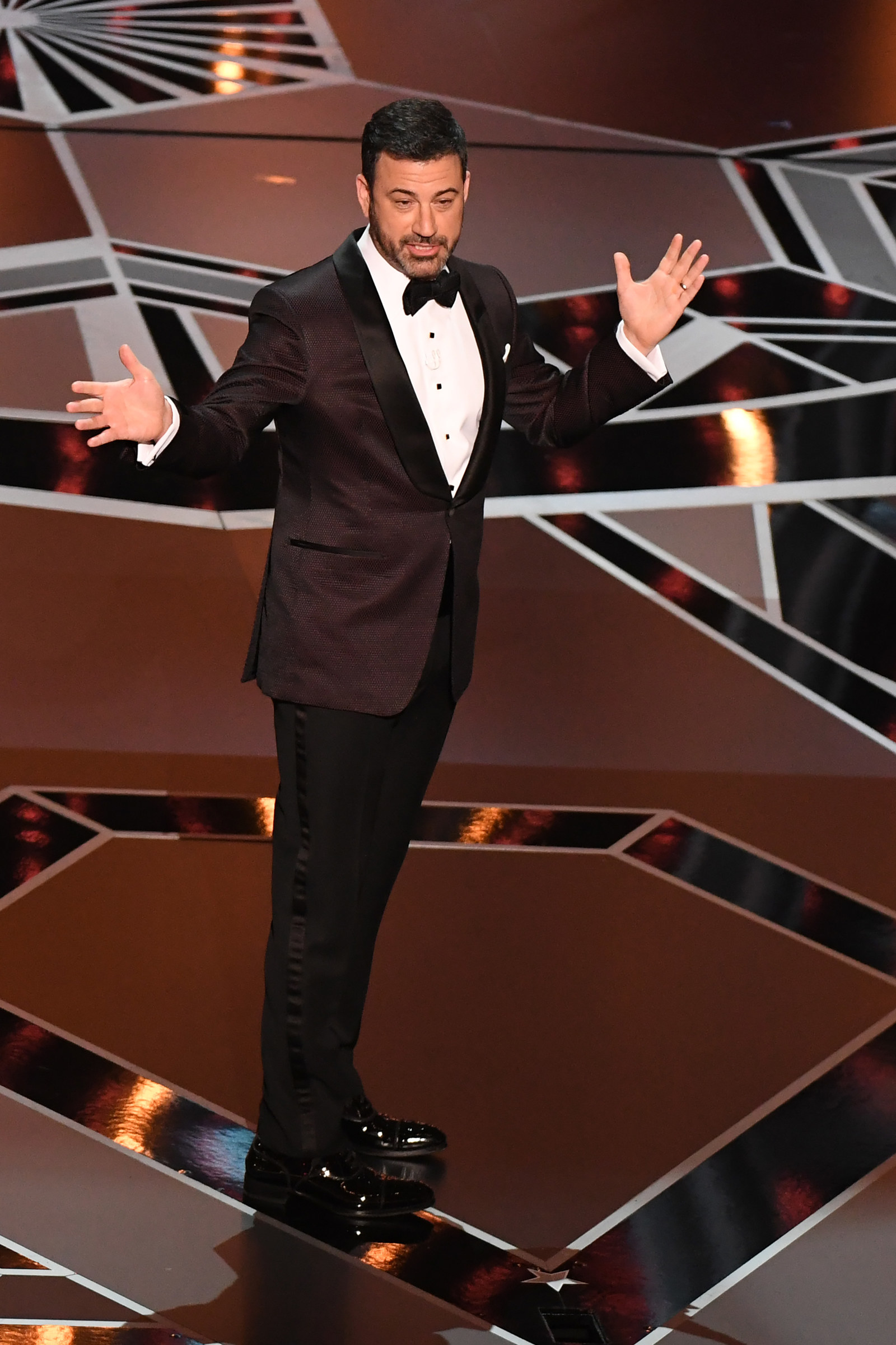 So much of the evening had been built on generalizations about progress and acknowledgments of breakthroughs, and it really was exciting to see Jordan Peele win, and to see Greta Gerwig get nominated. But after that, to have someone point out the stark gender differential among the nominees, and then offer a concrete suggestion for how to change it, felt like a break from an agreed-upon party line. Maybe someone left McDormand off the memo informing everyone that they were done talking about all of that in public. Maybe she felt like someone had to acknowledge that change doesn't just happen easily on its own, even if everyone agrees it's important — that it requires pushing people to do things they wouldn't bother with otherwise. Or maybe she, like some of us at home, felt the dissonance of a event in which Kobe Bryant and Gary Oldman accepted awards, and Ryan Seacrest worked the red carpet, and wondered if we've gone as far as we're going to.
Award shows have always been an awkward home for political messaging; they offer a prominent platform, but they're also self-serving events at which industries pay tribute to themselves. What's remarkable about #MeToo is that it has been both an industry phenomenon and a sweepingly systemic one. A movement born out of long-term showbiz power imbalances has, by sparking tough conversations, enabled self-examination and change that have spread far beyond Hollywood. But that's also why the mild-mannered-ness of this year's Oscars felt so disappointing — because it didn't seem like it came from a place of healing so much as it did from an instinct for self-preservation, or concern that too much anger is alienating audiences already drifting away from an industry in flux.
Moviegoing is changing. It's shifting to streaming, something that Best Adapted Screenplay nominee Dee Rees addressed at the Spirit Awards the day before. In a bolder speech than any given at the Oscars, she argued on behalf of the cinematic value of Mudbound, despite Netflix being its primary distribution vehicle. The type of mid-budget prestige dramas that used to be a big part of the Academy Awards now tend to be found on television, while most movie studios seem consumed with producing large-scale franchise fare of the sort that the Academy has been reluctant to consider beyond the technical categories. Ninety years into the Oscars, as ratings continue to droop, there's a noticeable sense of uncertainty to the proceedings. In the repeated thanking of ticket-buying audiences — including the stunt in which celebs trooped around the corner to shower the unsuspecting attendees of a Wrinkle in Time preview screening with hot dogs and candy — there was an undercurrent of dread that those ticket sales were bound to drop.
Maybe the striking anger that has been so visible in Hollywood in the last half year has been electrifying to people, and maybe it has been alienating, but it felt clear that fear of the latter (as well as what has to be sheer exhaustion) informed the Oscars ceremony. #MeToo may not be over, but the industry seems ready to draw a curtain over the negotiations that are going to follow, to treat something like the sale of the Weinstein Company as a convenient resolution, to curl in on itself and try to turn the public's attention back to the movies themselves — their resonance, the way that they are attempting to better reflect the people watching them. There's value there, too, of course, but it's not the whole story. Watching those montages of years of familiar screen images cut together as if in ongoing conversation with each other, we'd do best not to forget that while there's magic in movies, there's also plenty of myth. ●