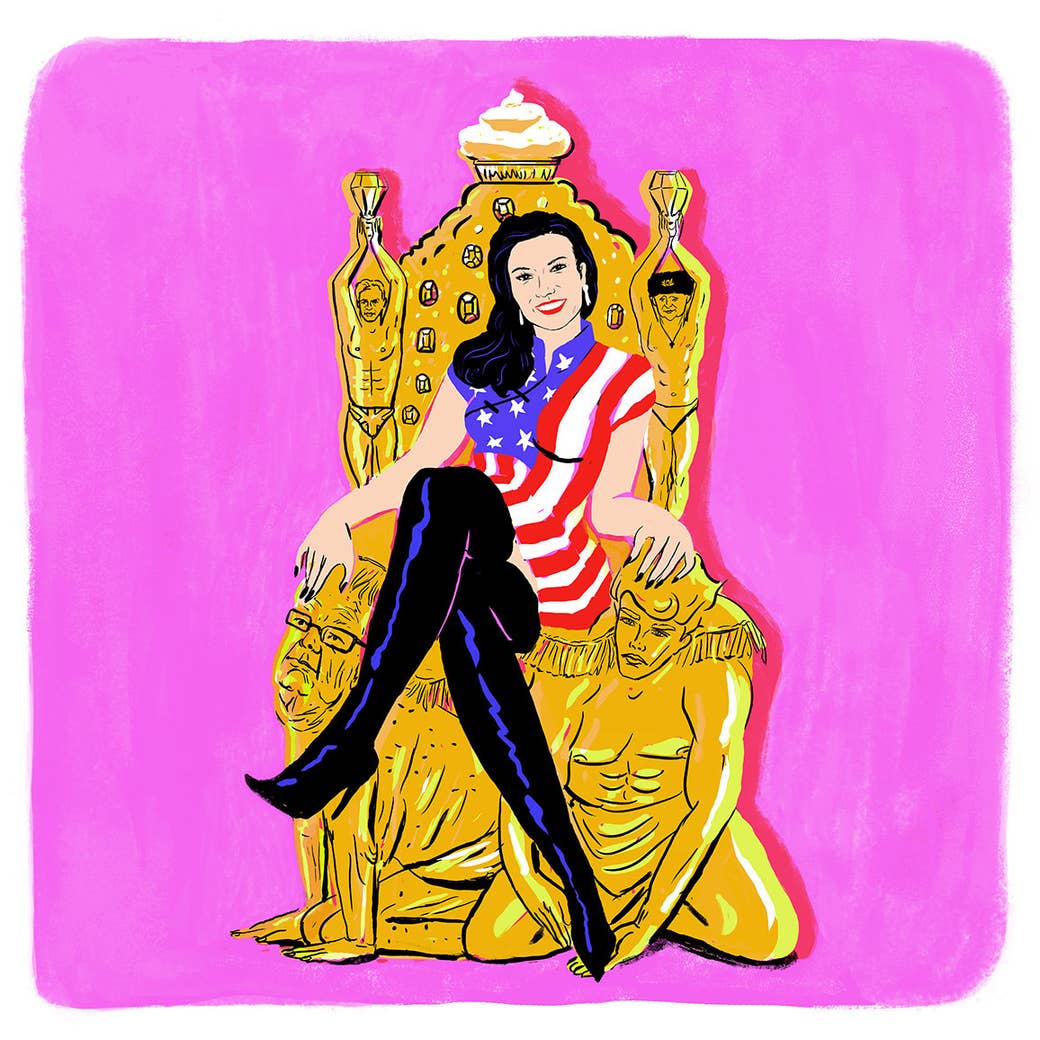 I still have a Google Alert set for Wendi Deng. I should probably set up a "Wendi Murdoch" one too, but "Wendi Deng" is enough to catch the basics, which these days tend to be mild stuff — appearances at fashion shows and sporting events, and the odd mention of a board membership at a wildlife conservation charity alongside a CEO who apparently saw no contradiction in trophy hunting leopards and elephants. Deng is keeping it low key these days, having rebranded herself not just as a movie producer and businessperson but also as a professional connector of people, as commended in a shamelessly name-droppy post-divorce profile that ran in Vogue in 2016. Like all experienced accruers of power, Deng has built up the oomph to buff her own image into something innocuous, in order to pretend that's all she's ever been all along. Her days of smacking down pie-throwing protesters seem to be over — for now.

Area of Expertise is a column on niche interests, personal passions, and other things we might know or care a little too much about.
It can be hard to explain my Deng fixation to someone who hasn't been tracking her exploits for years and doesn't understand just how riveting a figure she is. "Fandom" isn't the right word for it. One doesn't admire Deng so much as one admires how likely she is, when civilization inevitably collapses, to become the head of a Fury Road–worthy compound, riding around in a chariot pulled by a collection of Hungarian male models. When I mentioned her offhandedly to a friend once, he trotted out a bunch of vague words that amounted to "gold digger," only to trail off as he realized I was attempting to murder him with my mind — how dare he.
Sure, Deng first became known for her 1999 marriage to Rupert Murdoch, a billionaire 37 years her senior and less than three weeks divorced from his second wife. But it's arguably their 2013 split, amid swirling rumors of an affair with Tony Blair, that made her famous. To describe Deng only in terms of Murdoch feels drastically unfair, when one of the reasons she's so compelling is that she managed to make her Bond villain–like media mogul ex look like a blip in her life, as opposed to the other way around.
The cornerstone of existing Deng scholarship is an epic 2014 Vanity Fair profile by Mark Seal, the crowning glory of which is a note Deng reportedly wrote expressing her longing for the former prime minister of the UK ("He has such good body and he has really really good legs Butt [sic] ... And he is slim tall and good skin"). But the note really pales in comparison to the saga of how Deng (born Wenge — meaning "cultural revolution" — she changed her name to the softer, anglicized "Wendi" in her teens) came into her own. She first secured a green card by efficiently breaking up the marriage of a 50-year-old middle manager from the San Fernando Valley who sponsored her as a foreign exchange student. She turned an internship at Star TV in Hong Kong into a VP position, and caught Murdoch's eye by standing up in front of a room full of people and telling him how lousy his China strategy was.
That's always been my favorite thing about the chronicles of Deng: how little effort she appears to have put into disguising her voracious, world-devouring ambition, and how people seemed to rush to throw themselves at her feet, ready and willing to be stepped on. It really looks, at least from afar, like a weaponizing of the most pernicious stereotype placed on Asian women by the West — this insistence on seeing them as submissive and sexually compliant, which is to say, not seeing them at all.
Deng, who's refused to comply with the narratives so many have tried to fit her into, has also refused to comply with mine.
"First it was just 'I'm this nice Chinese lady, here to make him happy, and I don't want kids,'" an anonymous source says of Deng, in the Seal piece. "Then it was 'I want kids.' She escalated over the years in terms of bullying him." Bullying! Rupert! Murdoch! It's a quote filled with the hilarious betrayal of someone who doesn't feel like they were given adequate warning about which racial stereotype they should attempt to overlay onto Deng — the Dragon Lady, the Tiger Mom (Deng, indifferent to typecasting, has of course befriended Amy Chua). Those kids may not have voting interest in the Murdoch family trust, but they're set to inherit $2 billion each. Deng and her daughters are securely among the megarich.
Like so many things, the formerly indulgent hobby that is Deng-watching has been largely ruined by Trump, whose family Deng has close ties with. Reading about a rumored post-divorce rebound with none other than Vladimir Putin, you can squint and pretend Deng is some kind of IRL Game of Thrones figure ("The climb is all there is"). But when you peruse her vacation snaps with Ivanka, it feels less monstrous-mythic and more mundanely shitty, a reminder of how all wealthy people really need to have in common is wealth and a shared desire to protect their own base of power, no matter the cost. It's enough to make one long for there to be some truth in the reported warnings US counterintelligence officials gave the Kushners about Deng acting on behalf of Beijing's interests — like, couldn't she at least be using these people?
All of this has made it inconveniently clear to me how much my own fascination with Deng has also been projection, me trying to will her into being some contemporary anti-heroine who reveals the fundamental bullshit of the American dream. Deng, who's refused to comply with the narratives so many have tried to fit her into, has also refused to comply with mine.
I'll never delete that Google Alert, though. I still want to know what comes next. ●