At Least 14 Killed In Bombing While Watching World Cup In Nigeria
A suicide bomber detonated explosives hidden in a tricycle taxi at a public World Cup viewing.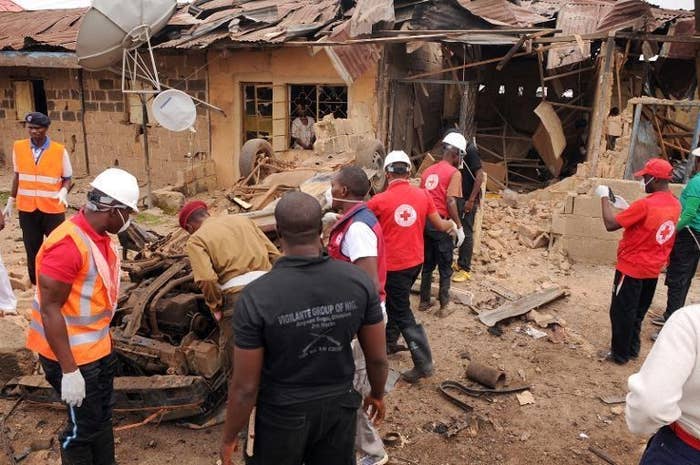 At least 14 people are reported dead and another 26 wounded after a suicide bomber blew himself up as soccer fans watched a World Cup game in Nigeria, police told the Associated Press.
The BBC reported that the death toll was higher, and that at least 21 had died in the attack, which took place in Damaturu, in Yobe state, in north-eastern Nigeria.
The suicide bomber drove a tricycle taxi into the outdoor area shortly after the Brazil-Mexico match started Tuesday night, witnesses said.
Police suspect that Boko Haram, the armed Islamic group that is responsible for kidnapping more than 250 schoolgirls, is behind the attack, but there was no immediate claim of responsibility. Following a spate of recent deadly attacks by Boko Haram, Nigeria's military has promised to increase security, but seems unable to stop attacks by the terrorist organization. Last month, bombings at a bus terminal killed at least 118.
Police Assistant Superintendent Nathan Chegha said Wednesday that rescue workers were slow to assess the aftermath of the World Cup viewing bombing because they feared a secondary explosion — Boko Haram is reportedly known to set off additional explosions to kill those aiding victims from the first bomb.
Security experts have expressed fears that Islamic militant groups could attack crowds watching the World Cup in public places in Nigeria, Kenya, and Uganda. In 2010, explosions during a World Cup viewing in Kampala, Uganda killed 74 people. Al-Shabab, a Somali insurgent group, took responsibility for those attacks.