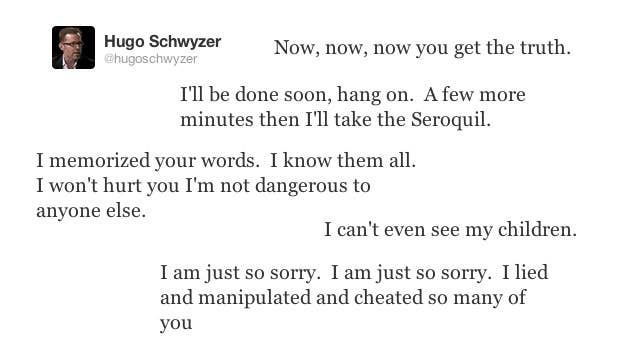 Hugo Schwyzer may have "quit the internet" on July 30, but he returned Friday with more than 100 tweets in the span of an hour claiming he was a fraud and apologizing to former employers and critics.
For the unacquainted, Schwyzer is a Pasadena City College professor of history and gender studies, a blogger and a self-described male feminist. He has written for The Atlantic, Jezebel, Salon, and once last year he went on Ricki Lake to discuss why he to chose to get circumcised at age 37.
Schwyzer is a semi-big deal in the feminist blogosphere, but is a divisive figure. He is highly criticized for his past, his narrow views of feminism, and the ways in which he has profited from his "bad boy redemption story." During a period of alcohol and drug addiction he once tried to kill his girlfriend with fumes from a gas stove. He wrote about it on his blog, though the post has since been deleted. Schwyzer is now on his fourth marriage. He has described affairs with students in his writing.
Feminists often criticized Schwyzer for focusing largely on the plight of the straight white man. He spoke often of "male weakness."
"It is very difficult to stand up here as a man" he told the crowd at a June 2011 Slutwalk protest march. "There is a myth we need to walk for today. And that is the myth of male weakness. A man's self control is not dependent on how little skin a woman is showing." While deconstructing masculinity is critical to feminist discourse, Schwyzer was criticized for ignoring those truly marginalized. There are reports of him stalking and targeting women of color who have criticized him online, which is discussed in this Hairpin article.
There's also a Tumblr that exists for the sole purpose of criticizing his work, called Fuck No, Hugo Schwyzer.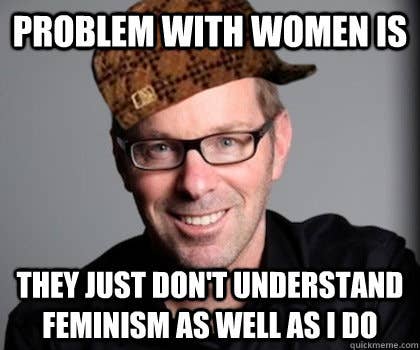 So why did this man announce an "extended hiatus from social media and public writing"?
"I surrender the field to the critics who wanted me gone from feminist spaces," he wrote on his blog on July 30. "For one, the toxicity of take-down culture is exhausting and dispiriting ... I'll admit It: I'm a most imperfect man. I have an absolutely dreadful past, one for which I continue to make quiet amends ... So I'm done."
On July 31, screenshots of lewd messages between Schwyzer and Christina Parreira, a 27-year-old porn actress, appeared on therealpornwikileaks.com. That day, Schwyzer gave an interview to New York magazine's The Cut, but didn't mention the sexting. He explained that his exit was based on his long battle with depression and alcoholism, but also that "this guy Chris" on Twitter pushed him over the edge.
"[It] was just really hurtful," Schwyzer told The Cut. "I was like, I don't want to go through this anymore. I feel like a little kid trying to get attention."
The next day, he "quit the Internet" — however one does that. He told LA Weekly that he "had a mental breakdown" and will bring his Pasadena City College class back "when he feels better." A message was added to his website: "As of August 2013, Hugo is not accepting booking engagements and is on extended medical leave."
And Schwyzer really did go silent for a few days. But that doesn't mean he stayed out of the news. On Aug. 7, the Pasadena Star News reported that Schwyzer admitted to the sexting and extramarital affairs and was taking time off. The next day, a college trustee told the newspaper that he wanted to rethink offering Schwyzer's class.
Schwyzer said he plans to use the sick leave he has accumulated in 20 years at the college and hopes to return to teaching history classes in the spring …

"I'm a young dad, I'm supposed to be the guy who's got his s*** together, yes there is a bad boy past but not anymore. Well, the truth is he hasn't pulled it all together, the truth is he's doing a lot of the same things," Schwyzer said. "That makes me a fraud."
Then, on Friday, Schwyzer returned to Twitter.








In the span of a little more than an hour, Schwyzer sent more than 125 tweets. He emphasized that he was a fraud, apologizing to specific former employers, co-workers, and companies that published his work. He said "being microinfamous sucks" and insisted he wasn't hacked; he proved it by repeating subject lines of emails sent from people who were watching his meltdown.
Schwyzer also said he might "go back to the hospital soon." He apologized for authoring specific "terrible" pieces, including this one about OkCupid "Nice Guys" and another story about his ex being a lesbian.
He was eventually forced by Twitter's posting limit to stop his stream of thought. He updated his bio: "I tweeted too much and I am in jail. Saving me from myself."
Some of Schwyzer's critics on Twitter felt sorry for him.