Texas Prison Bus Crash That Killed 10 Blamed On Piece Of Metal Guardrail
After hitting the piece of guardrail, the bus flew off an embankment and crashed into a train, killing eight inmates and two correctional officers, federal investigators said.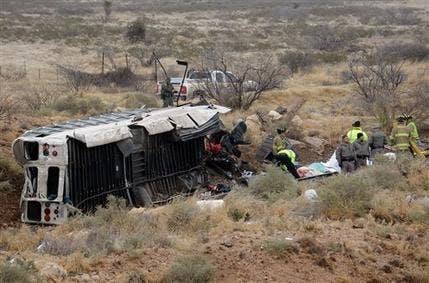 A prison bus that crashed in Texas earlier this month, killing two officers and eight inmates, veered across the median and into a freight train moments after hitting a piece of guardrail that was in the roadway, federal investigators said Thursday.
The 2015 Bluebird prisoner transport bus — operated by the Texas Department of Criminal Justice — was carrying 12 inmates and three corrections officers at the time of the crash, which occurred Jan. 14 while en route from Abilene to El Paso
According to a preliminary report from National Transportation Safety Board (NTSB), a 225-foot-long section of metal beam guardrail leading up to an overpass had been damaged the day before.
State transportation officials placed traffic cones around the damage and left the scene. But the next day, three car crashes that occurred amid icy conditions on the same section of roadway, likely pushing a part of the metal guardrail into the path of oncoming traffic, according to the NTSB.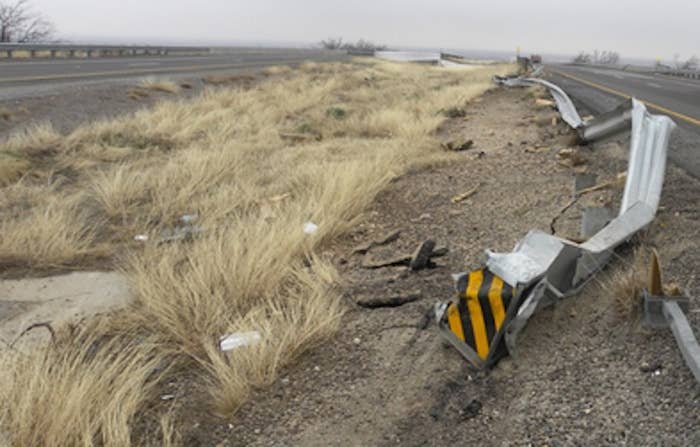 At about 7:50 a.m., the bus struck the guardrail as it was passing a slower tractor-trailer, setting the deadly crash into motion, investigators said.
According to the NTSB, the bus veered to the left, overrode the guardrail wreckage, and traveled about 22 feet across the median into an opening between the eastbound and westbound traffic lanes of Interstate 20.
When the bus encountered a 21-foot embankment, it became airborne, hit the base, and continued forward toward the railroad tracks, where it struck a Union-Pacific freight train.
After the crash, Odessa Fire and Rescue Battalion Chief Kavin Tinney told the Odessa American newspaper that the scene was "as bad as you can imagine."
"In 32 years, it's as bad as anything I've seen," he said.
Brad Livingston, executive director of the Department of Criminal Justice, called the crash a "tragic accident."