Updated — June 1, 12:50 p.m. ET
U.S. Army Sgt. Bowe Bergdahl, who has been held captive by the Taliban since 2009, has been freed and is in U.S. custody, the president said in a statement on Saturday.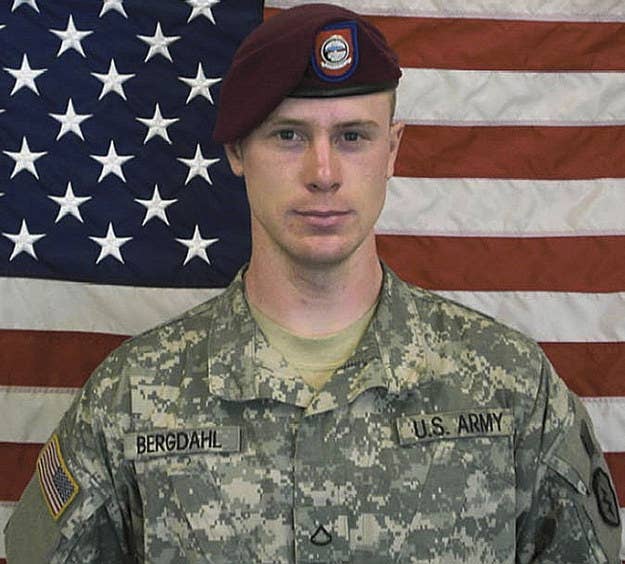 A senior defense official told CNN that the U.S. military successfully freed Bergdahl around 10:30 a.m. ET on May 31, in a peaceful handover in eastern Afghanistan where 18 Taliban members were present. United States special operations forces carried out the mission.
On June 1 Bergdahl arrived at Landstuhl Regional Medical Center in Germany, a facility that treats serious war injuries from the Iraq and Afghanistan conflicts, a U.S. Department of Defense official said. His "reintegration process" will include "time for him to tell his story, decompress, and to reconnect with his family through telephone calls and video conferences," a senior defense official said.
When Bergdahl is ready to leave Landstuhl he will be transported to Brooke Medical Center in San Antonio.
Defense Secretary Chuck Hagel said on Sunday that the United States saw "an opening" and acted quickly to rescue Sgt. Bergdahl.
"We believed that the information we had, the intelligence we had, was such that Sgt. Bergdahl's safety and health were both in jeopardy and in particular his health deteriorating," Hagel said. "It was our judgment that if we could find an opening and move very quickly with that opening, that we needed to get him out of there essentially to save his life. I know President Obama feels very strongly about that, I do as well."
According to U.S. government officials, Sgt. Bergdahl was the only remaining American soldier captured in recent conflicts in Iraq and Afghanistan. His release was part of a negotiation that includes the release of five Afghan detainees who are held in the U.S. prison at Guantanamo Bay. The BBC reported that the detainees have already been freed, and on Saturday Obama said that they would be transported to Qatar.
When the sergeant was told he was in custody of U.S. Special Forces, he broke down in tears, CNN reported. His family told ABC that they were "so joyful and relieved when President Obama called us today to give us the news that Bowe is finally coming home!"
In his statement released Saturday, President Obama said that Sgt. Bergdahl's recovery is "a reminder of America's unwavering commitment to leave no man or woman in uniform behind on the battlefield."
The government of Qatar helped negotiate between the U.S. and the Taliban for Sgt. Bergdahl's release, Obama said, writing that "The Amir's personal commitment to this effort is a testament to the partnership between our two countries."
Obama also thanked the government of Afghanistan, who he said supported U.S. "efforts to secure Sergeant Bergdahl's release."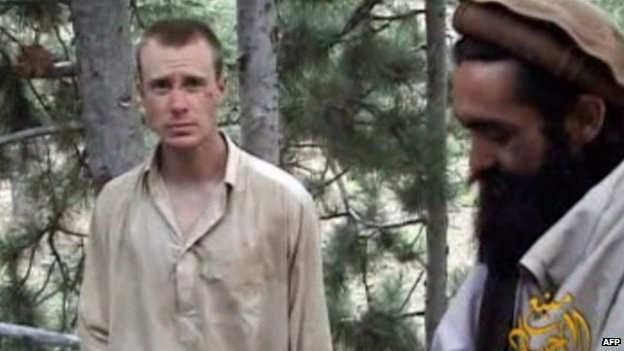 Some Republican leaders have spoken out against the method in which Bergdahl was released, calling the negotiation with the Taliban "troubling," and accusing Obama of breaking the law by not asking for Congress' approval before transferring detainees from Guantanamo.
"Trading five senior Taliban leaders from detention in Guantanamo Bay for Bergdahl's release may have consequences for the rest of our forces and all Americans. Our terrorist adversaries now have a strong incentive to capture Americans. That incentive will put our forces in Afghanistan and around the world at even greater risk," House Armed Services Committee Chairman Howard P. McKeon and the ranking Republican on the Senate Armed Services Committee James M. Inhofe said in a joint statement on Sunday.
Afghan Taliban leader Mullah Mohammad Omar reportedly issued a public statement, saying that exchanging five Guantanamo Bay detainees for a Taliban-held U.S. soldier is a "big victory."
Omar has not made a public appearance since fleeing Afghanistan in 2001.
Berghdal, 28, was taken hostage by the Taliban and has been held captive since June 30, 2009. When he was rescued he was able to walk, but had trouble speaking English.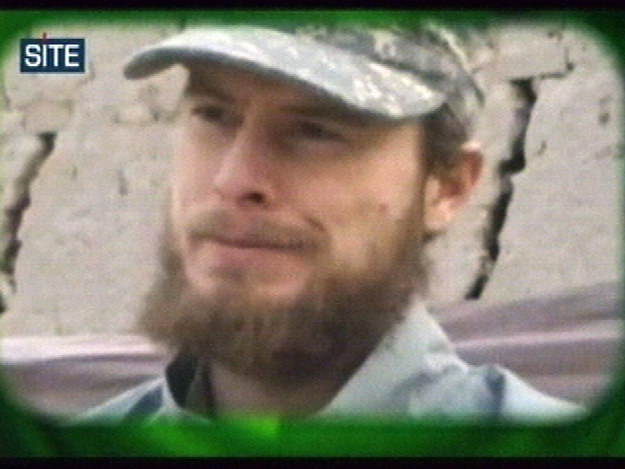 Bowe was reportedly "disillusioned" when he went missing. In an interview with Rolling Stone in 2012, Bowe's family shared the sergeant's final email­ to his parents:
I am ashamed to be an american. And the title of US soldier is just the lie of fools... The US army is the biggest joke the world has to laugh at. It is the army of liars, backstabbers, fools, and bullies. The few good SGTs are getting out as soon as they can, and they are telling us privates to do the same... These people need help, yet what they get is the most conceited country in the world telling them that they are nothing and that they are stupid, that they have no idea how to live.
Today the American people are pleased that we will be able to welcome home Sergeant Bowe Bergdahl, held captive for nearly five years. On behalf of the American people, I was honored to call his parents to express our joy that they can expect his safe return, mindful of their courage and sacrifice throughout this ordeal. Today we also remember the many troops held captive and whom remain missing or unaccounted for in America's past wars. Sergeant Bergdahl's recovery is a reminder of America's unwavering commitment to leave no man or woman in uniform behind on the battlefield. And as we find relief in Bowe's recovery, our thoughts and prayers are with those other Americans whose release we continue to pursue.

For his assistance in helping to secure our soldier's return, I extend my deepest appreciation to the Amir of Qatar. The Amir's personal commitment to this effort is a testament to the partnership between our two countries. The United States is also grateful for the support of the Government of Afghanistan throughout our efforts to secure Sergeant Bergdahl's release.

This week the United States renewed its commitment to the Afghan people and made clear that we will continue to support them as they chart their own future. The United States also remains committed to supporting an Afghan-led reconciliation process as the surest way to achieve a stable, secure, sovereign, and unified Afghanistan. While we are mindful of the challenges, it is our hope Sergeant Bergdahl's recovery could potentially open the door for broader discussions among Afghans about the future of their country by building confidence that it is possible for all sides to find common ground.
In a statement delivered at the White House Saturday, Obama spoke about the five detainees that will be transferred to Qatar.
Obama said Qatar would "put in place measures to protect" the national security of the United States. He also thanked the the emir of Qatar for assistance in securing Bergdahl's release. Obama added that the U.S. is "committed to winding down Gitmo" and the war in Afghanistan.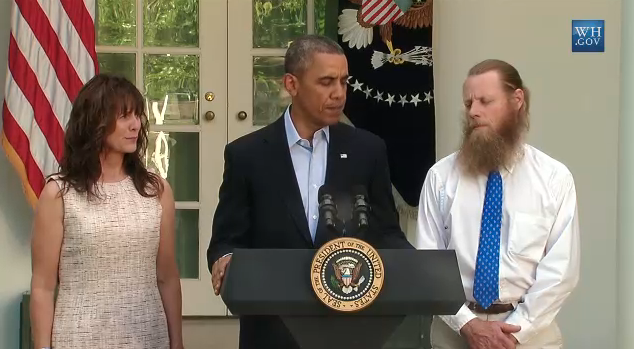 Bergdahl's parents also spoke Saturday at the White House and expressed gratitude for their son's pending return. His father, Robert, said Bergdahl is having trouble speaking English after the trauma he endured.
"The complicated nature of this recovery will never really be comprehended," his father said.